Seattle's condo market remained constrained in November with falling inventory levels and fewer pending sales, although closed sales spiked for the month.
The citywide condo median sales price was $389,250, an increase of 11.53% year-over-year. Though, it dipped 6.2% from the prior month, but that's to be expected as we historically experience a downward trend in median sale prices at year end.
We've now have had 21 consecutive months of year-over-year increases of the citywide Seattle condo median sale price.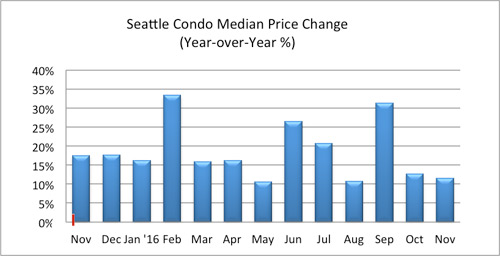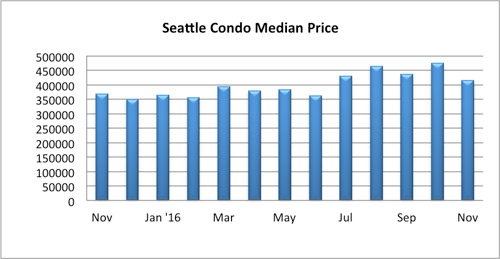 The inventory level dropped to 171 Seattle condo units for sale last month, the fewest so far this year. The close out of Seattle's only new condo towers over the past 6 years (Insignia & Luma), combined with the seasonal slowdown, have limited options for buyers and will tighten our market further.
The inventory supply rate remained at 0.8-months of supply (actives ÷ pendings) and is used to gauge market conditions. A supply rate of less than 3 months is considered a seller's market, between 3-6 months a normal market, and more than 6 months would be a buyer's market.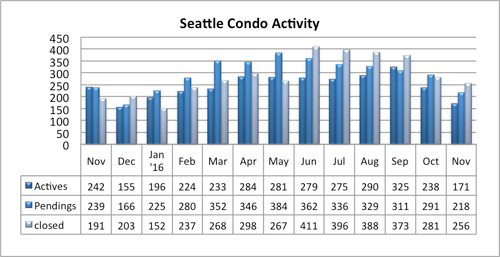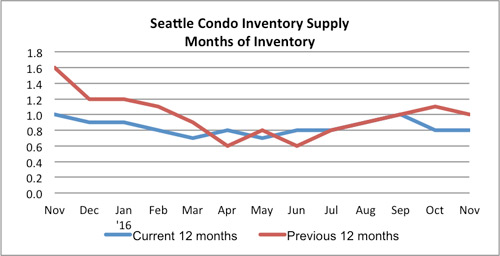 There were fewer condo sales in November with 218 pending unit transactions, that is units with accepted contracts, which reflected an 8.8% one-year and a 25.1% one-month decline, respectively.
Again, the one-month reduction isn't unexpected given the cyclical nature of our market, though the year-over-year reduction may indicate a slowing market.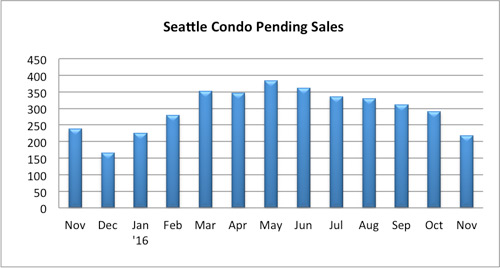 Although pending sales softened, the number of closed Seattle condo sales spiked 34% to 256 units in November compared to last November. Closings increased throughout the city, so it wasn't the result of any one building or neighborhood.
As we finish out the year, we anticipate December to exhibit even fewer listings, condo sales and closings.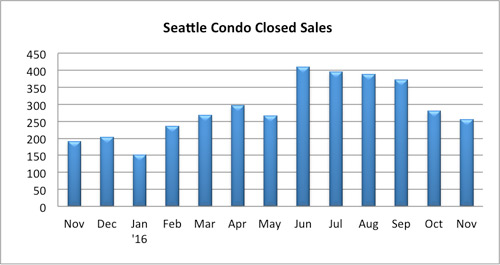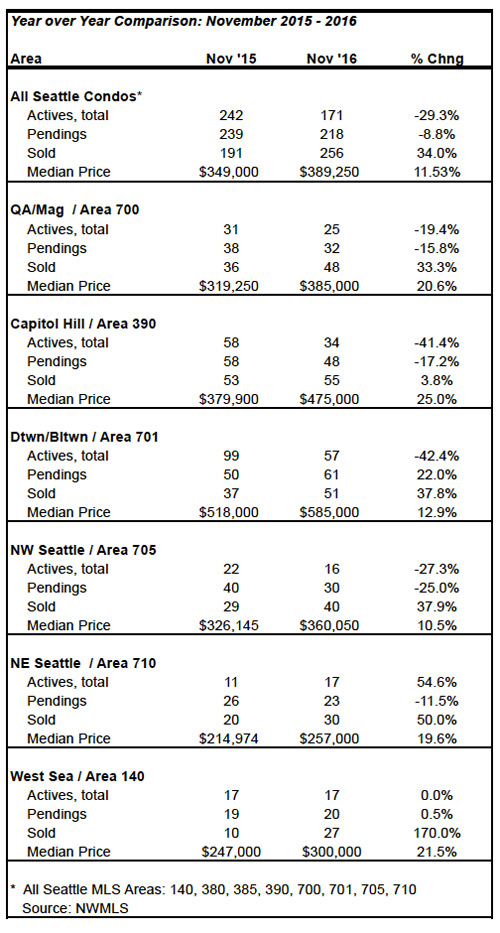 Source: NWMLS. Some figures were independently compiled by SeattleCondosAndLofts.com and were not published by the Northwest Multiple Listing Service.
________________________
© SeattleCondosAndLofts.com