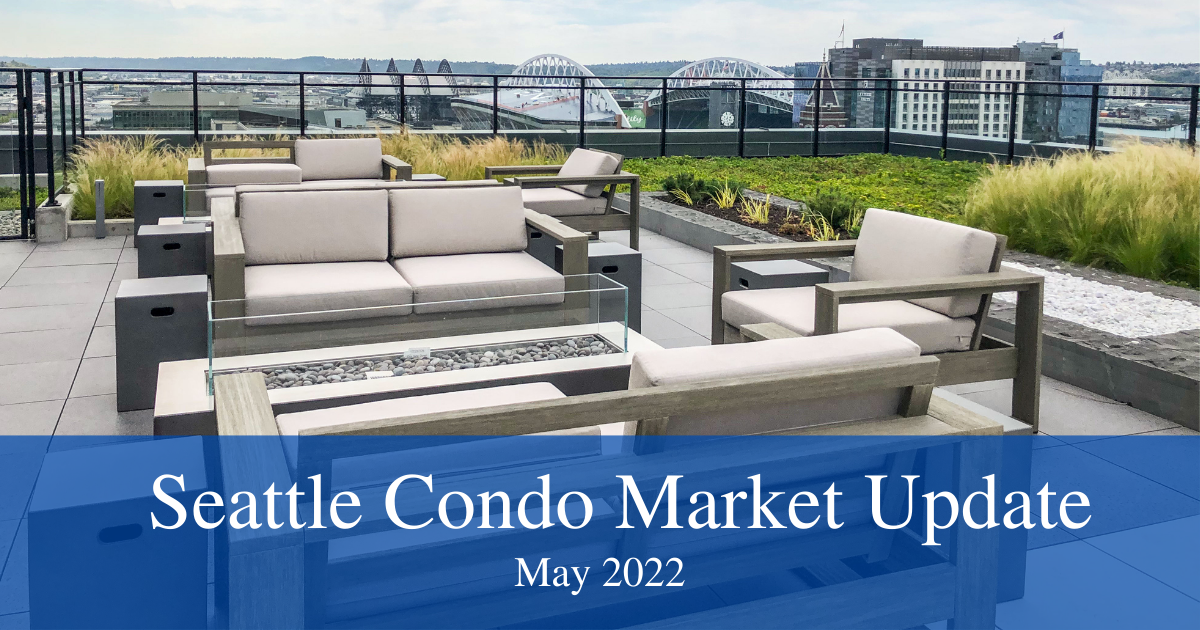 The Seattle condo market blossomed in May. Condo values increased and the inventory supply flourished last month, though amid fewer unit sales.
The Seattle citywide median sales price for condos reached an all-time high in May at $557,475, surpassing the last record high set in February. This reflected an increase of 17.9% year-over-year (YOY) and 8.8% over the prior month, respectively.
Every neighborhood area throughout the city exhibited improvement in the YOY median sales price results. And, every area except Queen Anne / Magnolia experienced a double-digit increase. NE Seattle lead at 32.8% followed by West Seattle at 20.2% and Capitol Hill at 18.5%. See table at the end of this post for more detail.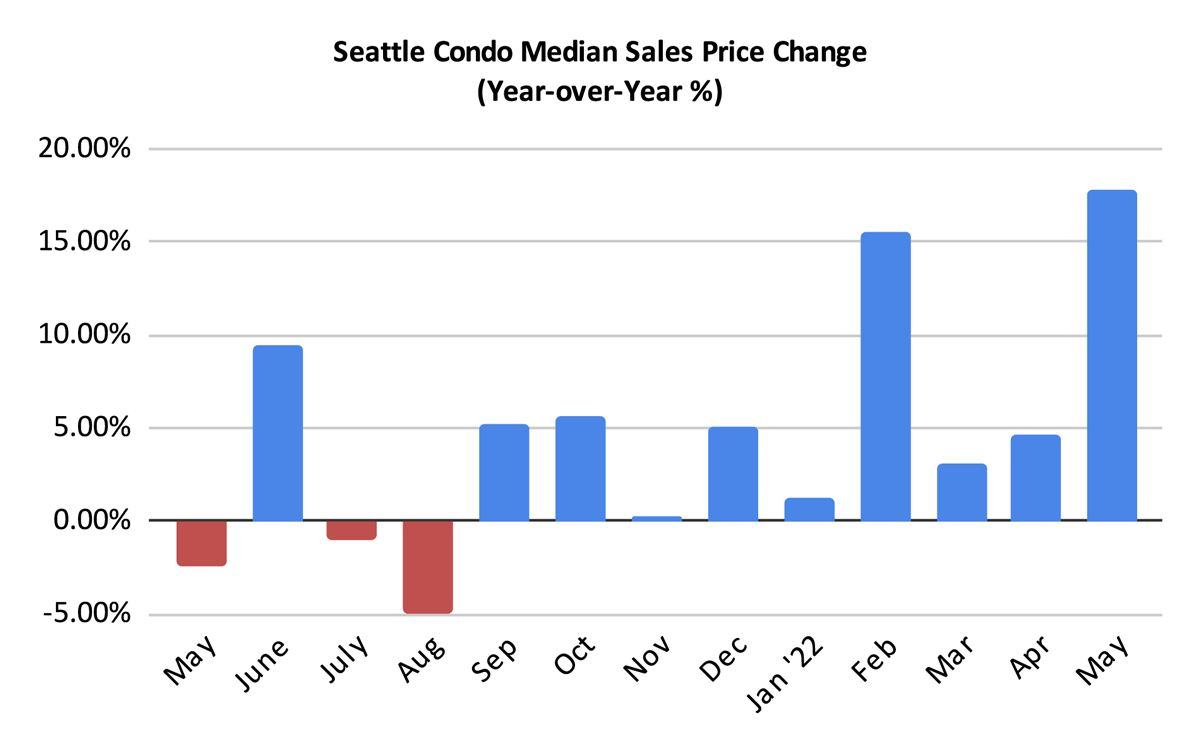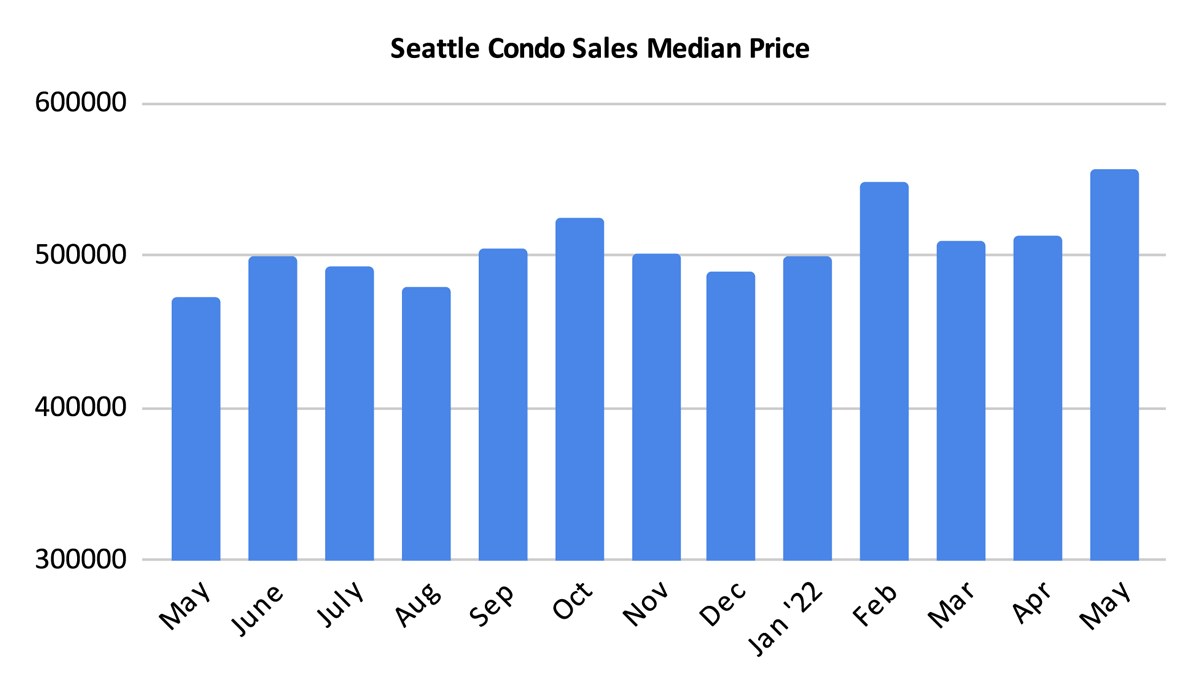 Seattle Condo Inventory on the Upswing
Seattle's condo inventory continued to rise throughout Spring. There were 423 active Seattle condos listed for sale in May, reflecting a 17.2% one-month increase. Although, that was 20.9% fewer than we had a year ago. That gap is shrinking and as the graph below illustrates, active listings are on a rapid upward trajectory.
As I mentioned in previous posts, the actual inventory level is higher. We use listing and sales figures published by the Northwest MLS (NWMLS), which only includes condos that are listed with the NWMLS. The bulk of the available inventory in recently completed buildings in downtown Seattle are not reflected in the NWMLS listing database.
The table at the end of the post shows 171 units in the downtown/Belltown area as noted by the NWMLS. These listings are predominately resale units. When contemplating the unlisted new condos the inventory is higher by a few hundred units.
One other note about condo listings and inventory. Many new townhome developments are increasingly being structured as condos rather than zero-lot line properties. Plus, some ADU and DADU's are also being set up as condos. Thus, the condo inventory not only includes traditional condominium units, but also townhomes and accessory dwelling units.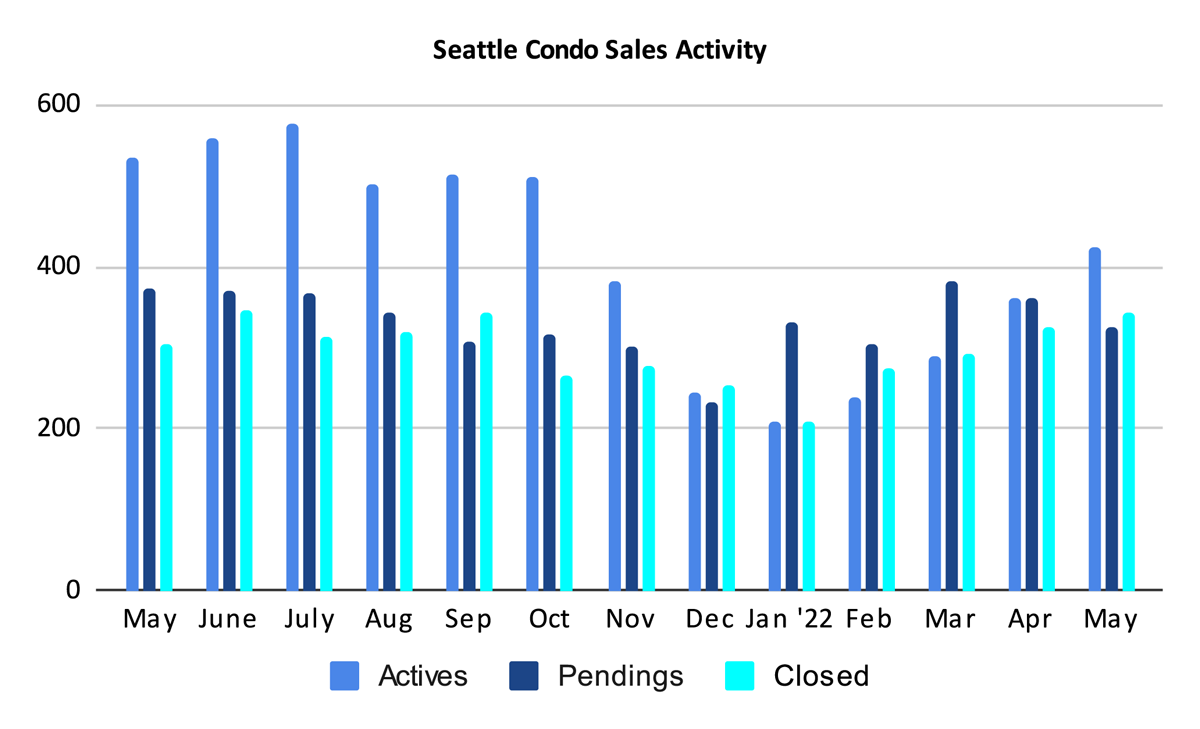 The Seattle condo inventory supply rate rose slightly to 1.3-months of supply in May, nearly on par with the same period last year.
The supply rate is calculated by dividing the number of listings by the number of pending sales transactions. The rate increased in May due to a combination of more units for sale along with a dip in sales.
The inventory supply rate is an indicator metric for market conditions. A rate of less than 4-months of supply is a seller's market, between 4-6 months a balanced market and over 6-months would be a buyer's market.
With the exception of November 2021, Seattle's condo market has remained in a seller's market environment for a decade.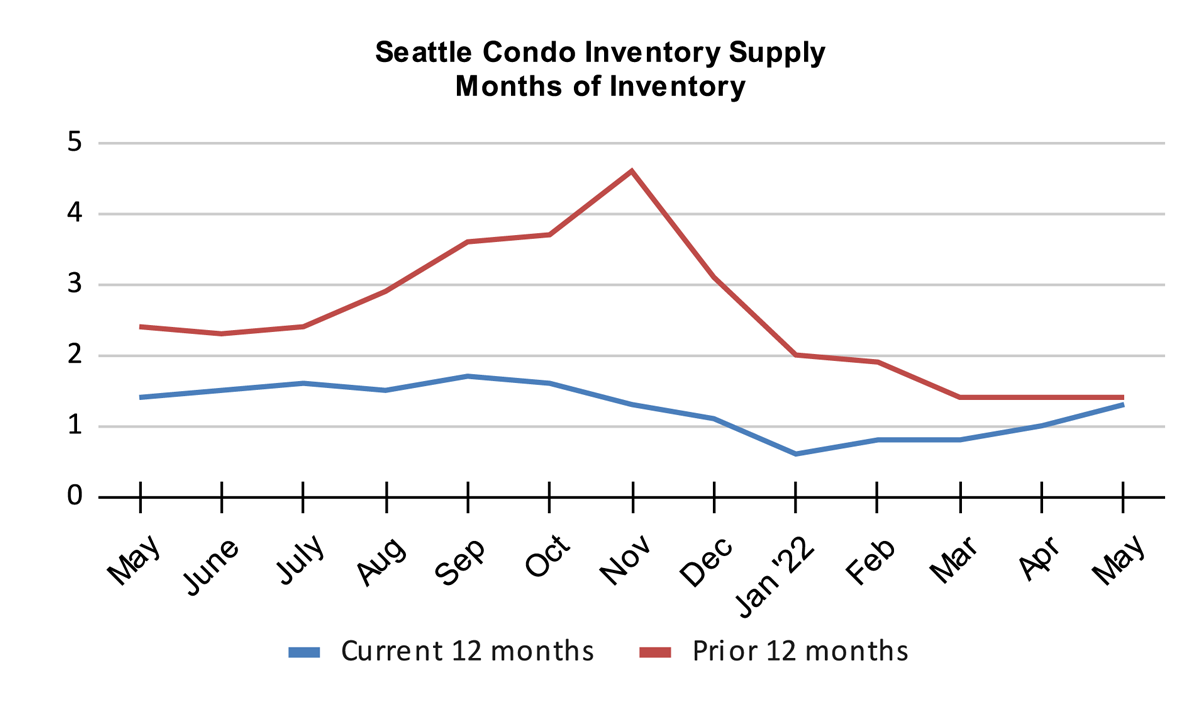 The reverse calculation from above – the number of pending sales divided by the number of listings – is the absorption rate. In this case, the Seattle condo absorption rate in May was 77%. That is, 77% of the condos listed for sale went under contract.
An absorption rate of 20% and more is considered a seller's market.
Condo Sales Activity Dips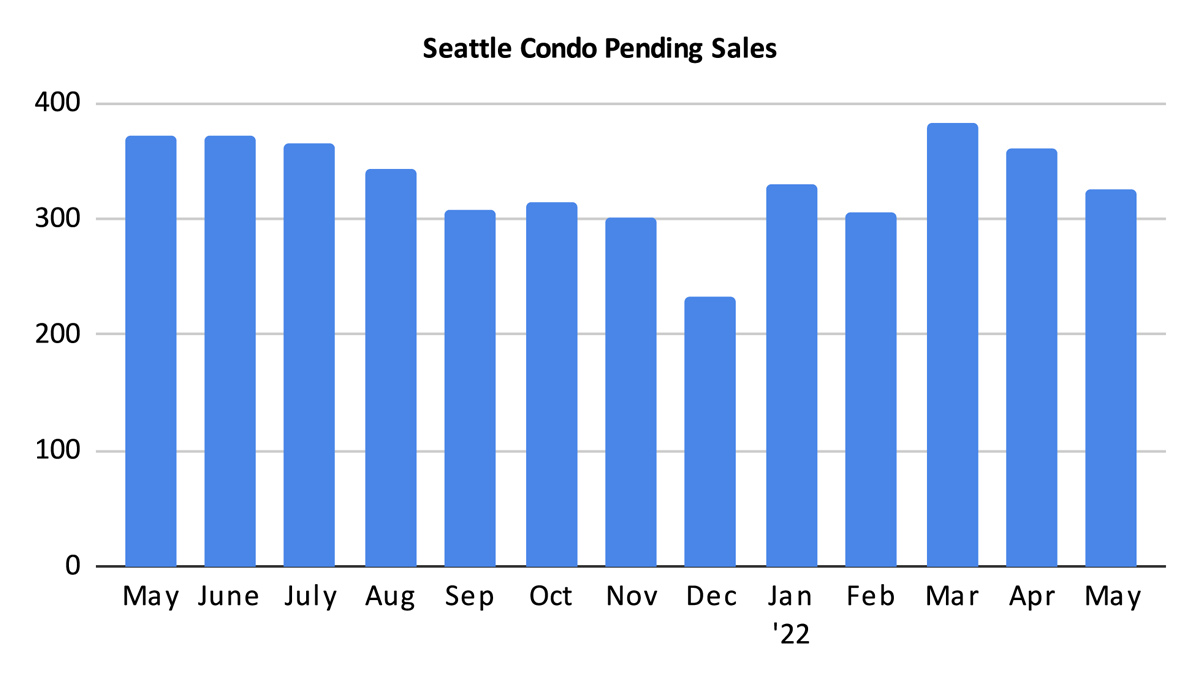 Pending sales transactions were the bleak spot for the condo market. The 326 pending sales in May reflected a decrease of 12.6% YOY and 9.9% from the prior month.
Pendings are likely to trend downward. Some buyers have exited the market temporarily due to rising interest rates and buyer fatigue. Condo loan underwriting and approval are also under stricter guidelines. We are starting to experience longer days on market time frames for condos, not to mention a cyclical plateau we typically see during the summer months.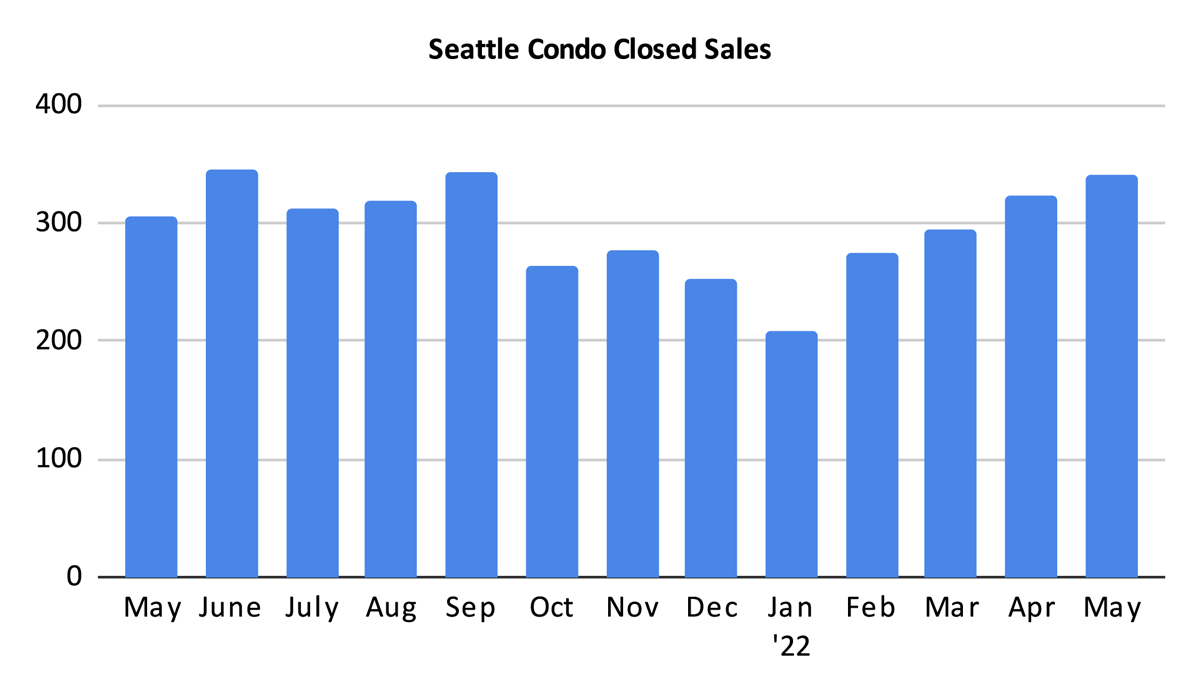 There were 346 closed condo unit sales in May, exhibiting a one-year increase of 12.6% and a one-month improvement of 5.6%.
Since closings typically follow pendings by a month, we can expect June closings to decrease from having fewer pendings in May.
Going Forward
Spring had sprung for Seattle's condo market in May. Median sale prices reached a new record high even as inventory continued to rebound. Sales activity took a slight tumble, partly due to rising interest rates and buyer fatigue.
Should the seasonality of our market hold true, sales activity will plateau during the summer months.
Sellers seemingly are continuing to take advantage of the seller's market conditions resulting in more listings. Though, it is starting to take longer to sell. Yet, for now, condo sales are still fetching a premium.
Buyers are benefiting from more inventory options and less competitive pressure. Though, their buying power has reduced from higher interest rates and rising prices.
Seattle Condo Market Statistics May 2022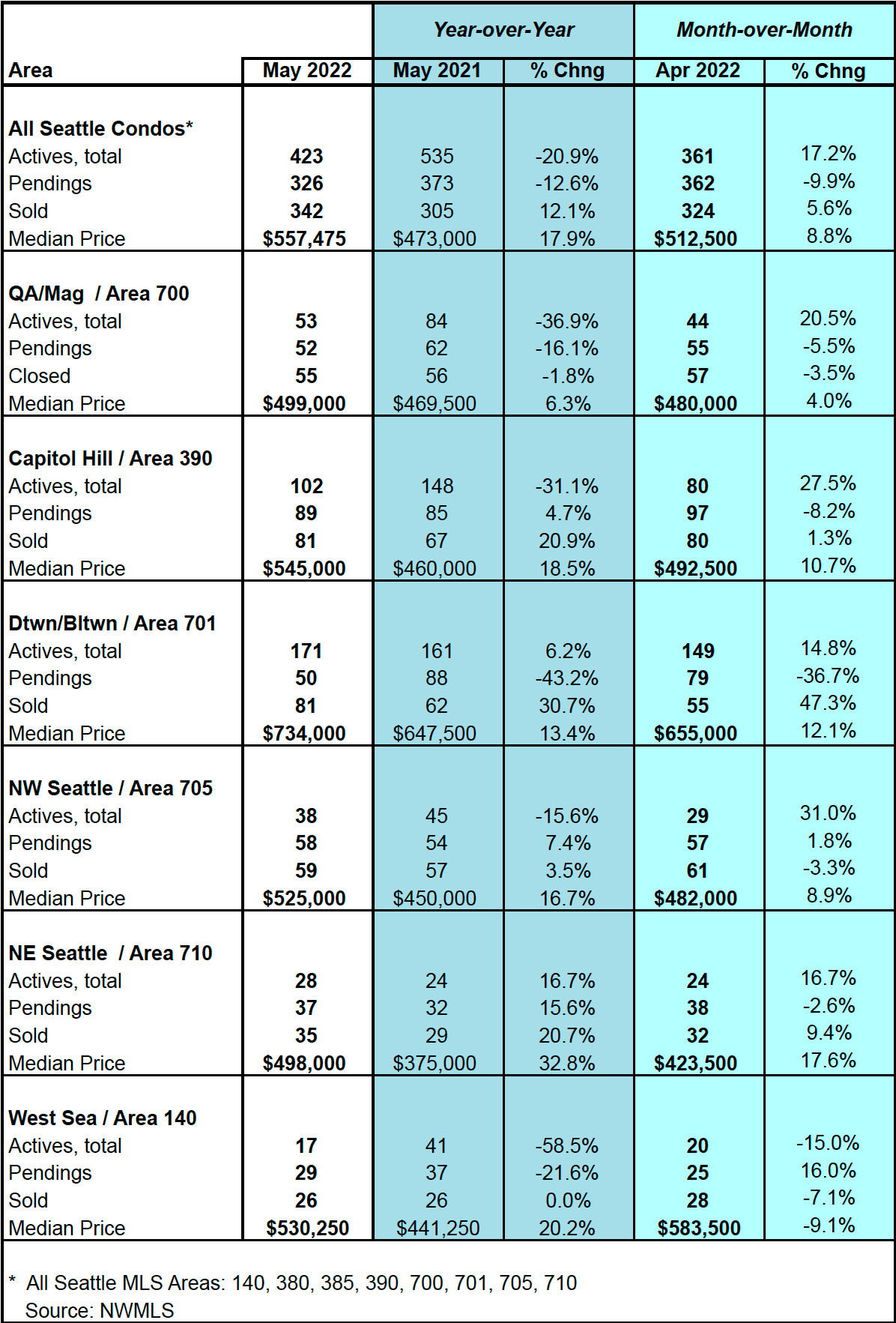 Source: Northwest Multiple Listing Service. Some figures were independently compiled by Seattle Condos And Lofts and were not published by the NWMLS.
© SeattleCondosAndLofts.com