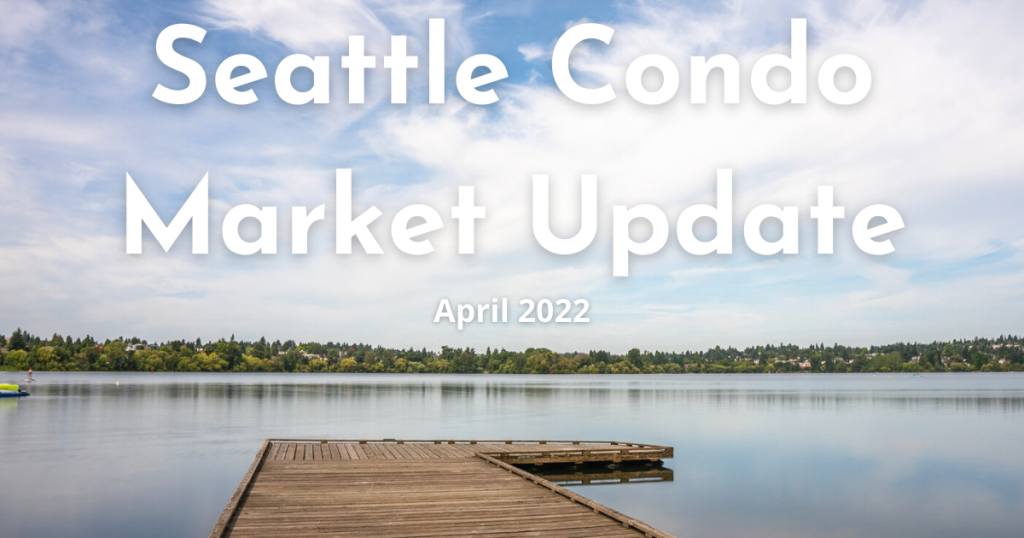 April showered the Seattle condo market with more of the same, similar results that we've been experiencing of late – tighter inventory, higher prices and solid sales activity.
The Seattle citywide condo median sales price in April rose 4.6% year-over-year and 0.5% over March to $512,500. This was the eight consecutive month of a year-over-year increase in the median sale price. The last time we encountered that trend was Spring 2018.
Overall, neighborhoods (MLS defined areas) throughout Seattle, with the exception of downtown, exhibited year-over-year gains. West Seattle and Northeast Seattle realized the largest percentage increase at 12.2% and 11.5% respectively, while downtown dipped 0.5%. See table at end of post for more neighborhood area results.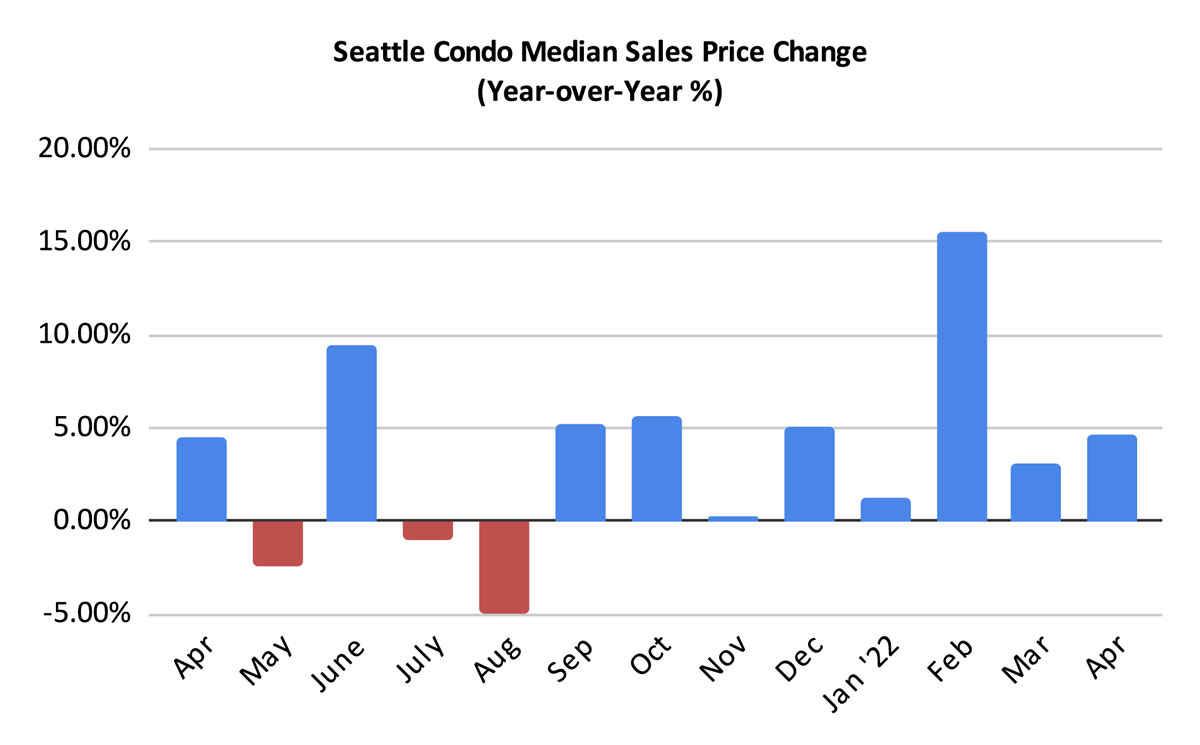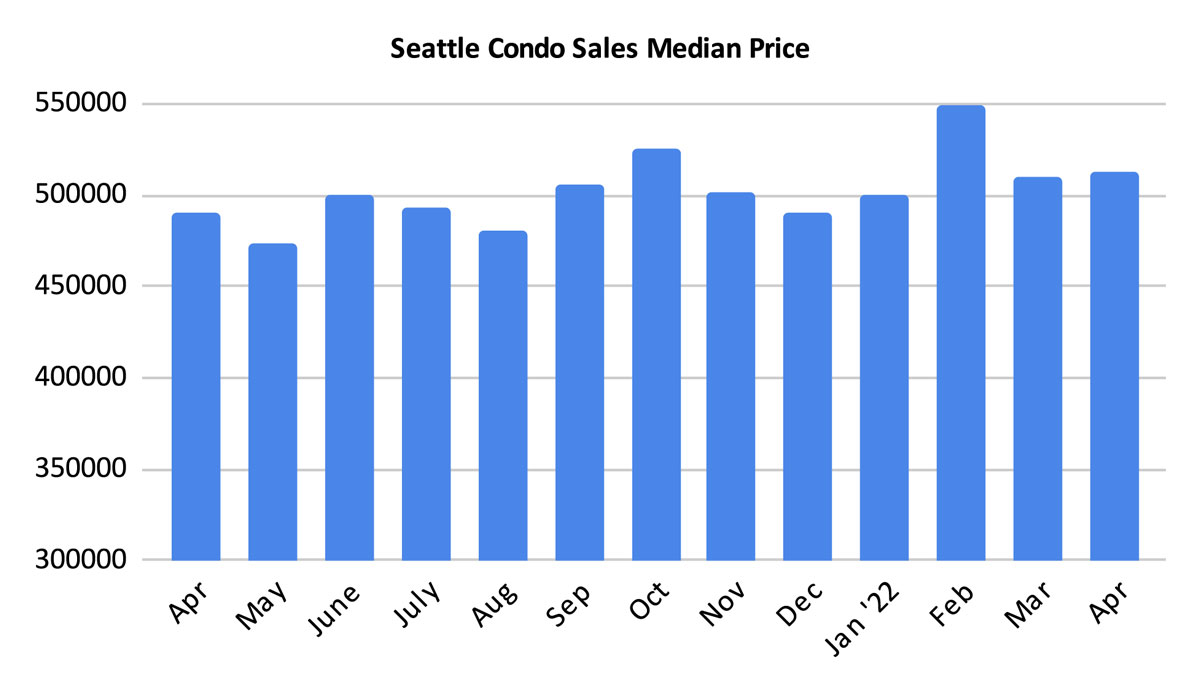 Seattle's condo listing inventory remained constricted, but has seasonally increased. Compared to April of last year, inventory was down 34.6% at 361 units. That, however, did reflect a healthy 24.5% increase over the prior month.
The Seattle real estate market is cyclical and inventory typically increases through spring before plateauing in summer.
Some areas have tighter conditions (see table at end of post). Queen Anne, Capitol Hill and West Seattle were hovering at about half of the listings that they had a year ago. On the other hand, Northeast Seattle had the same number as last year.
Take note of downtown. According to the NWMLS statistics for the month, downtown only had about 15% fewer units for sale than a year ago. That number, however, is not accurate. The NWMLS data, which we rely upon, only takes into account condo units listed for sale in the NWMLS. It does not include the 100s of readily available units in the newest condo buildings (Spire, Emerald, Koda), nor pre-sale opportunities at Graystone and First Light.
There are far more units available in the downtown area, though mostly in new buildings that do come with a higher price tag. Conversely, resale condo inventory that offer more affordable opportunities for buyers remain limited.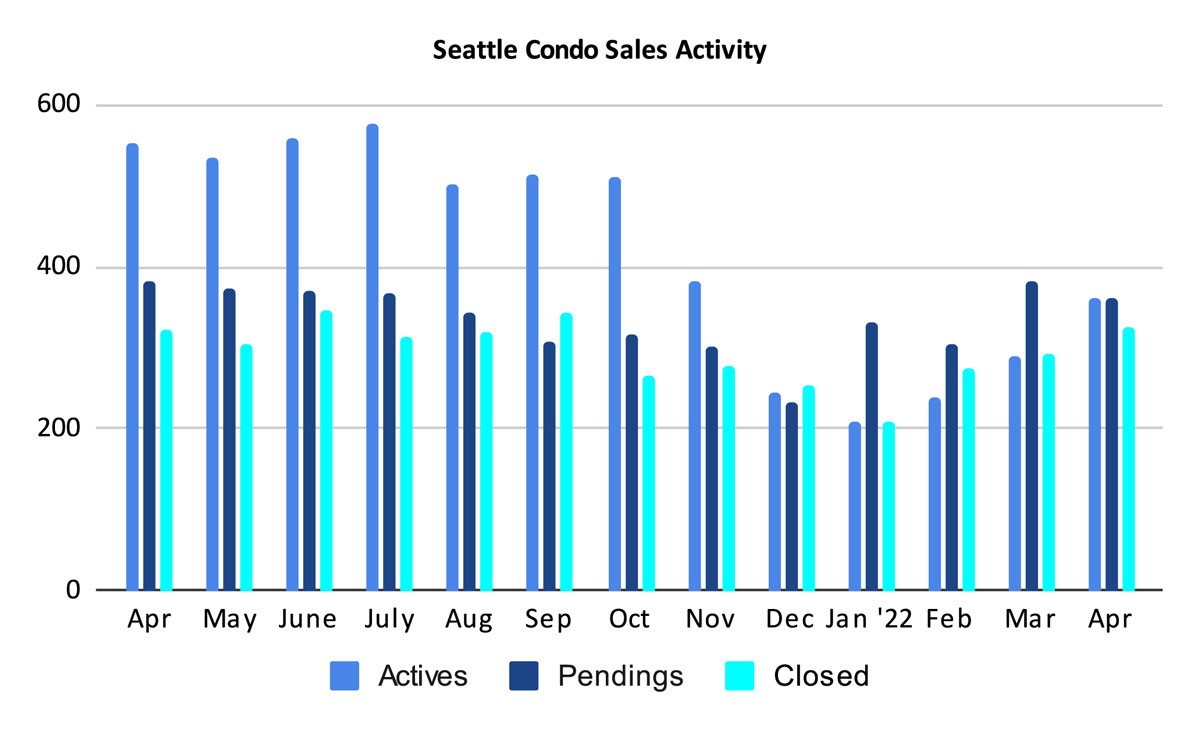 The inventory supply rate for April rose to 1.0-months of supply, though as the graph below indicate, still below last year's rate level.
The rise in the supply rate was a combination of the higher number of condo listings along with slightly fewer condo sales in April. The rate is calculated as the number of listings divided by the number of unit sales.
At a rate of 1-month of supply, essentially every new listing is being purchased. This can also be expressed as a 100% absorption rate. Thus, Seattle remains a highly robust market place.
The supply rate is a market environment metric. A rate of less than 4-months is a characterized as a seller's market. With the exception of November 2021, Seattle as been in a seller's market since 2012.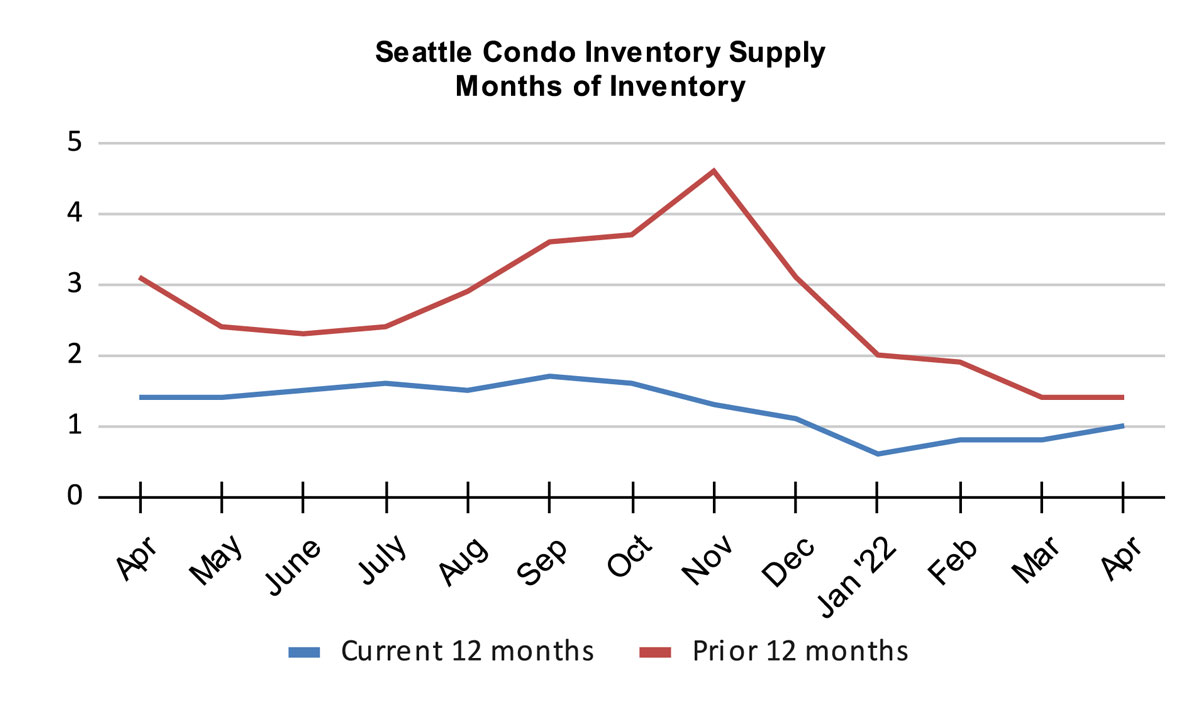 Seattle condo sales activity (pending transactions) remained solid but took a hit in April, dropping 5.5% year-over-year and 5.2% from the prior month, to 362 units. That could have been the result of several factors – limited inventory options outside of downtown, rising interest rates and buyer fatigue.
So far, through the first week of May, just over 100 units went under contract into pending transaction status. It's conceivable May will outperform April's sales volume.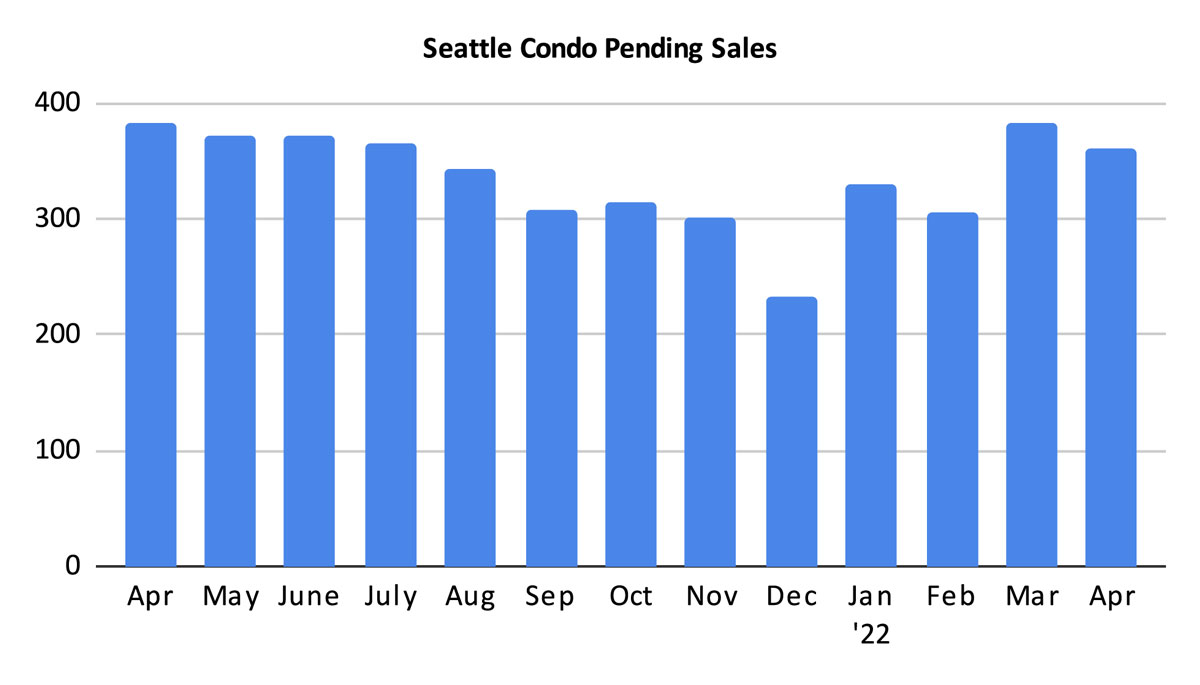 The number of closed Seattle condo sales improved to 324 units in April. That reflected a one-year rise of 0.3% and a one-month increase of 10.2%. This was expected given the number of pending sales in March since closings lag behind pending sale transactions by a month.
And with that in mind, the dip in pending sales in April will result in fewer closings in May.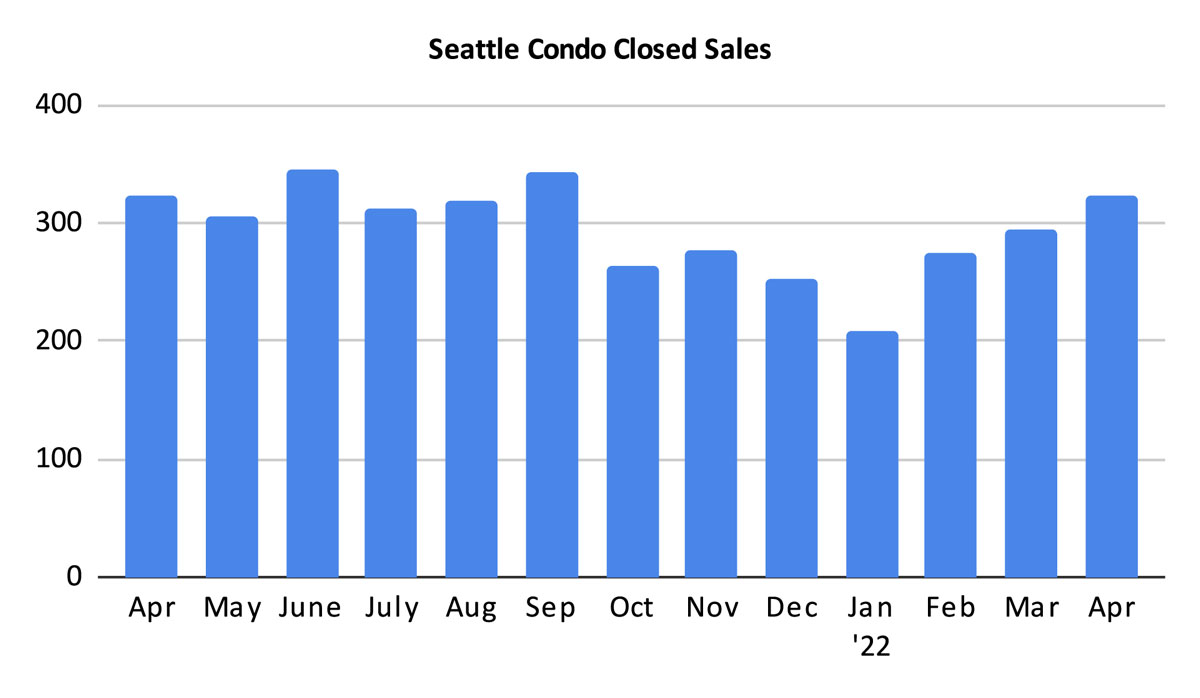 Seattle's condo market plodded along in April, reflecting more of the same characteristics that buyers and sellers have become accustomed to – overall tighter inventory, rising selling prices and buoyant sales activity. We will likely continue to see similar conditions as we progress through summer.
The good news for buyers is that inventory supply is beginning to improve. It's too early to tell if this is just the cyclical increase that we experience during the peak spring/summer seasons or a market shift (unlikely). At any rate, this will provide more opportunities for buyers. Although, I don't think we'll match the number of resale listings we had last year.
Sellers are still in the driver's seat, especially resale condo units.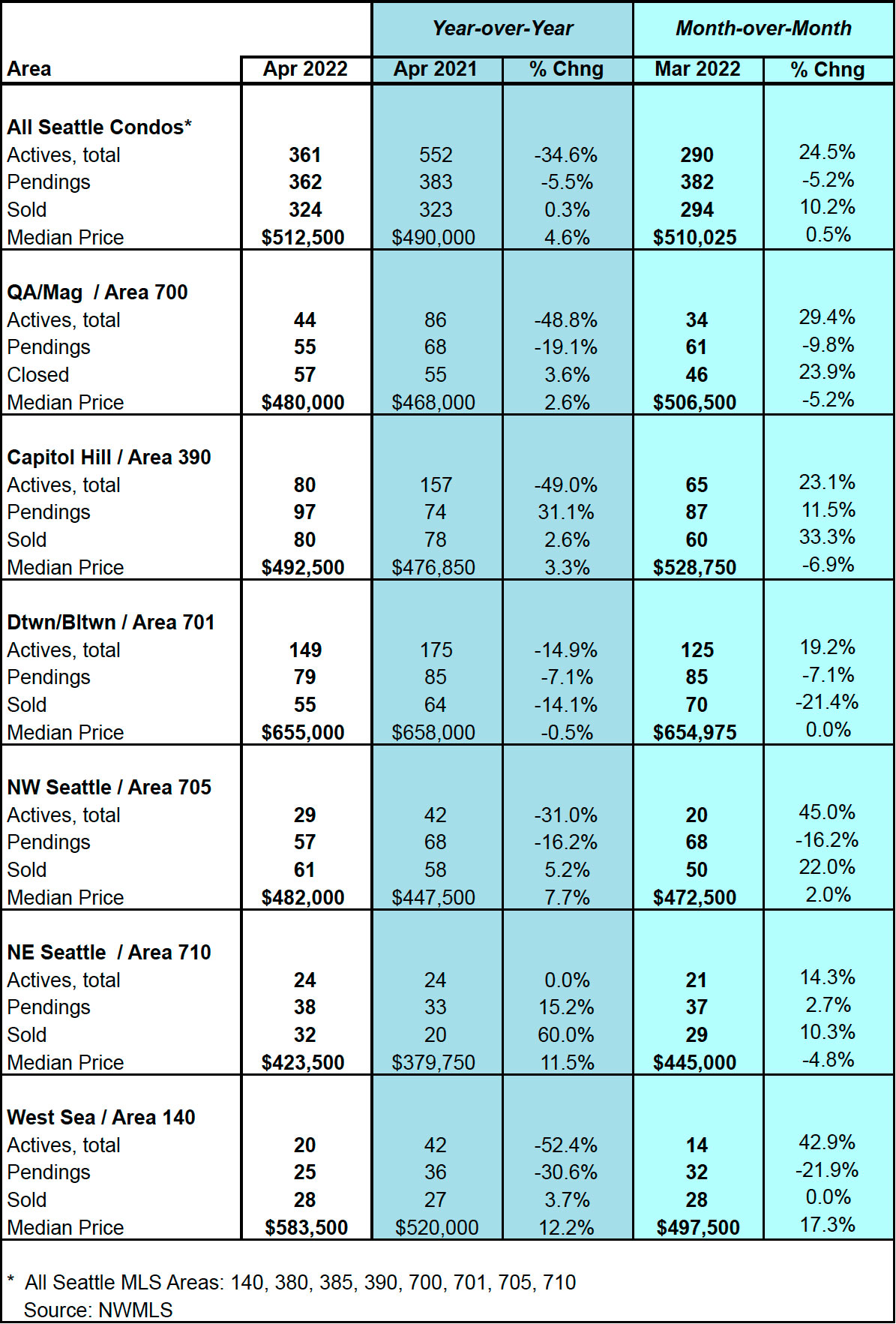 Source: Northwest Multiple Listing Service. Some figures were independently compiled by Seattle Condos And Lofts and were not published by the NWMLS.
© SeattleCondosAndLofts.com