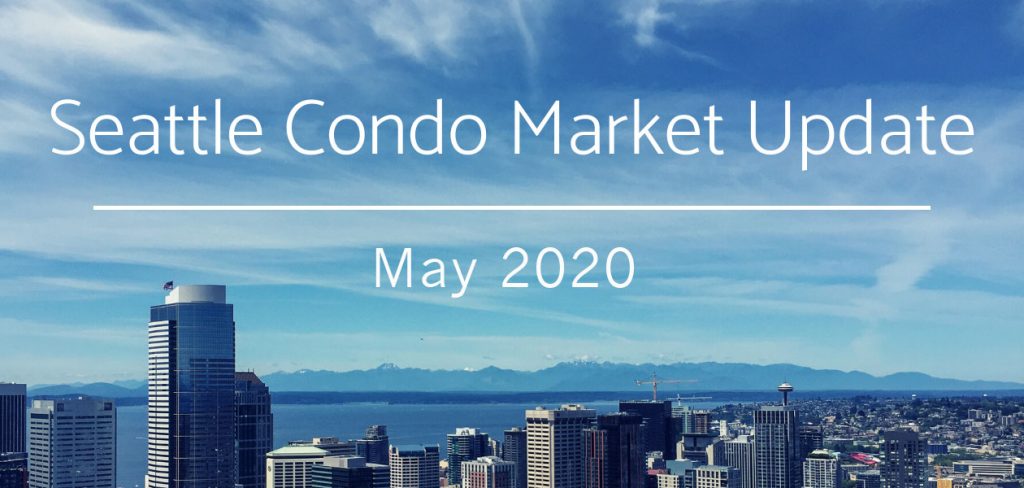 In what would typically be one of the region's most active months for real estate, May turned out to be a sluggish one for the Seattle condo market.
Though, not all was necessarily bleak. The citywide median condo sales price steadied a bit at $485,000 for the month of May, which reflected just a 2% decrease year-over-year, but also, a 3.4% increase over April.
In referencing the table at the bottom of this post, all neighborhood areas with the exception of Northwest Seattle and Queen Anne/Magnolia experienced increased median sales prices over last May.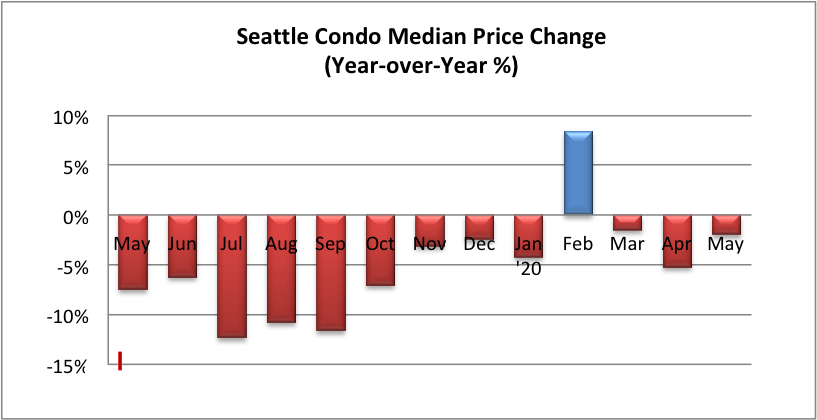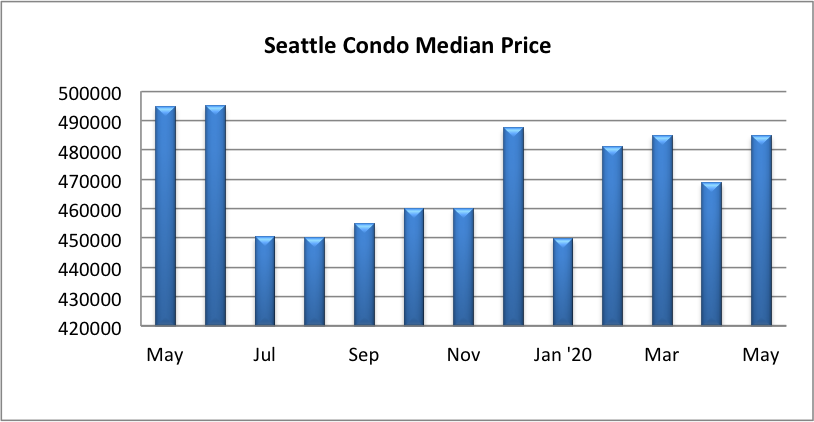 Lessening the blow was the increase of available Seattle condos for sale, with the number of active listings rising 17.8% in one month to 497 properties. However, that still reflected a significant 28.1% reduction in listings compared to the same period last year.
Still, though, inventory is rising as we'd expect seasonally at least, just not at the levels that we'd normally anticipate.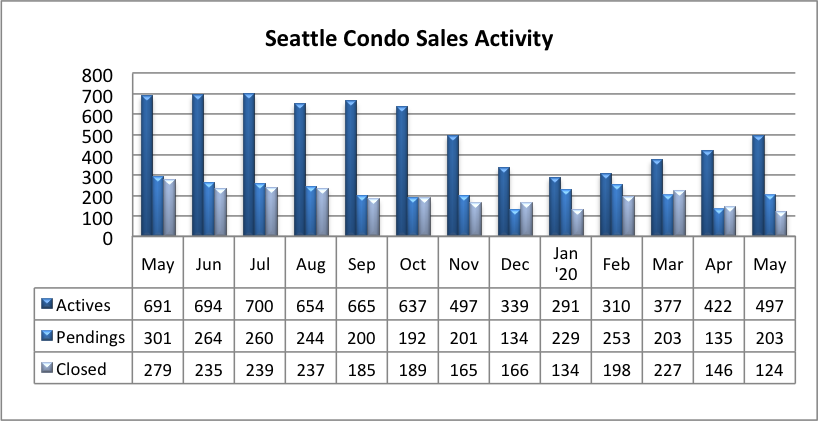 As a result, the inventory supply rate remain constrained, dipping to 2.4-months of inventory citywide.
The supply rate, a indicator of market conditions, keeps Seattle firmly in a seller's market. A supply rate of less than 3 months is characterized as a seller's market, 4-6 months a normal or balanced market, and over 6 months would exhibit a buyer's market environment.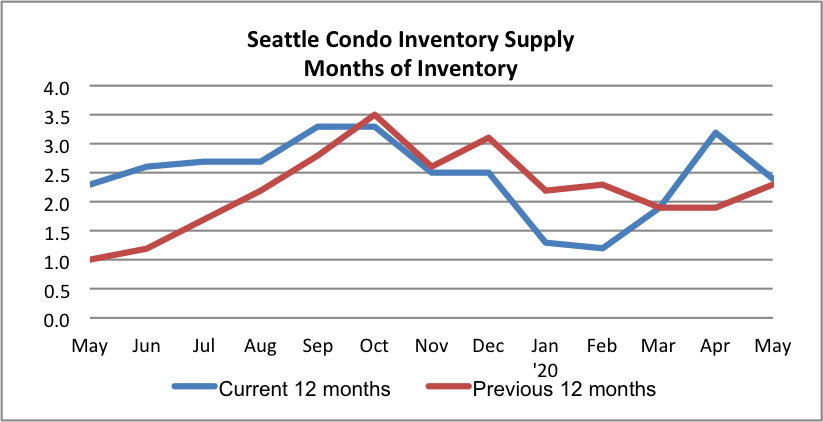 In looking at the graph above, the supply rate reduced in May from the prior month even though listings increased. That was due to the improvement in pending sales for the month.
Pending sale transactions (listings with accepted offers in escrow) rose 50.4% over April with 203 condo units under contract. Unfortunately, that also reflected far fewer sales compared to last May by 32.6%.
The silver lining, though, is that even with the challenges presented by the Coronavirus pandemic (showing restrictions, social distancing concerns with elevators, etc), condos sales progressed.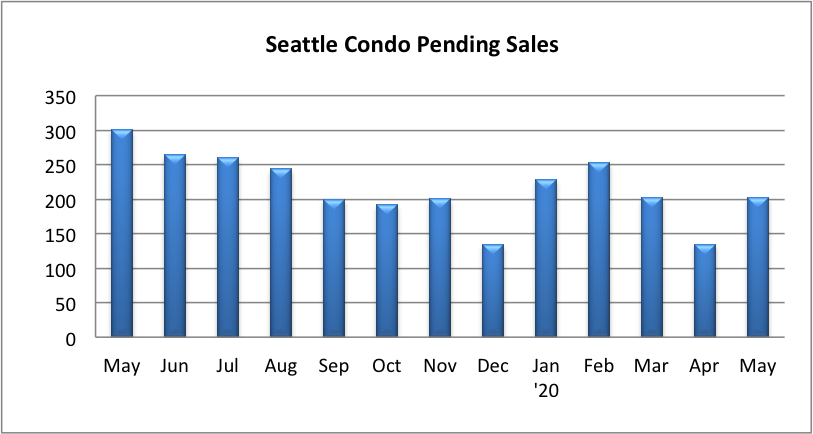 The number of closed Seattle condo sales tumbled to 124 units resulting in a whopping 55.6% year-over-year and a 15.1% one-month decrease, respectively.
To be fair, we sort of expected that since closings transactions lag pending transactions by a month and April was a terrible month for condo sales. Thus, with the number of pendings in May we would anticipate a the number of closings to rebound in June.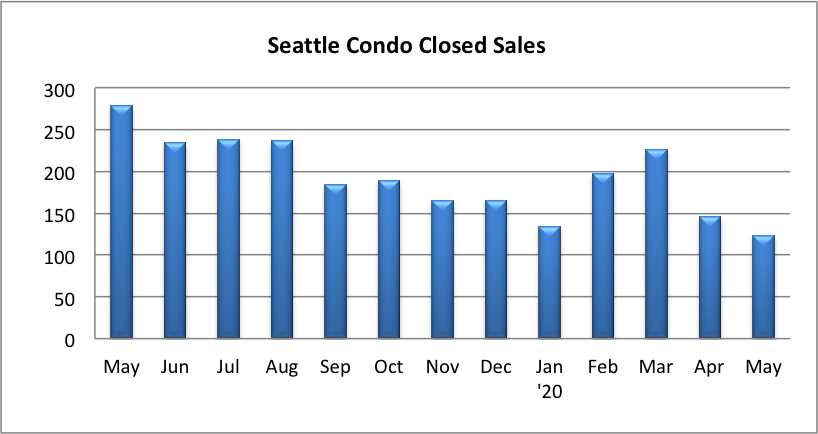 The May results reflected a sluggish month for Seattle's condo market, and even though activity started to improve the market is under performing 2019 levels quite substantially.
We remain hopeful the summer season along with the loosening of the state's stay-at-home orders and low-interest rates will present a more active market for buyers and sellers.
Source: Northwest Multiple Listing Service. Some figures were independently compiled by SeattleCondosAndLofts.com and were not published by the NWMLS.
© SeattleCondosAndLofts.com