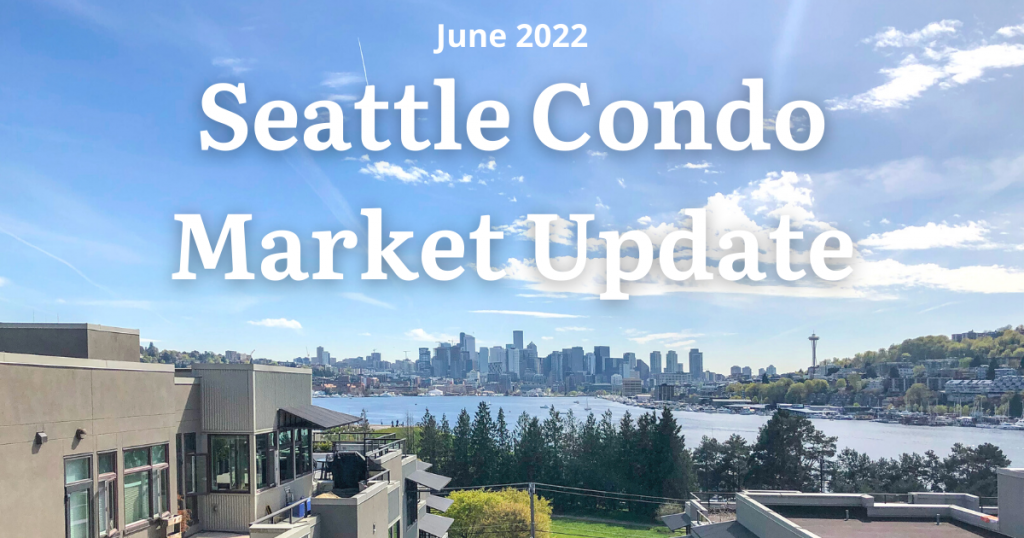 The Seattle condo market sailed through the first half of the year but ran into some rough water in June. After months of rising unit sales and prices, condo sales velocity tapered last month along with rising inventory.
Seattle's real estate market is remarkably seasonal. Typically, unit sales and selling prices rise from the the start of the year throughout spring. Then it plateaus in summer before softening during the second half of the year. Compounding the cyclical trend this year, external factors such as higher interest rates and expenses have reduced buyers' purchasing power which have impacted the market place.
Yet, sale prices remain steady with the Seattle citywide condominium median sales price increasing 7.7% year-over-year (YOY) to $538,700. That reflected a dip of 3.4% from the prior month, but it's still the 4th highest historically. For comparison sake, the median sales price of a single family home was $1,000,000 in June (up 13.3% YOY).
By NWMLS area, downtown, Capitol Hill / Central district and North Seattle realized YOY increases in their median sale prices last month. Queen Anne / Magnolia and West Seattle exhibited a decline. See table at end of post for more detail.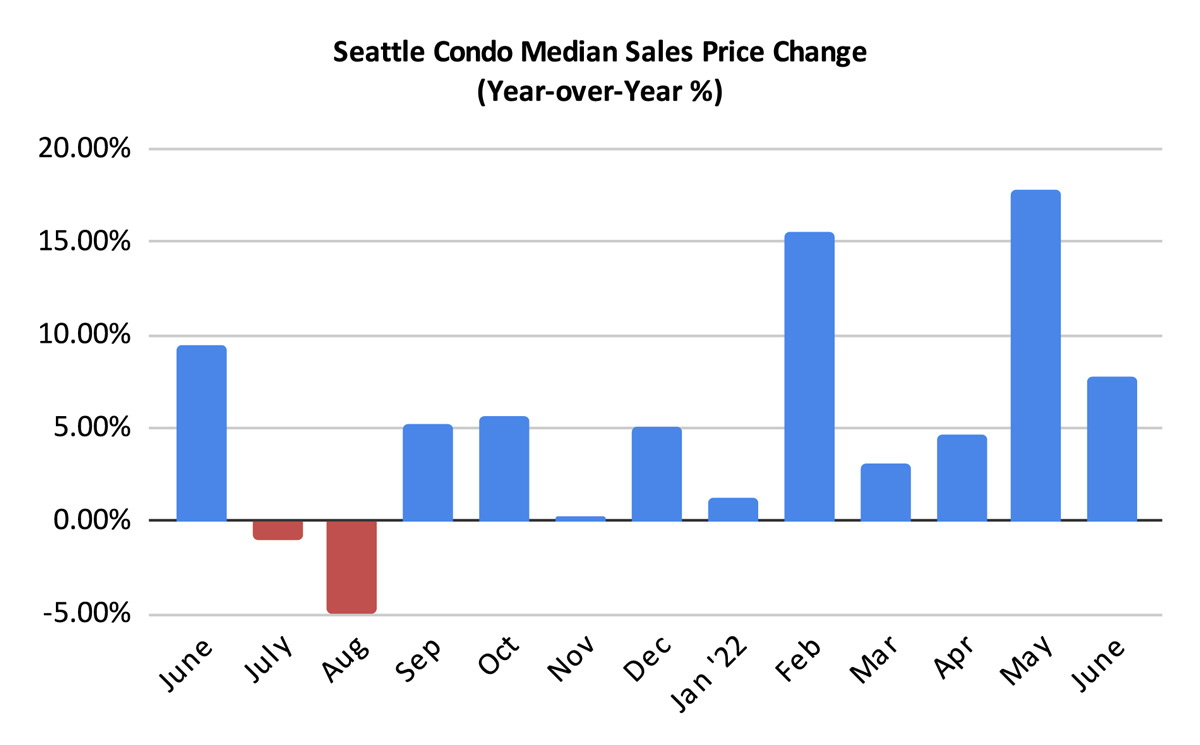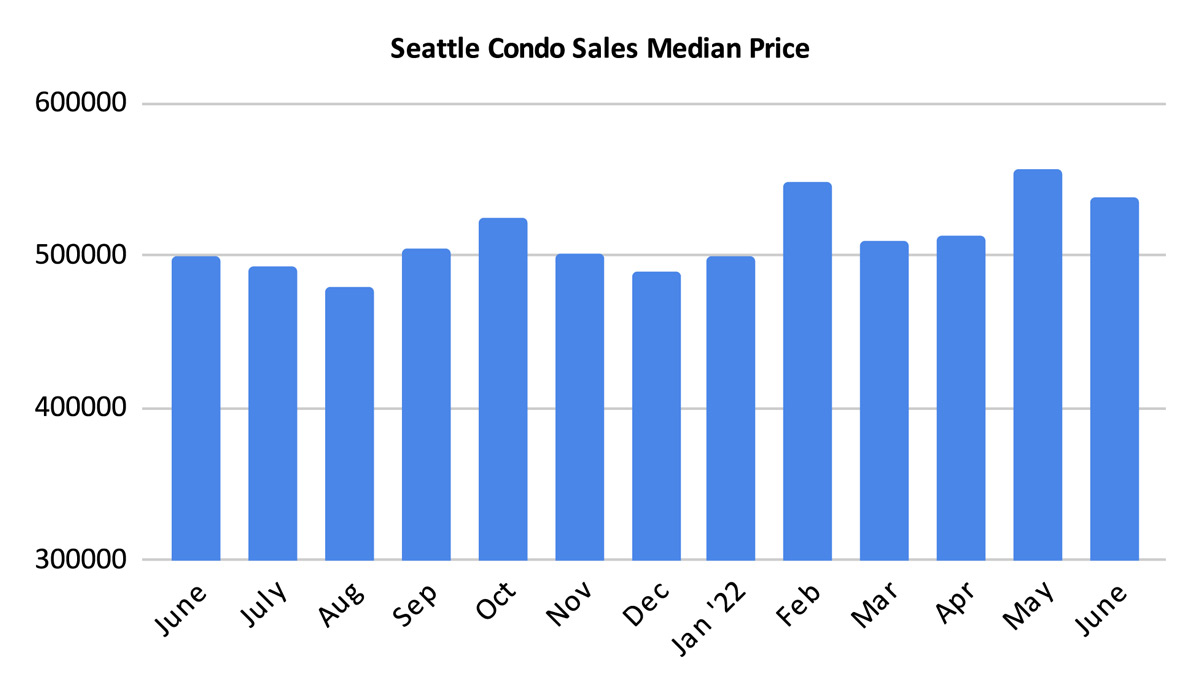 Inventory Rapidly Rising
Seattle's condo inventory continued to increase with 577 units available in June. This reflected a YOY increase of 3.2% and a one-month spike of 36.4%.
This is significant, it's the first time in more than a year where the current inventory level has outpaced the same period in the prior year. Just six months ago we were in a severe inventory drought. Back in January we had 64% fewer listings compared to the prior year, now we're ahead 3.2%.
That said, Seattle is made up of neighborhood micro-markets so the results vary. In looking at YOY listings, Queen Anne / Magnolia, Capitol Hill and West Seattle still had fewer units than they had last June. Though, inventory is rising throughout every Seattle neighborhood as noted in the month-over-month figures.
Two notes on the number of condo listings. First, it does not include available but unlisted units at the recently completed buildings in the downtown area and condo-townhomes sprinkled throughout the city. Therefore, the actual number is higher.
Second, is related to how the NWMLS tracks listings. The published monthly listing figure used in their reports and statistics is the number of active listings on the date they ran the statistics for the prior month. It is not the total number of listings that were available in that month.
In June, for example, we started the month with 423 units (# at end of May), added 508 new listings, and ended June with 577 units. Therefore, there were 931 NWMLS listed units available in June and 354 were removed (931 – 577 = 354). Of those 354, 277 went under contract in pending status and 77 listings came off market for other reasons (e.g. expired, cancelled, sale fail, rented).
For the sake of consistency, we will continue to use the NWMLS published total active (or net) listing figures. This is the figure that the NWMLS bases its inventory supply metrics upon. However, we will begin to show the newly added listing figures in the stats table below.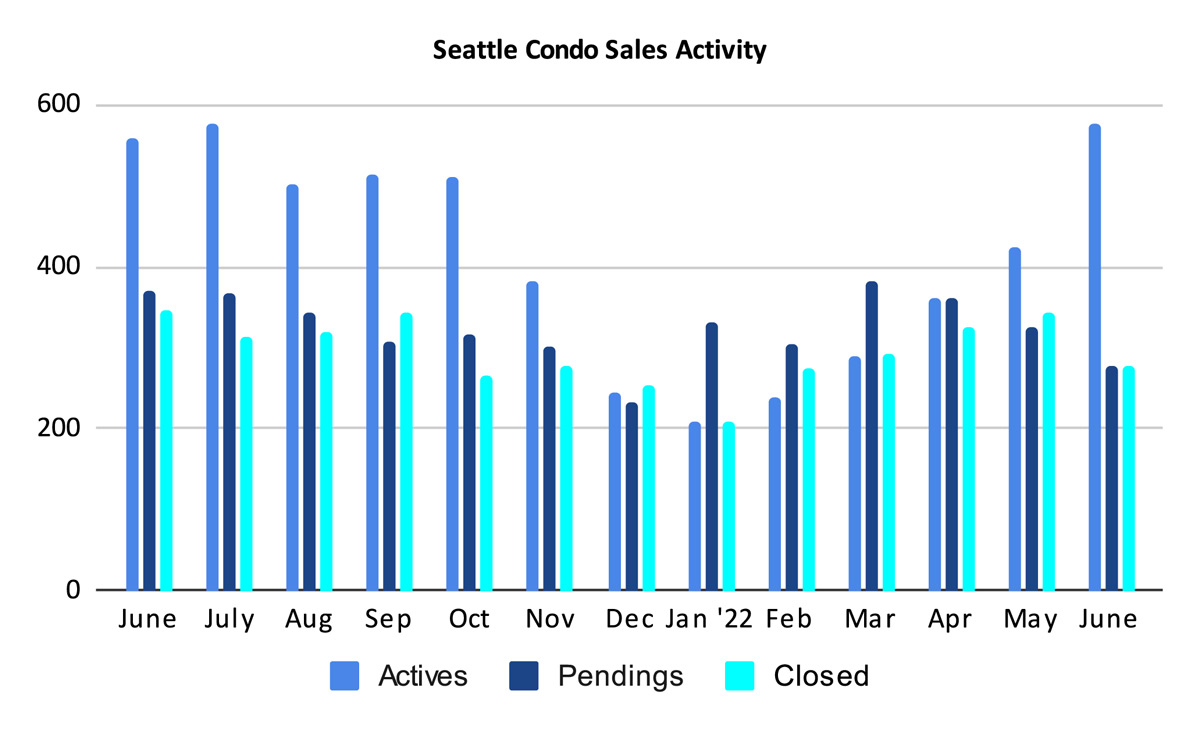 The rise in the number of active listings (i.e. NWMLS published), combined with the drop in sales, resulted in an increase to the inventory supply rate to 2.1-months of supply based on pending transactions.
The inventory supply rate metric characterizes the market environment. A rate of less than 4-months of supply is a seller's market, between 4-6 months a balanced market and over 6-months would be a buyer's market. It is possible we may encounter a balance market by the end of the year should the current trends continue.
The absorption rate for June based on pending transactions was 48%, down 29 percentage points from May. That is, buyers purchased 48% of the inventory available in June compared to 77% in May. A different metric but it tells the same story, inventory stock is rising with fewer sales.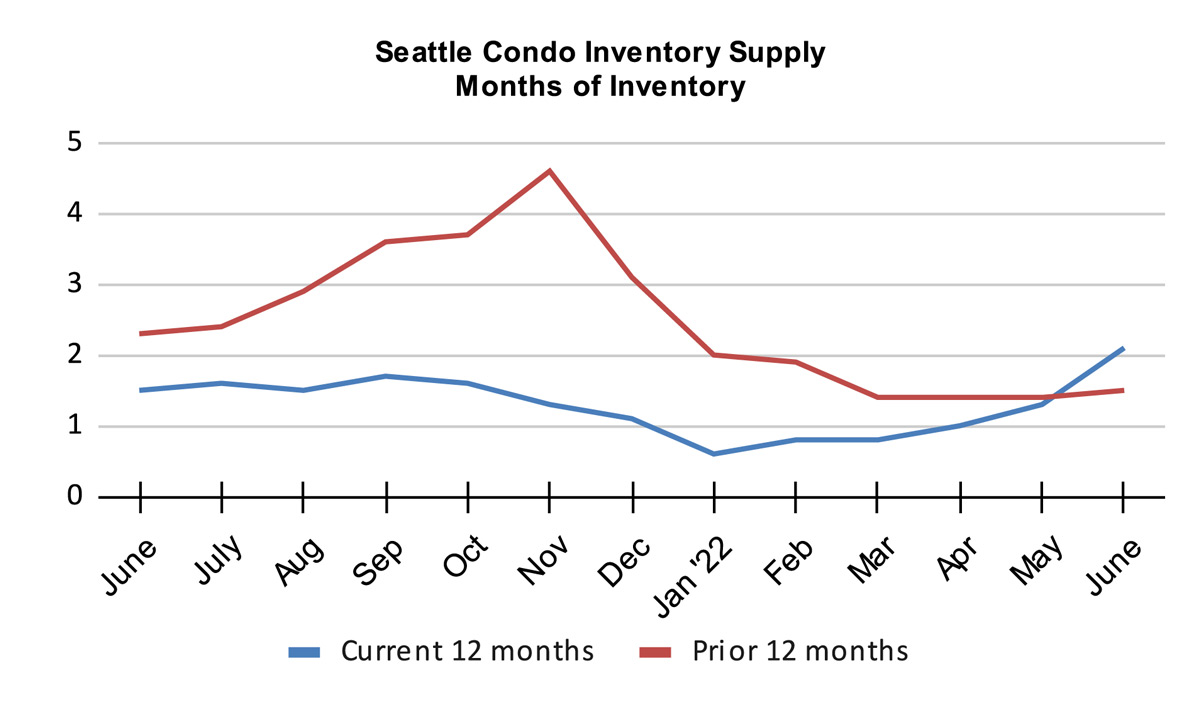 Condo Sales Slows Down
There were 277 Seattle condo pending transactions in June, reflecting a one-year and a one-month decrease of 25.3% and 15%, respectively.
A number of factors may have contributed to the drop in sales. Softening buyer confidence and buyer fatigue likely impacted the number of buyers in the market. Rising mortgage interest rates and a fluctuating financial market have reduced buyers' purchasing power. And, Seattle's pro-tenant rental ordinances have deterred some investors from the city, at least anecdotally.
Considering that we historically experience a slowing market place during the second half of the year, we can anticipate a downward trend in sales through the second half of the year.
But, there are also factors that may entice buyers to purchase. While interest rates have been rising all year, it started to decline over the past week. Perhaps it's a momentary blip, but if rates stabilize that may bring cautious buyers back into the market. The rising inventory also give buyers the advantage in choice and better values with sellers facing increasing competition from one another.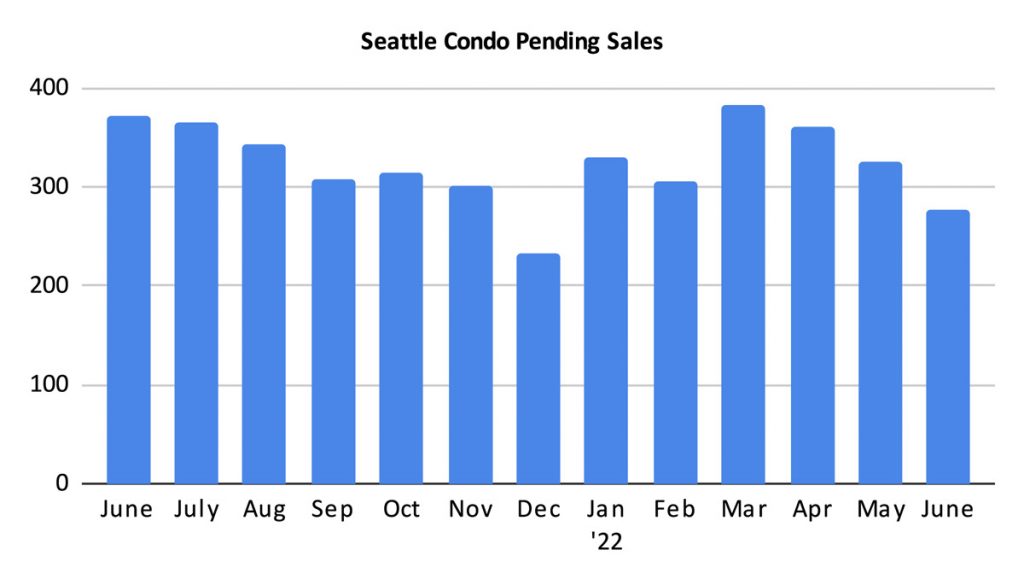 The number of closed Seattle condo sales declined 19.4% year-over-year and 18.4% month-over-month to 279 units in June. With fewer pending transactions there will be fewer closed sales. Cyclically, the number of closed sales will decline through the end of the year.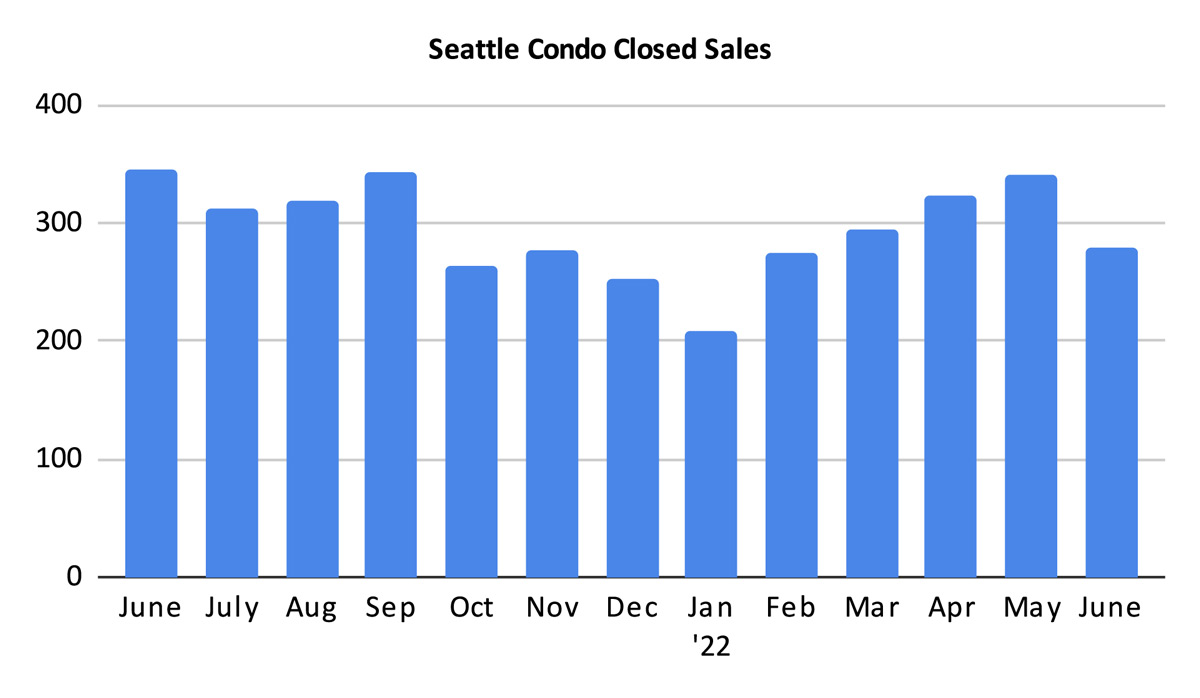 Going Forward
June marked a mid-year turning point for Seattle's condo market. Active inventory is rising rapidly, condo sales is seemingly slowing down though prices remain resilient, at least for now.
There are several external elements that may have contributed to the current state of the market – interest rates, inflation, buyer confidence and fatigue, local ordinances, etc. On the flip side, sellers are wanting to take advantage of the market while it is still in their favor, thus increasing the inventory stock.
With our seasonally influenced real estate market, the second half of the year historically sees sales activity and prices trend downward. And, that will be compounded by the overall state of the economy.
But, Seattle does have several factors in its favor. Our local economy, now dominated by the tech sector, remains strong. The new condo construction pipeline is rather bleak through 2025 with only two major developments under construction, both in the downtown area. Plus, mortgage interests are starting to reduce.
The coming months will be advantageous to buyers. More inventory provides more choices, less competition, lower prices and the ability to keep contingency protections with their offers (e.g. financing, inspection, etc).
Sellers, on the other hand, will face greater competition, longer market times and likely lower selling prices. For now, buyers are still buying. So far this month (through July 10th) there have been 83 condo units that's gone under contract.
Seattle Condo Market Statistics June 2022
We are making an adjustment to the monthly area statistics table. We are now including newly added listings for the month in addition to the total (net) listings for the month.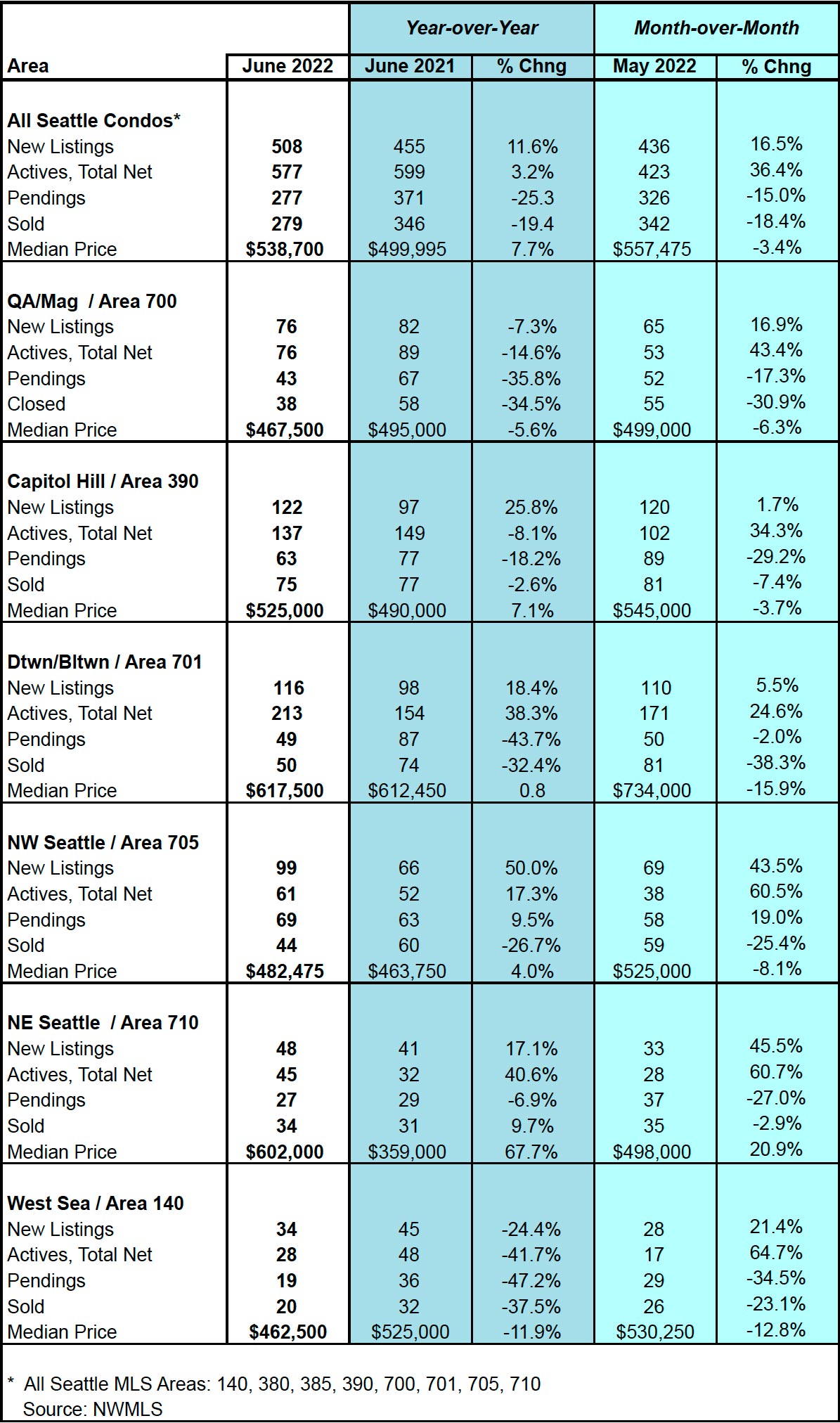 Source: Northwest Multiple Listing Service. Some figures were independently compiled by Seattle Condos And Lofts and were not published by the NWMLS.
© SeattleCondosAndLofts.com