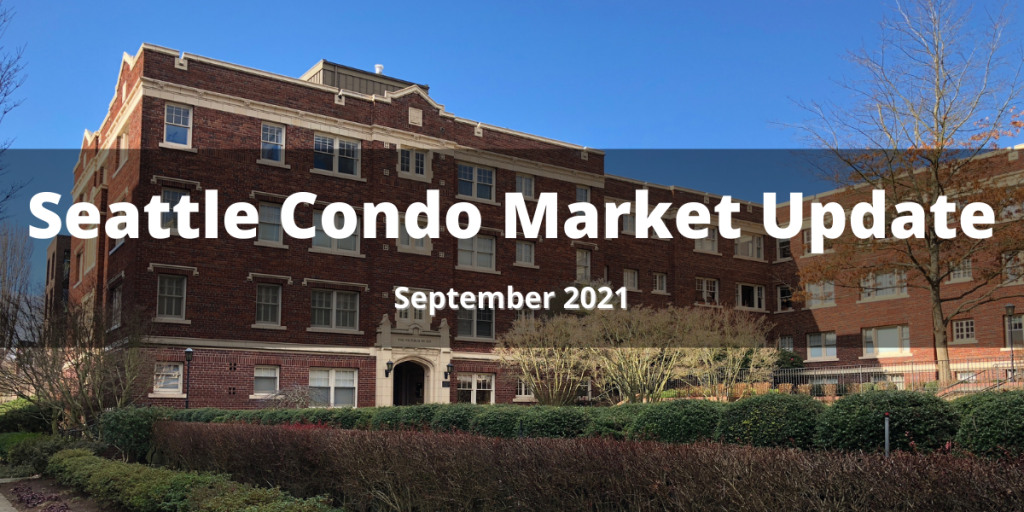 September turned out to be a great month for Seattle's condo market. The median sales price reached a year-to-date high from robust condo sales activity.
The citywide Seattle median sales price for condos rose 5.2% year-over-year (YOY) and month-over-month to $505,000. By NWMLS neighborhood area, NW Seattle (essentially Ballard), saw the biggest YOY increase of 10.2%, with NE Seattle (0.1%), Capitol Hill (4.6%) and Queen Anne (5.0%) also experiencing higher selling prices for the period.
Conversely, downtown (-2.8%) and West Seattle (-9.8%) realized a decrease in their median sale prices. For more information, see table at bottom of the post.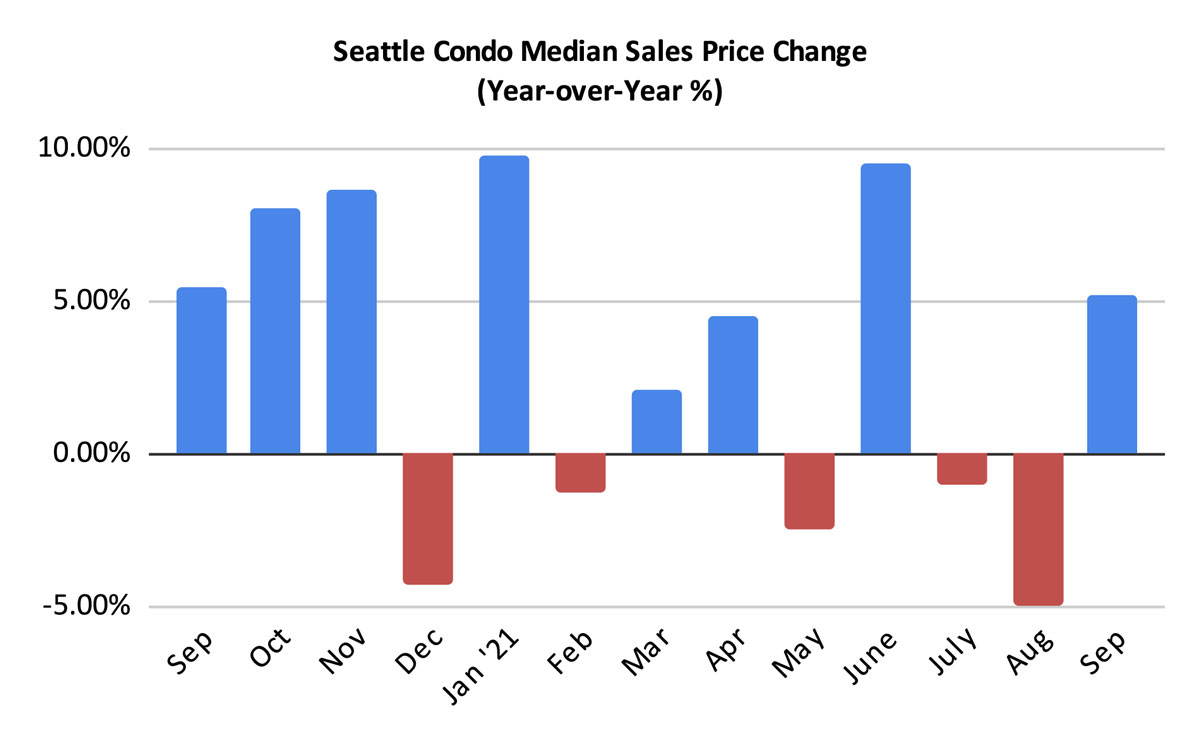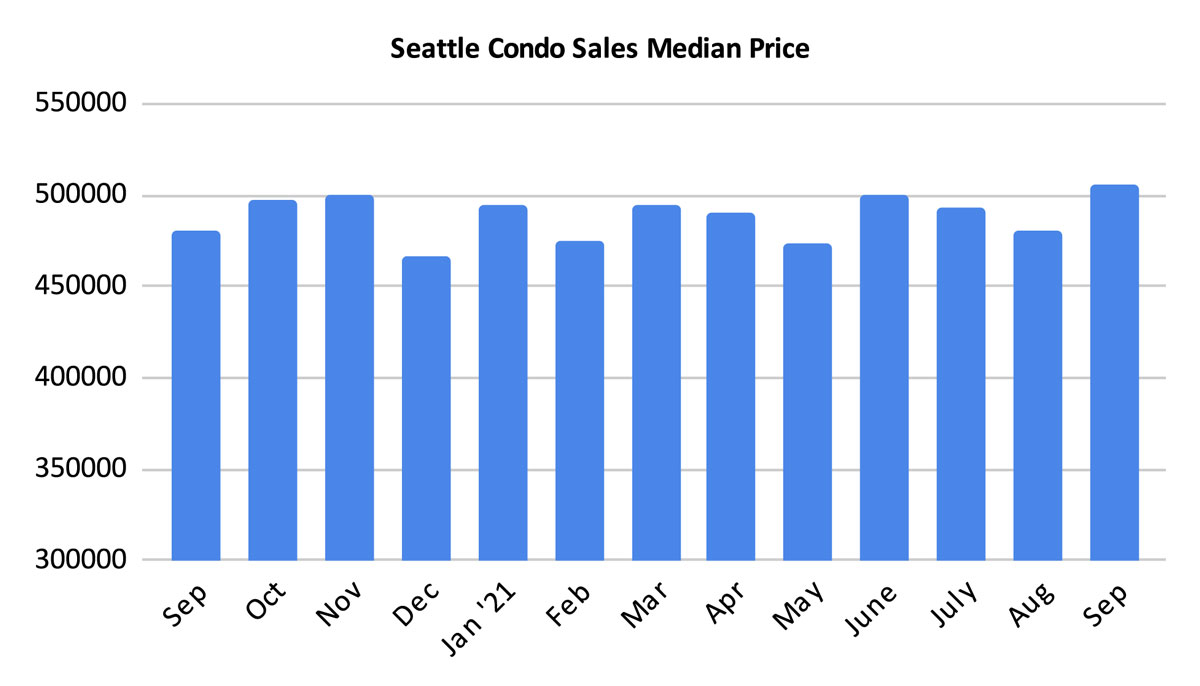 Seattle's inventory of MLS listed condos for sale increased slightly from the prior month by 2.4% to 515 units. However, that was 47.6% fewer units for sale than we had a year ago when we had nearly 1,000 units for sale.
This number primarily represents resale units listed for sale in the NWMLS, thus in that respect, it is a good indicator that there are fewer individual owners reselling their units this year compared to last year.
With that said, we do have a considerably higher number of condo units that are actually available for sale in the city, predominately in the downtown / Belltown area. The overwhelming number of newly completed and under-construction units available are not reflected in the NWMLS. Therefore, you won't see them listed for sale online nor are they included in official NWMLS market figures.
Contemplating these unlisted condo units, we basically have a comparable number of units for sale as we did a year ago.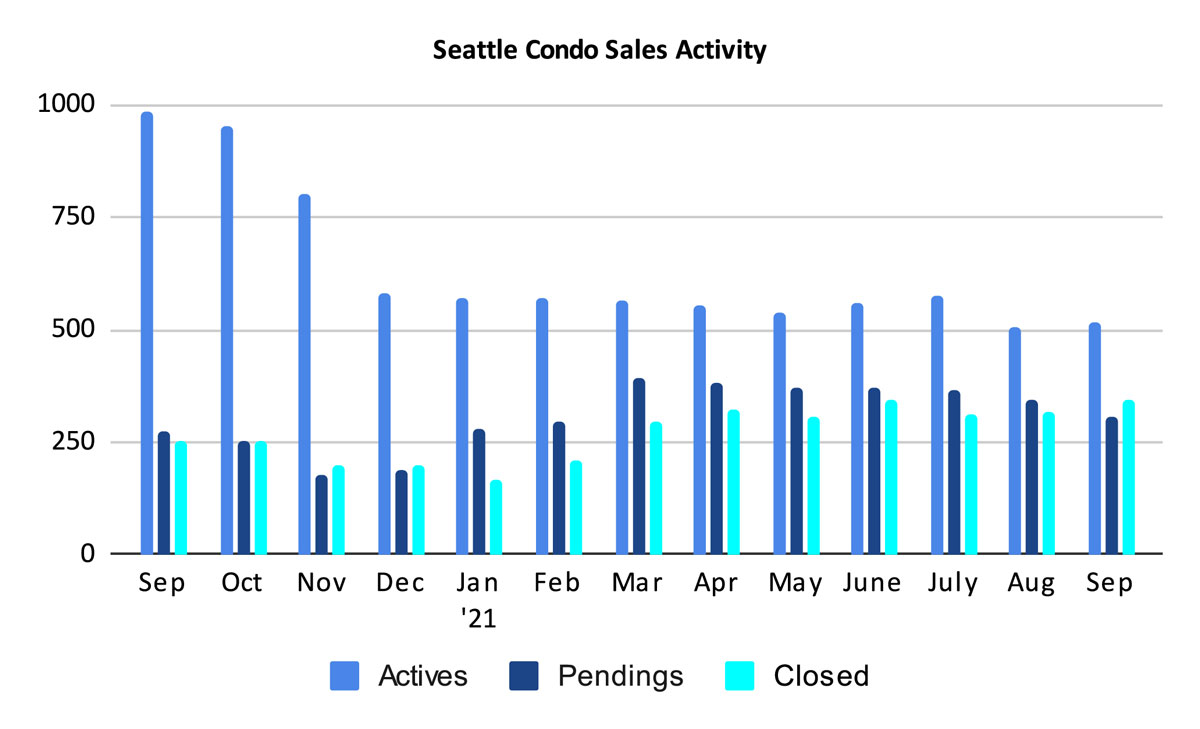 The inventory supply rate inched up slightly to 1.7-months of supply based on pending sales transactions, which is about half the rate we had last year when we were teetering on the cusp of a balance market. Nevertheless, Seattle remains firmly in a seller's market environment.
Market conditions is highlighted by the inventory supply rate metric. A rate of less than 4-months of supply is a seller's market, 4 – 6 months a balanced market, and over 6-months would be a buyer's market.
However, sellers and buyers will encounter varying experiences from Seattle's diverse neighborhood micro-markets. Ballard, for instance, which has had a dearth of listings has been particularly competitive while condo dense neighborhoods such as downtown have been a little softer.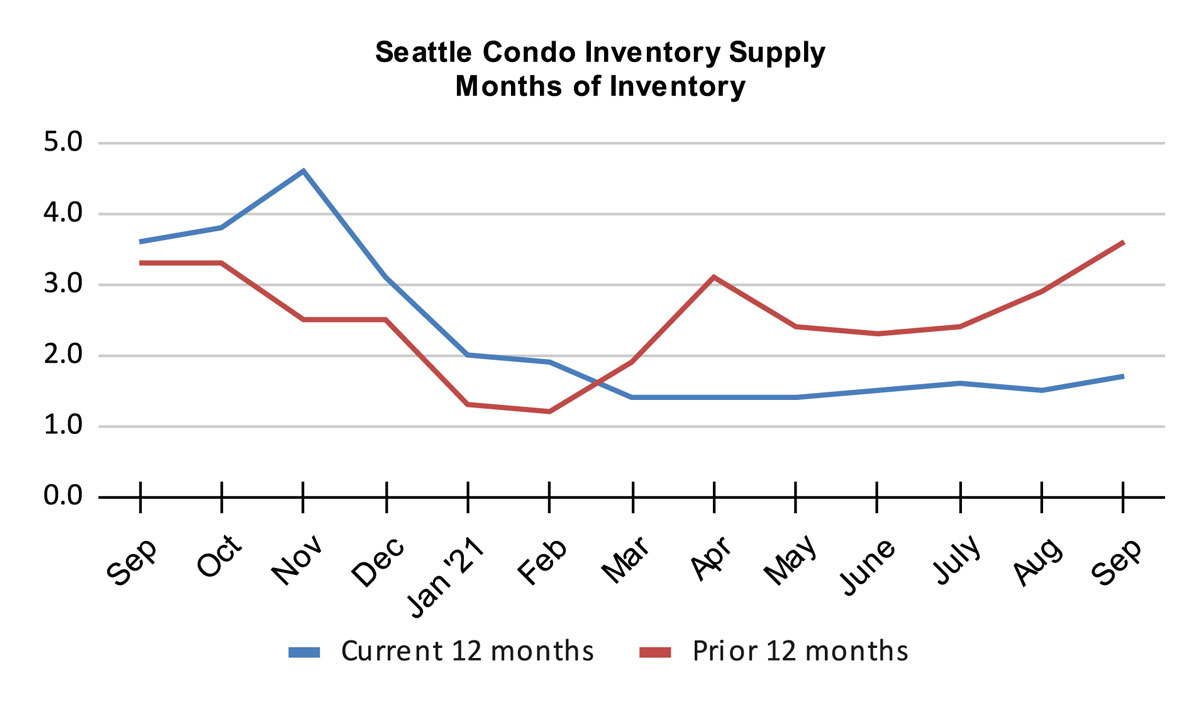 The number of pending sales transactions under contract improved by 11.2% YOY to 307 units, though that was 10.5% fewer than the month prior.
Seattle's housing market is seasonal, thus we will see condo sales trend downward through the fall.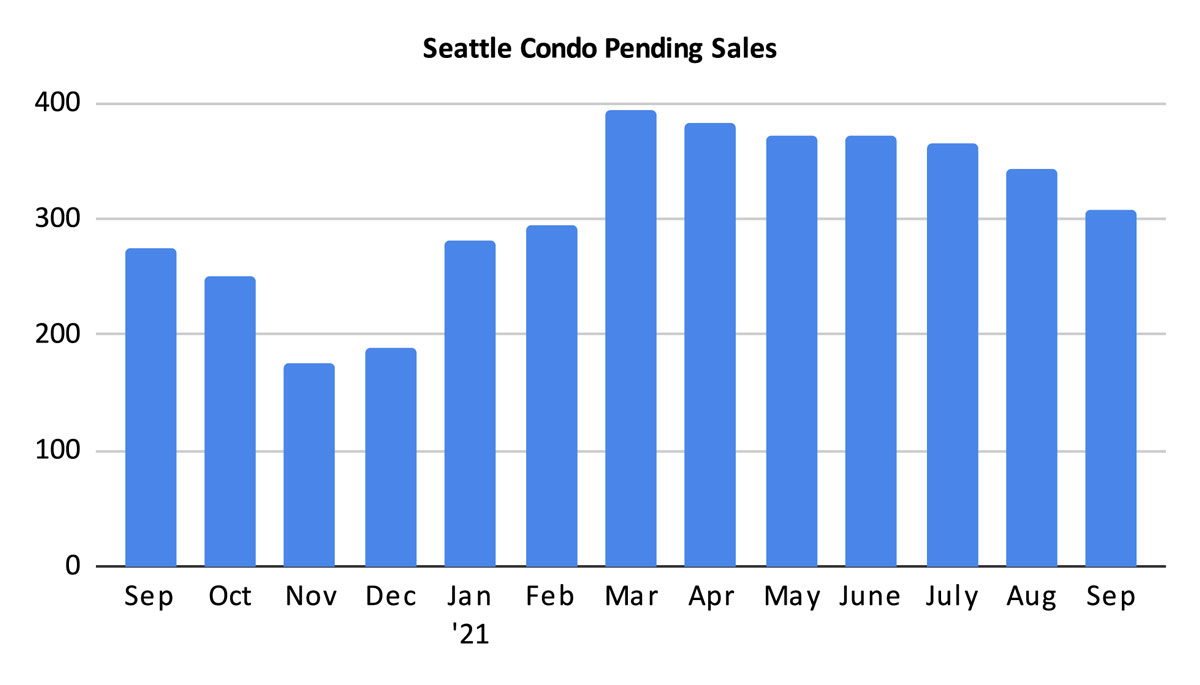 Closed Seattle condo sales rose to 343 units in September, reflecting a solid 34.5% YOY and 7.9% one-month increase, respectively. Closings lag pendings by a month so this number will start to dip as pending transactions reduce.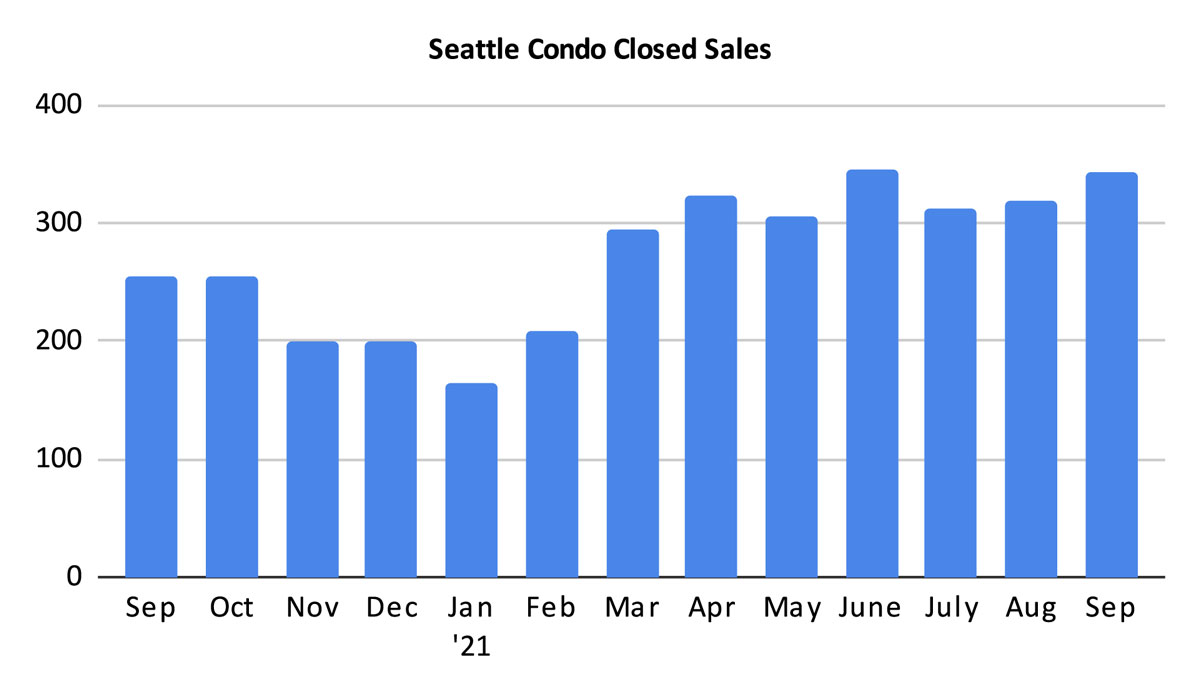 September was a strong month for Seattle's condo market with improved sales activity and higher median selling prices. Given our cyclical market place we will see the activity slow and the market trend downward through the fall and winter season.
That may be benefit for buyers who may see less competition in a softer market, particularly so for those considering a new downtown condo. Though, historically, there will be fewer resale units available overall.
For sellers, they may also have less competition from other sellers once the holiday season rolls around. Those needing to sell may benefit from buyers moving to the area and needing to buy.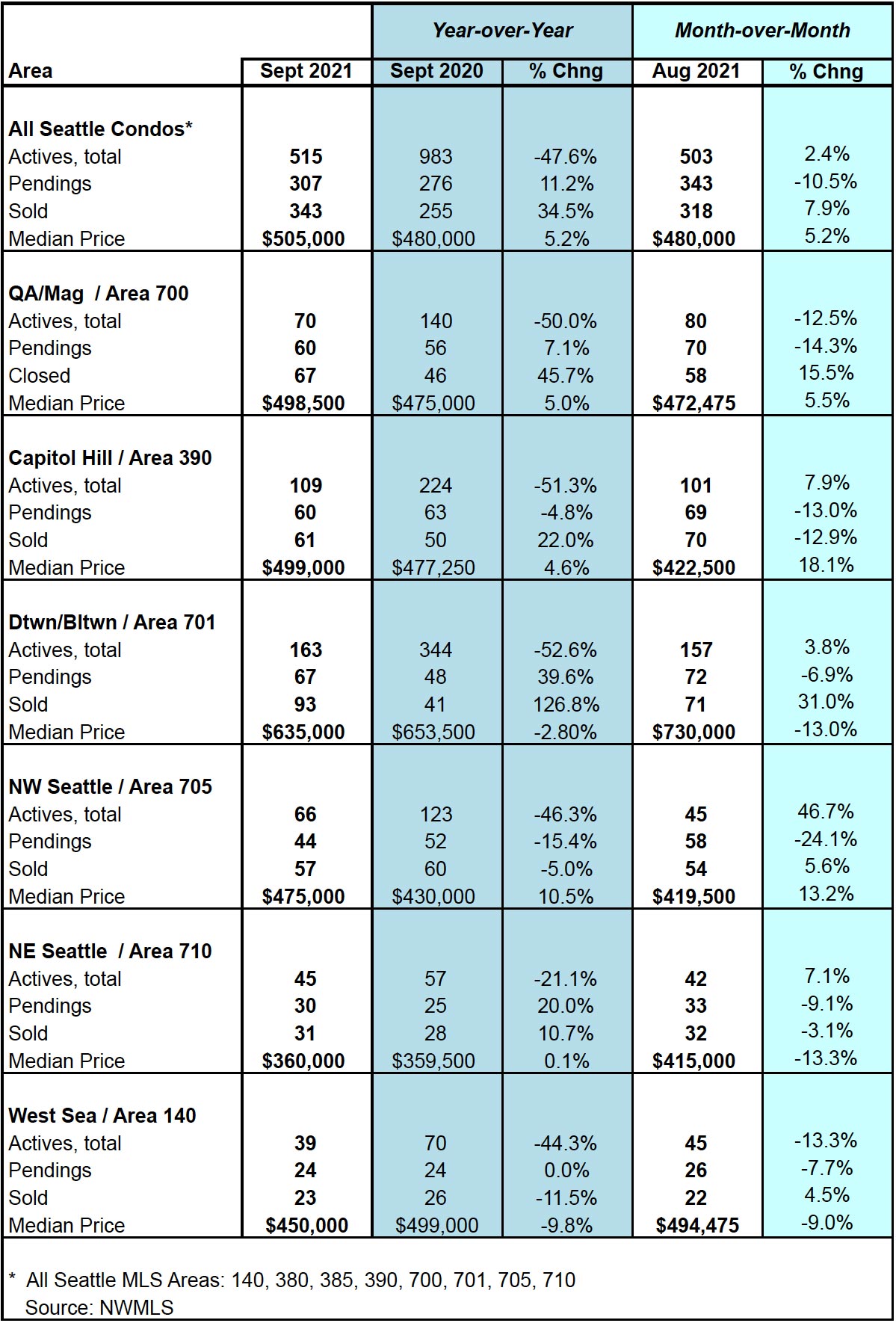 Source: Northwest Multiple Listing Service. Some figures were independently compiled by Seattle Condos And Lofts and were not published by the NWMLS.
© SeattleCondosAndLofts.com