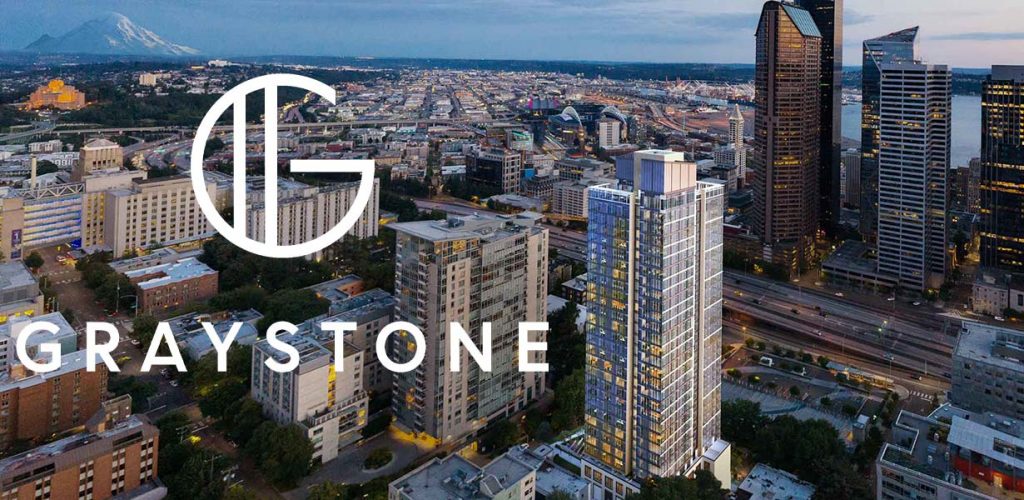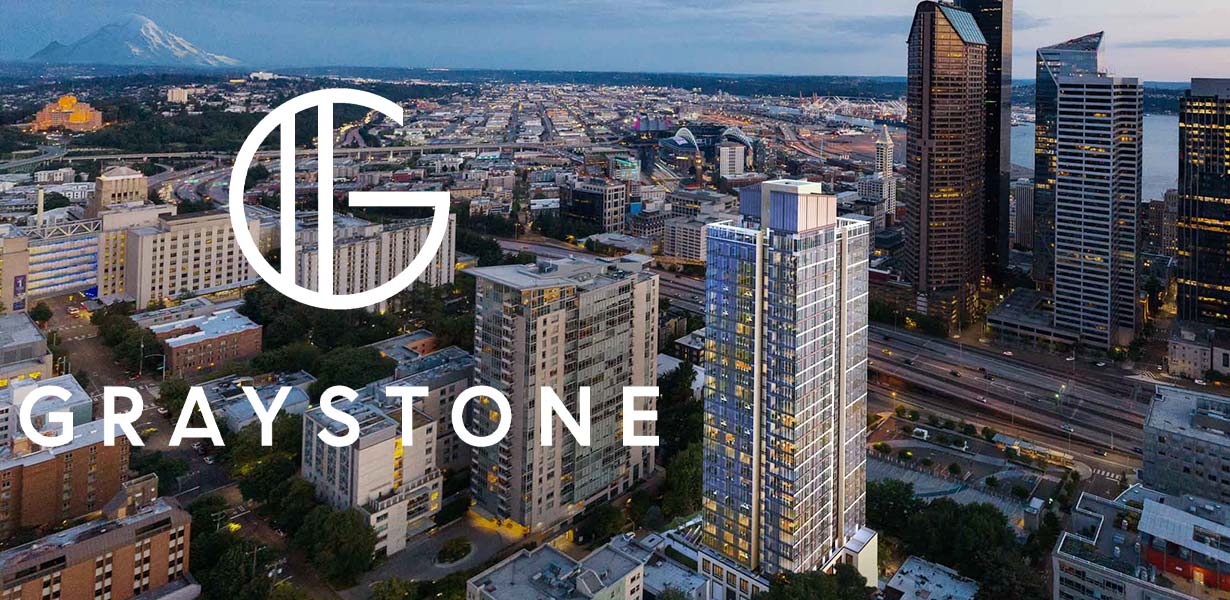 The Graystone Condominium opened its new snazzy and much larger sales center on First Hill at 1317 Madison Street.
Currently under construction, Graystone is the first major condominium development in the First Hill area since 2016. The sleek glass enclosed 31-story (or 36-stories on how you count, more on that later) high-rise tower at 800 Columbia St will feature 271 upscale residential homes. Graystone is expected to be completed in early 2023.
The sales center, run by Realogics Sotheby's, recently moved down the block into new spacious digs that now include full scale model / showroom vignettes of a typical kitchen, living area, bedroom and bathroom.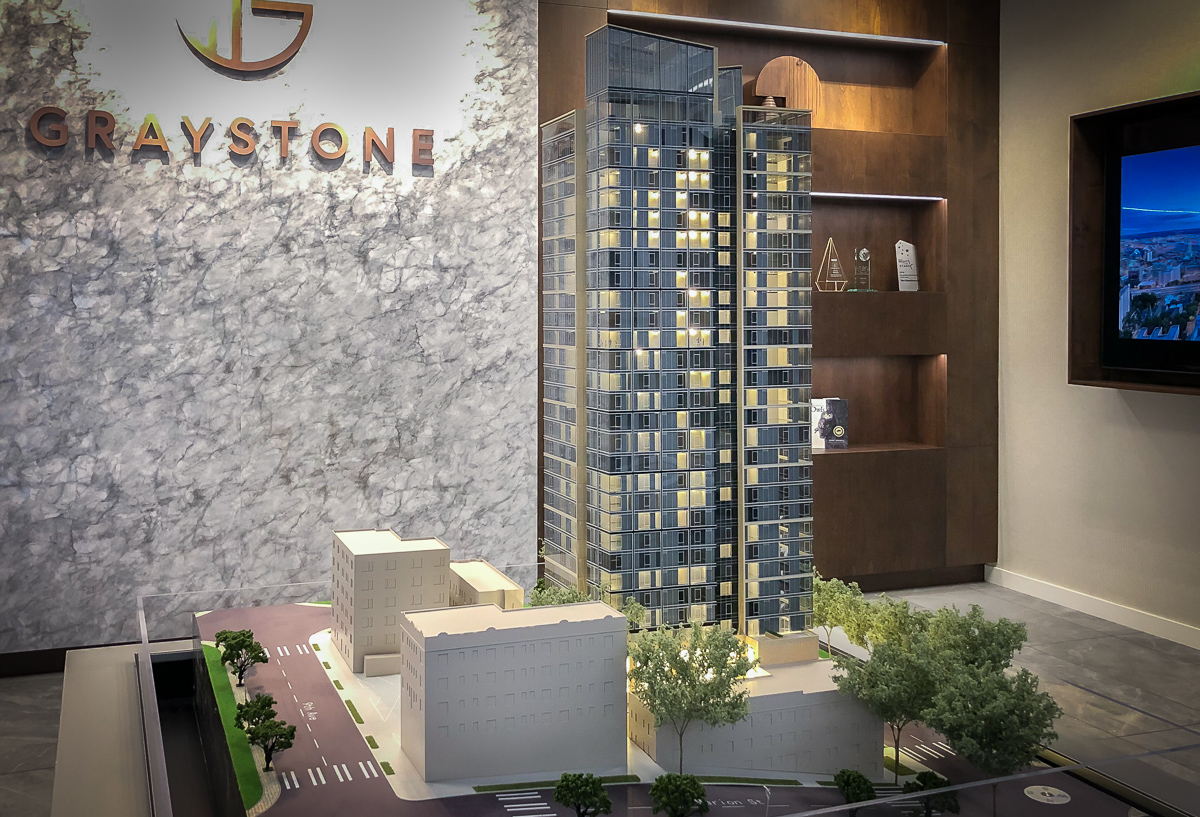 One fantastic feature of the sales center is the 3D virtual tour they have available for units on each floor showing representative layouts and views from that specific unit and floor level. It's a great way to visualize the interior space and the views you'll get with your home.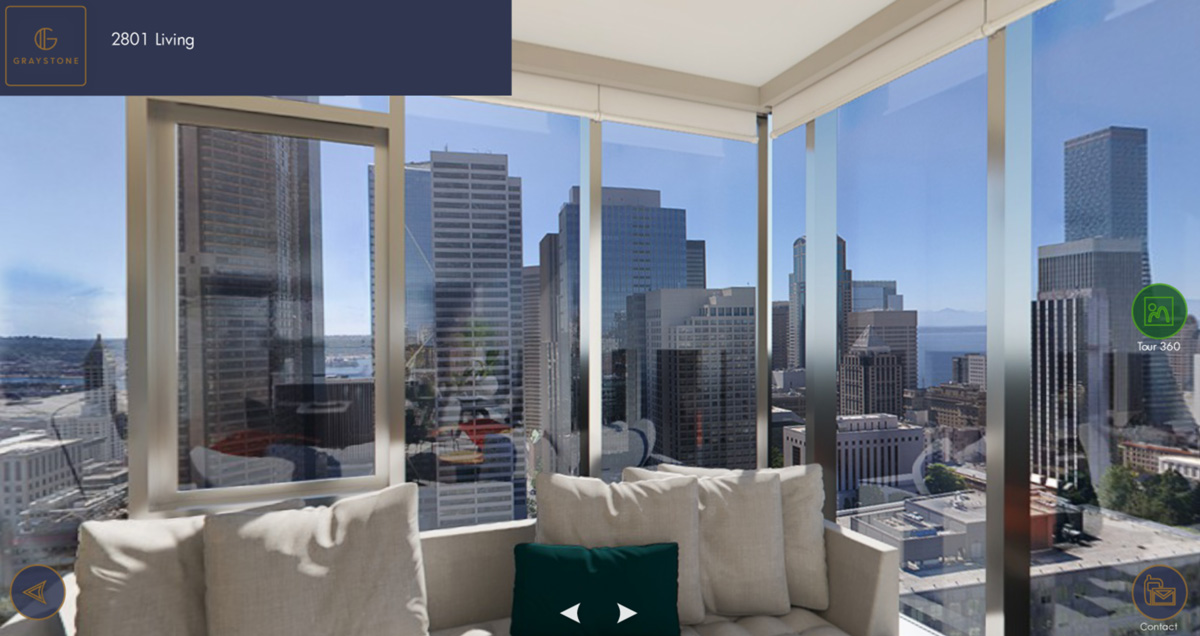 Homes and Building
By floor number, there are 36-floors though there are only 31 physical levels. That's because Graystone skipped numbering floors that include the number "4", e.g. 4, 14, 24, 34 as well as 13. The same holds true for unit numbers, too.
Graystone offers buyers a variety of luxury homes to select – from 407 square foot studios to huge 2,000+ square foot penthouse residences (note, they have sold out of the studios).
For more info on the residences and amenities, please see our detailed Graystone Condo post.
Purchase and Reservation
As of this writing (Sept 2021), Graystone has approximately 40 units under reservation, which is around 15% overall and nearly 60% of its initial presale release phase. Reservations are available with a $5,000 refundable deposit.
With that said, Graystone anticipates moving in to the purchase phase in just a few weeks. At that time, those with a reservation can convert to a purchase contract with a 5% earnest money deposit.
There are 195 total parking spaces which are available as a $75,000 option. Electric vehicle charging spaces are available for $85,000; the 45 EV spaces are individually metered.
Other options include customized closets and storage units.
HOA dues are expected to be $0.92 per unit square footage and include gas.
For purchase information and assistance, or to arrange a tour of the sales gallery, please contact Seattle Condos and Lofts condo specialists.
Seattle Condos and Lofts provides exclusive condo buyer services and representation and is not affiliated with Graystone Condominium.