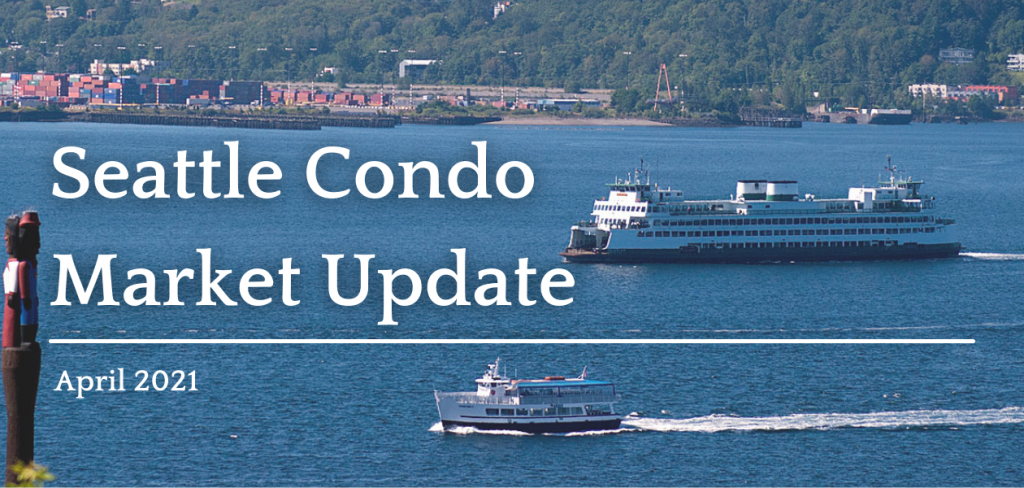 It may have taken awhile, but the spring season has finally arrived for Seattle's condominium market. Condo sales and prices are on the rise while inventory is stagnating.
Seattle's citywide median sales price for condos rose 4.5% year-over-year (YOY) to $490,000 in April, though that was slightly less than it was last month. Selling prices could increase further if the market remain competitive.
By neighborhood area, the YOY increases where reflected in the Capitol Hill, West Seattle and Northwest Seattle areas. See table at bottom for full neighborhood results.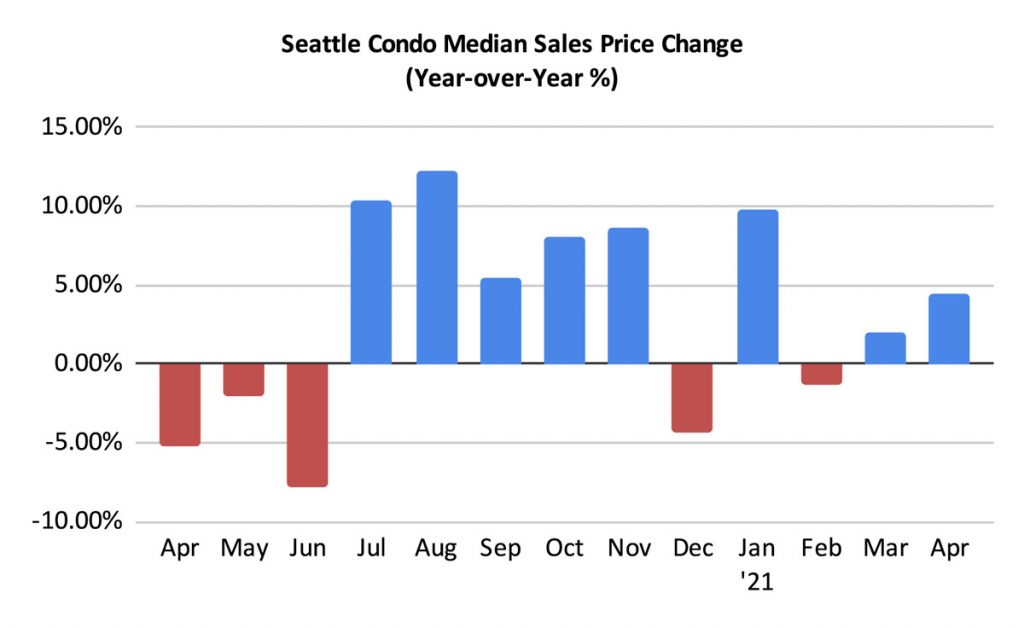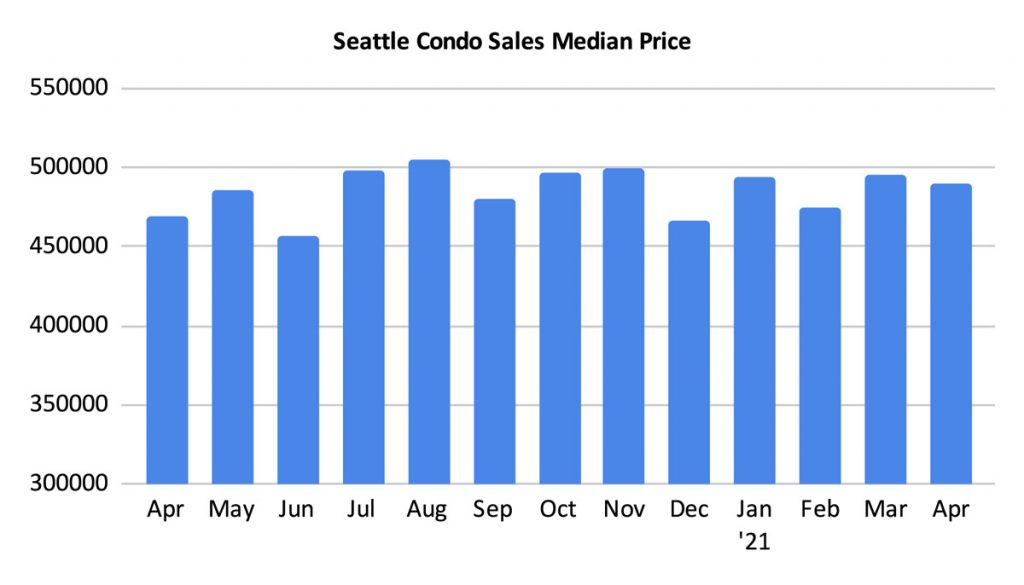 While values have been rising, inventory hasn't.
Yes, looking at YOY figures, we do have 30.1% more Seattle condo listings for sale at 552 units. However, looking at the five-month trend in the graph below, listings have been steadily decreasing since December. At this rate, by next month, listings will fall below 2020 levels. Whereas, in a typical year, we should be seeing a spike through the summer.
And with an increase of buyer demand, we are certainly on track for a more competitive market place in the months to come.
A caveat, though. These figures are essentially resale condo units that are listed for sale in the Northwest MLS. It does not include the hundreds of units recently completed, and soon to be completed, units in the handful of new downtown highrises.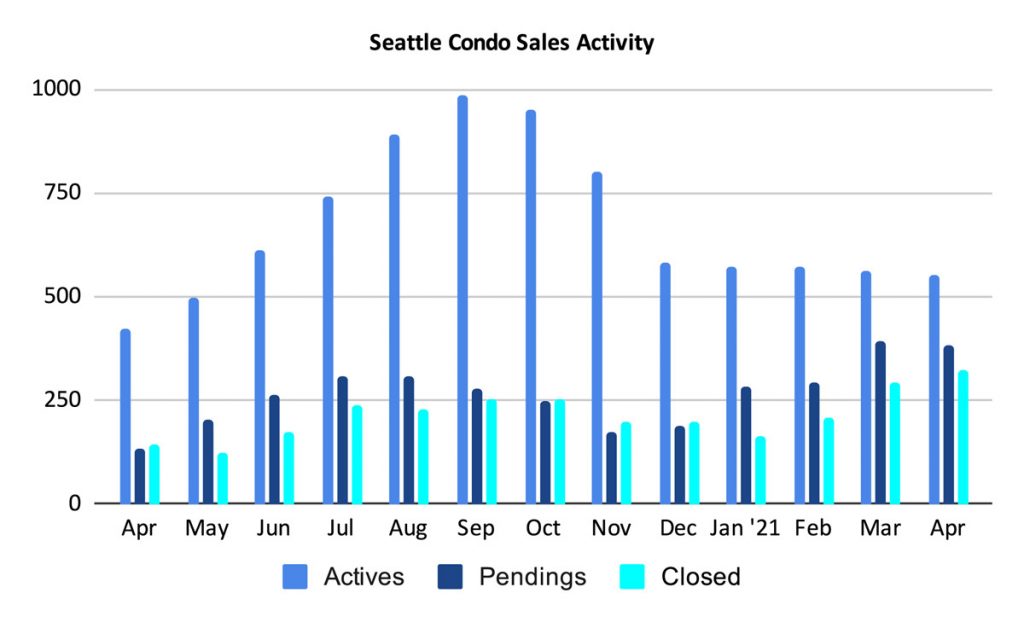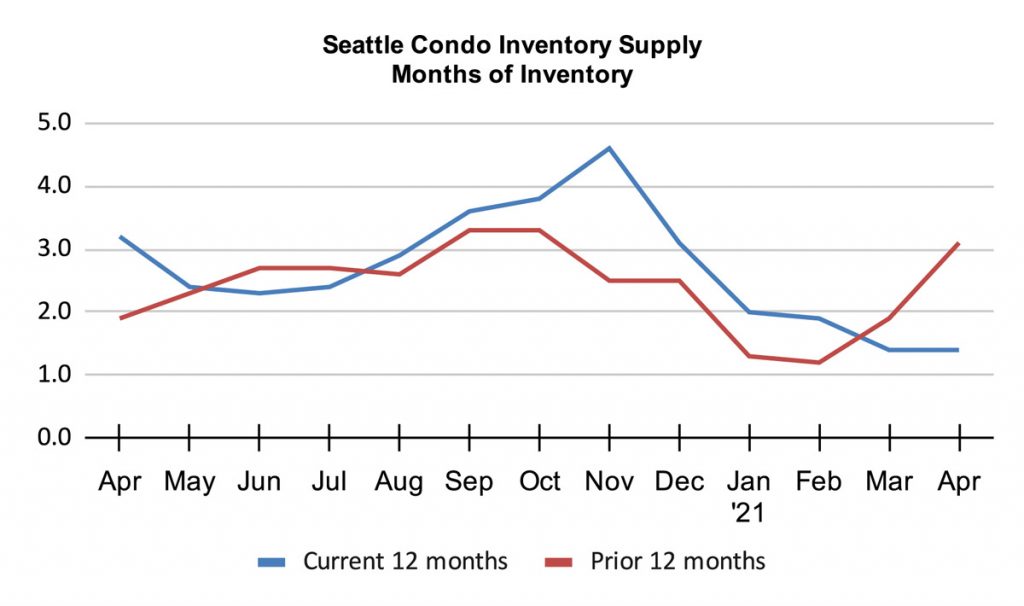 The stagnant number of availability condo listings, combined with more sales, kept the inventory supply rate at 1.4-months of supply, well below where we were a year go.
The supply rate metric characterizes the current market condition. With an inventory supply rate of less than 4 months, Seattle steadfastly remains in a seller's market.
Between 4-6 months of supply would be a balanced or normal market, and more than 6 months would be considered a buyer's market. We flirted with a balanced market last November, but that was an anomaly. Seattle hasn't exhibited a balanced market since early 2012; we've essentially been in a seller's market for over 9 years.
Again, though, this is based on Northwest MLS listed inventory and does not take into account new construction units that are not reflected in the MLS. Though, that would primarily impact the downtown condo market more so than the neighboring areas.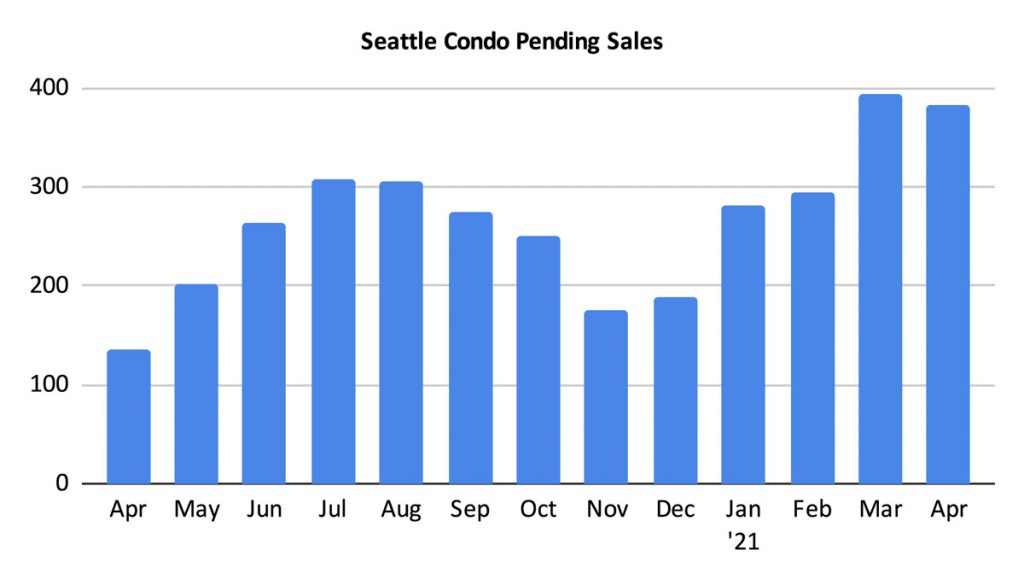 The number of pending sales exceeded last April by 183.7% with 383 units under contract, though just 2 units short of the prior month.
Whether buyers are finding better value with condos, or tiring of the over-competitive single family residence / townhome market, or anticipating working downtown again, they are starting to flock towards condos.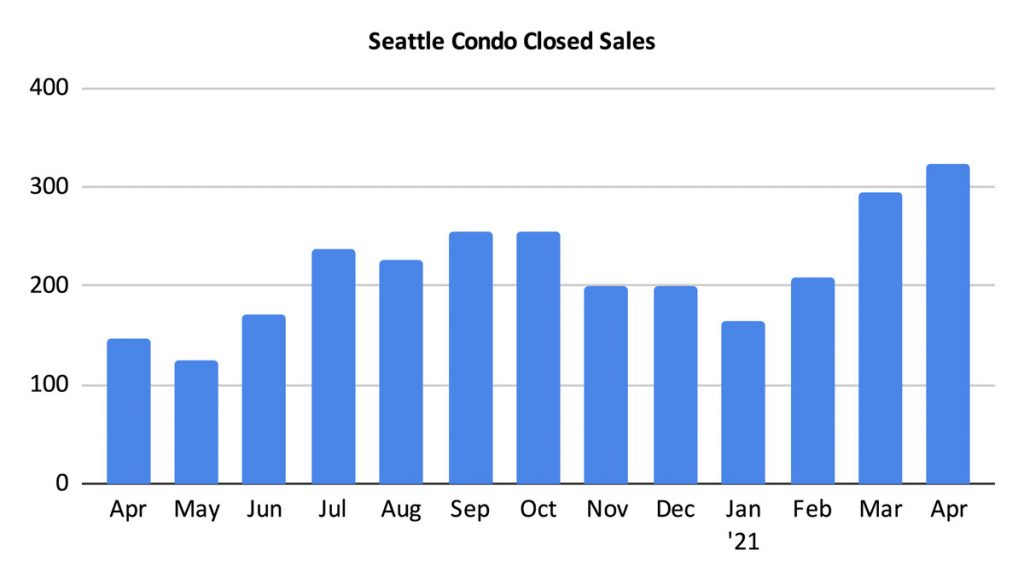 The number of closed condo sales rose 121.2% YOY and 13.7% over the prior month to 323 units. That's the highest number of monthly condo closings since 2016.
The pandemic hit Seattle's condo market particularly hard last year, especially in relation to the insanely fierce residential market. We saw rising inventory, longer days on market and price reductions. Now, we are moving towards normalcy.
That, of course, is great news for owners who've been on the fence about selling. The current market shift is now in their favor with improving values and increasing demand.
For buyers, the market place became a little more competitive with a lower supply and higher prices.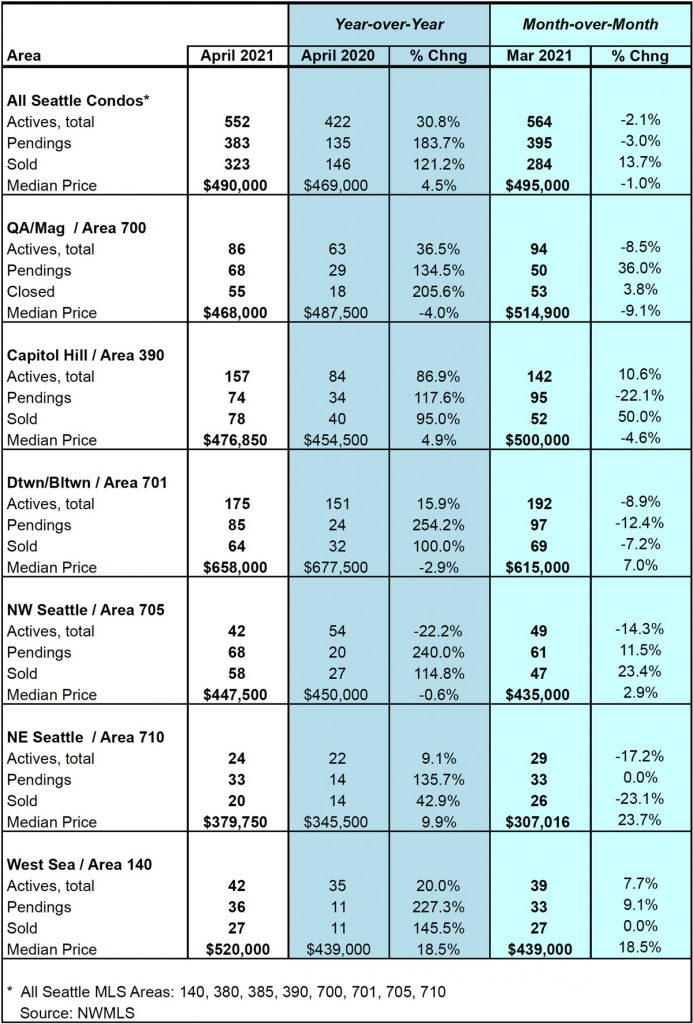 Source: Northwest Multiple Listing Service. Some figures were independently compiled by SeattleCondosAndLofts.com and were not published by the NWMLS.
© SeattleCondosAndLofts.com