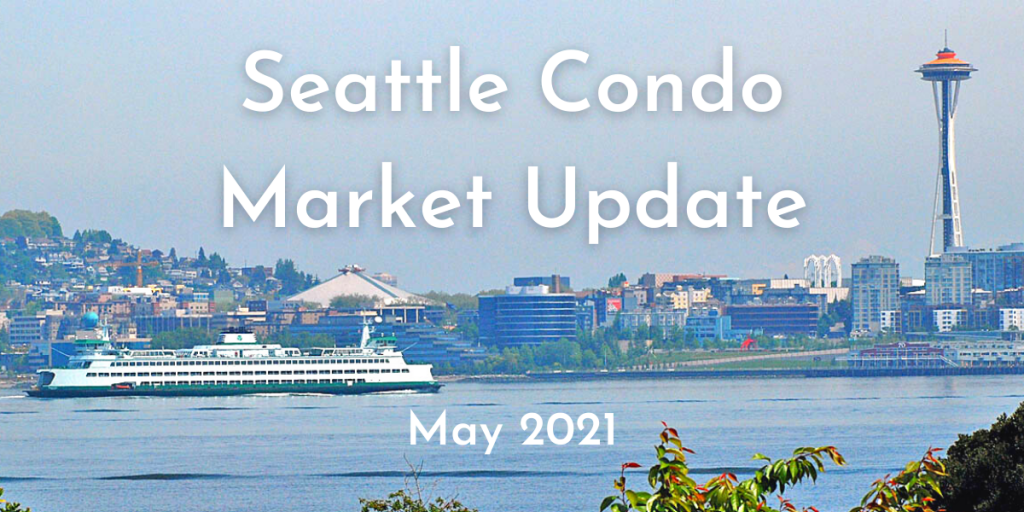 The Seattle condo market remained robust in May, but not without a hiccup or two. Sales activity was consistent, though median sale prices dipped slightly for the month.
Citywide, the Seattle condo median sales price was $473,000 in May, reflecting a year-over-year (YOY) and one-month decrease of 2.5% and 3.5%, respectively.
By area, the most notable YOY declines were in Capitol Hill, downtown and north Seattle. On the other hand, Queen Anne and West Seattle areas saw improvements to their overall median selling prices. See table at bottom of post for complete information.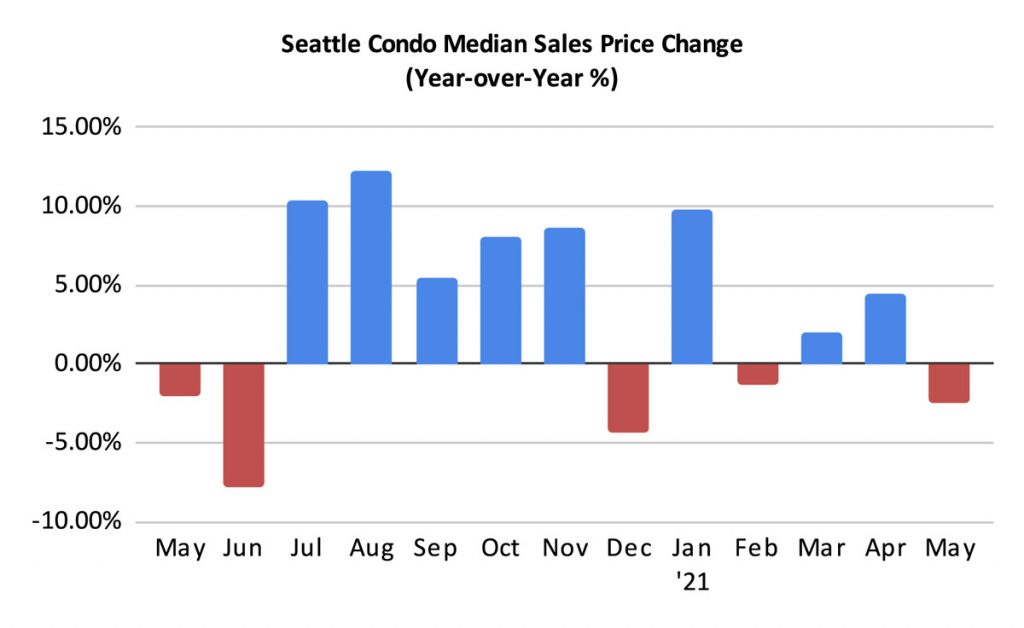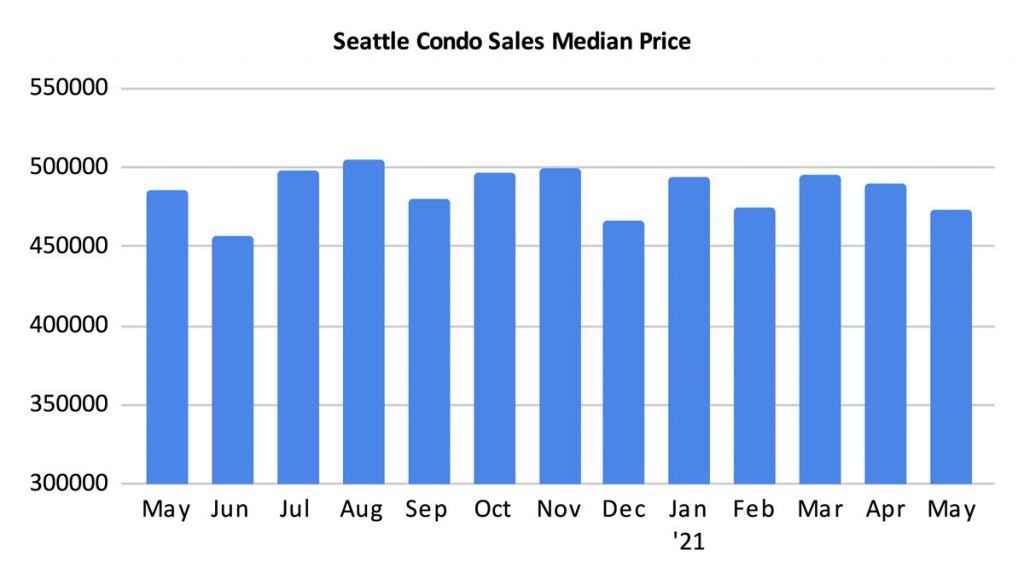 Seattle's inventory of active NWMLS listed condo properties continued to rise relative to last May, increasing 7.7% to 535 units for sale. That was, however, 3.1% fewer than we had available a month ago. In a typical year, actives would be increasing in number through summer.
This reflects just those condos listed in the NWMLS for sale and does not encompass the hundreds of units in completed and soon-to-be completed new construction buildings in the downtown area.
Nevertheless, the condo inventory supply rate remained unchanged at 1.4-months of inventory as a result of ongoing strong sales volume.
The supply rate metric defines the current condition of the housing market. With a rate of less than 4 months of supply, Seattle remains in seller's market overall. With the exception of November of last year, Seattle has technically been in a seller's market since 2012.
North Seattle is presently realizing very tight market conditions with a rate of less than 1-month supply as sales are surpassing the number of new listings coming on the market.
The number of pending sales transactions (listings in escrow) continued to outpace 2020 levels with an 83.7% increase for the month to 373 units under contract. Though, that was 2.6% fewer than in April.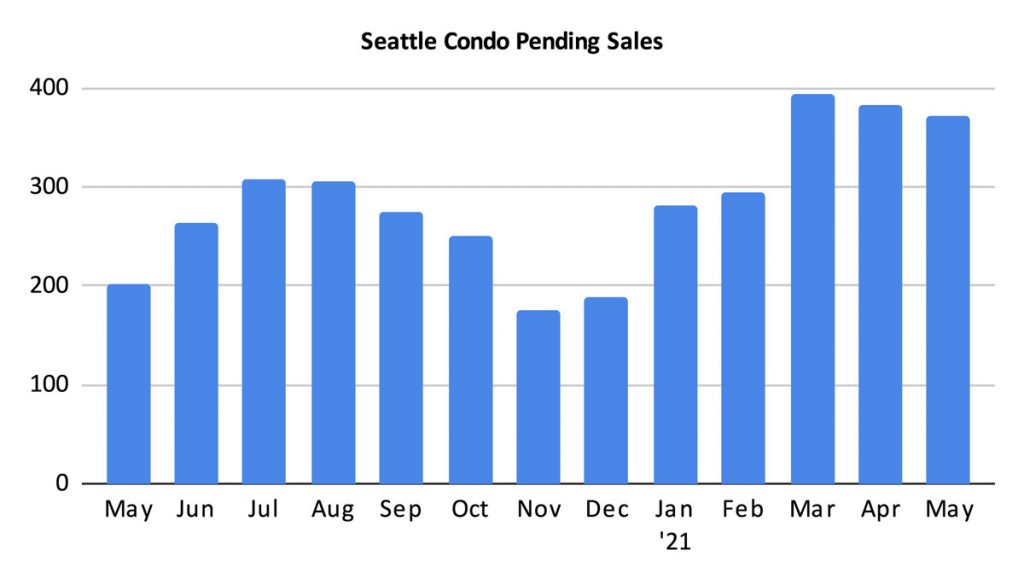 Closed Seattle condo sales also spiked YOY by 146% to 305 closed units. That, too, did reflect a 5.6% one-month dip from April.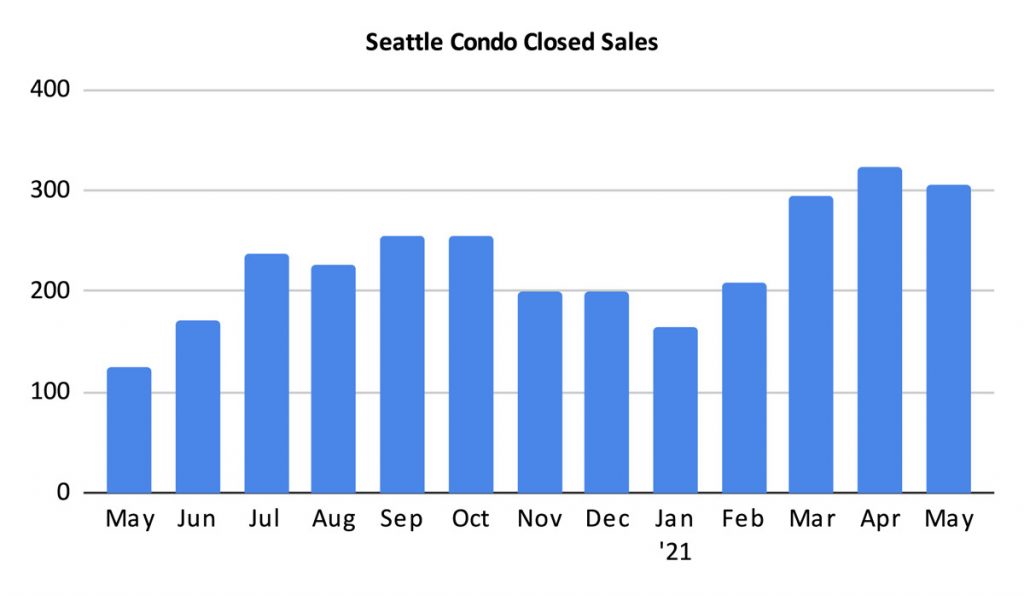 There will likely by some easing with the condo market, although with the market still exhibiting robust characteristics, low inventory and strong buyer demand, we will continue to outperform 2020 levels.
For sellers who've been on the sidelines, the shifting condo market may benefit them as the market becomes more competitive amongst buyers.
For buyers, you still have the advantage of adequate inventory options and buoyant values, although the North and West Seattle areas will present tighter buying conditions.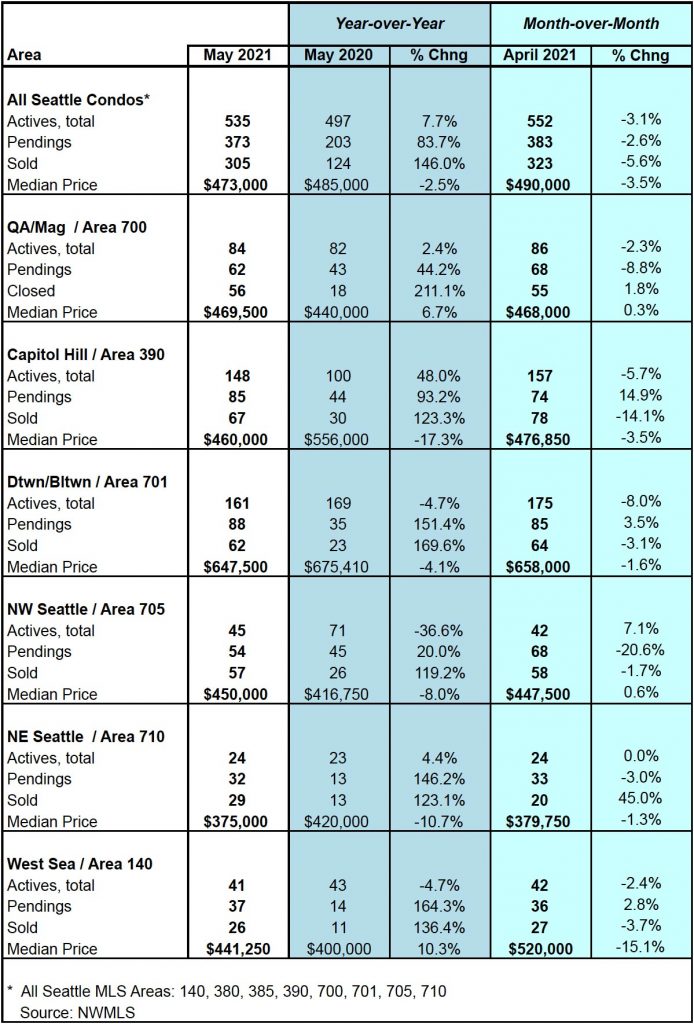 Source: Northwest Multiple Listing Service. Some figures were independently compiled by SeattleCondosAndLofts.com and were not published by the NWMLS.
© SeattleCondosAndLofts.com