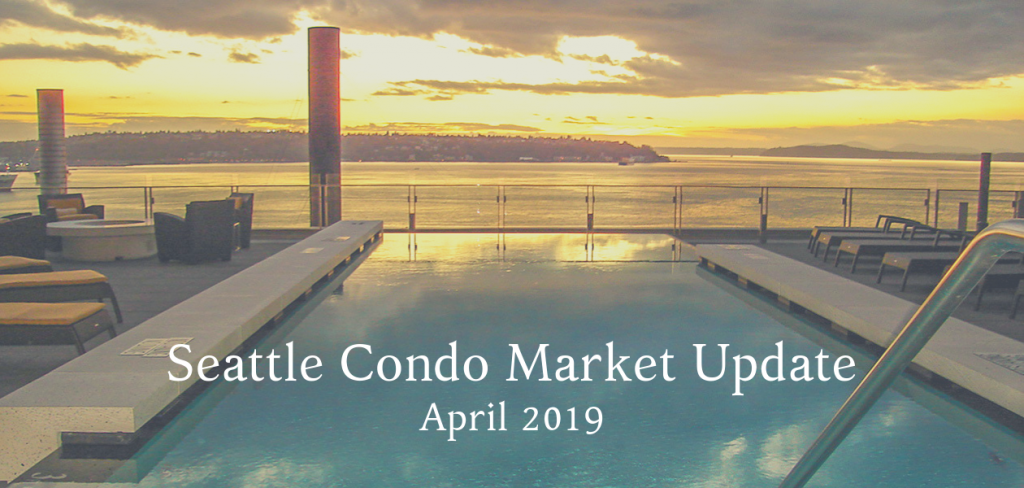 For the fourth consecutive month Seattle condominium market values underperformed its 2018 levels as sales activity improved.
The April Seattle citywide condo median sales price of $495,000 reflected a year-over-year dip of 9.34%, but did increase 0.5% over the prior month.
West Seattle and Northeast Seattle realized double-digit year-over-year improvement to their median sales prices, though the remainder of the city experienced double-digit declines (see table at bottom of post).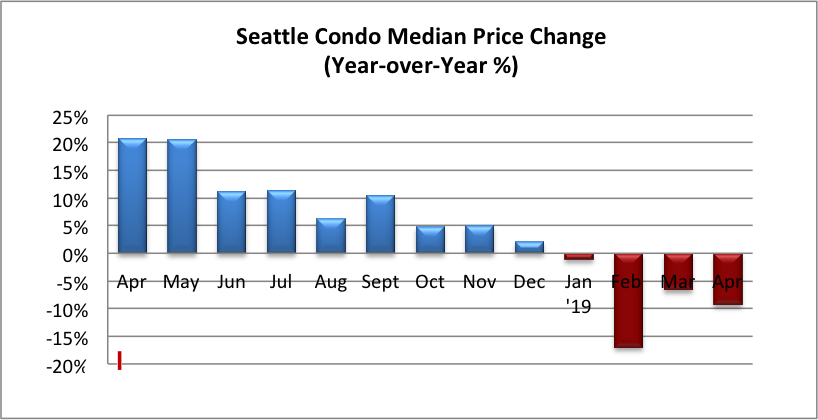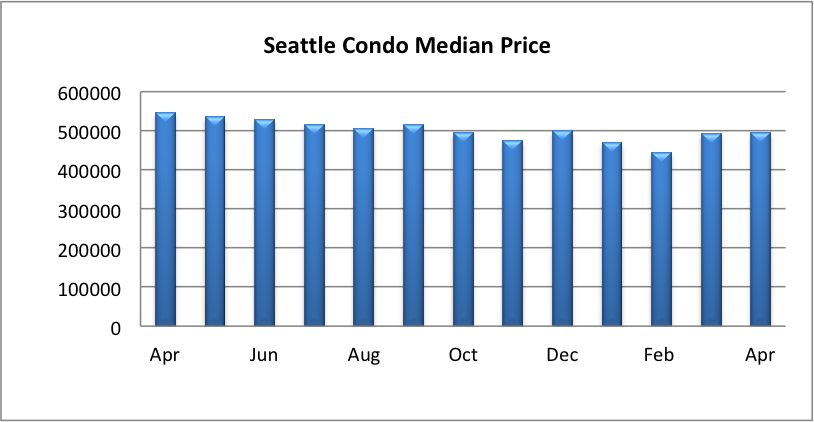 As we'd expect progressing through the spring season, the Seattle condo inventory supply has risen. There were 592 Seattle condos listed for sale in the NWMLS database that reflected a 150.9% and 11.1% increase over last April and last month, respectively.
However, that figure excludes several hundred units in presale or are under construction that are not reflected in the NWMLS.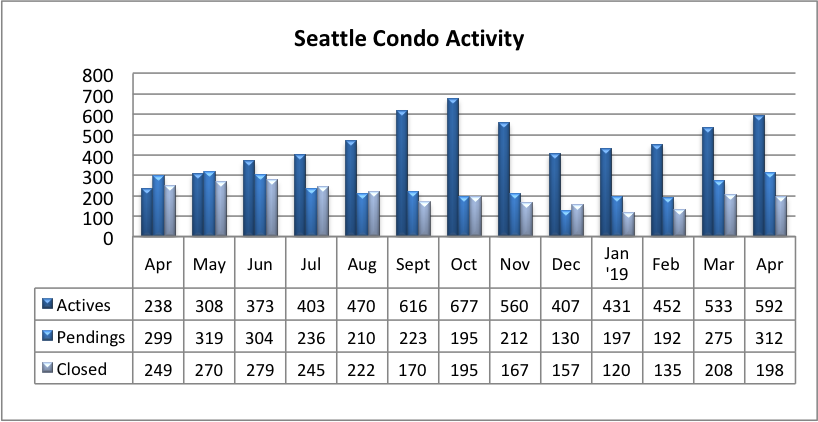 That all said, though, the inventory supply rate (i.e. absorption rate) remained unchanged at 1.9-months of supply. This market condition metric leaves Seattle entrenched in a seller's market.
We would need to surpass a 3-month supply rate for us to move towards a balanced / normal market environment, which we did briefly last fall.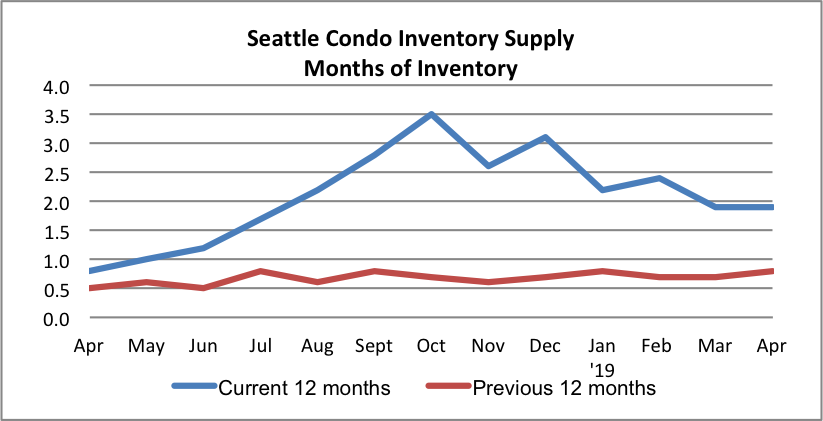 One of the factors contributing towards the low inventory supply rate was the improvement in the number of pending Seattle condo sales in April, which increased 4.4% over the same period last year, and 13.5% over the prior month, to 312 units.
While we expect the month-to-month sales number to increase as we proceed through the spring peak season, the year-over-year improvement is encouraging in light of signs of a softening market place.
Buyers are still buying, but they have more choices.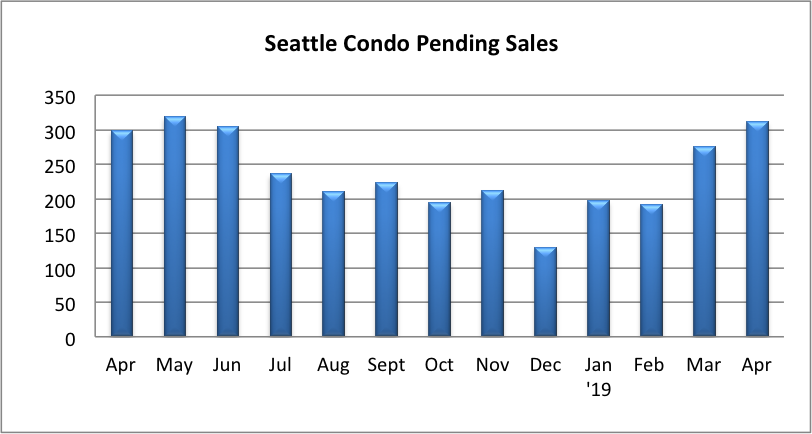 The number of closed condo units fell to 198, reflecting a 20.5% one-year and 4.8% one-month decrease. Fortunately, this will reverse in May given the higher number of pending transactions during April.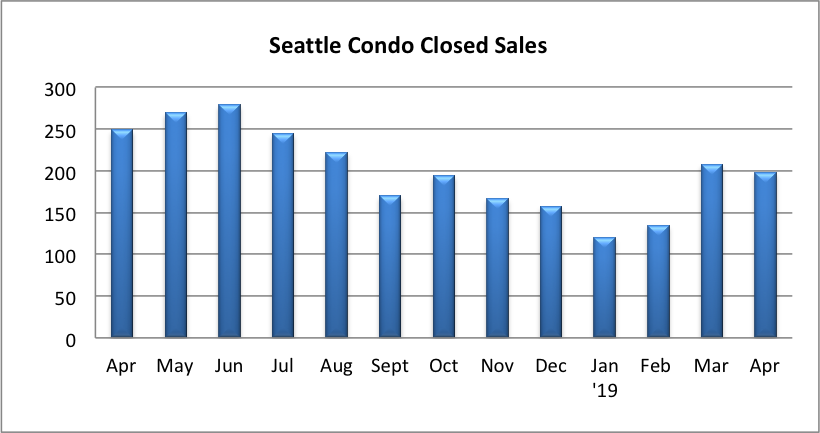 Despite the inventory supply metric indicating a seller's market, the Seattle condo market has softened. Additionally, it is taking longer for condos to sell with average days on market doubling to 48 days compared to last April.
We will likely to continue to experience more of the same as we move forward through the year. In looking at the pending transactions that are likely to close in May, I anticipate another year-over-year drop in the median sales price.
If you've been contemplating buying a condo, let our Seattle condo specialists help you succeed with our effective buyer strategies.
If you plan to sell your Seattle condo, you'll need to rely on dedicated condo sales brokers more than ever to realize the highest returns. We can help you navigate through Seattle's shifting housing market.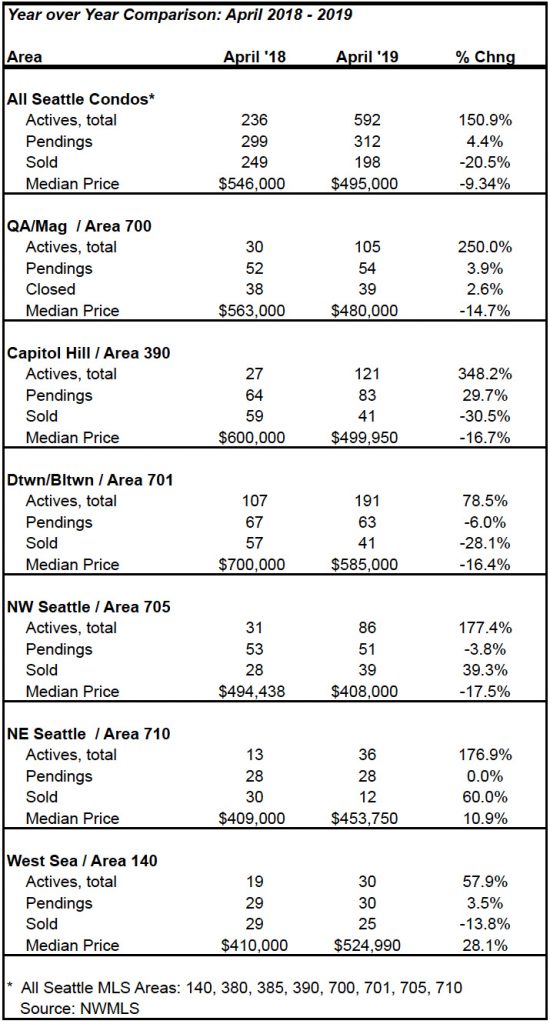 ________________________
Source: NWMLS. Some figures were independently compiled by SeattleCondosAndLofts.com and were not published by the Northwest Multiple Listing Service.
© SeattleCondosAndLofts.com