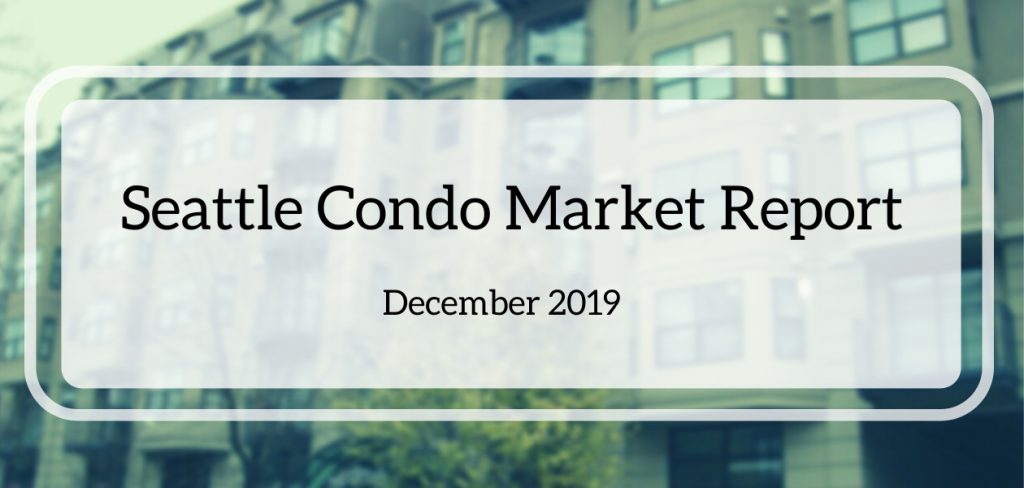 Seattle's condominium market ended 2019 as expected for the month of December, the slowest month for real estate sales in the Northwest. That said, there were some bright spots.
The Seattle citywide condo median sales price for December was $487,500, a 5.9% increase over November, and just 2.5% less than a year ago making it one of the smallest year-over-year percentage drops over the past 12 months.
With the exception of Northwest Seattle (north of the ship canal, west of I-5), all areas of Seattle experienced year-over-year median sales price declines last month (see table at bottom of post).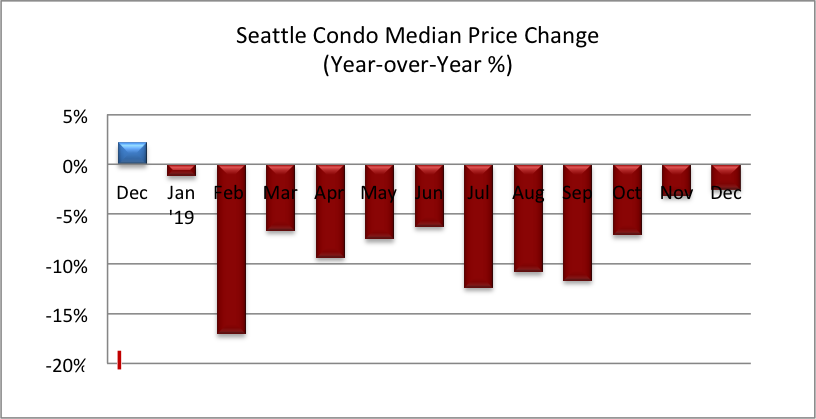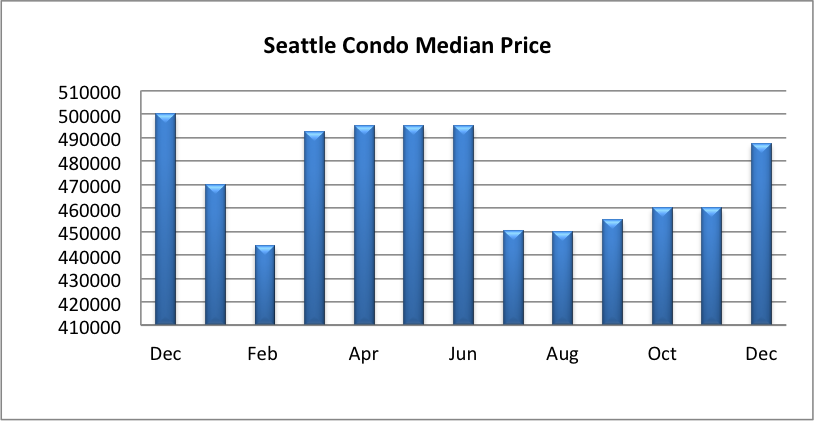 Seattle's condo inventory levels continued to reduce, but again, that's due to the seasonal nature of our housing market. There were 339 condo units listed for sale reflecting a 16.7% YOY and 31.8% one-month decrease, respectively.
With fewer condos available the inventory supply rate remained even with November at 2.5-months of supply, compared to 3.1-months of supply last December.
The months of supply metric highlights the housing environment condition. Generally, a supply rate of less than 3 months is characterized as a seller's market, between 4 to 6 months is a normal/balanced market, and over 6 months is considered a buyer's market.
For reference, the last time Seattle had 4 months of supply or greater was back in January 2012, when our market bottomed. We've been in a seller's market going on 8 years now.
There is a caveat to this. This report is based on the published data from the Northwest Multiple Listings Service, so it only contemplates condo units listed for sale in the NWMLS. It does not include the majority of the under-construction units available through pre-sale.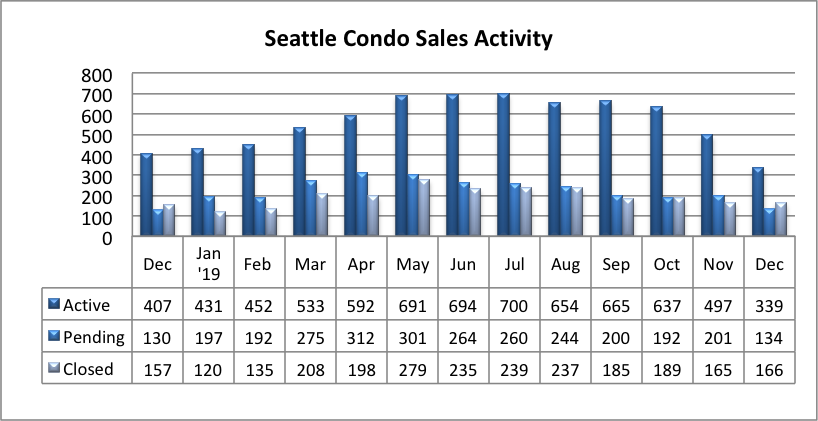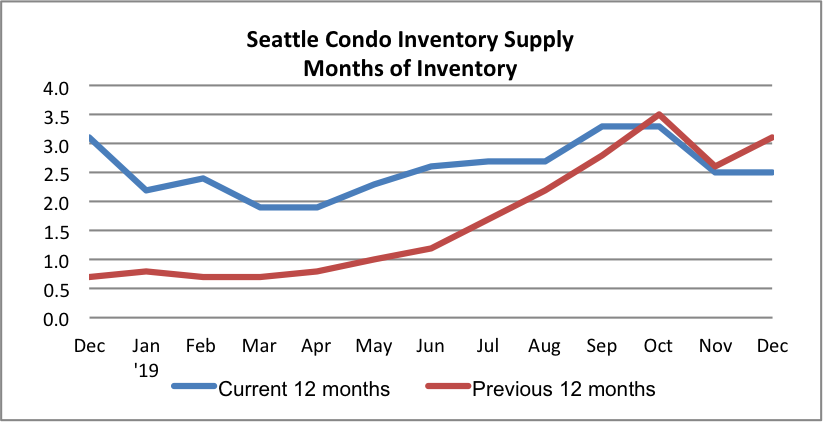 Not unsurprisingly the number of pending sales transactions (listings with accepted offers in escrow but not yet closed) fell 33.3% from the November, but bested last December by 3.1% to 134 units.
We'll see pending transactions steadily increase with the start of the new year as we come out of the winter doldrums.
The 166 closed Seattle condo sales in December reflected an improvement over the same period last year by 5.7% and over the prior month by 0.6%. That's not too shabby for December.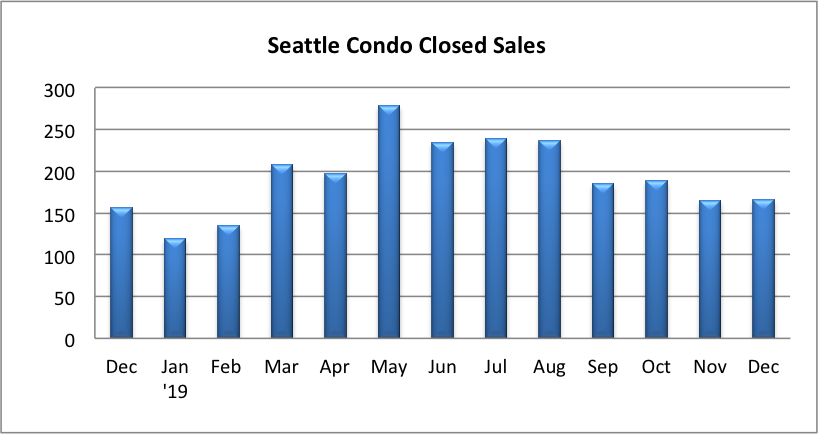 Seattle's housing market is cyclically with the seasons. January brings an end to the slowest seasonal period for condo sales and marks the beginning of a the pre-spring season where the listings and sales begin to ramp up as we head into the peak spring season.
Buyers should begin to see more property listing choices, but along with that, added competition and potentially rising sales prices. Historically, sales and values reflect an upward trajectory from January through summer.
Sellers will experience an improving market, though with added competition as well.
Seattle's real estate environment is comprised of micro-markets, thus buyers and sellers will experience varying results depending on location, price point, unit size and age of the building.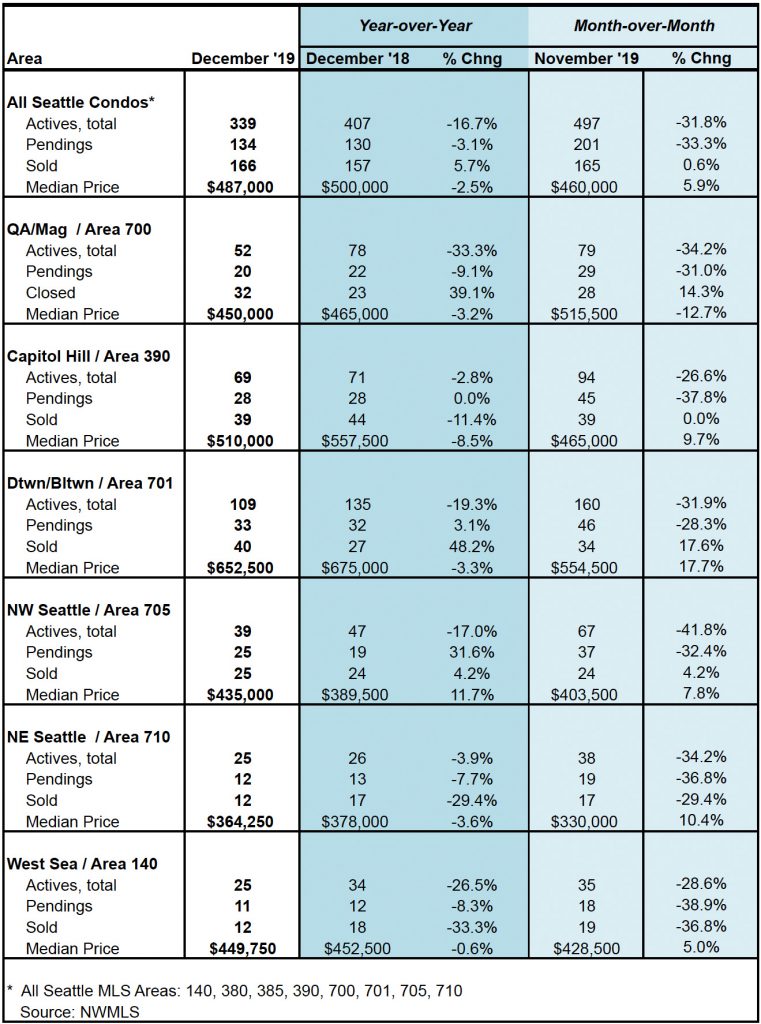 If you've been contemplating buying a condo, let our Seattle condo specialists help you succeed with our effective buyer strategies.
If you plan to sell your Seattle condo, you'll need to rely on dedicated condo sales brokers more than ever to realize the highest returns. We can help you navigate through Seattle's shifting housing market.
Source: NWMLS. Some figures were independently compiled by SeattleCondosAndLofts.com and were not published by the Northwest Multiple Listing Service.
© SeattleCondosAndLofts.com