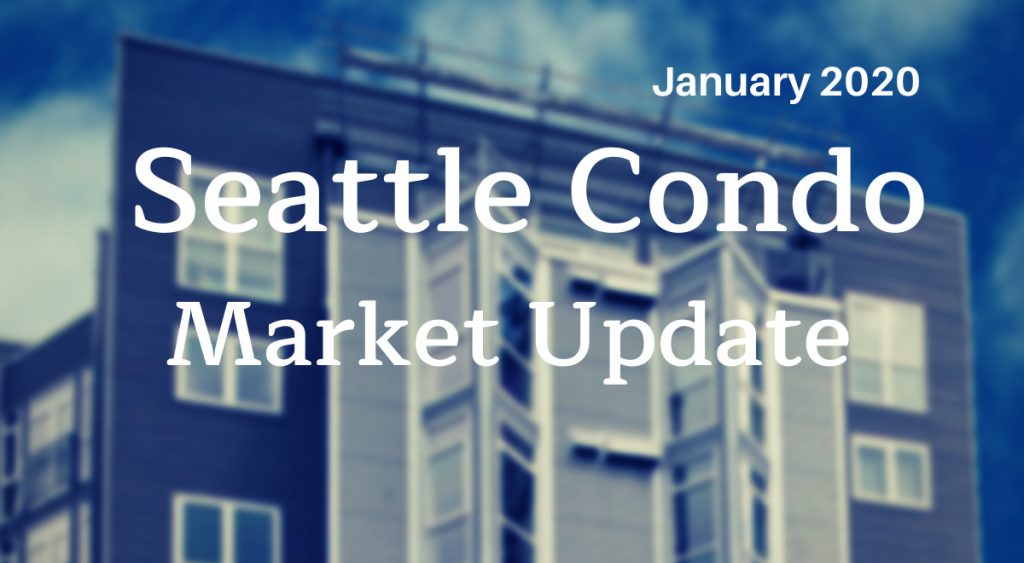 The dark clouds and drizzle of winter parted ways for a warming Seattle condominium market. Seattle started the year with a jolt as sales spiked and inventory plummeted.
Citywide, the median Seattle condo sales price reduced 4.26% year-over-year, and 7.7% from the prior month, to $449,975 in January. While that seems counter to being a warming market, most of those sales went under contract during November & December, the slowest period of the year.
In addition, at least anecdotally, multiple offer bidding wars are making a comeback as are offer review dates. We'll likely see a marked increase in sale prices for February.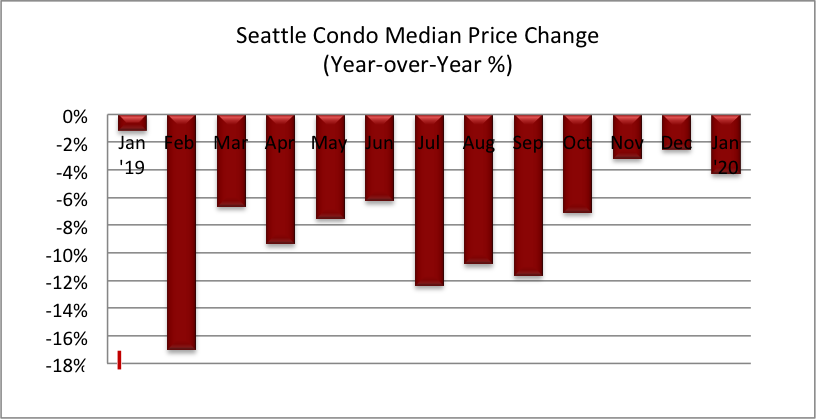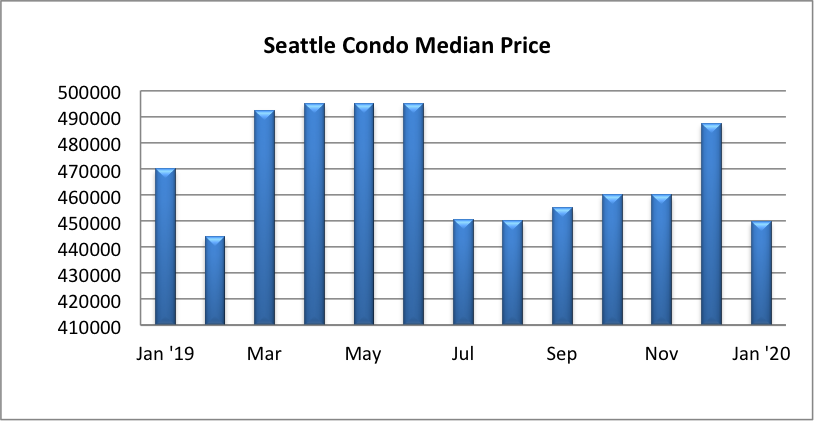 We had been flirting with a balanced real estate market over the last half of 2019, bringing some equilibrium and relief for prospective buyers.
However, that changed sharply as January's 291 Seattle condo listings (listed in the MLS) reflected a one-year and one-month dropped of 32.5% and 14.2%, respectively. This was the fewest number of listings for sale since April 2018.
Note, this figure does not contemplate the presale units that are currently under construction.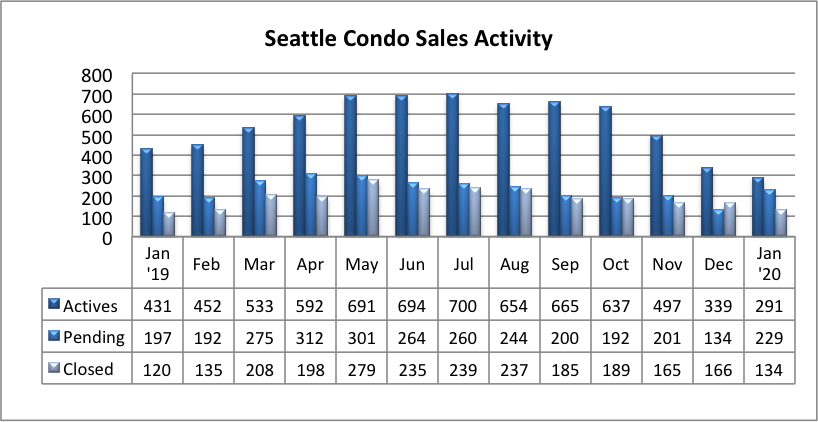 The result of fewer listings, combined with the uptick in sales, reduced the inventory supply rate to 1.2-months of supply.
What does that mean? The inventory supply rate is calculated by dividing the number of active listings by the number of sales (we use pending sales) and is a metric used to identify the state of the housing market.
A rate of fewer than 3-months of supply is a seller's market, a rate between 3-6 months is a balanced market, and over 6-months would be a buyer's market.
Seattle has been in a seller's market since 2012 except for couple of months last year as noted below.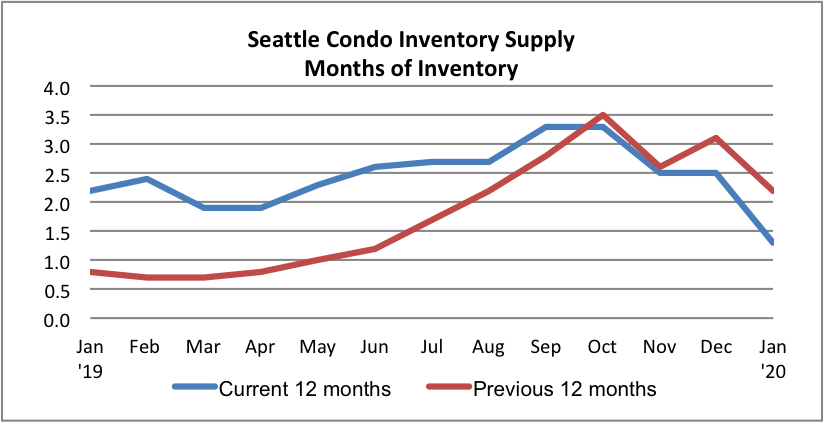 The 229 pending unit sale transactions in January (listings with accepted offers) spiked 70.9% over December and increased 16.2% compared to the same period last year.
With so few listings, combined with low interest rates and buyer demand, properties are selling quickly. Through the first 10 days of February, half of the pending units were on the market for less than 7 days, while one in four listings was on the market less than 3 days.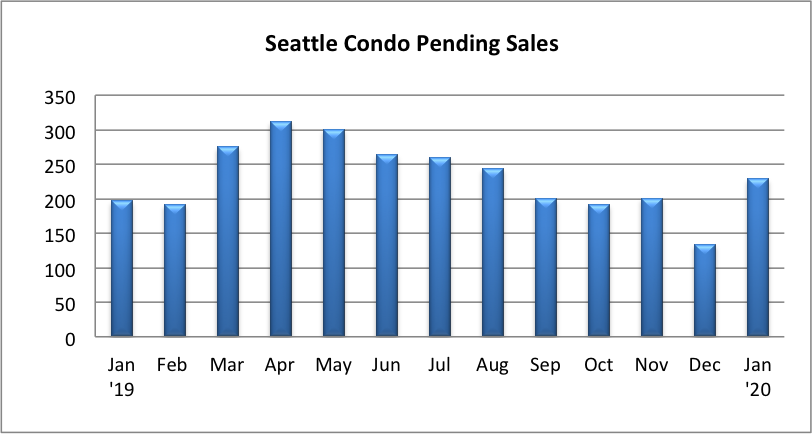 There were 134 closed condo sale transactions in January reflecting an 11.7% year-over-year increase, but a 19.3% reduction from December. Typically, closing transactions lag behind pendings by a month or so, thus this will rise in February.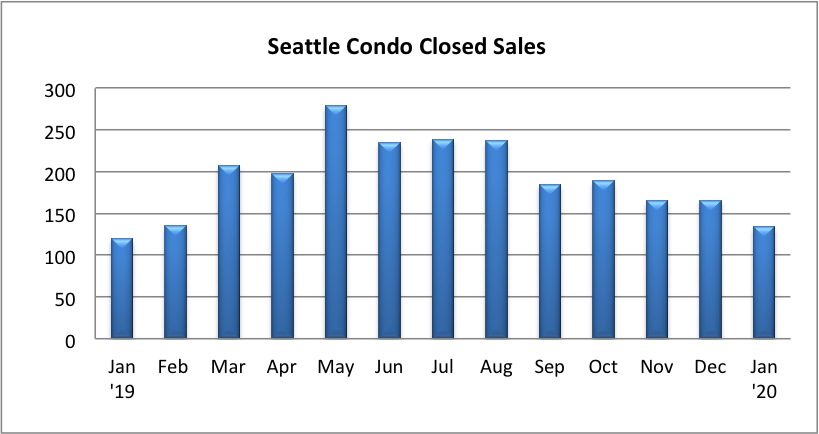 We're certainly starting off 2020 with a bang. Seattle's condo market, and the real estate market as a whole, is tightening. Whether that's good news or bad news depends whether one is a buyer or a seller.
For sellers, it's pretty straight forward. More likely than not, you'll sell your property quickly and at high prices.
For buyers, it's time to prepare for some rough months ahead. You'll need to act fast and will likely experience the woes of multiple offer bidding wars. Teaming up with a great Realtor will help take the stress out of the house hunting and buying process.
Here are tips for buying a condo in a tight real estate market. I wrote it back in 2012 but it is as applicable today as it was back then…it's crazy to think we've been a seller's market ever since.
If you've been contemplating buying a condo, let our Seattle condo specialists help you succeed with our effective buyer strategies, now more than ever.
If you plan to sell your Seattle condo, we can help you navigate through Seattle's shifting housing market to maximize your condo value.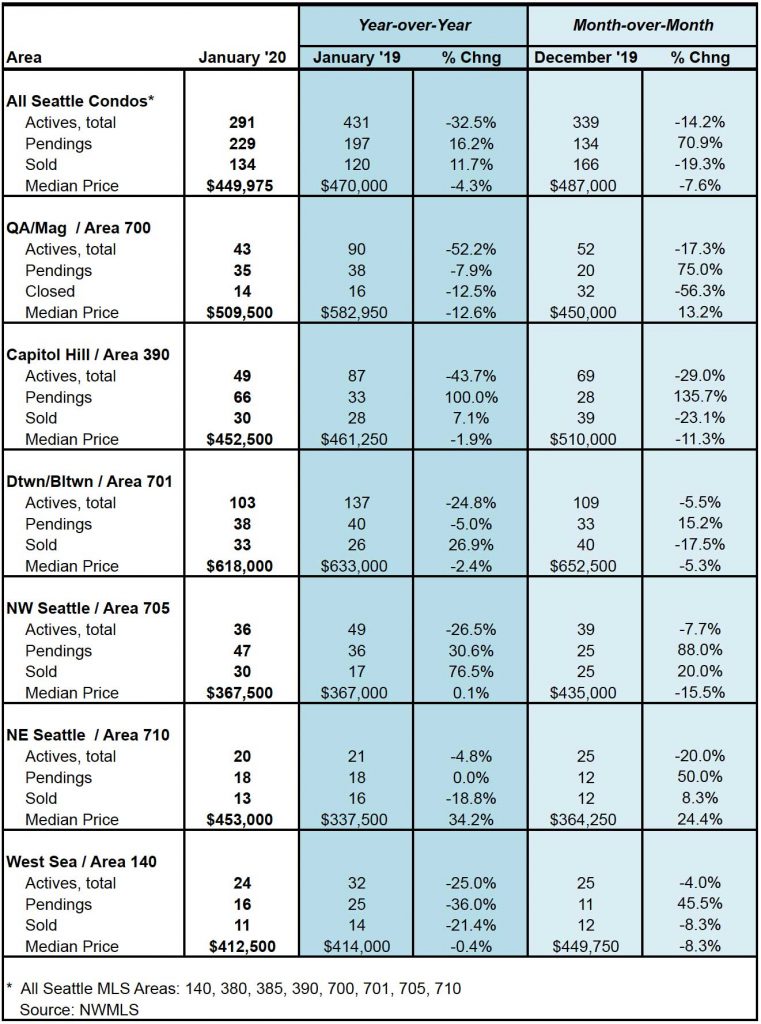 Source: NWMLS. Some figures were independently compiled by SeattleCondosAndLofts.com and were not published by the Northwest Multiple Listing Service.
© SeattleCondosAndLofts.com