The year started off strong out of the gate for Seattle's condo market. Coming out of the holiday season, inventory levels have started to rise while activity and values remained solid.
The Seattle citywide median condo sales price was $306,576 last month, reflecting a year-over-year increase of 5.72%, though a slight 1.1% dip from December. That marked three consecutive YOY increases, which is good news for condo sellers, particularly as we anticipate values will rise through the prime Spring selling season. Capitol Hill, Northeast Seattle and West Seattle realized value gains with Downtown and Northwest Seattle experiencing the largest drop (see chart at bottom).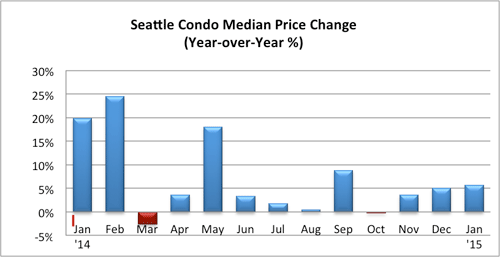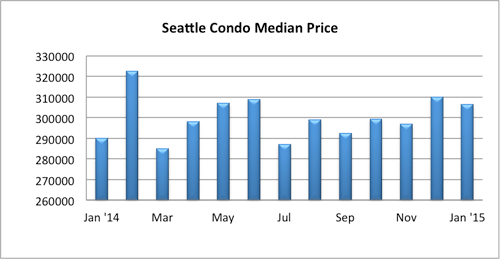 While rising values may not be great for buyers, the increasing availability of Seattle condos for sale should help. The number of active listings rose 11.9% from the prior month to 273 units, although that is still 28.5% fewer than a year ago. The market did experience tighter conditions last month as the inventory supply rate reduced to 1.2-months. For nearly every new condo listing for sale, a condo unit was purchased. The market was essentially absorbing the inventory as they became available. Fortunately, that inventory should continue to inflate as we move closer to Spring.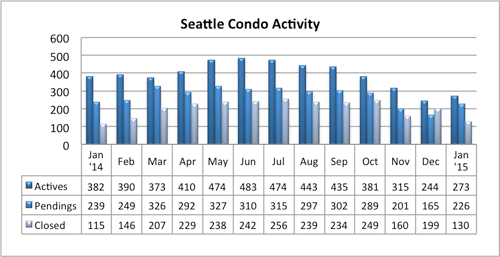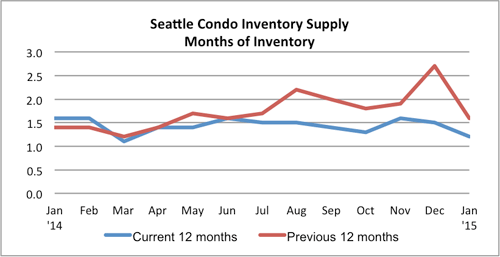 The 226 pending transactions (condos with accepted offers) last month dipped by 5.4% compared to the same period last year. And, as expected, pendings increased over December by 37%, but December is the slowest month of the year with the least number of sales so we contemplate the improvement.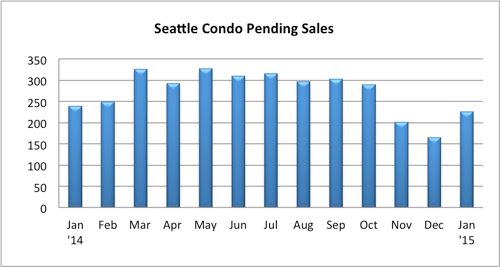 The number of closed condo sales improved by 13% to 130 units in January compared to last year. Now, that did exhibit a one-month drop of 34.7% from December, but that is also to be expected. Closings typically follow pendings with a month lag, and since December had the fewest sales (165 units), we'd expect January's closed sales figures to decline as well.
Heading into the Spring, Seattle's condo and real estate market will ramp up. The increasing number of available condos for sale will help to alleviate the pent up demand, providing buyers a bit more options. However, we're still a long way off until new construction deliveries and additional pre-sales really make a dent. Fortunately, for buyers, mortgage interest rates remain low.
On the other hand, the market conditions are looking up for sellers. Even though inventory is expected to rise through mid-Summer, we're not forecasting an adequate supply to satiate buyer demand. Like last year, we expect multiple offer bidding wars and appreciating values for the near future. For sellers who've been on the fence, this may very well be an opportune time to sell your Seattle condo.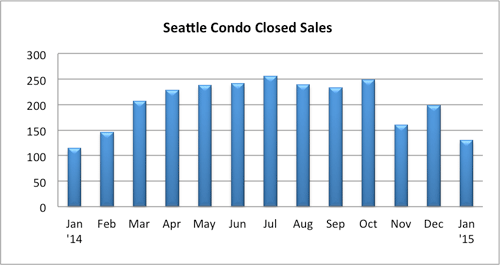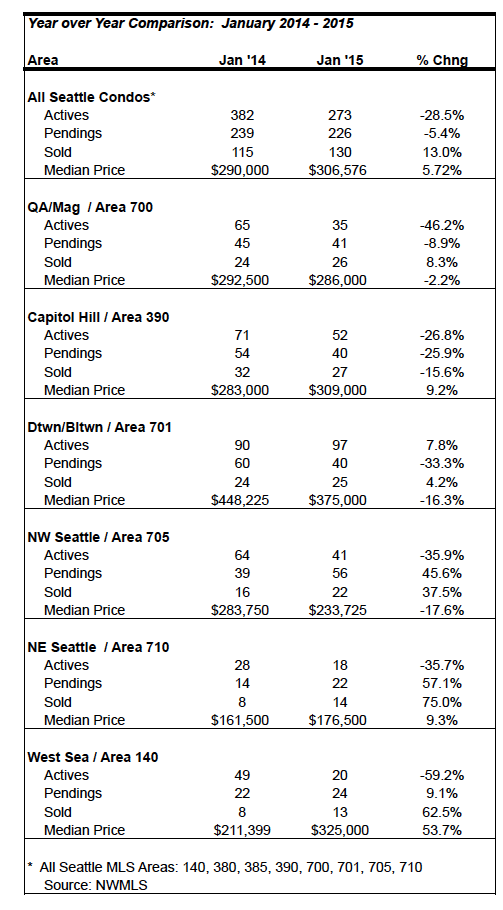 Source: NWMLS. Some figures were independently compiled by SeattleCondosAndLofts.com and were not published by the Northwest Multiple Listing Service.
________________________
© SeattleCondosAndLofts.com