The New Year started off with a bang for Seattle's frenzied condominium market. Condo values continue to rise and listings remain hard to come by.
The citywide median condo sales price rose 23.42% over last January to $440,000, which also reflected a one-month improvement of 3.3%. Values increased throughout the city with Capitol Hill and Northeast Seattle leading with 35.7% and 49% year-over-year jumps, respectively.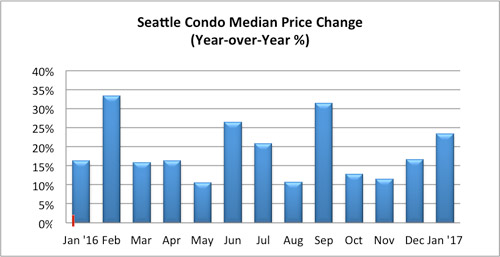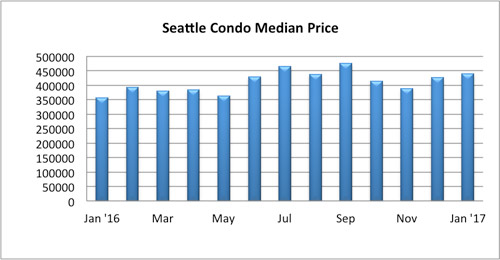 Seasonality and the dearth of inventory contributed to a more frenzied market among buyers resulting in higher values.
While the number of Seattle condos for sale grew from December to 132 units, that's 32.7% fewer for buyers to choose from compared to a year ago.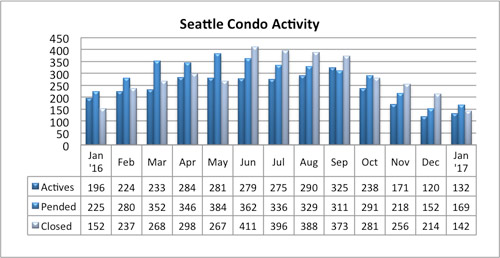 On the other hand, the inventory supply rate has remained stable since October, which is an indicator of market condition. The inventory supply rate (actives ÷ pendings) calculates the months of inventory that exists based on the rate of current sales (pendings) if no new listings are added.
An inventory supply rate of less than 3-months is a seller's market and we've been hovering at 0.8-months. A balanced market occurs when we have between 3-6 months of inventory, while a buyer's market exists once we have more than 6-months of supply.
For some perspective, Seattle has been in a seller's market since 2012. For most of 2011 we had a balance market, while between 2003-2010 we were in a buyer's market.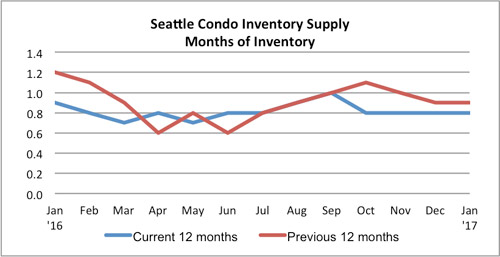 As expected, the number of sales or pending transactions (listings with accepted offers) increased from December, which is the slowest month of the year for real estate. The 169 pending condos in January were 25% less than the same period last year.
Pendings should continue to rise through spring and summer, though that will be dependent on inventory supply, mortgage interest rates and the willingness of buyers to engage in tighter market place.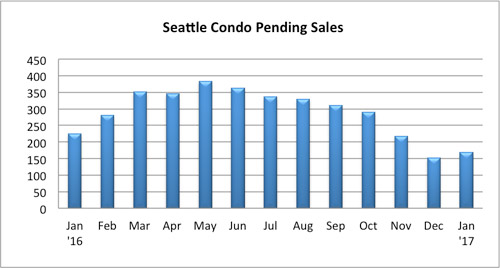 The number of closed sales transactions dropped in January to 142 units, which reflected a year-over-year dip of 6.6% and a one-month reduction of 33.6%. Though, like pendings, the number of closings will increase as we progress towards spring.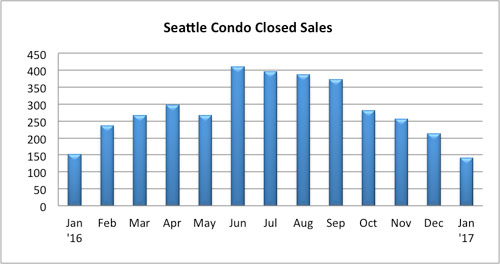 January was a great start for Seattle's condo market, particularly if you're an owner who is selling and can take advantage of rising values and a tighter market. Not so great, however, if you're a buyer who'll face fewer options and a more competitive environment.
Last year we had the benefit of approximately 600 newly constructed condos (Vik, LUMA and Insignia), which did help ease demand. There are only 142 units expected to be delivered in 2017, then nothing until 2019 at the earliest. So buyers will likely face a tougher year ahead.
Our team of condo specialists can help buyers navigate the ever increasing complex and competitive market place.
And, our dynamic condo listing and marketing strategy will help sellers realize top dollar for their property.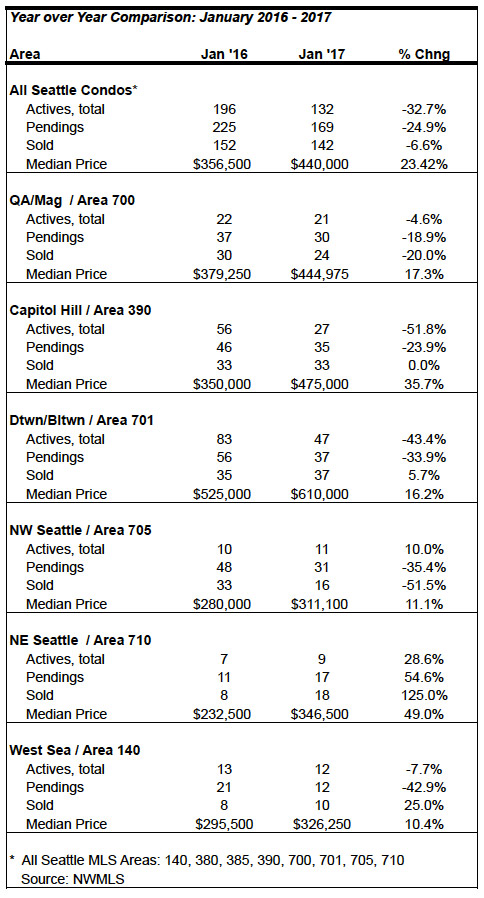 Source: NWMLS. Some figures were independently compiled by SeattleCondosAndLofts.com and were not published by the Northwest Multiple Listing Service.
________________________
© SeattleCondosAndLofts.com