The Seattle condo market rebounded significantly last year after bottoming out in February 2012. For many buyers, the market depicted quick turnover, rising prices and increased competition with multiple offers.
Overall, Seattle realized $863,589,200 in total condominium sales volume in 2013, that's a 17% increase from 2012 with unit sales rising 15.8% to 2,507 condos sold.
The citywide condo median sales price increased 12.3% last year to $280,655 compared to 2012. Even as condo prices and sales increased, turnover time reduced with the average cumulative days on market dropping 36.9% to 65 days. An impressive 62% of condos sold (offers accepted) within 30 days on market in 2013 compared to 46% during the prior year.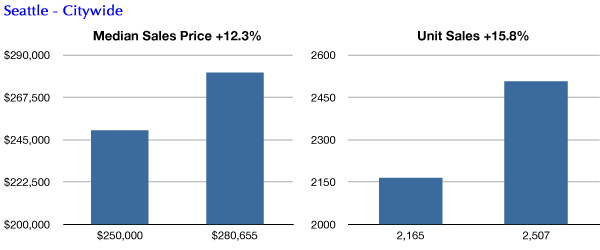 All neighborhoods with the exception of downtown / Belltown had experienced year-over-year increases to both their median sale prices and unit sales volume.
Downtown/Belltown saw its median sale price drop by 1.9% to $416,000, as did the number of units sold, which declined 4.8% to 476 units. This was partly due to the fewer number of remaining "new" construction condos sold in 2013 vs 2012. In 2012, new construction sales (e.g. developer units at 1521 2nd, Escala, Olive 8, Four Seasons) accounted for approximately 34.4% of downtown condo sales vs just 14.3% in 2013.
Excluding the "new" condo sales, the Downtown/Belltown area saw median sale prices rise 15.1% from $325,850 to $375,000 on resale properties.
The West Seattle, South Seattle and the Queen Anne/Magnolia areas reflected the highest percentage gains in median sale prices compared to the prior year, all over 20%. The Queen Anne/Magnolia area also saw the biggest jump in condo unit sales, up 36.6% over 2012, while the Capitol Hill area was not far behind with a 25.7% improvement.
The outlook for 2014 is pretty much the same as we experienced last year. The Seattle condo market continues to exhibit strong seller's market conditions with a low inventory supply and steady demand. We don't anticipate any new condo inventory until Spring 2015, though there's a possibility that we might see apartment-to-condo conversions before then.
On the other hand, the tight market conditions may be tempered should interest rates rise to the mid-5s or higher as predicted, reducing the number of active buyers. And, sellers who had been sidelined during the down market over the past few years may see 2014 as an opportune time to sell their condo, that'll help to ease the limited supply.
Graphs compare 2012 results to 2013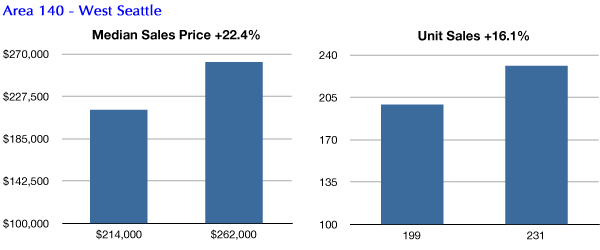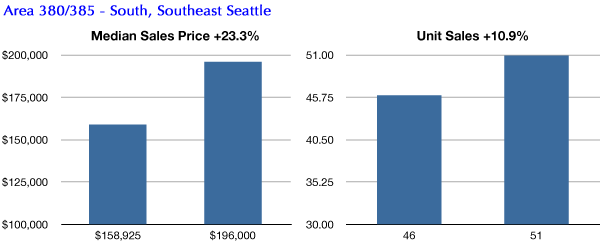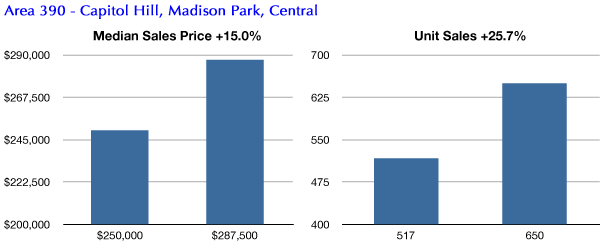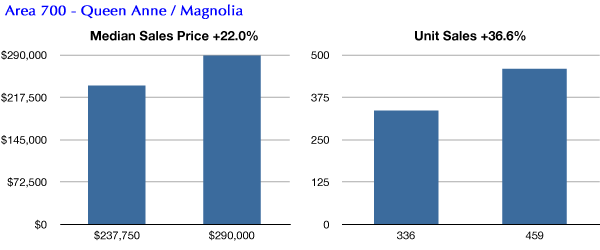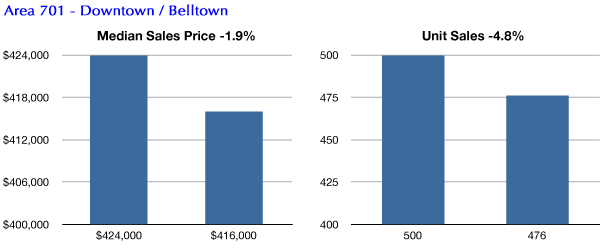 Excluding "new" construction sales (developer units), the Downtown/Belltown median sale price rose 15.1% from $325,850 to $375,000 between 2012 and 2013.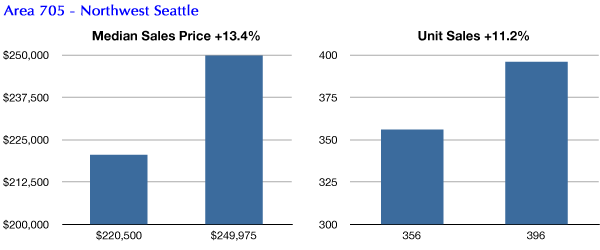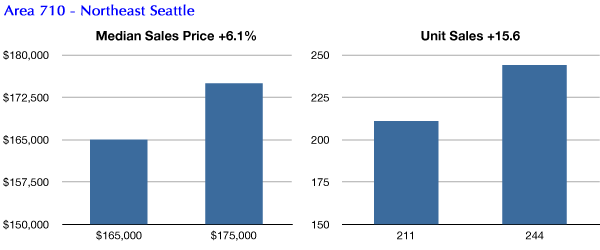 Source: NWMLS. Some figures were independently compiled by SeattleCondosAndLofts.com and were not published by the Northwest Multiple Listing Service.
________________________
© SeattleCondosAndLofts.com