Here's a few more notable land use activity for the Seattle area. These are mostly apartments but one may end up as a condo tower.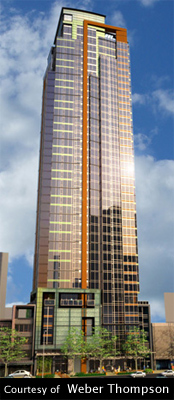 2116 4th Avenue – Belltown
The 40-story residential tower at 2116 4th Avenue has received conditional approval from the Seattle DPD. The proposed building is located next door to the Cinerama Theater and might be called Cinerama Tower.
The developer, HAL Real Estate Investments, is also moving forward on the Cameo project on Capitol Hill. A few of their previous condo projects include The Concord, One Pacific Tower, the Braeburn and the conversion the Site 17 and Newmark Tower buildings. So there is a possibility this building may end up as condos during the next construction cycle.
Joseph Arnold Lofts – Belltown
The design proposal for the Schuster Group's Joseph Arnold Lofts is available at the Seattle DPD. While this project is being proposed as an apartment building, Schuster's other Belltown project was the Mosler Lofts condominium.
Download the proposal (pdf)
2915 Rainier Ave S – South Seattle
An early design guidance meeting for a mixed-use 61-unit residential & commercial development in South Seattle. What makes this interesting is that it is being developed by Artspace, which has three live/work artist loft buildings in the Seattle area – Tashiro Kaplan Artist Lofts, Artspace Hiawatha Lofts and Artspace Everett Lofts.
The meeting is scheduled for 5:30 pm on Tuesday, May 24, 2011 at Well Spring Family Services (1900 Rainier Ave S).
View the land use bulletin
100 Republican – Uptown / Lower Queen Anne
Demolition has begun at the lot for the 100 Republican apartment complex in Uptown (old QFC lot next to the Seattle Center). This is a massive low-rise building that'll contain 275 units centered around a central courtyard.
and finally…
2428 NW Market St – Ballard
AMLI Residential, a corporate housing and luxury apartment company, is proposing to build a large 300-unit residential complex near the heart of Ballard at Market and 24th Ave NW. AMLI's other Seattle area buildings include the AMLI 535 in South Lake Union and the AMLI Bellevue Park in Bellevue.
An early design guidance meeting has been scheduled for 6:30 pm on Monday, May 23, 2011 at the Ballard High School Library.
View the land use bulletin