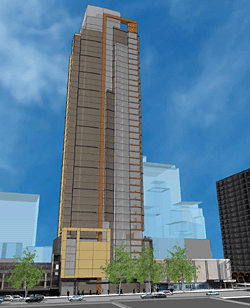 HAL Real Estate Investments recently acquired a 12,960 square foot parcel just north of the Cinerama Theatre along 4th Avenue. HAL plans to construct a 400-foot residential tower on the site (either apartments or condos) that'll contain approximately 360 units with retail on the ground floor.
According to Gabriel Grant, HAL's Investment Manager, "Most downtown residential high rises developed in Seattle over the past few years cater to a narrow and elite demographic. With 2116 Fourth Avenue, we are going in a new direction with smaller units, lower price points, and a lower parking ratio."
Unique to this project is will be a large scale outdoor projection movie theatre, taking a cue from Fremont's outdoor movies and Paul Allen's theatre next door. Interestingly, Paul Allen's 23-story The Martin condominium project located behind the Cinerama has been on hold during the current market slow down.
Dana Behar, President of HAL Real Estate Investments states "We are very excited about the prospect of designing a new residential tower for downtown Seattle. Though recently many well designed towers have either been entitled or built, we think there is still room to bring something special and unique to downtown."
HAL Real Estate Investments previoulsy developed the Braeburn and Concord condominiums as well as converted Site 17 and the Newmark Tower.
Illustration by Weber Thompson