Remember when we used to hear of a new condo development practically every week back in the day. At one point, there were 30 or so projects planned, or being dreamed of, that were forever going change the cityscape. A reader wanted to know and asked if I'd do a follow-up to this Midtown post. Here's what I've got so far.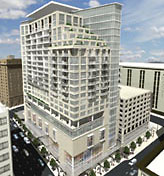 Heron / Pagoda: Twin condo/hotel project at 5th & Stewart – Dead, with the property having gone into foreclosure.
The Martin: Vulcan's cinematic condo at 5th & Lenora – Indefinitely tabled. As far as I know Vulcan still owns the property and could develop it during the next construction cycle.
7th & Westlake: An office/condo combo – It was pretty much a goner when I wrote about it back in 2007.
2105 6th Ave: Twin tower apartments – I have no idea. I assume financing and competition (Aspira, Olivian) kept this on the sidelines. Update 8/31/09: Per a Seattle Business magazine article, Sixth & Lenora Apartments are expecting to break ground next year with leasing beginning in 2011. It's good to get an update but the timeline seems ambitious.
Icon Tower: a sleek condo tower on a tiny footprint at Denny & Wall – Dead. There's a "For Sale" sign on the lot now.
Hyatt Place: an interesting mix – hotel and apartments – currently under construction at 6th and Denny.
Rollin Street: Vulcan's brick at Denny & Westlake – Converted to apartments.
Equinox: nearing completion on Eastlake – Converted to apartments. I just confirmed this today. Presale buyers are being given the opportunity to purchase homes at a discount at other Schnitzer properties such as Brix and Gallery. Those choosing not to purchase will be refunded their earnest money deposit.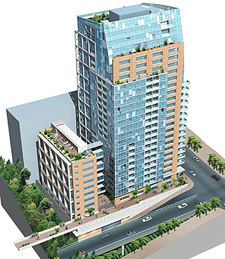 Seneca Towers: a twin tower condo project at 8th & Seneca – To be developed as apartments. I happened upon a property management website showing the property renamed the Park Seneca, its original name.
Stewart and Minor: Dead. The property was put up for sale.
1 Hotel and Residence: at 2nd and Pine – Comatose, possibly dead. Financial difficulties, the concrete strike, construction financing and not meeting the city's use ordinances did this one in. Now, the great hole of Seattle.
AVA: at 8th and Pine – Comatose. Not really sure, but nothing is likely to happen until the next construction cycle.
Insignia Towers: Vancouver does Seattle at 5th and Battery – don't know. Hoping this one goes through. Developer paid $50M for the lot which is being used to house cars and DOT equipment.
Art House: at Battery and Elliott – apparently Dead. The project is no longer on the developer's website.
2015 2nd Ave: a 40-story residential project adjacent to Cristalla and One Pacific Tower – the parcel is listed for sale.
Moda: small and affordable in Belltown – Converted to apartments. Unfortunately, during construction the units shrank from their already small size.
Those that survived:
5th and Madison
1521
Olive 8
Gallery
The Parc
Mosler Lofts
Enso
Veer Lofts
Escala (?)
Four Seasons
Marselle
Trio
Lumen
Brix