Over the next few years Seattle's "Midtown" district may experience a spate of new construction activity from several new high-rise developments under proposal. Midtown is roughly the area where Denny Triangle, Belltown and the Retail District converge. One of the projects in particular will provide a refreshing change to Seattle's skyline.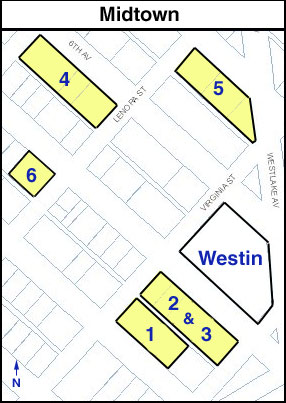 1. Escala: 30-story upscale condominium. Developer: Lexas Companies.
2. Pagoda Tower: 40-story hotel/condo with 200 hotel rooms, 200 condos, part of a 1/2 block $900 million development. The 500′ project includes a 9-level hotel, a 30-level condominium and ground-floor retail space. Developer: Multi Capital / Hummingbird Advisors.
3. Heron Tower (5th & Stewart): 46-story 5-star hotel/condo with 190 hotel rooms and 175 condos, part of a 1/2 block $900 million development. Construction is slated to start either 2nd Qtr of 2008 or 2009. Developer: Multi Capital / Hummingbird Advisors. Architect: Ismael Leyva Architects of New York.
Multi Capital is the financial backer for the 45-story Trump Tower Philadelphia project currently under construction.
Heron Tower Rendering:
The project has new renderings from those posted below. Click here to see the latest renderings.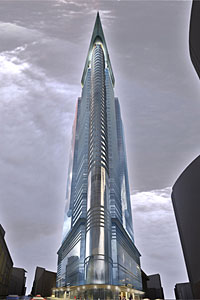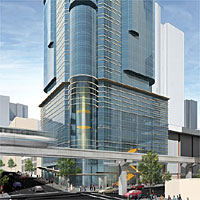 Renderings courtesy of Ismael Leyva Architects.
4. 2105 6th Ave: Two 24-story apartment towers with 600 units. Construction is expected to start in early 2009 with a late 2010 completion date. Developer: Pine Street Group. Architect: GGLO.
An Early Design Review meeting has been scheduled for Tuesday, October 30th at 5:30 PM at Seattle City Hall in Room L280 the Bertha Landes Room.
5. 7th at Westlake: 45-story office/condo tower with 365 units on the upper floors. Developer: Clise Properties.
6. The Martin: 23-story condo tower with 172 units. On hold. Developer: Vulcan.
There's another project proposed at the corner of 3rd & Virginia (where the directional arrow points to in the above map) for a 43-story apartment/hotel tower with 430 apt units and 40 hotel rooms. Originally expected to be completed in 2009, it may be delayed as there was a recent land use application for one of the parcels to be used as parking for up to two-years.
Time will tell if there will be sufficient buyer demand for over a 1,000 upper-end units in the Midtown district, especially considering the 1000s more being developed or proposed in the Retail, Denny Triangle, 2nd Ave/Market , Denny Way and SLU districts.