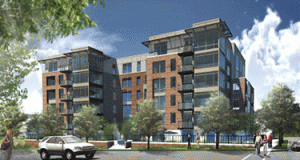 Duncan Place (website) is the most recent condominium development to be completed in north Seattle this year. Its University District locale benefits the project since developers have shied way Northeast Seattle. Besides Thornton Place, it's only the second new condo project completed since 2007.
The 63-unit Duncan Place soft opened a couple of weeks ago with little fanfare though they do plan a grand opening next month. So far, with just an on-building banner and a few MLS listings, they already have 5 units under contract without pre-selling.
One thing that struck me about the building is that it's not what you'd typically expect in north Seattle. It's clean modern design and interior space are reminiscent of condos in Belltown or Capitol Hill, particularly the corner units with floor-to-ceiling windows and open living spaces. Home features and finishes include:
8'6″ to 9′ ceiling heights
Expansive windows providing abundant light
27 different floor plans – studios, one-bedrooms and two-bedrooms
GE stainless steel appliances
Honed granite countertops
Hardwood and carpeted flooring
A/C in 6th floor and two-bedroom homes
Washer and dryer
Parking (2 spaces for two-bedrooms) and storage
Zip car availability
The building is set back from I-5 which helps to minimize traffic noise. At 4:30 pm on a weekday with the window open in a west facing unit the ambient sounds were essentially white noise. For the other three sides it was even less apparent. The developer plans to build another structure that'll separate Duncan Place from the freeway creating a buffer.
The homes feel spacious due to their oversized windows, high ceiling heights and open floor plans. This is most notable in the corner units on the 1st and 6th floors which have 9′ ceilings. Though, a few of the studio layouts felt a wee bit cozy. Select homes have electric fireplaces and many have patios or balconies. Common amenities include a community room, courtyard and a roof top deck with spectacular city views.
Current price ranges as of 8/19/09 are:
Studios & Open one-bedrooms – prices range from $185,000 to $230,000. Homes are between 365 to 495 square feet.
One-bedrooms – prices range from $225,000 to $425,000. Homes are between 585 to 775 square feet.
Two-bedrooms – prices from $499,000 to $599,000. Homes are between 810 to 1,219 square feet.
Downtown-style does come at a premium, however. While the price points are competitive, on a per square footage basis, Duncan Place is comparable to newer downtown area developments and are a bit higher than nearby Ruby and Ballard's Canal Station. Homeowner dues also appear to match those with downtown highrises and are unevenly distributed with smaller units paying more per square foot. Based solely on the four units listed in the MLS (as of this writing), the dues for the 392 square foot studio run $.70/SF while the dues for the 1,219 square foot 2-bedroom is only $.42/SF. However, that hasn't been a deterrence as they've sold nearly 10% since opening a few weeks ago.
The development is FHA approved which provides buyers with a 3.5% down payment option. The Duncan Place team anticipates most buyers will be first-time buyers and those associated with the university (faculty, staff and parents of students). Most buyers should qualify for the $8,000 first-time home buyers tax credit. Though, closing time frames could affect the eligibility of FHA buyers as a certain number of sales must be reached before FHA buyers can close on their purchases.
Duncan Place is also offering a rather unique "Move-In Today" lease-to-own program, which may be in response to accommodating FHA buyers mentioned above. Rental rates begin as low at $300 per month for studios (1-bd: $500/mo; 2-bd: $700/mo) with half the rent payment applied towards the buyers down payment. I haven't seen the details about this program.
Overall, Duncan Place is a good addition to the U-District that offers modern living options not typically found in Northeast Seattle, save for Park Modern. Situated on 47th Avenue NE, it provides easy access to I-5, the University of Washington, the Wallinford district and Green Lake.
The sales office is open daily between 11:00 AM and 4:00 PM, which is located at 4547 8th Ave NE. Note: a buyer agent / representation registration policy applies.
View available Duncan Place condos for sale.
Click on thumbnails for larger images:
[flickrset id="72157621963632495″ thumbnail="square" overlay="true" size="medium"]