Update 3/23/09: KOMO TV news story on the auction.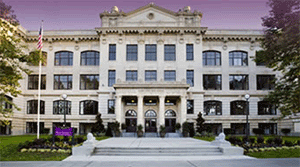 Following on the success of The Press condo auction in December, the Queen Anne High School condo project will be auctioning the developer's remaining 12 units. Bids start at $145,000.
The auction is scheduled for 1:00 PM on Sunday, March 22, 2009 at Grand Hyatt in downtown Seattle. The auction is being conducted by Kennedy Wilson, www.QueenAnneHighAuction.com.
Like the Press' auction, a "how-to" seminar with a mock auction is being held in advance. The seminar is scheduled for Sunday, March 15 at 1 PM at the auction information office at Queen Anne High School (201 Galer – enter from 3rd Avenue). Attendance at the seminar isn't required but if you're new to auctions, it's well worth going to.
Of the 12 homes available, 11 are located in the West Wing and the Industrial Arts Building. The only unit available in the original high school building is a penthouse. The homes are available for preview from 10 AM to 5 PM daily. Floor plates of the complex.
One studio is available with a minimum bid of $145,000 that had been listed at $254,950.
Six two-bedrooms that begin from $245,000, they were previously listed between $474,950 and $519,950.
Four townhomes starting at $325,000, they were previously listed from $579,950 to $599,950.
The penthouse, a 1,432 square foot one-bedroom + den starts at $650,000 and was previously listed at $999,950.
Things to know about the auction:
Registration is required in order to attend and bid on auction day. Bidders can register in-person at the auction office or they can mail or fax the form. Registration is due by 5:00 PM on Thursday, March 19, 2009.
The minimum selling price (bid) is the published reserve price; there are no hidden reserves or buyer premiums.
Buyers must be pre-qualified through Wells Fargo prior to the auction. However, buyers may use any lender of their choice and will need to provide a pre-qualification letter from their lender.
A $2,500 cashiers check deposit is required for each home a buyer has been approved to purchase. The deposit is required to bid, and for winning bidders, it'll be applied towards the down payment.
Immediately following the auction, the remainder of the down payment is due (3% for one home, 5% for more than one). The down payment can be made by personal check.
Purchasers using the preferred lender, Wells Fargo, are eligible for a $2,500 credit that can be applied towards closing costs.
All sales are slated to close on or before Wednesday, April 22nd (30 days from the auction). In some cases, the Seller may grant an extension though there's additional fee assessed.
Buyers may have their own buyer agent representation. There is no additional cost incurred for buyer representation.
Detailed information, list of homes available, registration form and auction terms & conditions are available for download at www.QueenAnneHighAuction.com (note: you'll need to complete the sign-in form).