UPDATE 3/4/09: The single owner / single property auctions appear to have busted with lack of interest. There were no registered bidders for either auction; the Tribeca auction is scheduled for tomorrow is being canceled. Single property auctions may work in cases where there is a value incentive, a low minimum starting/reserve price relative to the list/market price. In these two cases, the minimum bid was approximately 10% below the list.
Post revised 2/24/09:
For most of us in Seattle non-foreclosure auctions have been a rarity. However, the current market place has sellers looking at real estate auctions as an alternative means to sell their property. In the past six months two Seattle condominium projects (The Press & Seventeen07) utilized a public auction to sell off their remaining units. Both the sellers and buyers benefited — the sellers sold off their inventory (public records show most closed) and buyers were able to purchase well-below list.
It worked so well for condo projects that now individual unit owners are giving it a try. I received information on auctions at Ballard's Canal Station and the Tribeca in Lower Queen Anne. The auctions are held by individual sellers and are being facilitated by the CE Group.
Canal Station #304 is an fairly large 873 square foot 1-bedroom. This single property auction is scheduled for Tuesday, March 3rd at 5:30 p.m.. The minimum bid starts at $279,000.
Tribeca #201 is a 1,116 square foot 2-bedroom, 2-bath unit with a large deck and 2 parking spaces. The condo is presently listed at $538,950 with an auction starting price of $465,000. The Tribeca auction is scheduled for Thursday, March 5th at 5:30 PM.
The location for both auctions are still to be determined. More detailed information about the auctions can be found at CE Group Auctions. The process is similar to the last two project auctions.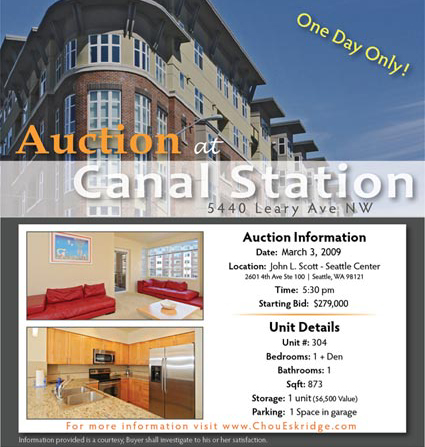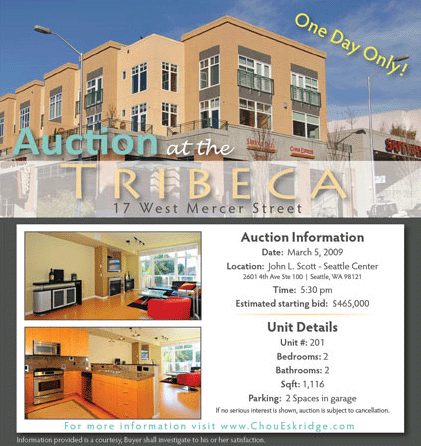 I don't know if single property / individual owner auctions will take off in the Seattle area, but if they do, there are some advantages to them. For sellers – the potential to sell the property quickly and eliminate carrying costs, reduce the hassle of on-going showings & open houses, remove sellers from the negotiating process and sell the property at market value. For buyers – the price is set by the buyer and eliminates negotiations, know they are competing on same terms with other buyers, have the ability to review documentation beforehand and reduces the closing time frame.
Disclaimer: CE Group and TSCB are independent entities affiliated with John L. Scott Seattle Center. TSCB has no vested interest in this auction.