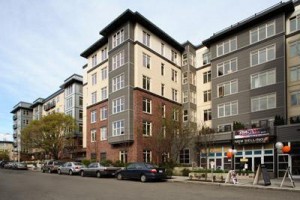 Update 12/14/08: The SLOG's write up of the auction. Units sold approximately 80% of the list price, about 30% above the minimum bid price.
The Press, a condo conversion on Capitol Hill, will be auctioning off 18 remaining units on Saturday, December 13th.
The Press development includes two buildings, a converted apartment building at the corner of Belmont and Pine St and the adjacent new construction addition. Minimum bids for one-bedrooms begin at $185,000 (last asking price ranged from $334,950 – $364,950) while the minimum bids for the two-bedroom range from $210,000 to $255,000 (last asking price ranged from $364,950 – $467,450).
The presentation center is open daily between 10 am and 5 pm at 1610 Belmont Avenue.
The auction will be held at the Grand Hyatt Seattle at 721 Pine Street. Interested bidders should review the auction website thoroughly as an auction registration form and deposit are required.
www.PressCondos.com/auction.html
Recent news articles:
No Parking Anytime: Condos being put up for bids at about half price – Seattle PI 12/2/08
Press release – Seattle PI 11/18/08