Update January 2008: Intracorp is currently marketing the complex for sale as an apartment complex.
Update 8/13/08: I've been trying to obtain confirmation on the status of Domaine to no avail…seems Intracorp is keeping mum. I wouldn't be surprised if Domaine joins Expo62 (Axis) and Moda given they've closed their sales office, removed signage, dummy downed the website and are media shy (not me…the DJC and PI).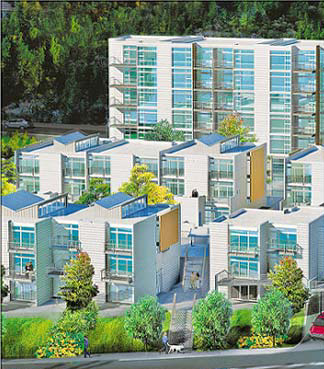 Domaine is currently under construction at the northeast tip of Queen Anne across from the world famous Canlis restaurant. Domaine will feature a mix of 92 studio, one- & two-bedroom flats, live/work lofts and townhomes with amazing views of Lake Union and Cascades.
Home features include:
Floor to ceiling glass windows with ceiling heights up to 9 feet
Wool/nylon carpeting
Translucent room dividers
Amana or Fisher/Paykel stainless steel appliances
Rift cut wood cabinetry
Euro-design faucets and sinks
Stacked full-sized washer & dryver
A/C in selected homes
Domaine is designed to take advantage of outdoor living space with an open courtyard and offers easy access to lower East Queen Anne. The buildings are designed with the backend facing noisy Aurora Avenue and all units facing Lake Union on the Dexter Avenue side. This will help cut down on the noise. However, many commuters use Dexter Avenue to access Aurora Avenue and there are long lines of cars during rush hour traffic.
In speaking with the sales rep, she spun her marketing spin stating that it's a "perception" that Domaine is on Aurora Avenue. Um, the last time I checked, it is on Aurora Avenue. But, she may need to. Domaine has taken reservations since May and began selling in June. Based on their October price & availability sheet, they've only sold about 30% of the homes.
For sales center photos and additional information, visit Urbnlivn.com's Domaine write up.
External website: www.domainseattle.com
Post Updated 10/25/06.