The median Seattle condo price rose to $335,000 last month, a record high and a 9.84% increase over January of last year. Unfortunately, that was due to high-end unit closings in downtown (MLS area 701) rather than an overall market improvement. Besides downtown, NW Seattle (MLS area 705) also realized an increase in median price, up 4.2%. Combined, those two areas comprised 44.4% of all condos sold (closed) last month.
Capitol Hill fared reasonable well. Though the median price dipped slightly compared to a year ago, down 1.7%, more units moved resulting in increases in both pending and closed transactions. The market in other in-city neighborhoods continued to struggle with under performing sales volume and declining values.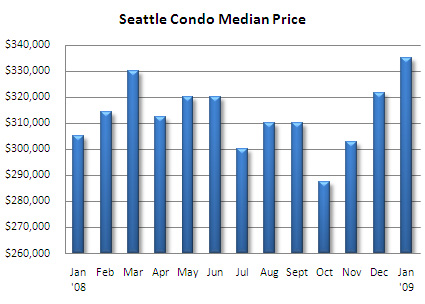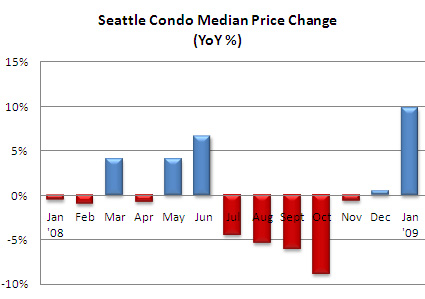 The number of active condo listings last month increased slightly over December, up 38 listings or 3.3%. Though, compared to January of last year, active listings were down 9.4%. The economy and further softening of Seattle's real estate market are likely keeping sellers on the sidelines, either holding out as long as they can or renting their units instead.
The citywide condo inventory supply rate (absorption rate) decreased to 7.8 months in last month based on pending transactions. Although Seattle remains a buyers market, the rate has been trending back towards balanced market conditions. North of the ship canal, the condo supply is commensurate with last year's rate; Capitol Hill's rate is lower than it was a year ago.
While pending transactions (condo units going under contract) remained below last year's level (-20.2%), there was a 22% increase in the number of pending transactions last month compared to December. Historically, January sales volume outpaces December, so we'd expect these results. Yet, it is a positive signal that even with the current economy crisis people are buying real estate… the number of pending condo transactions increased for the second consecutive month.
By all accounts 2009 looks rather bleak. The seemingly endless reports of layoffs, mortgage defaults and tightening mortgage guidelines will impact the region's housing market. Foreclosures and outbound migration could result in higher inventory levels. Yet, there are opportunities that could spur market activity.
One of three things will probably come out of the stimulus bill – a repeal of the payback component of the existing $7,500 first-time buyers tax credit (House version), a $15,000 tax credit which isn't limited to first-time buyers (Senate version), or something in between.
Fannie Mae just reversed its 4-property limit investor restriction and are now allowing loans for up to 10 financed properties.
Mortgage rates remain historically low even when factoring in the .75% condo fee and more properties are receiving HUD/FHA approval.
Continued value depreciation in most neighborhoods makes condo ownership more attractive.