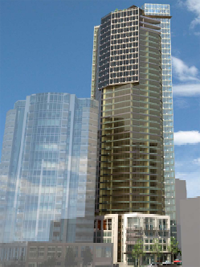 Due to landmark review requirements for the Terminal Annex Building, the 2nd Avenue twins are proceeding individually. A design review meeting for the 2015 2nd Avenue project has been scheduled for Tuesday, June 24th at 5:30pm at Seattle City Hall.
The proposal for 2015 2nd Avenue, located on the NW corner of 2nd and Virginia, is a 440′ 39-story tower featuring 244 residential units and retail space. If built, 2015 2nd would be adjacent to, and tower above, the Cristalla and One Pacific Tower condominiums.
More info and renderings are included in the design proposal which you can download here (note: this is a 16MB file).