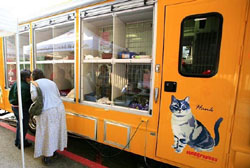 South Lake Union and the Seattle Humane Society will be celebrating the 10th annual Take Your Dog To Work Day on Friday, June 20th at the SLU Discovery Center (corner of Westlake & Denny).
The Seattle Humane Society's mobile adoption center, the MaxMobile (pictured), will be at the Discovery Center from 11:30 am to 2:30 pm. If you've been contemplating adopting a dog, cat or rabbit, then drop on by.
Additionally, a week-long pet food drive benefiting the Humane Society's Pet Food Bank is currently underway at locations throughout SLU. You can also make pet food donations at the Discovery Center. Dry cat food is the most requested item at the food bank.