Downtown Seattle's 2nd Avenue has been receiving quite a bit of attention lately with several condominium, apartment and office towers under construction or planned. The most notable of these include the 1521 Condominium, 1 Hotel & Residences, 2nd & Pike (hotel & condo) and the Liberty Building (office & apartment) developments.
Now, add three more potential projects to the list. On the horizon are 1915 2nd, 1931 2nd and 2015 2nd.
The 1915 2nd project is a 24-story 171-unit condominium being developed by Intracorp.
The 1931 2nd proposal is a 40-story hotel and residential tower with 135 hotel rooms and 182 residential units.
And, proposed for the 2015 2nd parcel is a 40-story 240 unit residential condominium tower.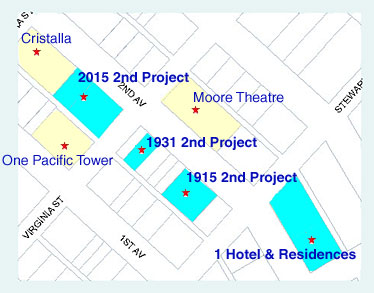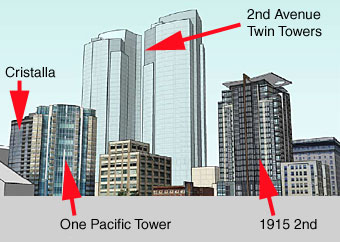 Both the 1931 and 2015 projects are being developed by the Justen Company, designed by Weber+Thompson and owned by Columbia West. For more information on the 1931 2nd & 2015 2nd projects, an early design guidance meeting has been scheduled at Seattle City Hall on October 9th in room L280. The 1931 2nd project is scheduled at 5:30 PM and the 2015 2nd project is slotted for 7:00 PM.
Other new condominium & apartment projects in close vicinity include:
The 1521, 2nd & Pike, Liberty Building and Four Seasons projects are just a couple of blocks South on 2nd & 1st Avenues
Just NE, along Virginia Street, will be a 43-story apartment building (3rd & Virginia) and the Escala Condominium (4th & Virginia)
A couple of blocks NW along 1st Ave is the Alex Condominium project