There's a new look for the Heron/Pagoda project at 5th Avenue between Virginia and Stewart Streets in downtown. The most current renderings indicate a twin-tower design, which interestingly enough, will be directly across from the Westin Hotel's twin-towers.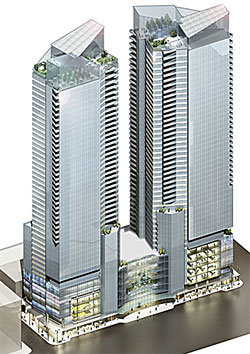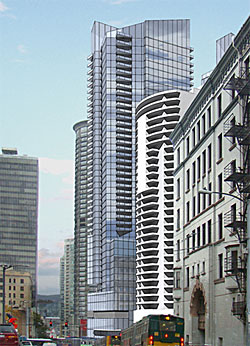 Between the Westin & Escala (foreground)
Note: A 2nd design guidance meeting has been scheduled for this project on February 12th at 7:00 PM at Seattle City Hall.
It seems Seattle will be awash with double vision in the coming years. Besides the Heron/Pagoda project, at least four other twin-tower projects have been proposed in the downtown area — Insignia Towers, 1200 Stewart, 2nd & Virginia and the Pike Street Group's project at 6th & Lenora.
SeattlePI article: Hotel-condo project to face Westin
Renderings courtesy of Ismael Leyva Architects.