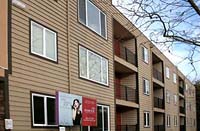 The Forte Condominiums (website) is currently celebrating its grand opening in the Pinehurst neighborhood located in North Seattle.
Forte, a 4-story conversion, features 48 one-bedroom and two-bedroom homes that range in size from 564 sq ft to 1,400 sq ft for the penthouse suites. All homes surround a large light-filled central courtyard. Currently, one-bedrooms start at $194,950 and two-bedrooms at $254,950.
Other features include:
Slab granite countertops with undermount sinks
Choice of Maple or Cherry cabinet finishes
Wood burning fireplace
Large bedroom spaces
Stainless steel appliances
Decks or patio area, most homes
Washer & dryer
Garage parking
Pet friendly, though may have some restrictions
Overall, the finish quality is above average for this price point and includes standard stainless steel appliances and stainless kitchen sinks. There were some quirks such as the location of the in-unit fire alarms within the doorway trim…just looks odd.
The building is located at the corner of NE 125th Street & Roosevelt Way NE, which can get busy during rush hour commutes. However, the homes appeared to be well insulated and traffic was not discernible with the windows closed. Fortunately, only a few units face the intersection so most homes will not be affected by traffic noise.
The location also has advantages with easy access to I-5 and is on major bus routes. It's also close to the Northgate area which is undergoing considerable redevelopment and recently welcomed Barnes & Nobles, Bed Bath & Beyond and Stanford's.
Forte was previously the Roosevelt Court Apartments.