Denny Way has become a hotbed of construction activity with no less than eight residential projects currently under development. These projects will dramatically re-invent the SLU, Denny Triangle & lower Queen Anne landscape.
Four of these are located within blocks of each other near Denny Way & Aurora Avenue. Of the four, two are expected to be apartments with the other two being condominiums.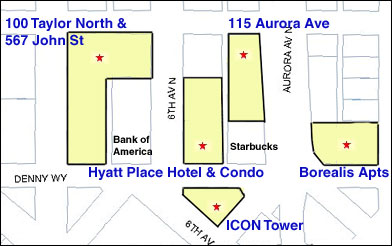 Hyatt Place Hotel & Condominium (600 Denny)
Update 2/08: This project will be developed as a hotel/apartment complex consisting of two buildings. One building will be a 56-unit apartment (6th & Denny Apartments) and the other will be the Hyatt Place Hotel.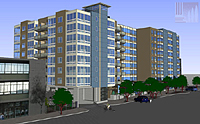 Located to the West of Starbucks at the old Greg's Japanese Auto site is the 9-story 160-room Hyatt Place Hotel that will also include 56 condominium homes. The project is being developed by Kauri.
Image courtesy of Johnson Braund Design Group.
Borealis Apartments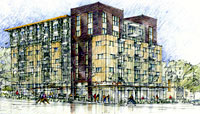 Borealis (website) is well underway at Denny & Aurora. This green built Vulcan project will feature 53 apartment units, 50 of which will be priced for residents earning 80% of median income. The building was designed by Runberg Architecture.
100 Taylor Ave N & 567 John Street
This nearly 3/4 block project (West side and behind Bank of America) is called Taylor 28 and will feature two 6-story buildings that'll comprise nearly 200 apartment homes including 5 live/work units and retail space. The site is being developed for Bre Properties.
115 Aurora Avenue
Located behind Starbucks, this 7-story mixed-use project will include 130 residential homes including 5 live/work units. Several comments have referred to this project as condos. The project is being developed in part by Sierra Construction.
ICON Tower (6th & Wall)
Also planned is ICON Tower which will be located directly South of the Hyatt Place Hotel project. The 29-story tower will feature 224 condominium homes. Construction is expected to begin early 2008.
Other Denny Way Projects:
East towards I-5, other residential projects currently under construction on Denny Way include Enso, Rollin Street Flats and the Mirabella.
West towards Elliott Bay, projects currently under construction include Trio, The Bernard and Expo62.
On the horizon are residential projects proposed for the Denny Center lot (Denny & Fairview), Denny & Yale and Denny & Stewart. Most of proposed upcoming projects will fall under the new zoning guidelines which will allow up to 400 feet tall structures.