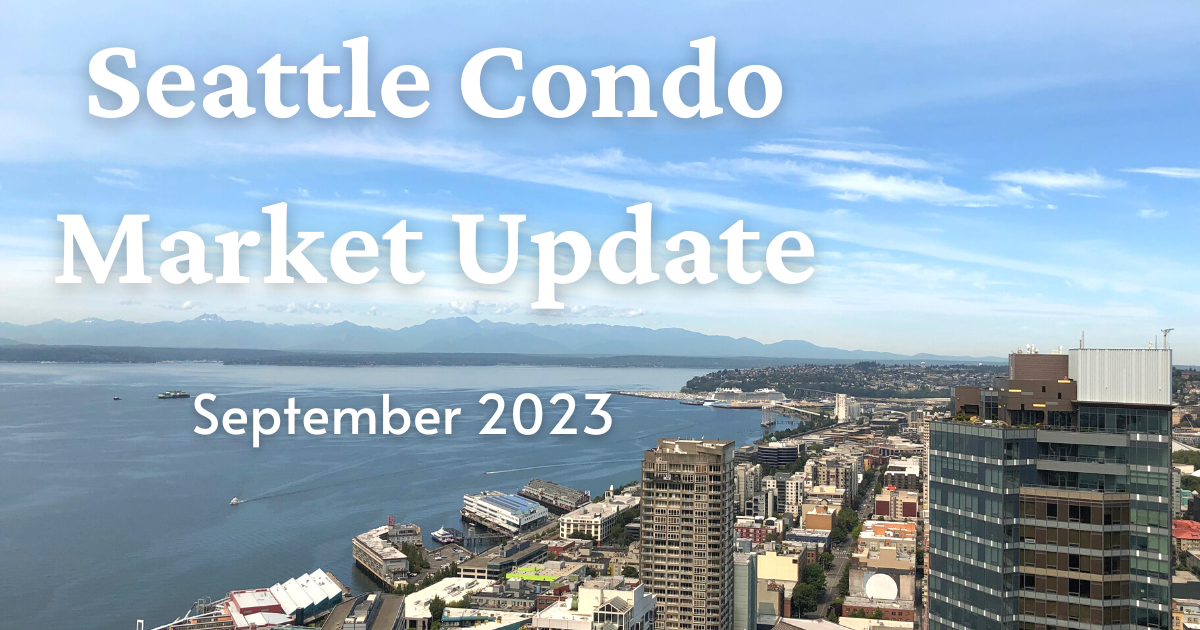 Overall September was a solid month for Seattle's condominium market. Selling prices remained stable even as sales activity dipped going into our seasonal real estate market slowdown.
The Seattle citywide condo median sales price last month was $550,000. That reflected a year-over-year (YOY) increase of 10.2% over last September. That ties May, June and July as the second highest amount on record.
It also exhibited a one-month decline of 4.3% from August. Though, that's to be expected as median selling prices historically trends downward during the second half of the year.
With the exception of Capitol Hill / Central Area, all NWMLS neighborhoods saw YOY increases of their median sale prices. See neighborhood figures – click here.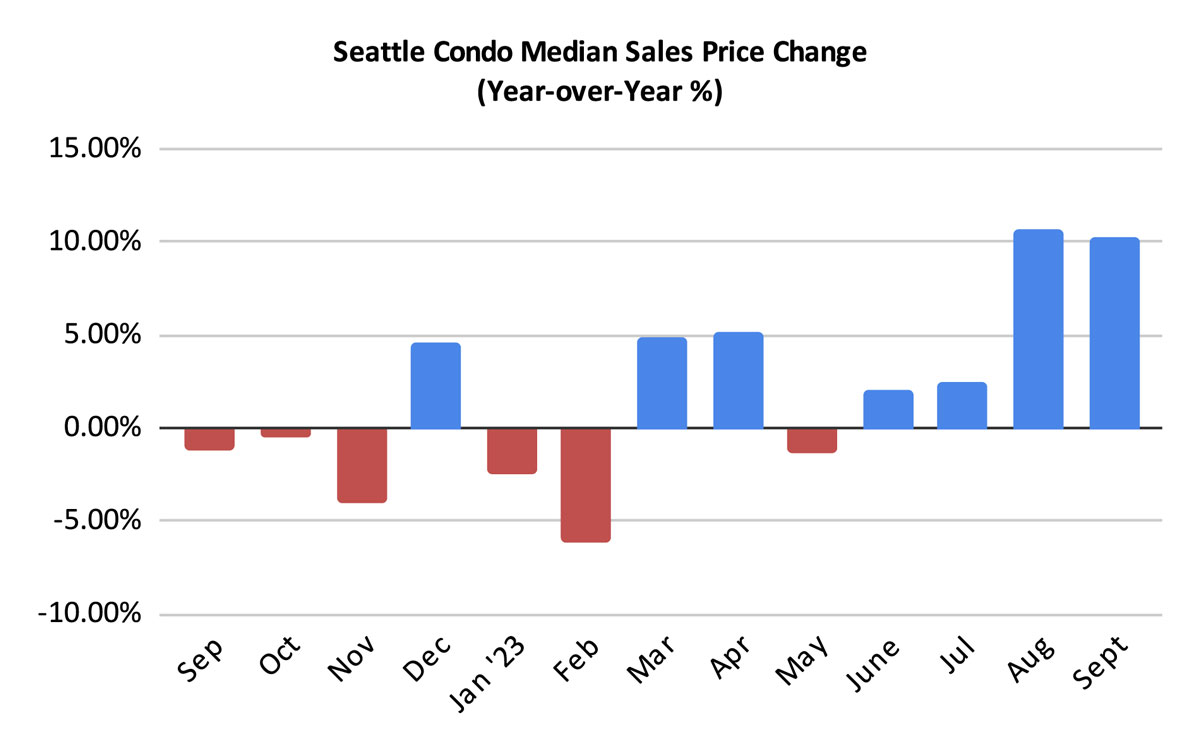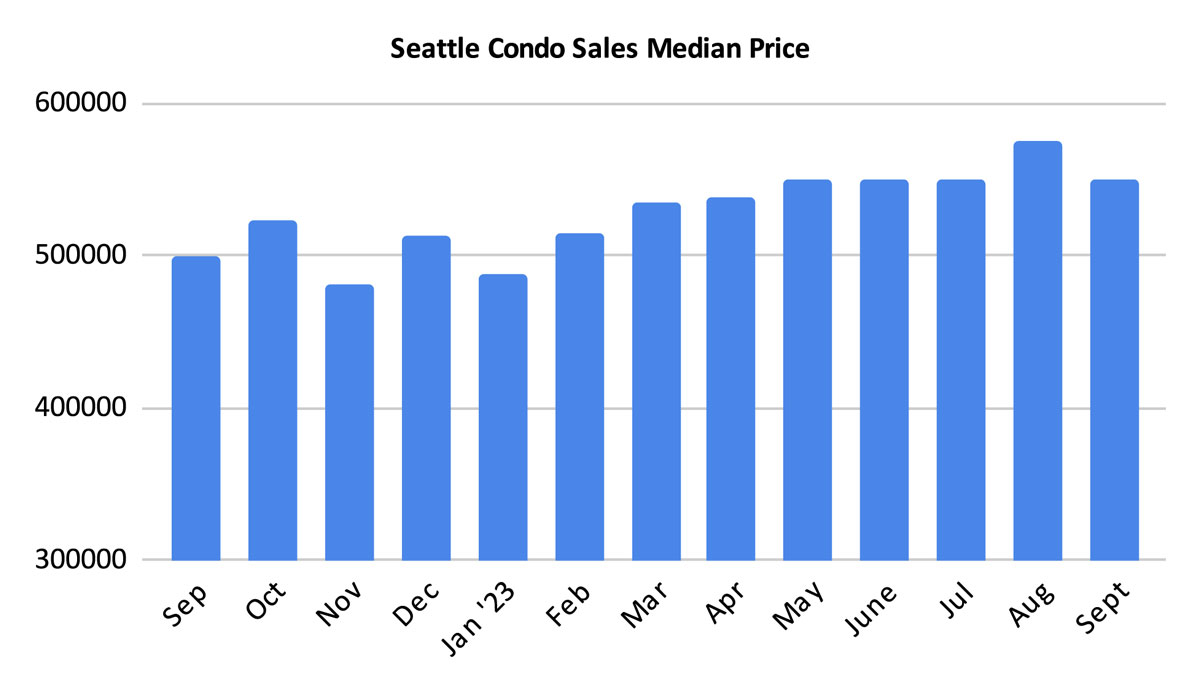 With condo prices remaining high and sales slowing, the number of active Seattle condo listings continued to rise. At month end, there were 641 condos for sale, which reflected a one-year and one-month increase of 10.1% and 10.5%, respectively.
September saw 377 new condo listings during the month, which was 7.7% more than the same period last year. Part of the reason for the higher number of listings this year is the recent classification of many townhome and in-fill developments, such as ADU/DADUs, as condominiums rather than as single family homes. Currently, they make up 17.5% of the condo listing inventory.
And, many of these are higher valued than the typical condominium unit. Thus, in neighborhoods with small sample sizes these townhomes impact the median and average sales prices.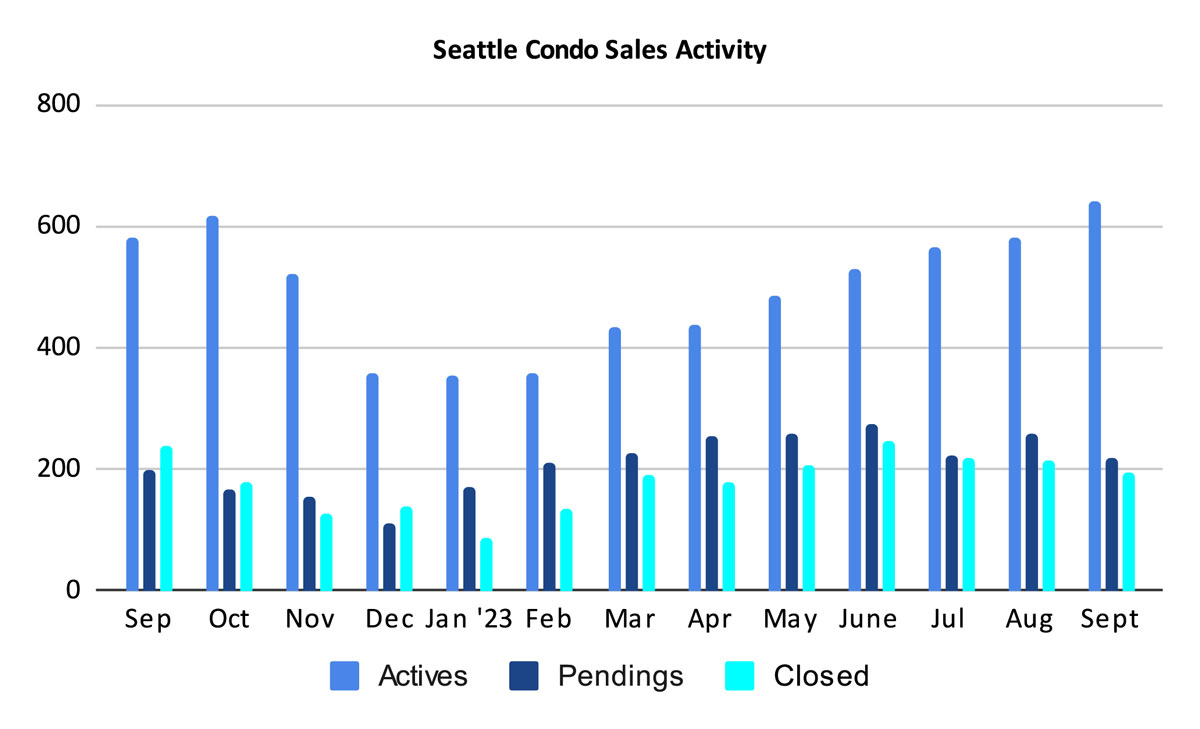 The increase in listings combined with the dip in sales resulted in an increase of the inventory supply rate to 2.9-months of supply. Thus, at the level of sales in September, it would take 2.9 months to exhaust the supply (assumes no new listings come to market).
The months of supply rate metric characterizes the market environment. A rate of less than 4-months is considered a seller's market, between 4 to 7 months a balanced or normal market, and over 7 months of supply is a buyer's market.
Seasonally, the last quarter of the year typically has fewer sellers listing their homes for sale and buyers buying so this is likely to trend up.
There were 218 pending sales transactions in September. That reflected a one-year improvement of 10.1% over last September and a 15.5% drop from August.
The good news is that even with higher interest rates and strong selling prices, buyers were still buying last month. The one-month decline was anticipated as sales cyclically reduce through the end of the year and the number of pendings will reduce.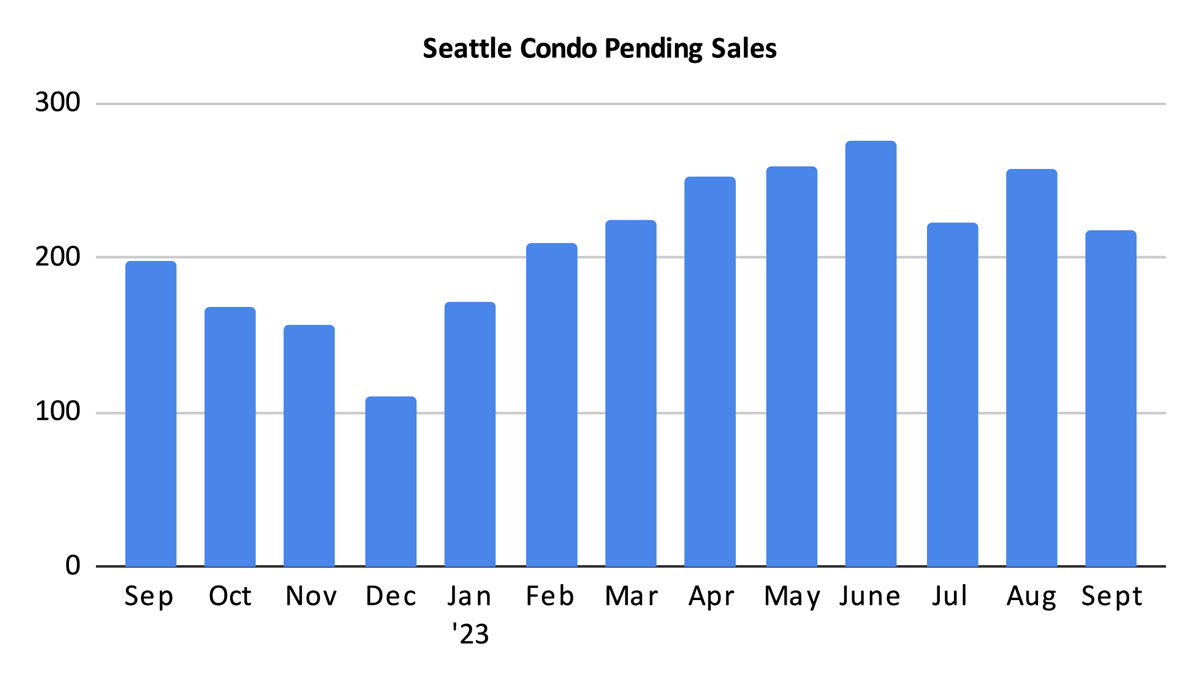 The 194 closed condo sales transactions exhibited a year-over-year and month-over-month decline of 18.8% and 8.9%, respectively. The number of closings will continue to decline through the fall and holiday season.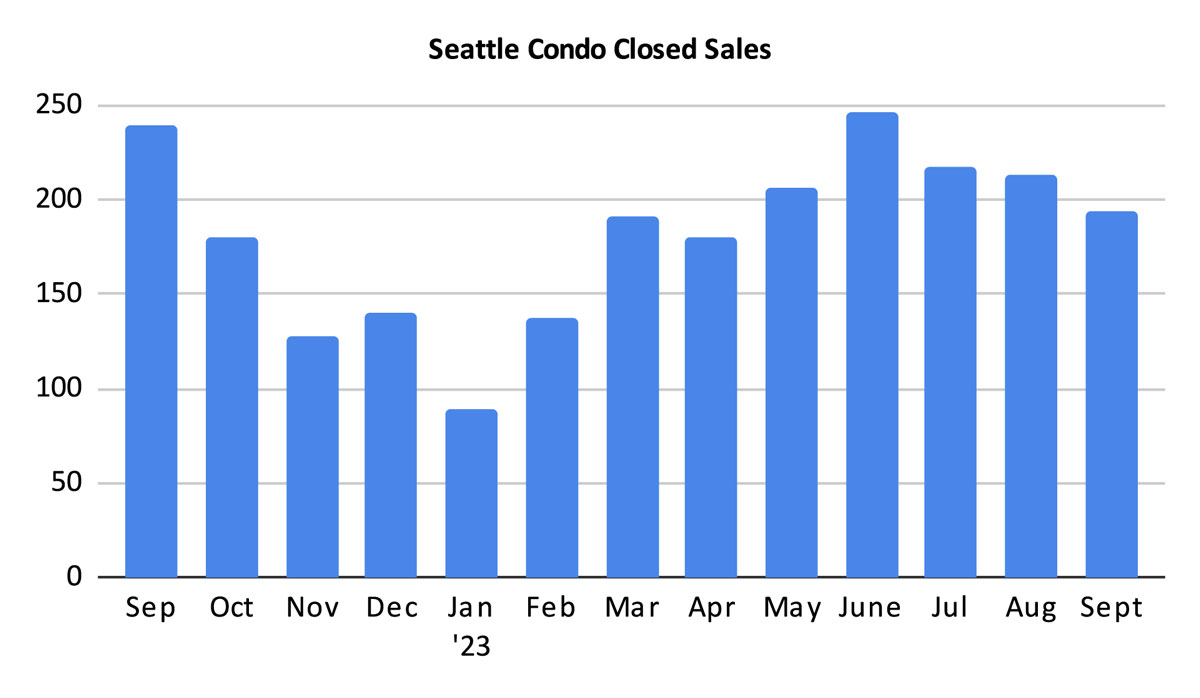 Seattle Condo Market Statistics September 2023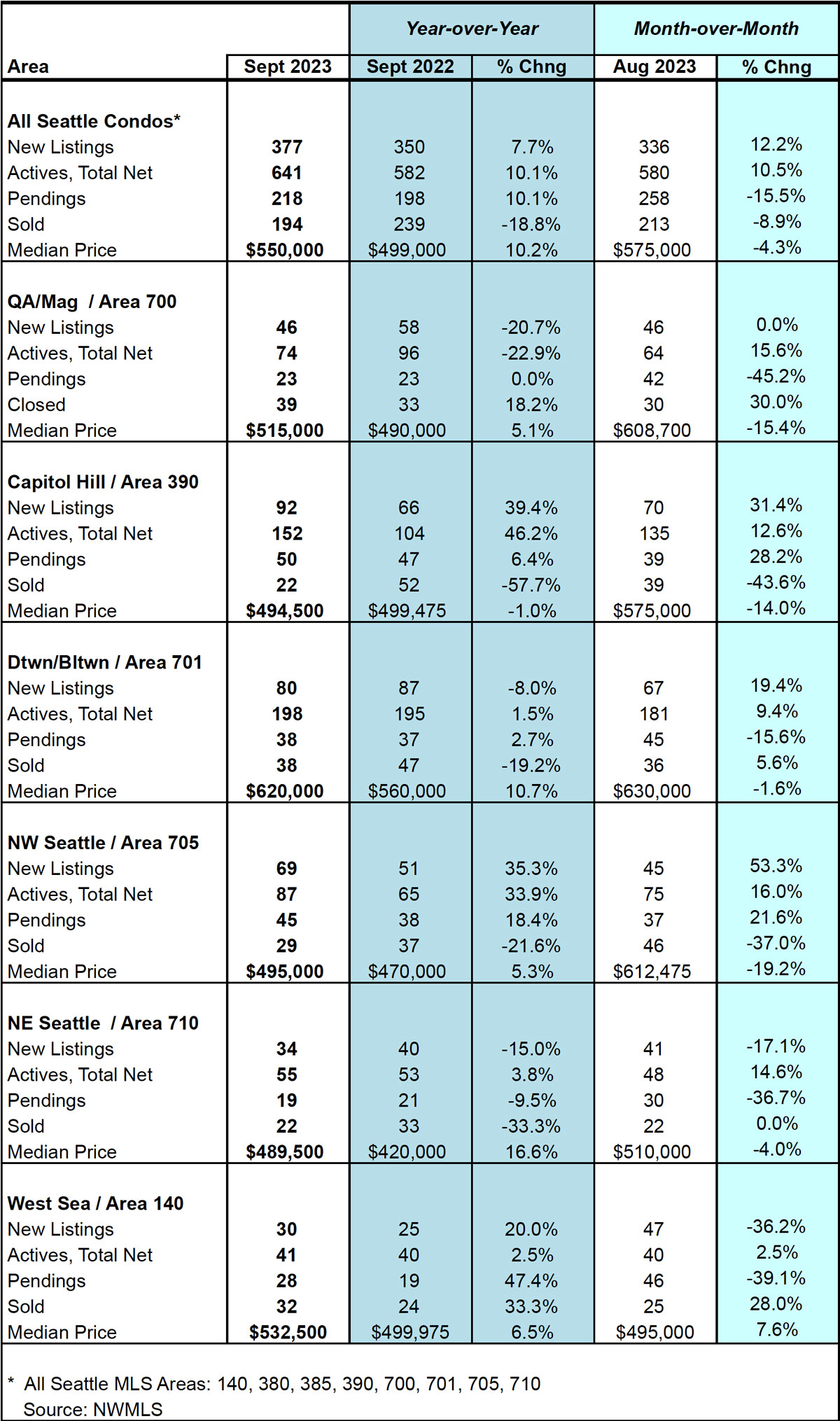 Source: Northwest Multiple Listing Service. Some figures were independently compiled by Seattle Condos And Lofts and were not published by the NWMLS.
© SeattleCondosAndLofts.com