The condo market performed fairly well last month; aside from a median price decline it did show signs of stabilizing. Compared to August, the median condo price remained unchanged at $310,000, which also reflected a year-over-year decrease of 6.03%, the largest drop so far this year. It was also the third consecutive monthly drop in year-over-year median price value.
The number of active listings reversed its recent declines, increasing by 12 properties, or 0.08%, over August. Though, for the first time in years the number of active listings fell below the prior year's figure. There were 1,503 actives in September '08 compared to 1,531 in September '07, a year-over-year decrease of 1.83%. Now, that's just 28 properties, but it's significant when you consider that in January there were 512 more active listings compared to the prior year. Given current market trends, though, it's not unexpected. For many sellers, it makes more sense to ride out the downturn by taking advantage of the stronger rental market.
The number of pending transactions (under contract in escrow) showed improvement last month, reflected by a 14.3% increase over August. The year-over-year result improved as well. In August '08, the number of properties going under contract was just 55% of those that were under contract in August '07. In September, the number of pending transactions improved to 85.5% of the previous year's level.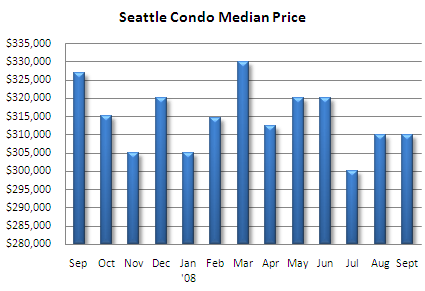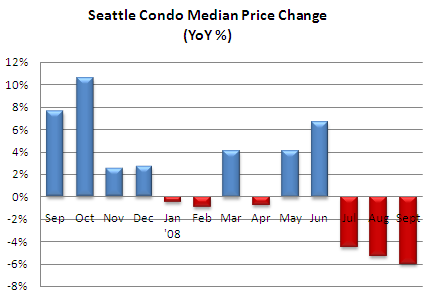 The improved pendings rate and falling inventory helped to reduce the inventory supply rate (absorption rate) to 6.7 months. It's still a buyers market, but we're seeing a little more parity in areas – Capitol Hill, Queen Anne and Downtown. Downtown's supply rate actually dropped last month (compared to September '07) but that can be attributed to pendings at Gallery, particularly previously unrecorded pre-sales that just popped-up as pendings last month. To Gallery's credit they are recording pendings and solds, something many developments haven't done (more on this later).
September will likely go down as an anomaly. It had begun to show signs of improvement, which may have been the result of the Fannie Mae / Freddie Mac takeover. That news helped to spur just a little more confidence and briefly lowered mortgage interest rates. Going forward, the recent economic crisis, both nationally and locally, will wipe out the gains made last month. In all likelihood, we'll see a downward movement in the number of active listings, median price and pending transactions through the remainder of the year.