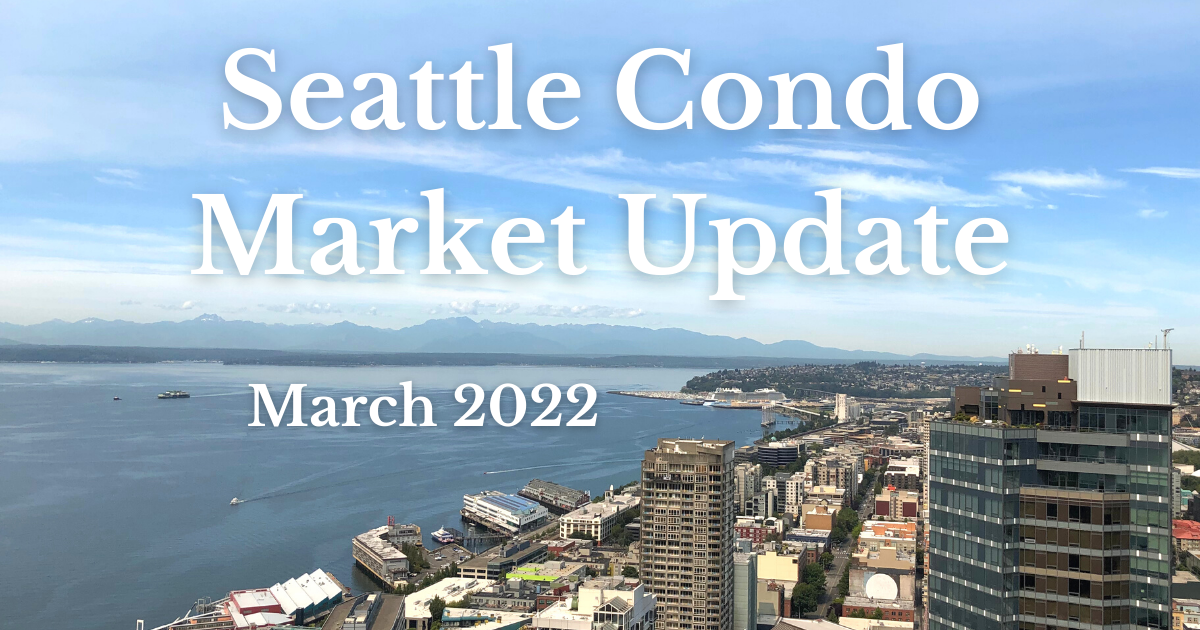 As March officially kicked off the Spring season, Seattle's condominium market segment was in full swing at a steady pace. Condo inventory improved slightly along with buoyant sales activity and prices.
Seattle's citywide condo median sales price rose 3% year-over-year (YOY) in March to $510,025, marking the 7th consecutive month of YOY gains. Though, the median sales price also reflected a 7.1% decrease from the prior month.
By MLS neighborhood area, median sales prices increased throughout the city with West Seattle and Northeast Seattle exhibiting double-digit YOY improvements of 13.3% and 44.9%, respectively. There was one exception, the Queen Anne / Magnolia area realized a one-year dip of 1.6%. See table at end of post for more neighborhood figures.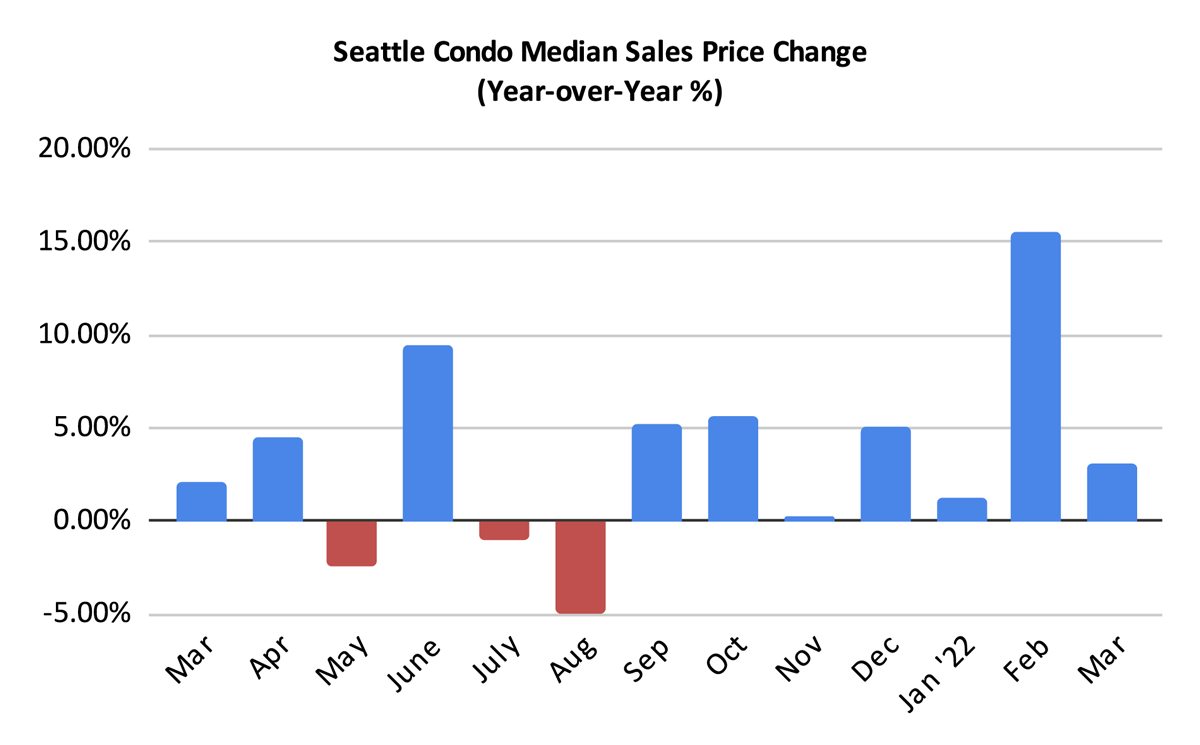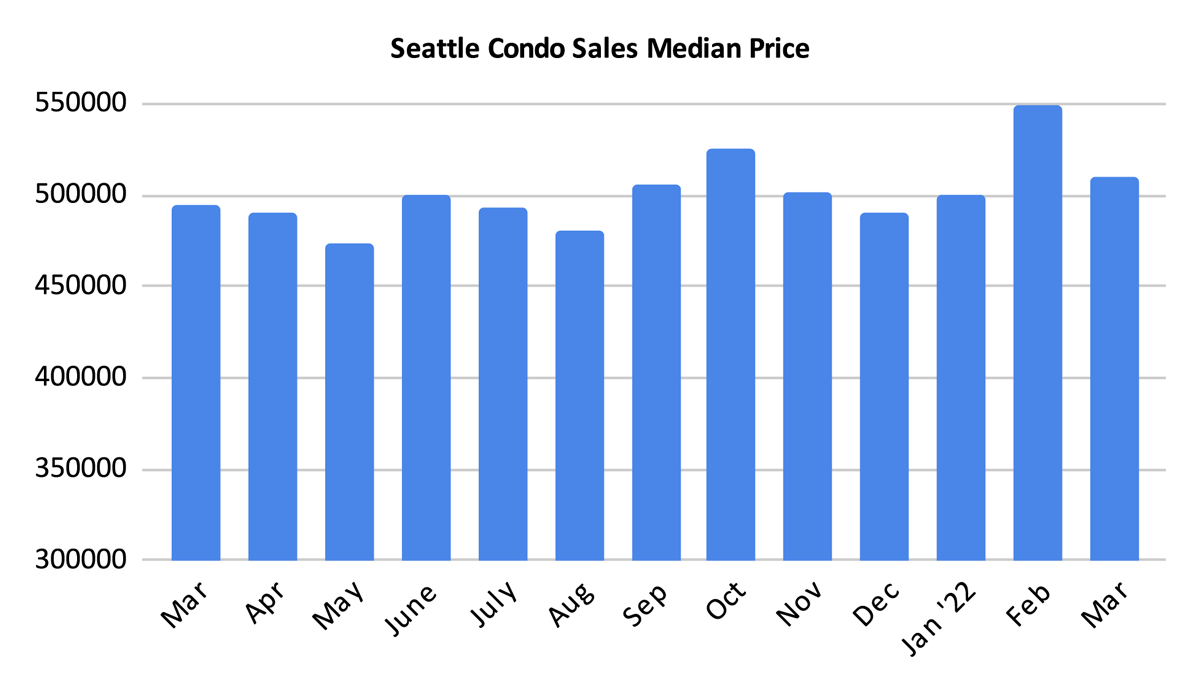 Based on anecdotal evidence (including my buyers), the condo market was competitive in March with buyers realizing fierce bidding wars, similar to what we've been experiencing in the single family segment over the past few years. There were condos in the International District, Fremont and Green Lake that sold $100,000 to $200,000 over list price.
Granted, these units were more one-off anomalies than the norm. But, it does highlight the increasing competitive environment for condo buyers who are encountering limited options.
Seattle Condo Listings Increase
The number of NWMLS listed Seattle condos for sale improved over the prior month by 21.3% to 290 units, which is expected with our peak spring market season. However, we are still experiencing a listings drought as noted with 48.6% fewer listings than we had a year ago.
Technically, there are more units available in downtown Seattle when counting the unlisted, but available units at recently completed condo buildings – Spire, Emerald, Koda.
With new construction condos essentially confined to the downtown area, buyers in the surrounding neighborhoods are reliant on resale listings. And, there aren't very many of them available. Queen Anne & West Seattle had 64% fewer listings than a year ago, Ballard had 59% fewer options and Capitol Hill was down 54% compared to last March.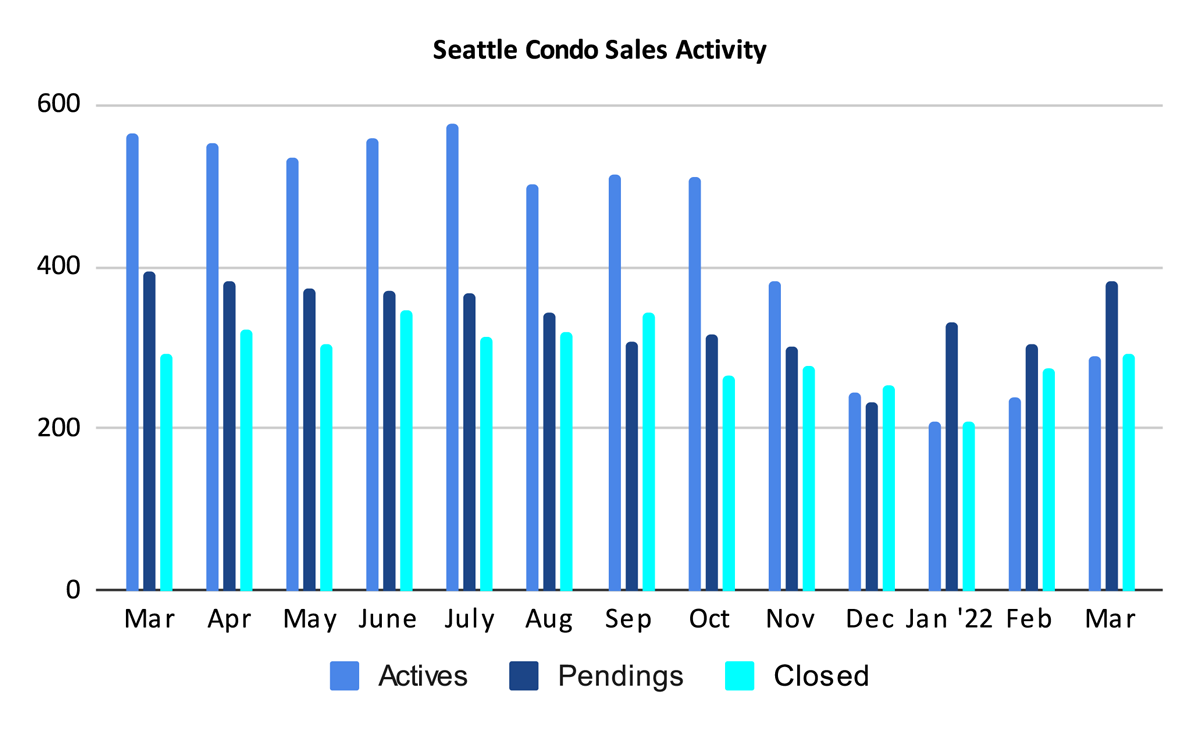 The rise in the number of listings did not affect the inventory supply rate in March, which remained even at 0.8-months of supply (a 131% absorption rate) based on pending transactions.
The inventory supply rate is calculated as the number of listings divided by the number of pendings. The absorption rate is the reverse with pendings divided by listings. We use pending sales for our calculations, though closed sales are also used.
The inventory supply rate metric characterizes the market environment. A supply rate of less than 4-months is deemed as a seller's market, between 4 to 6-months would be a balanced market, and over 6-months would be a buyer's market.
A 0.8-month supply is read as meaning, if no new listings come on the market, the current inventory will sell out in 0.8-months or roughly 3.5 weeks based on the current rate of sales.
To provide a historical perspective, with the exception of one month (November 2021), Seattle has been in a seller's market for the past 10-years. With current laws and construction financing & costs discouraging new condo development, I suspect we'll continue in this state for the foreseeable future.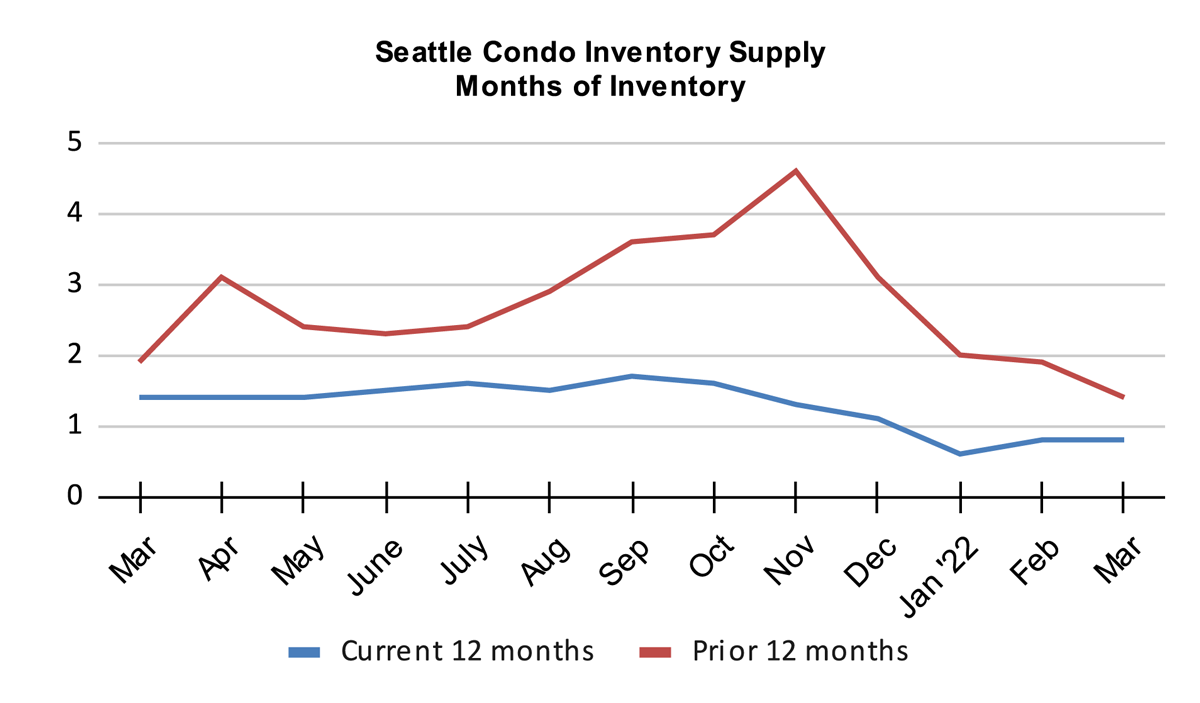 Sales Remain Buoyant
The number of pending sale transactions slid 3.3% YOY to 382 units, but jumped 25.2% over the prior month. We'd expect the one-month trend as sales cyclically increase during spring, but the fact there were fewer sales compared to a year ago is notable. That may likely be due to having fewer listings for sale amongst a competitive market place. Higher prices and mortgage interest rates may also be deterring some buyers from the market.
However, in looking at the number of new pendings so far this month, April pending sales should match or even exceed March.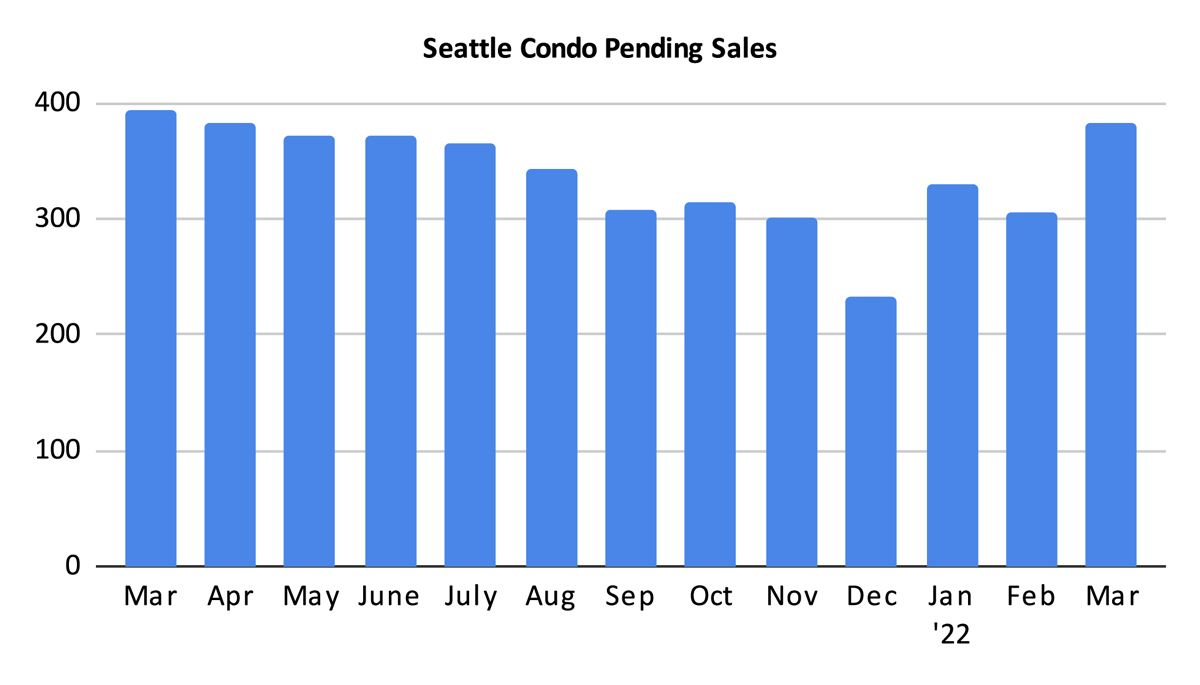 The highlight of the month was the number of closed condo sales in March, which increased 3.5% YOY and 7.3% over the prior month to 294 units. As closings lag behind pendings by a month, April closings should rise substantially given the number of pendings in March.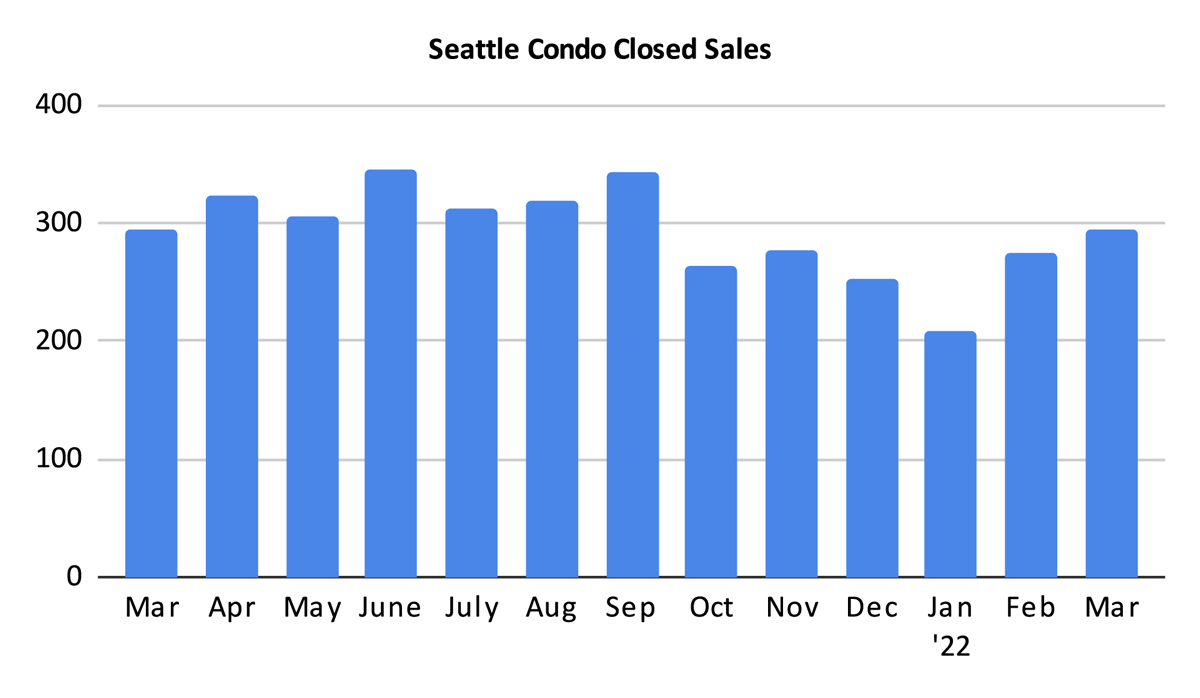 Springing Ahead…
Seattle condo buyers and sellers experienced a buoyant market place in March. Inadequate condo inventory supply remains a challenge for buyers resulting in a more competitive environment and higher prices. Going forward through the peak spring/summer market season, that's not likely to change.
Seattle is made up of distinct neighborhood micro markets and buyer/sellers experiences will vary by location and price points.
For buyers, some neighborhoods are exhibiting extremely tight conditions necessitating bidding wars, fewer or no contingencies and higher earnest money deposits. In other neighborhoods and price points, buyers can still encounter somewhat more normalized conditions.
Sellers, on the other hand, have the advantage in the current market place, particularly outside downtown. It sounds a bit cliche, but this a great window of opportunity for Seattle condo owners to sell their units.
Below is the average selling price to list price ratios for March 2022:
Seattle Citywide: 102.7%
Downtown / Belltown, Area 701: 100.4%
Queen Anne / Magnolia, Area 700: 102.7%
Capitol Hill / First Hill / Central, Area 390: 103%
Northwest Seattle, Area 705: 102.9%
Northeast Seattle, Area 710: 105.2%
West Seattle, Area 140: 105.7%
Southeast Seattle, Area 380 & 385: 100.8%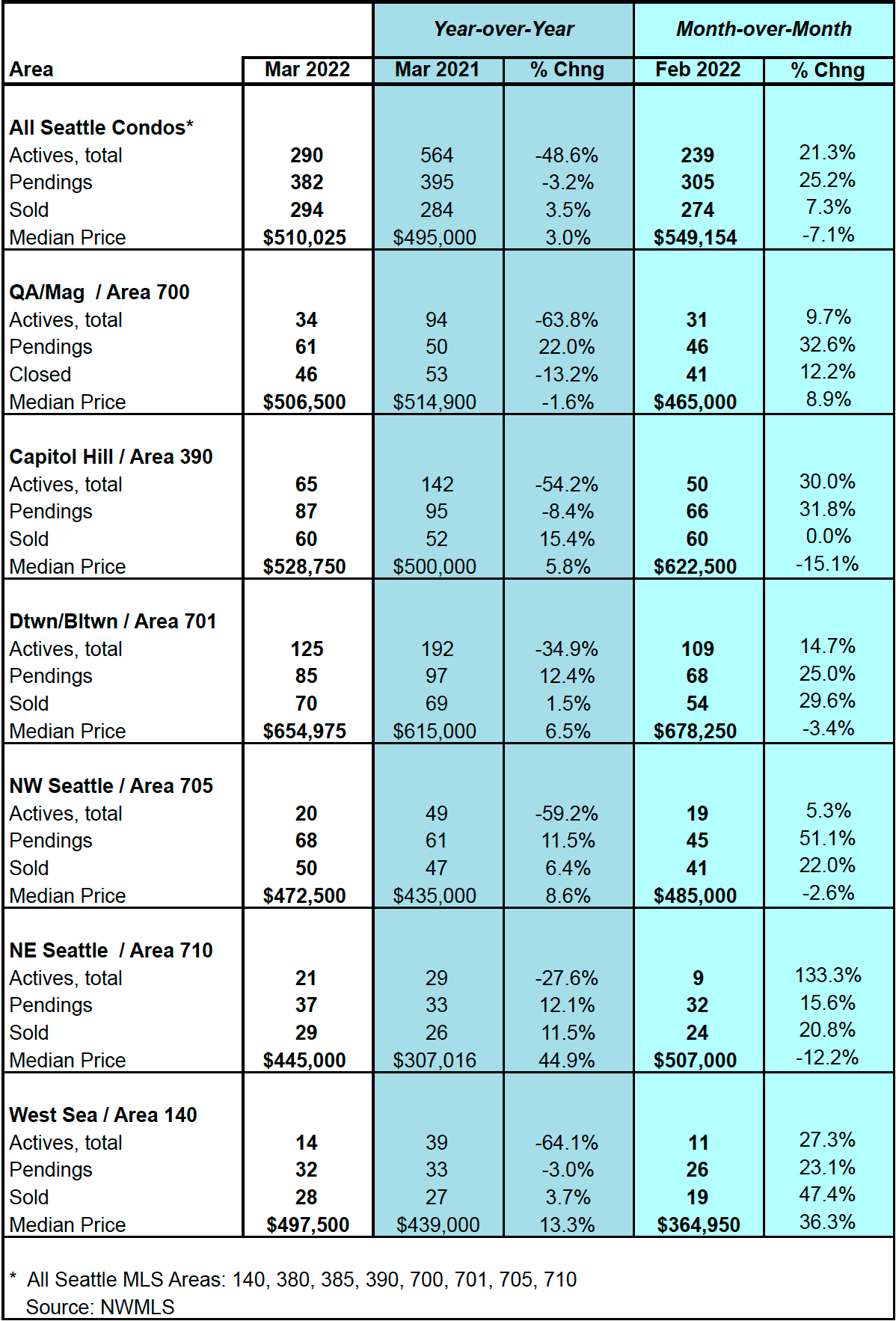 Source: Northwest Multiple Listing Service. Some figures were independently compiled by Seattle Condos And Lofts and were not published by the NWMLS.
© SeattleCondosAndLofts.com