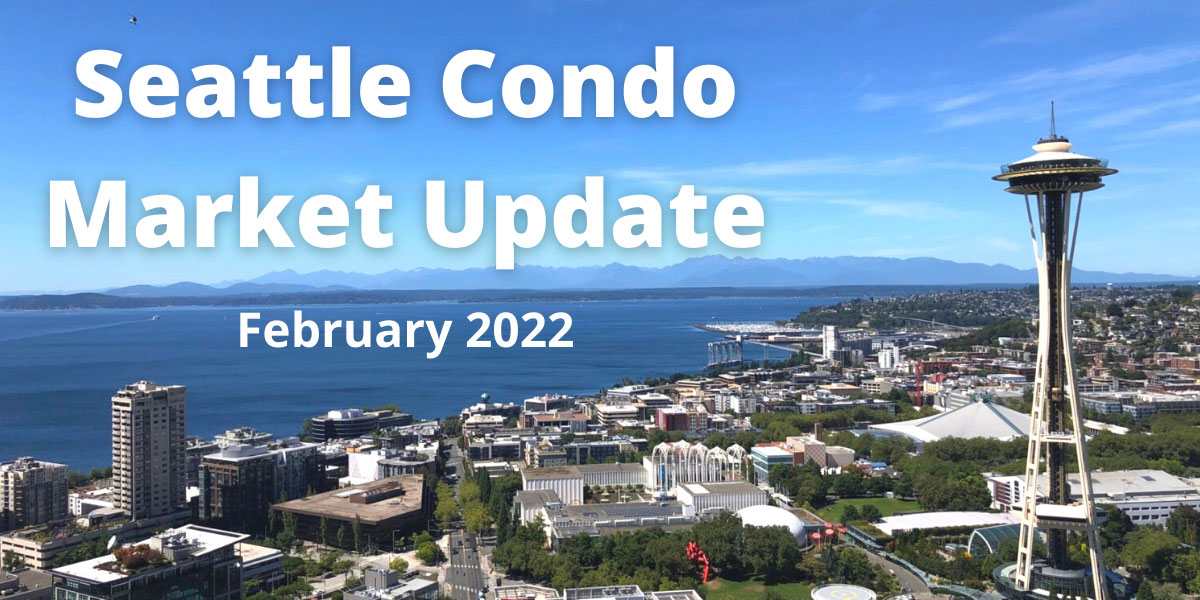 The Seattle condo market set a new record high median sales price in February along with solid sales activity.
The citywide median sales price for Seattle condos jumped 15.6% year-over-year to $549,154. That breaks the old record of $546,000 set back in April 2018. It also reflected a 9.8% increase over the prior month.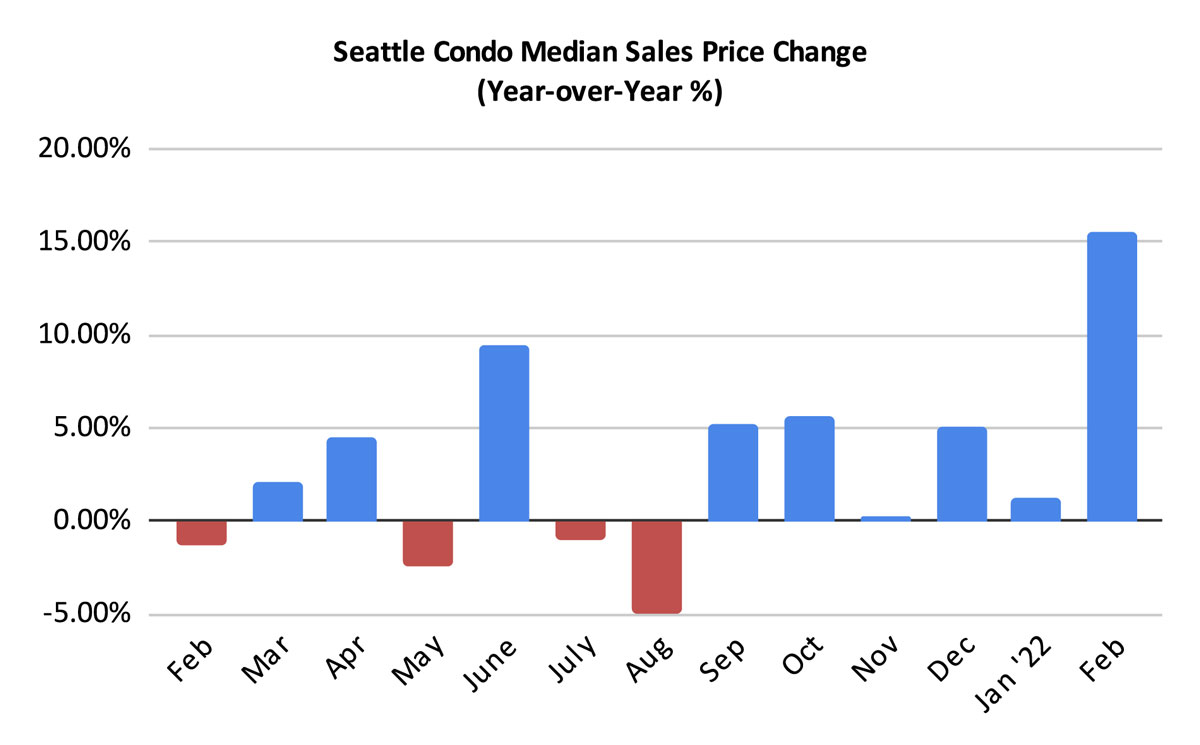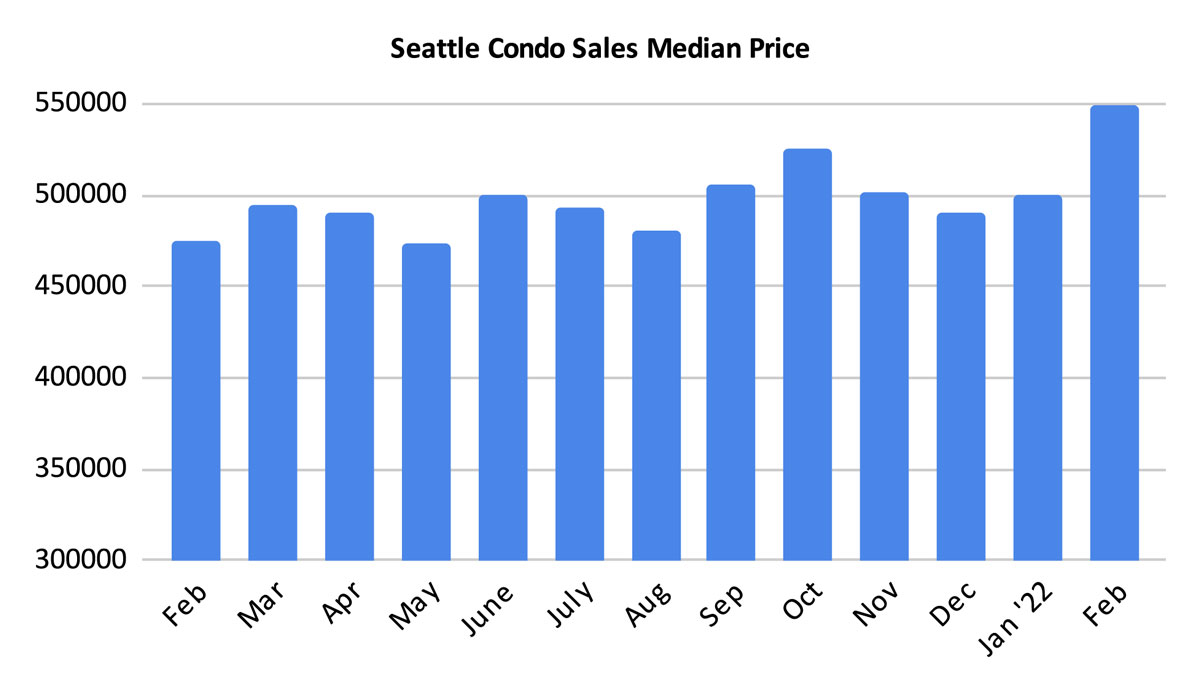 Median Selling Prices Rise, Insight
The new record high is a phenomenal result for Seattle's condo market. Condo buyers and sellers rarely experienced the frenzied pace and bidding wars of the single family house marketplace. That may no longer be the case, however. Buyer confidence, a stronger local economy led by tech and massively shrinking inventory contributed to a heated condo market.
The higher median selling prices, however, isn't necessarily the result of booming appreciation and stiffer competition among buyers.
Referencing the table at the bottom of the post, two NWMLS neighborhood areas realized the largest YOY increase — Capitol Hill (+ 40.3%) and Northeast Seattle (+ 50%). Digging into the sales info shed some insight about those large spikes.
Keep in mind we're referring to the "median" price, which the midpoint price of the units sold during the period. That is, half of the units sold over the midpoint and half of the units sold below. As a result, the midpoint shifts depending on the type and prices of the listings for the month.
For Capitol Hill, the median sales price midpoint moved upwards through appreciation and from a higher number of expensive properties that sold.
In February 2021 there were 46 sold condo units with a median sales price of $443,850. Of those 46 units, 15% were listed at and sold above $700,000.
Contrast that to February 2022 where 60 units sold with a median sales price of $622,500. Of those 60 units, 35% were priced at or above $700,000, with 37% selling above $700,000. The median sales price midpoint shifted upwards partly due to the greater number of high-end units that sold during the month.
Another factor is the type of property. We usually think of condos as single unit flats in multi-unit buildings. However, a fair number of large townhome developments are structured as condominiums with an HOA and dues. Thirteen of the 21 units selling over $700,000 in the Capitol Hill area last month were townhomes.
For Northeast Seattle, the increase was also due in part to condominium townhomes, which shifted the midpoint upward. In February 2021 the highest priced condo that sold was $620,000. In comparison, 5 units sold over $700,000 in February 2022 and 4 of those where townhomes (3 of which were over $1,000,000).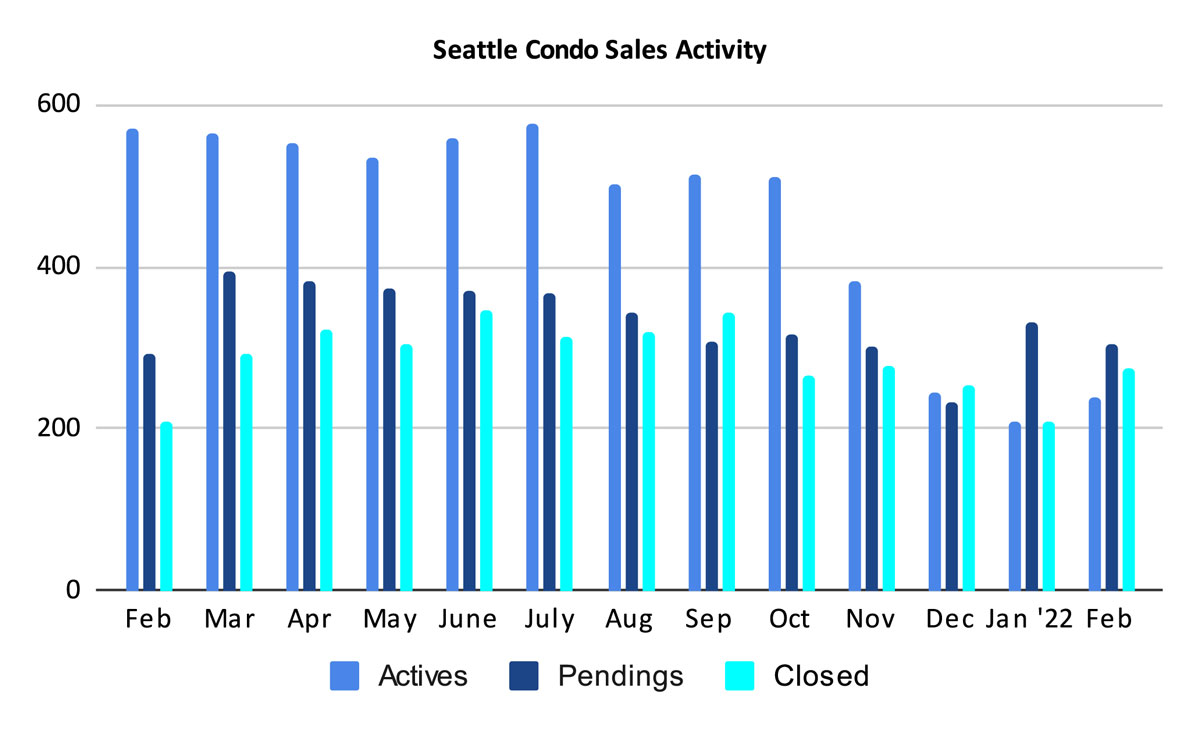 Seattle Condo Inventory Remain a Struggle
The number of NWMLS listed Seattle condos for sale improved over January by 13.8% to 239 units. Though, that is still a staggering 58.1% fewer units for sale than we had a year ago.
A couple of comments regarding the number of active listings. First, the published number reflects the active inventory at the end of the month, not the inventory available throughout the month. In February there were 342 new listings that came on the market, a mix of resale and new construction.
Second, the published inventory does not include several hundred new construction, but unlisted, condo units in the downtown area. When taking those units into account, we actually have more condos available for sale than we did last year. However, these are predominately higher priced, luxury units in downtown Seattle.
The resale condo market, on the other hand, is experiencing a listings drought. This results in a more competitive and challenging market for buyers.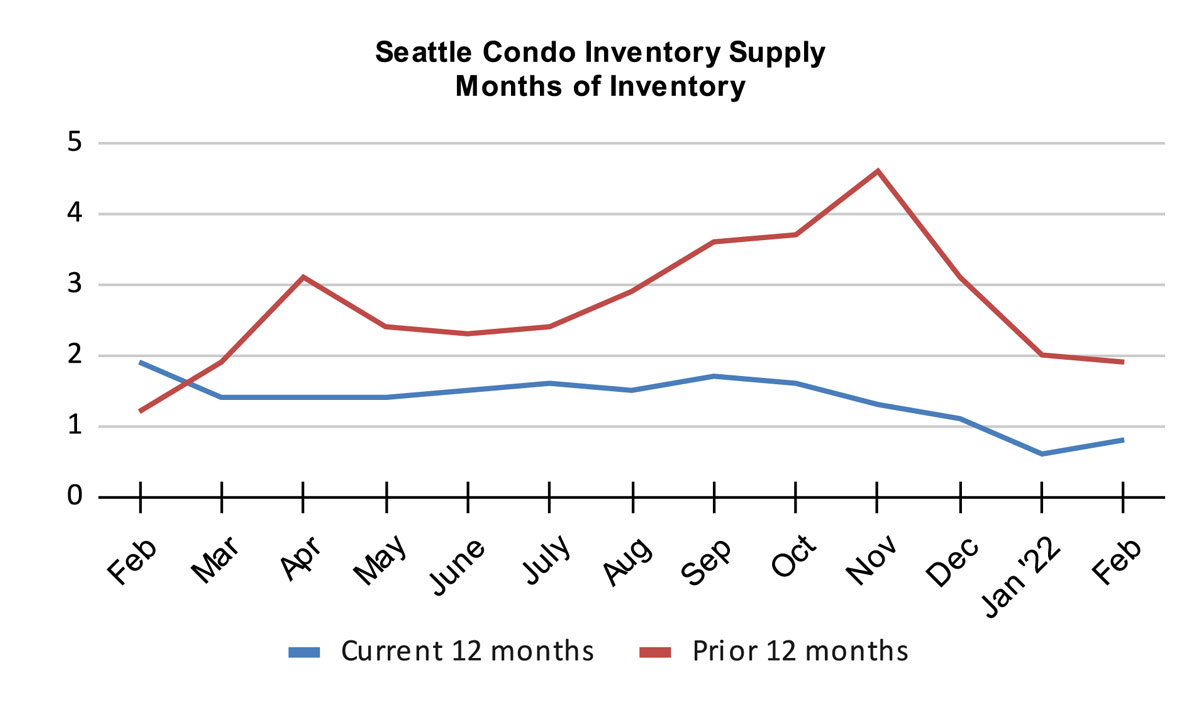 The inventory supply rate improved slightly to 0.8-months of supply in February based on pending sales transactions. That kept Seattle in a tight seller's market.
The inventory supply rate is a metric that characterizes the market environment. A rate of less than 4-months of supply is a seller's market, 4 to 6-months a balanced or normal market, and over 6-months would be a buyer's market.
Another metric is the absorption rate, which was 127% based on pending sales transactions. The closed sales absorption rate was 114%. Buyer demand and consumption continued to outpace inventory.
Sales Activity Was Solid, But…
The number of pending transactions for February outpaced the same period last year by 3.7% at 305 units. But, reflected a dip of 7.6% from the prior month.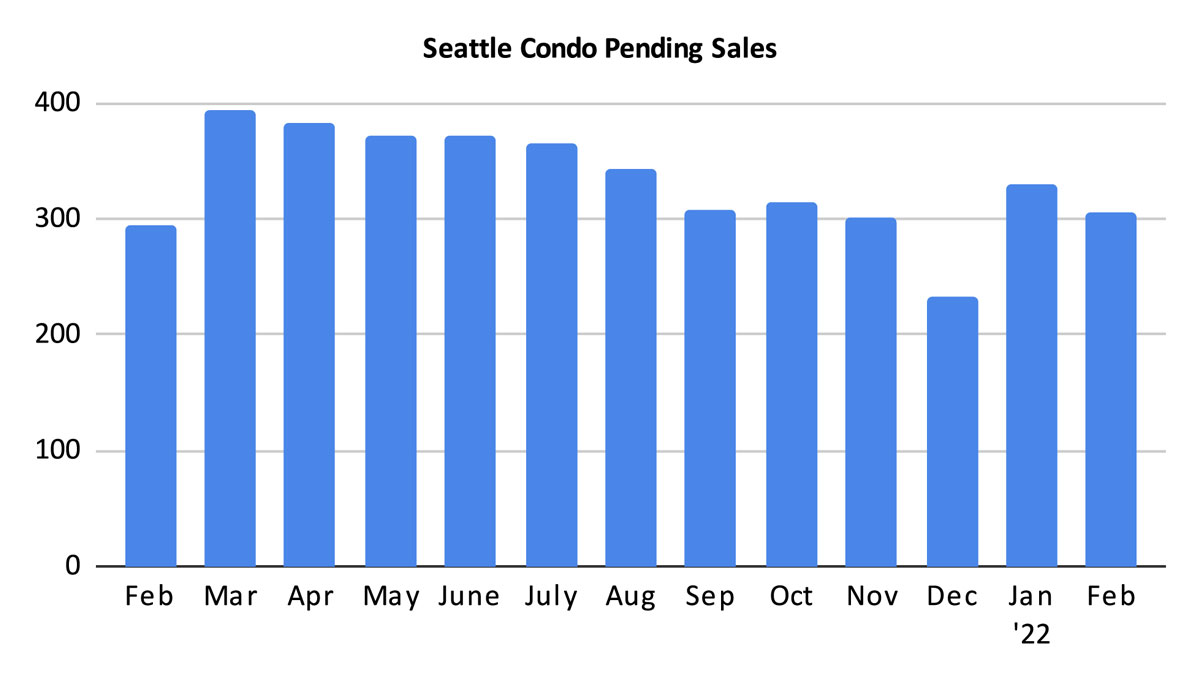 Pending transactions typically trend upwards as we move towards the peak Spring season, not downwards. So, this was a hiccup. With demand remaining high, the decline likely derived from the dearth of listings. Fewer listings resulted in fewer sales.
Fortunately, our market is cyclical and inventory normally increases throughout the Spring season. Foreseeably, we should see the number of listings and sales velocity improve.
Unfortunately, current external environmental factors could adversely affect Seattle's condo and real estate market. Financial market fluctuations, the potential for inflation and higher mortgage interest rates, and overall uncertainty may give buyers pause.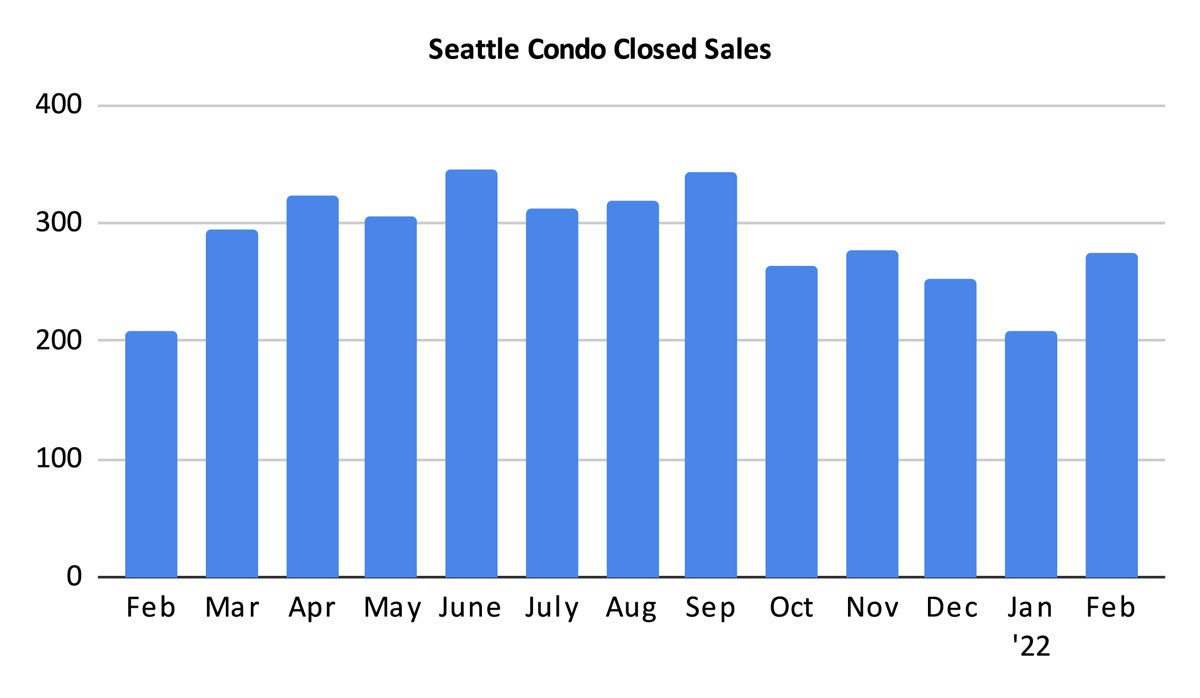 There were 274 closed Seattle condos units in February, reflecting a one-year and one-month increase of 31.7% and 31.1%, respectively.
That was expected given the high number of pending transactions in January. Closings lag behind pendings transactions by a month. With that in mind, March closings will drop given fewer pendings in February.
Going Forward
February was an outstanding month for Seattle's condo market. We reached a new record high with the citywide median sales price, eclipsing the one set 4 years ago. And, sales activity was stable.
The uncertainty stemming from the war in Ukraine and resulting market upheaval notwithstanding, Seattle's condo market was poised to tighten further. A strong local economy, limited supply and higher rental and housing prices made condos attractive. We will have to see how things play out over the next few months.
That said, unless things worsen in the world, Seattle's real estate market will carry on. Buyers remaining in the hunt will face challenges from competing buyers over limited inventory. Sellers, on the other hand, may do quite well in respects to market time and higher values.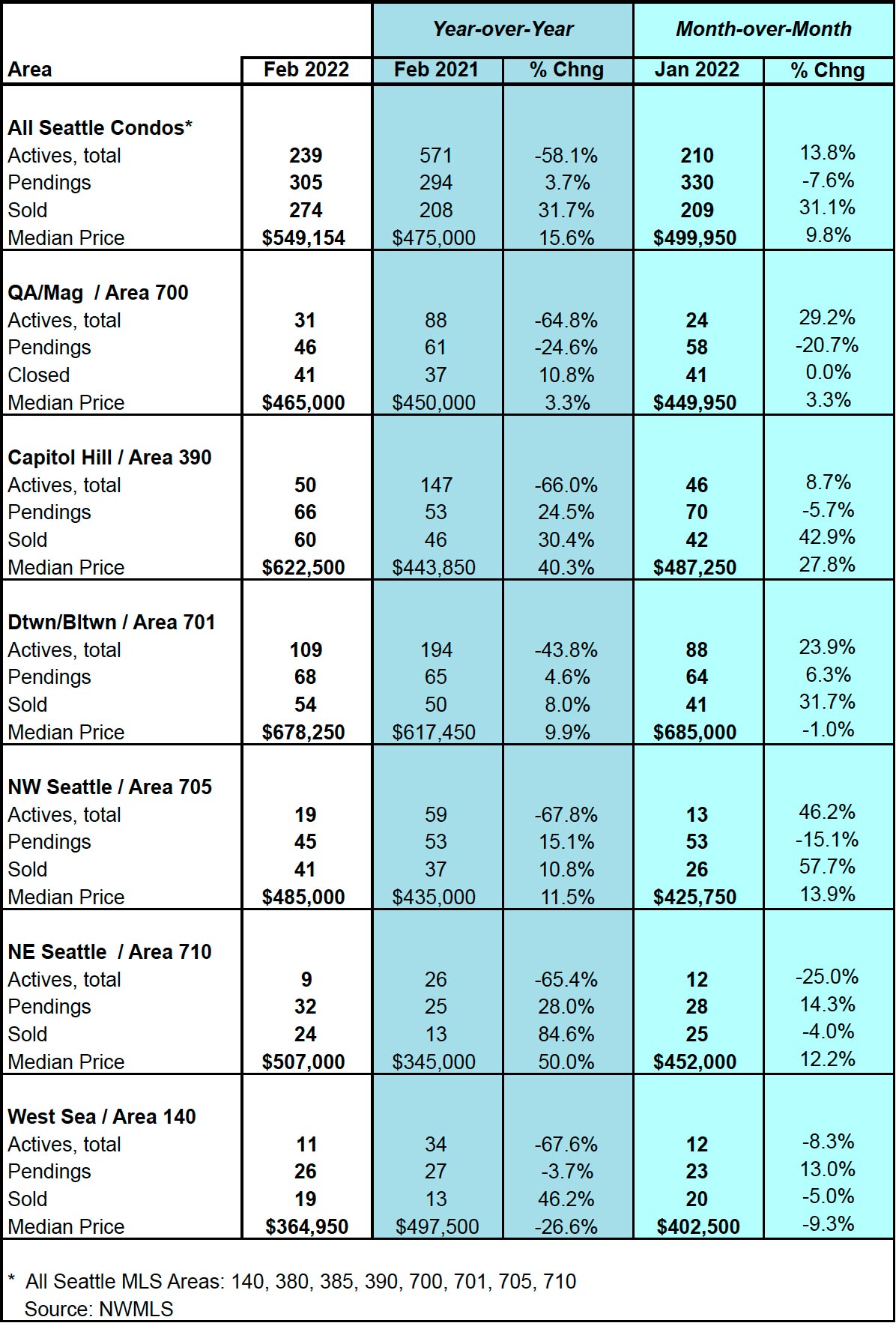 Source: Northwest Multiple Listing Service. Some figures were independently compiled by Seattle Condos And Lofts and were not published by the NWMLS.