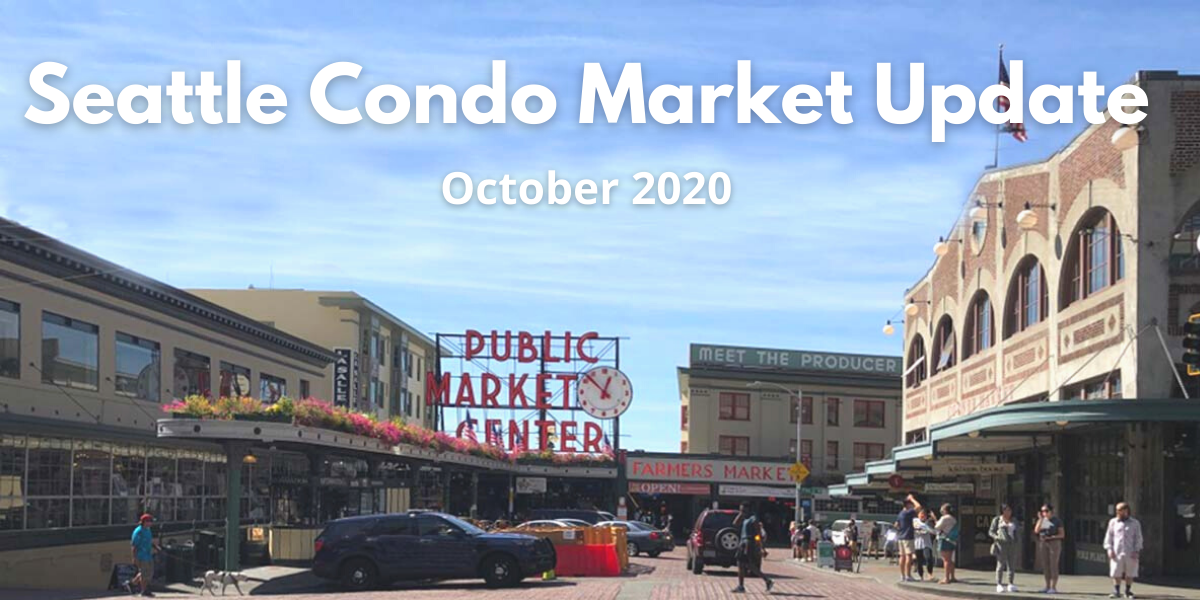 Seattle's condo market proved to be a resilient in October. Sales prices rose yet again with unit sales volume outpacing last October even as inventory remains abundant.
The citywide median Seattle condo sales price rose 8.04% year-over-year and 3.5% over the prior month to $497,000.
That increase was the result of the outlying neighborhoods with West Seattle (+43.6%) and Capitol Hill (+10.9%) exhibiting double-digit improvements. Downtown, on the other hand, continued to struggle with median sale prices dropping 14.7% compared to the same period a year ago (see table at bottom of post for neighborhood area results).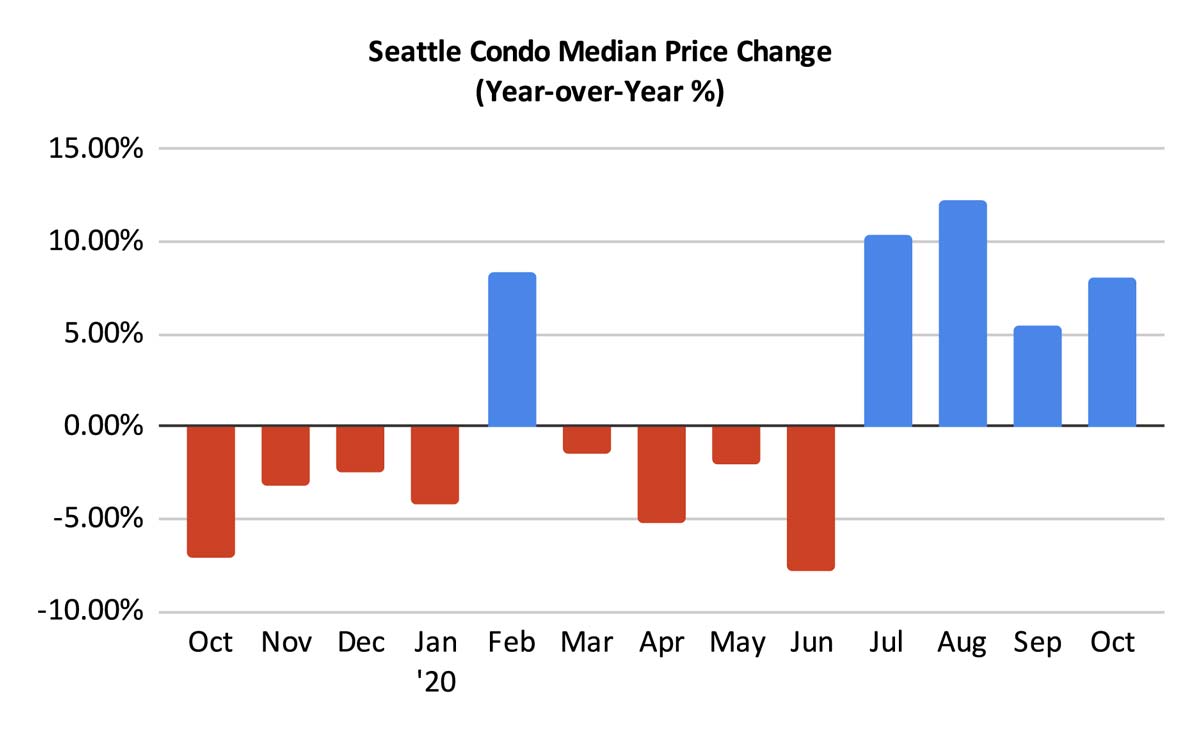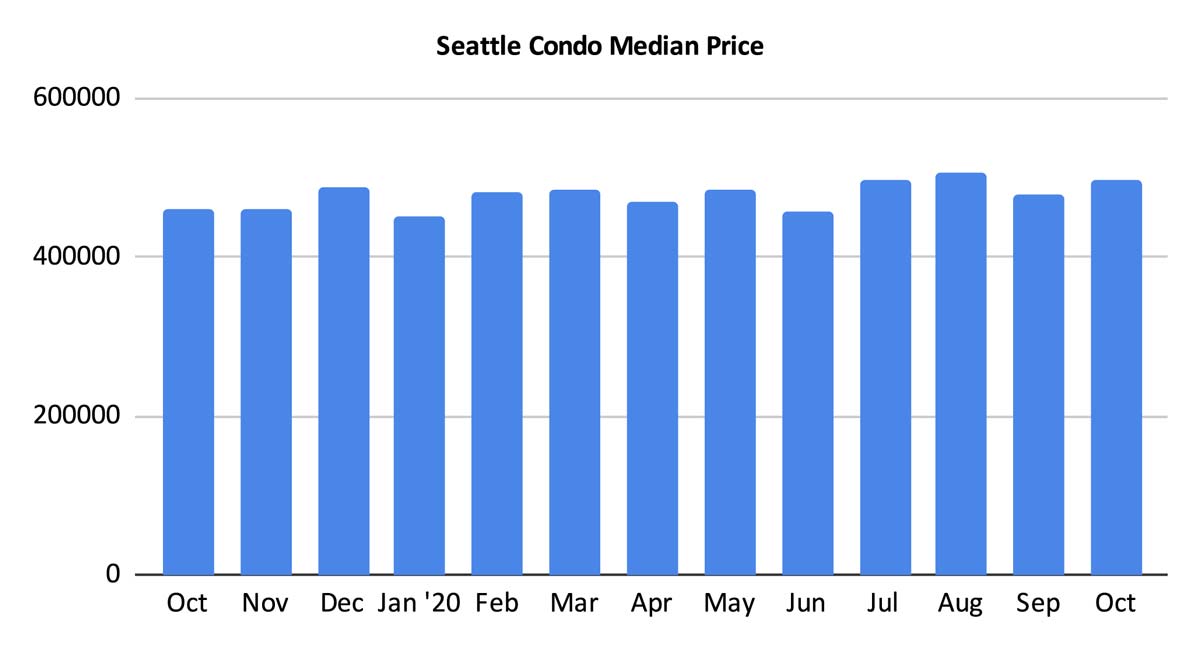 The number of available Seattle condos for sale remained plentiful with 953 listed for sale in October. That's 49.6% more than we had a year ago. It was slightly fewer than we had compared to the previous month, though that's not unexpected as condo listings will reduce as we head into the slower fall season.
The condo dense neighborhoods in the city core (downtown, Queen Anne, Capitol Hill) as well as West Seattle reflected the greatest increase in active listings, all exhibited more than 60% more inventory than last October.
In the downtown area, the NWMLS noted 331 active units listed for sale in October. However, that figure does not contemplate the hundreds more available for purchase in recently completed and soon-to-be completed condo buildings. Only a tiny fraction of those units are listed in the NWMLS database, thus the actual number of listings is greater.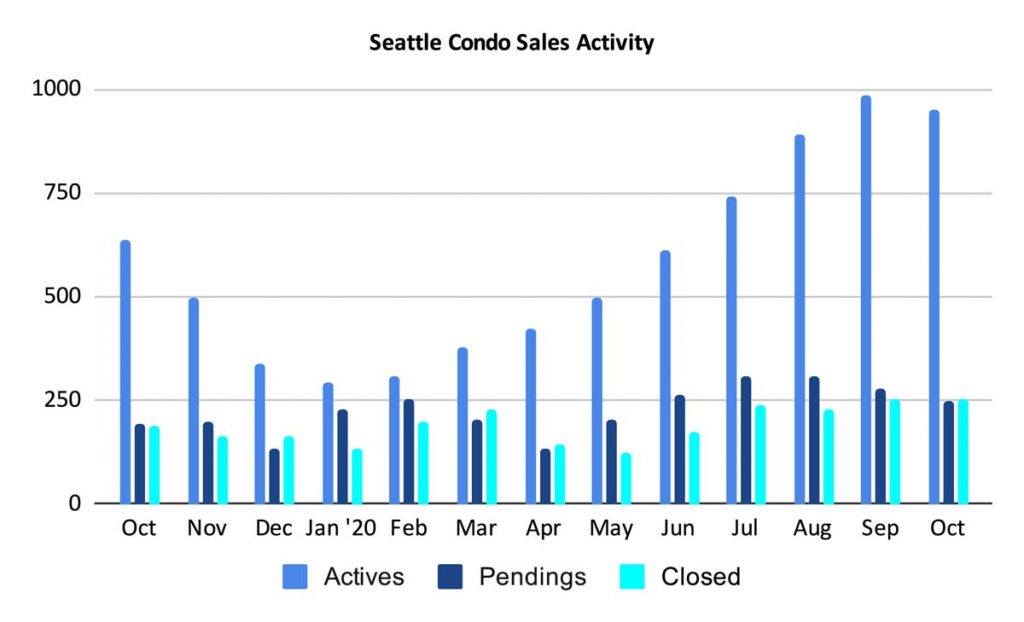 The abundant number of listings combined with steady sales volume resulted in an increase to the citywide inventory supply rate, inching up to 3.8-months of supply for October.
That places Seattle, as a whole, in a balanced / normal market environment. And, while that portends good news for a buyers and a for healthy market place, that is not the case for all neighborhood areas.
North Seattle had less than a 2-month supply rate keeping it in strong seller's market. Downtown, on the other hand, reflected a 7.2-month supply rate (based on NWMLS listed inventory), which would place it in a buyer's market environment. Capitol Hill, Queen Anne and West Seattle exhibited balance market conditions.
The inventory supply rate is a metric utilized to classify market conditions. A rate of less than 3-months is typical of a seller's market, 3 to 6-months a balance market, and greater than 6-months would be a buyer's market.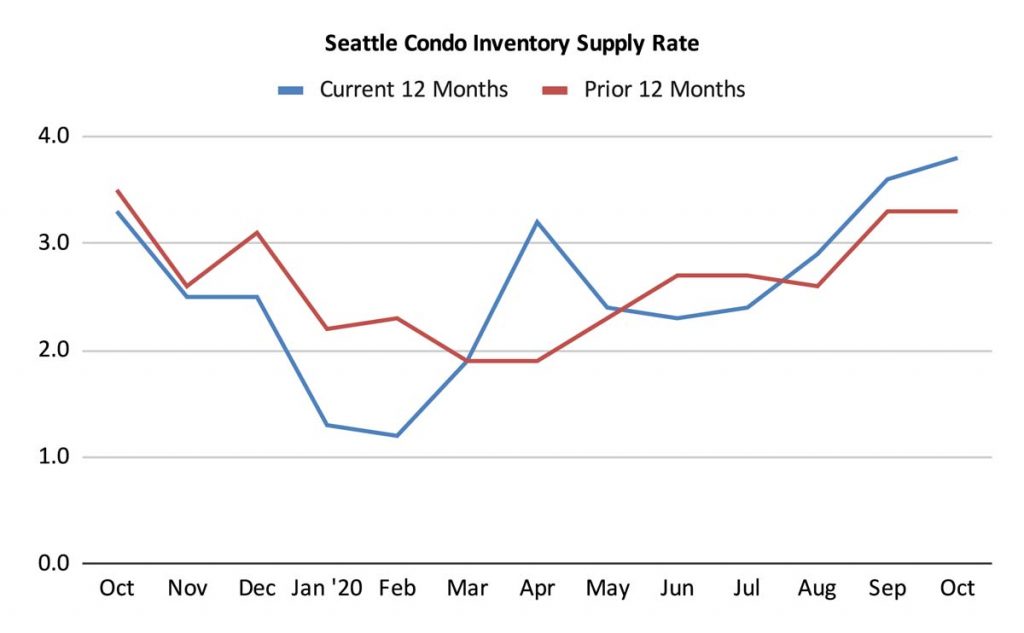 There were 251 pending Seattle condo sales transactions in escrow for October, reflecting a significant 30.7% increase compared to the same period last year.
That number was 9.1% fewer from the prior month, however, this is expected given Seattle's cyclical real estate market that is influenced by the seasonal changes. The fall months are historically the slowest for condo sales.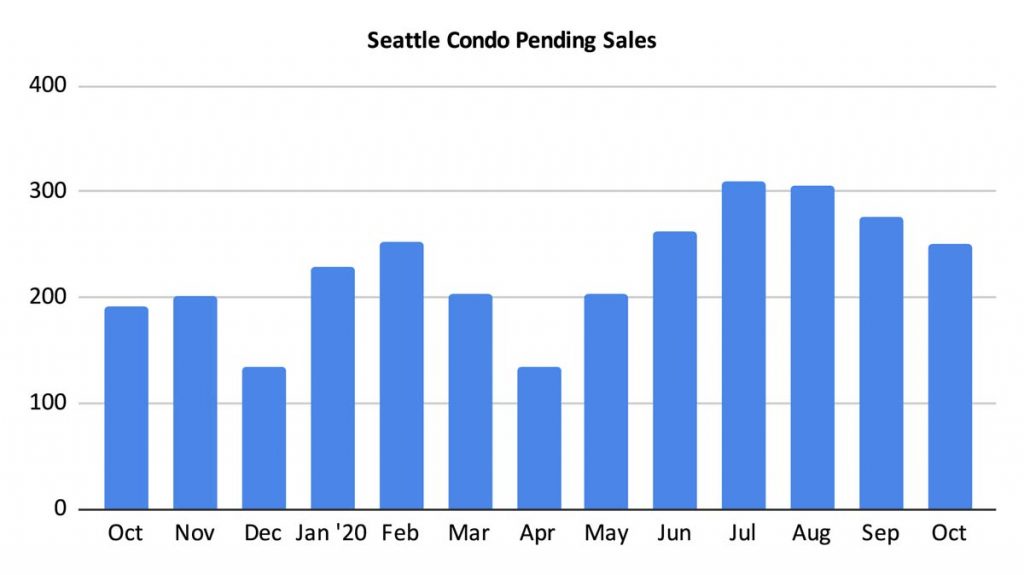 The number of closed condo sales also displayed a strong improvement over last October, increasing 34.4% to 254 units, and was on par with September.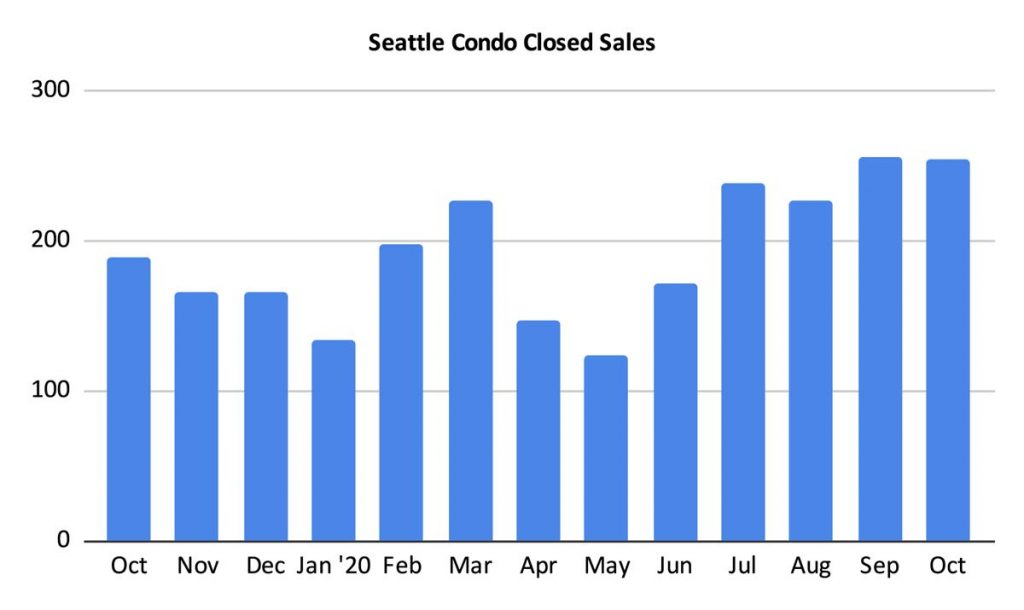 Condo buyers remained confident in the Seattle market as illustrated by the market place performing quite well in October, outpacing year-over-year results across the board.
Though, buyers seemed to prefer outlying neighborhood areas rather than the condo dense downtown / Belltown, thus they may continue to encounter a tighter, competitive market, particularly in north Seattle.
Closing out the year, we'll see fewer sales as we enter the holiday season along with the colder, wetter and darker days of winter. However, with Seattle moving closer to normalized market conditions combined with continued favorable mortgage interest rates, that could result in a better than expected sales activity.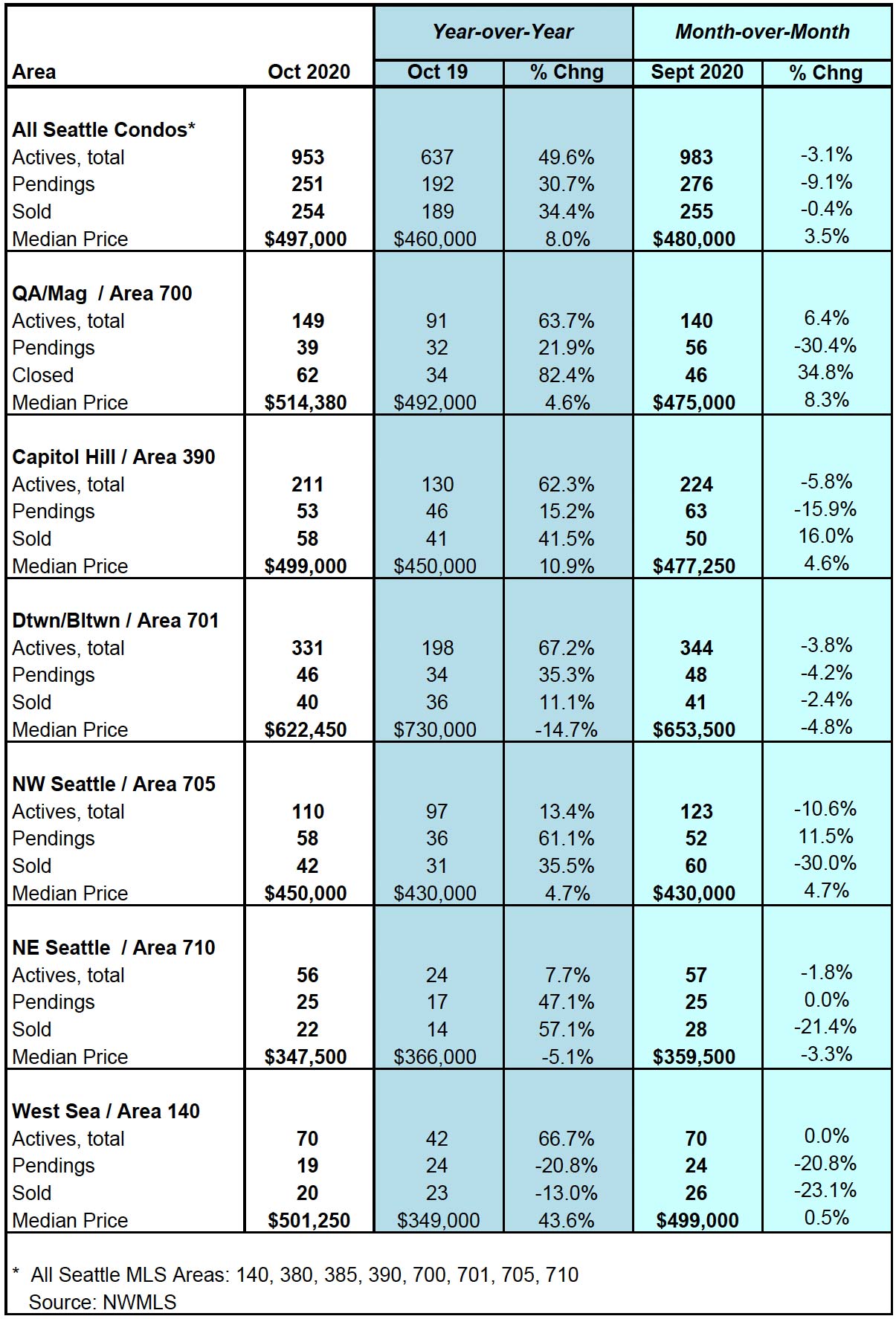 Source: Northwest Multiple Listing Service. Some figures were independently compiled by SeattleCondosAndLofts.com and were not published by the NWMLS.
© SeattleCondosAndLofts.com