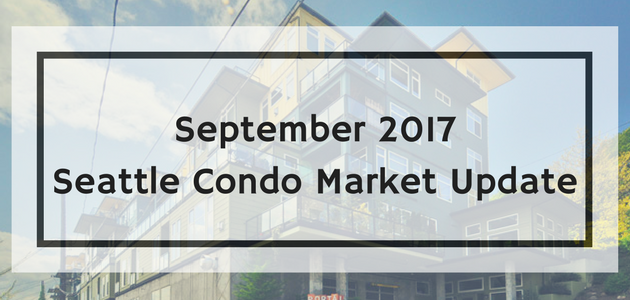 Seattle condo buyers received a little bit of a respite last month as the market cooled slightly, signaling the coming of the slower fall real estate season.
September's Seattle citywide condo median sales price reflected a year-over-year and one-month decreased of 1.9% to $466,000, which marked the second time this year that values lagged behind 2016. Yet, even though the median sales price has wavered throughout the year, it has remained relatively stable overall.
By neighborhood (MLS areas), however, several areas of Seattle realized strong year-over-year improvements – Queen Anne (+52.2%), Northeast Seattle (+23.4%) and West Seattle (+24.7%) with declines in Downtown (-12.7%) and Capitol Hill (-11.1%). See table at bottom of post for full results.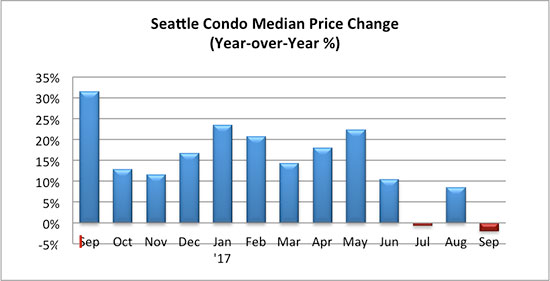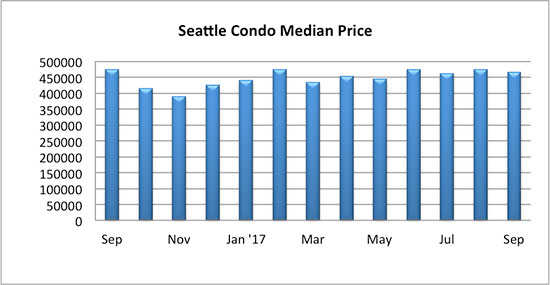 The 233 active Seattle condo listings for sale last month paled in comparison to the same period last year by 28.3%, it did however, reflect a 29.4% increase over August.
The inventory supply rate improved slightly to 0.8-months of supply as a result of the added number of listings and fewer sales last month. Nonetheless, Seattle remains in a tight seller's market where bidding wars remain constant, especially in the more affordable price ranges.
Until we see substantially more new condos built Seattle will remain in a seller's market. Unfortunately, the pipeline over the next few years indicate only a few potential new developments on the horizon.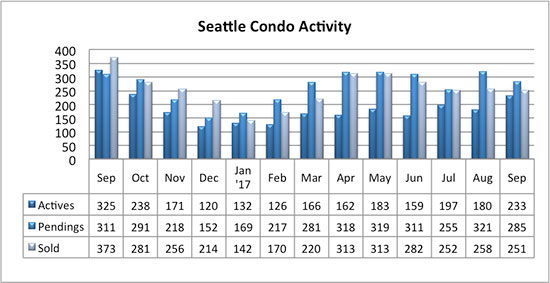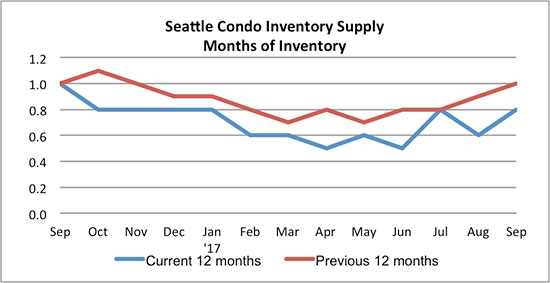 The number of pending sales transactions dipped in September to 285 units, which was 8.4% and 11.2% fewer, year-over-year and one-month, respectively. But, that's to be expected with our cyclical condo market that beings to tail off after summer.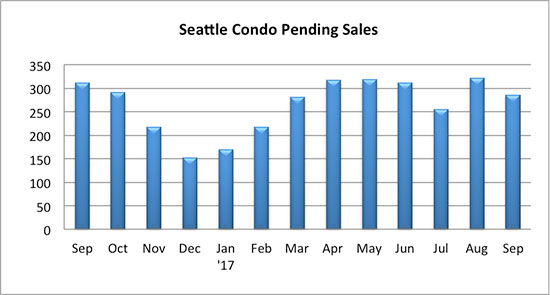 The number of closed condo transitions reduced substantially compared to last September by 32.7% to 251 units. However, that's due to new construction closings at Luma and Insignia, which accounted for 45.7% of the closings last September.
Excluding those new construction closings, the number of closed resale condo sales would reflect a year-over-year increase of 4.6% for the month.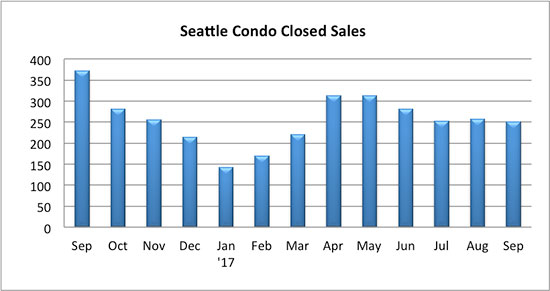 If you're a owner contemplating selling, the current market condition and buyer demand present a terrific opportunity to sell your Seattle condo. Find out what your Seattle condo is worth!
If you're a buyer, let us help you navigate through Seattle's crazy housing market with proven strategies to beat out the competition to purchase your condo.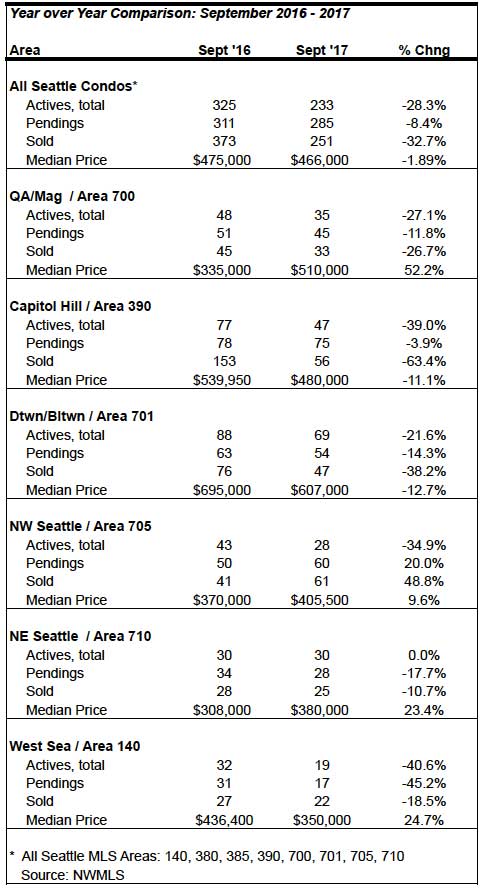 Source: NWMLS. Some figures were independently compiled by SeattleCondosAndLofts.com and were not published by the Northwest Multiple Listing Service.
________________________
© SeattleCondosAndLofts.com