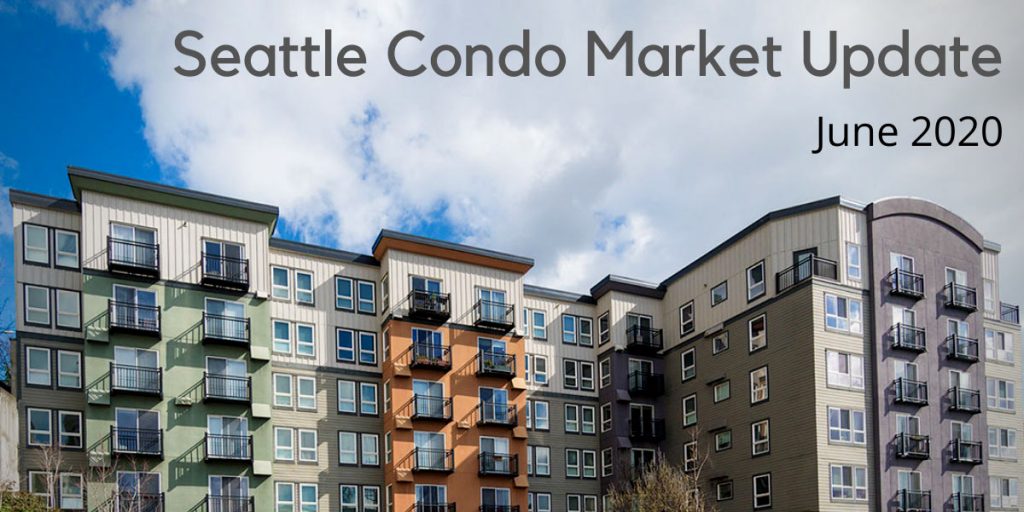 In June, Seattle's condo market activity bounced back from one of the most sluggish period's we've experienced. Condo listings and unit sales volume rose significantly, coming close to 2019 levels.
Though, one area where we lagged behind 2019 was the citywide condominium median sales price, which fell 7.9% year-over-year, and 5.9% from the prior month, to $456,500. So far, the second lowest monthly value for the year.
Single family homes, by comparison, realized a 2.4% increase in median sales prices citywide.
By NWMLS neighborhood areas, condo median sales prices reduced throughout the city with the exception of downtown (+ 3%) and West Seattle (+ 39.9%). However, the West Seattle result was an outlier due to several high-end condos selling along Alki and Beach Drive last month (see table at bottom).
Going forward, however, in light of values tumbling during the last half of 2019, I anticipate we will be reversing course and realize year-over-year increases in sale prices should we stay on the current sales trajectory.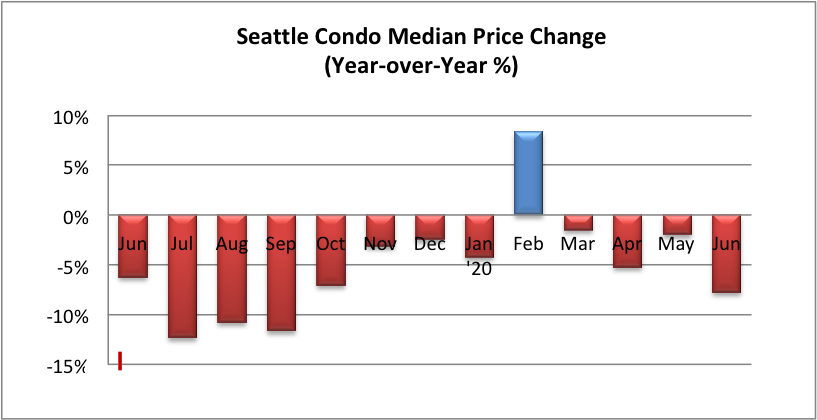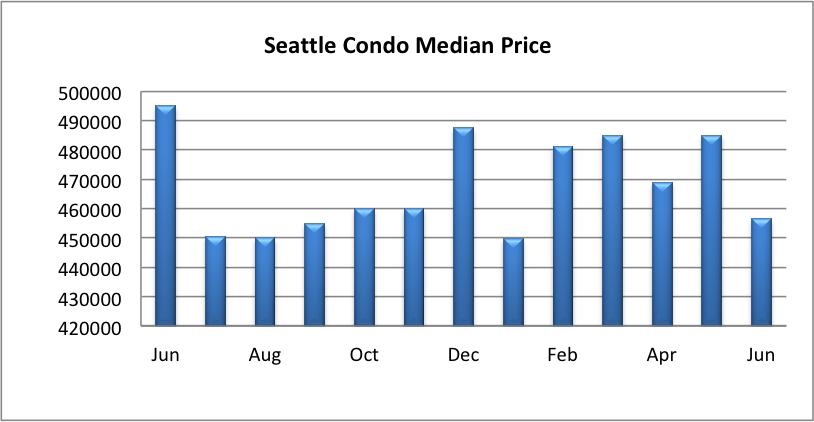 The number of active Seattle condo listings for sale increased 22.9% over the prior month to 611 units, which was 12% off from where we were a year ago. That's a significant addition to inventory, particularly since we've been experiencing a listings drought for much of the year.
Note, though, a fair number of those listings were for under construction pre-sale units as well as investor flips at the recently completed Nexus. Currently, 18% of the Seattle condo listings in the NWMLS are pre-sale units or investor flips.
The inventory supply rate, which is an indicator of market condition, tightened slightly to 2.3-months of supply, however. That's was mainly due to improved sales activity in June. With less than 3-months of supply, the Seattle condo market remains in a seller's market.
That may feel a bit counter intuitive as the local condo market has been lagging behind, and not nearly as robust, as it is for single family homes and townhouses, which are experiencing multiple offer bidding wars.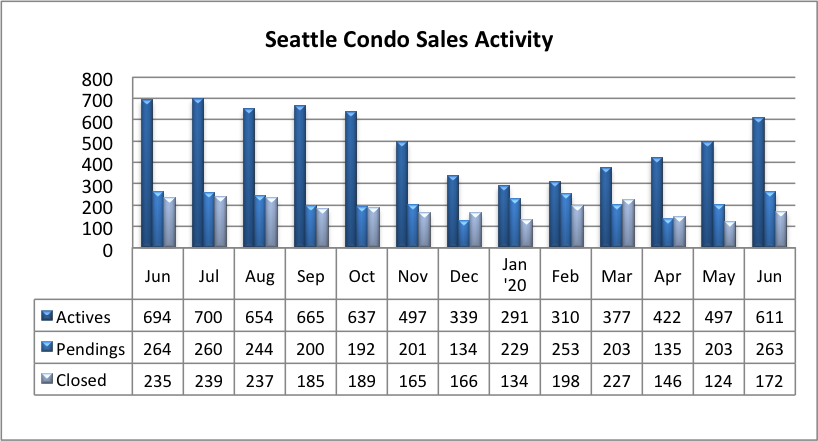 The market exhibited a 29.6% jump in condo sales from the prior month with 263 units under contract. The number of pending transactions was just one unit short of last June's sales volume.
The warmer Seattle weather, combined with historically low interest rates and easing of the state's real estate coronavirus restrictions were likely contributing factors for the improved market activity.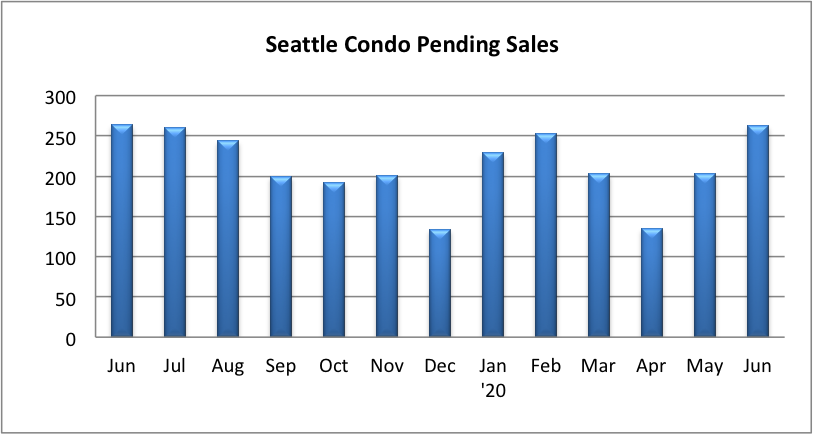 As expected due to the strength of May's pending transactions, the number of closed Seattle condo sales rose to 172 units in June. That marks a 38.7% increase in closings from a month ago, yet it did reflect a notable 26.8% fewer closings year-over-year.
Fortunately, we'll see a increased number of closing in July given the number of pendings in June, since closings typically lag behind pendings by a month.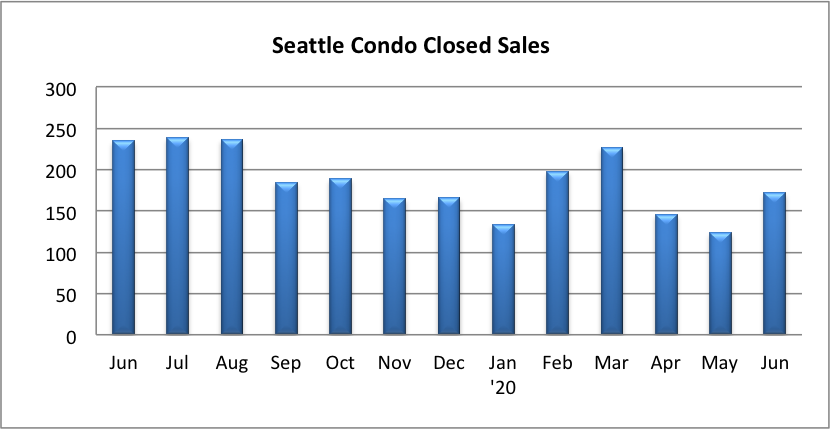 There are two quite distinct real estate markets in the Seattle region that are exhibiting differing climates and results. The single family home / townhome market is experiencing a vigorous competitive environment, where buyers have bid up prices well above list and gone so far as to waive their contingencies, bringing extra cash in case of a low appraisal and even releasing earnest money early to the sellers.
The condo market, well, that's the laid back cousin of the housing world. That may be partly due to having more adequate inventory supply for the demand level, stricter mortgage qualification guidelines and perhaps with buyers now reassessing the need to live close to the city center (high condo density) with work-from-home options.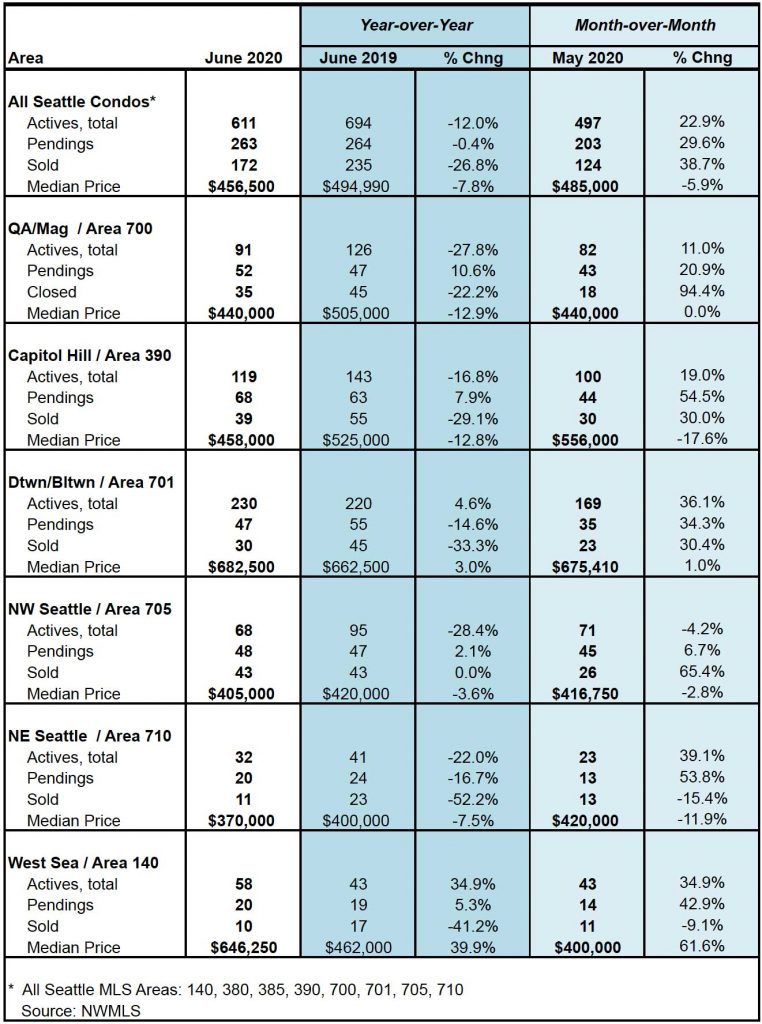 Source: Northwest Multiple Listing Service. Some figures were independently compiled by SeattleCondosAndLofts.com and were not published by the NWMLS.
© SeattleCondosAndLofts.com?