With the exception of the median Seattle condo sales price, the local market did well in May: Condo sales activity was stable, the number of closed properties was up and inventory remained low.
Condo prices continue to fluctuate; last month's citywide median sales price of $249,975 reflected a decline of 12.29% compared to last May. Keep in mind, this is the median sales price of all condos sold and not market value. A significant number of lower priced condo sales in May weighted the median sales price mid-point downward.
Half of all condominium sales in Seattle (50.3%) in May were priced under $250,000 compared to 35.2% for the same period last year. However, the increased sales were due to declining values, which have made condos affordable for many buyers.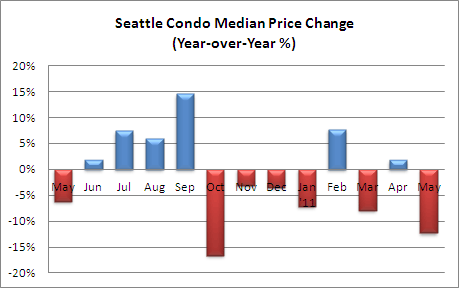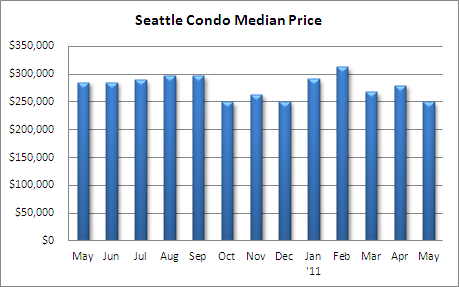 Condo sales volume has remained stable over the past three months. Statistically, pending transactions (units going under contract) were up 52% in May compared to last year. However, condo sales crashed last May following the tax credit deadline so the 52% figure is anomalous. Nevertheless, we've had three solid months of steady sales activity without any artificial inducements as noted below.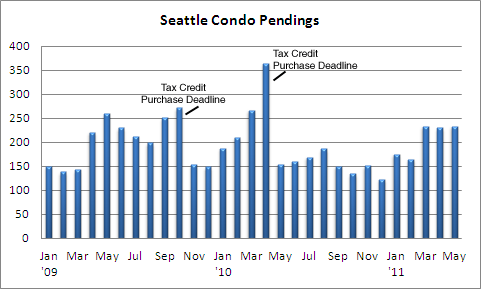 More impressive then pending transactions was the number of closed sales last month. The 176 closed condo sales in May reflected a 22.2% increase over April and just a 10.7% decrease (21 fewer sales) compared to last May. That's noteworthy considering that closings last year were buoyed by the tax credit deadline. Sales activity is recovering.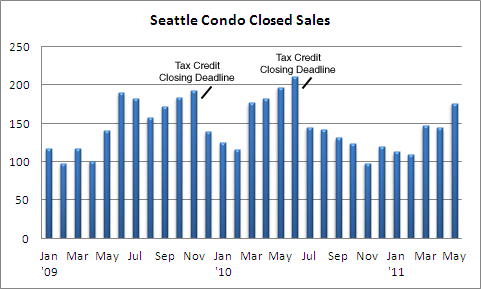 The number of active Seattle condo listings essentially remained unchanged over the past 4-5 months. The 1,111 condo listings in May represented a significant 28% drop in inventory compared to last year. We just haven't seen the rise in inventory this year as we normal do from late winter through summer. Part of that is likely due to absorption of the remaining new construction units, sellers waiting for values to improve and reforms/programs encouraging mitigation over foreclosure.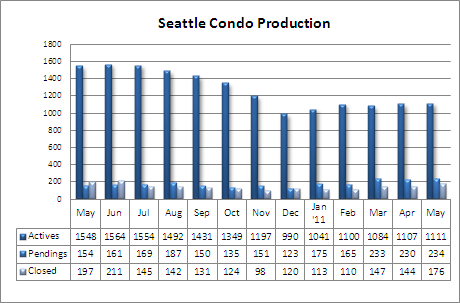 The improved sales activity combined with fewer units for sale has resulted in a drop to the inventory supply rate. With the pending-based rate at 4.7 months and the closed-based rate at 6.3 months, we are for time being, back to a balanced market environment.