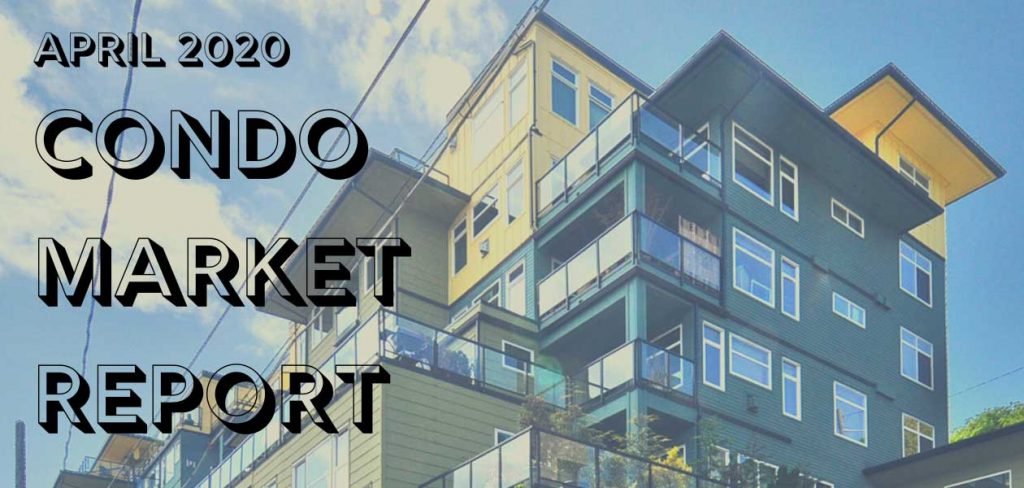 There are sectors of Seattle's housing market that seems to be riding out the pandemic wave with competitive buying activity, but condo sales was not one of them. At least not in April.
Seattle's condo market took a whopping across the board in April with year-over-year (YOY) slumps in inventory, sales and prices.
Citywide, the median sales price for Seattle condos dipped 5.25% YOY, and 3.3% from the prior month, to $469,000.
Yet, it was not all gloom as several neighborhoods experienced one-year increases in their median sale prices – Queen Anne / Magnolia (+1.6%), downtown (+15.8%), and Northwest Seattle (+10.3%). See table at bottom of post for more details.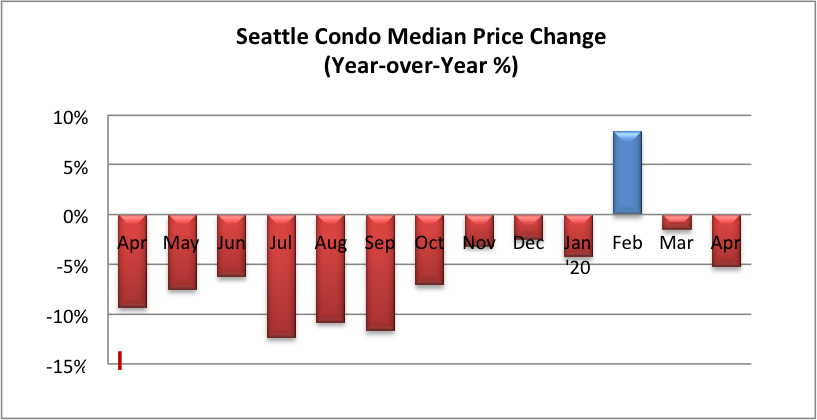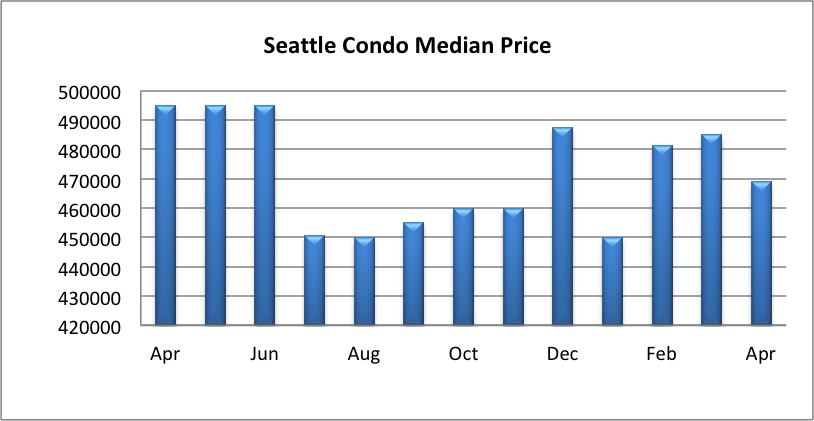 If there was one bright spot, at least for buyers, condo inventory continued to seasonally trend upwards, increasing 11.9% over March to 422 units. However, that was significantly below the number of listings we had last April by 28.7%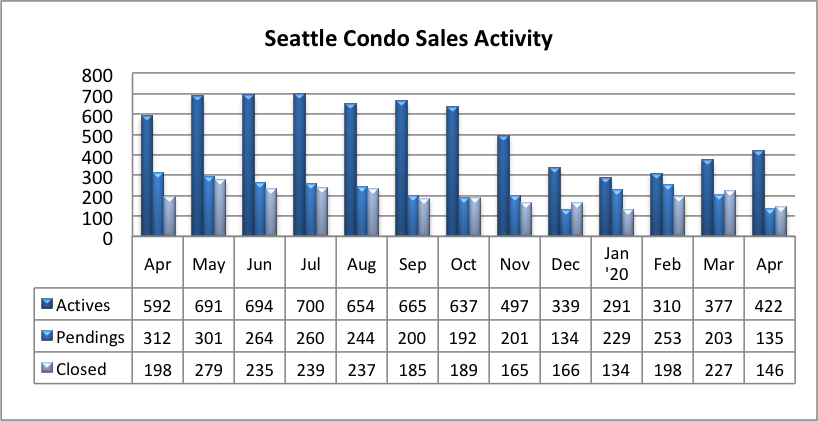 The monthly improvement in the number of Seattle condos listed for sale, combined with slowing sales velocity, led the inventory supply rate to rise to 3.1-months of supply. That moves us closer to a more balance market condition, at least for now.
This is not the typical movement we'd expect in a normal year where we'd usually experience a tighter market place during the spring months.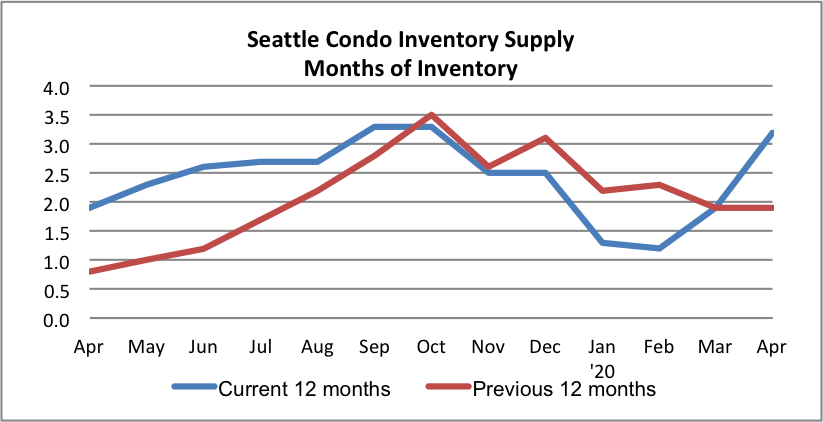 However, it's not a normal year and sales have floundered citywide. Pending transactions, that is listings with accepted offers, fell drastically to 135 transactions in April. That's down 56.7% from the same period last year and 33.5% less than a month ago.
Typically, pendings would be spiking as this is the peak period for Seattle's condo real estate market sales activity.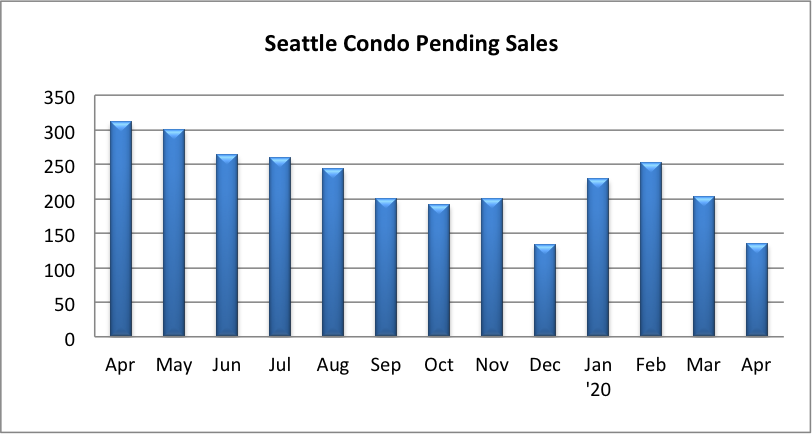 As pending transactions reduce so do the number of closed condo sales. The 146 closed units in April reflected a YOY decrease of 26.3% and a one-month drop of 47.3%, respectively. And, since closings lag behind pendings by month or so, we can expect a lower number of closings in May.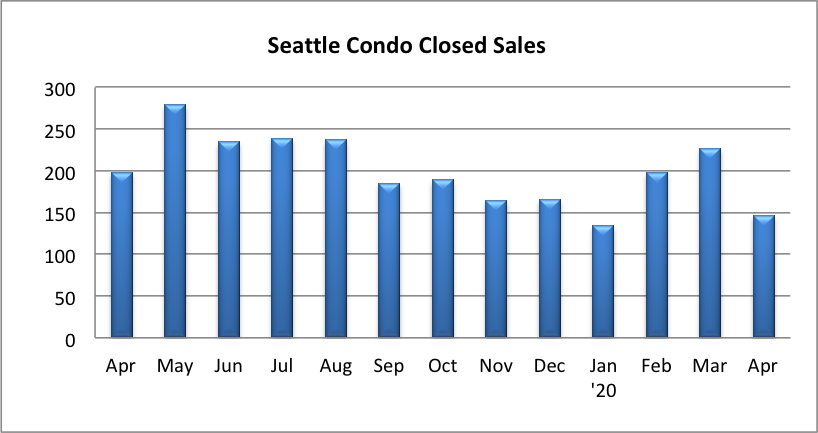 While the market results for April is startling, it may yet be short lived. Though we are still in the midst of a pandemic, early numbers for May indicate improvement in respects to the number of condo listings for sale and pending transactions. Though, at much lower volume than normal.
On a side note, while Seattle's condo market has been adversely affected by the Coronavirus pandemic, activity for single family homes have been brisk and competitive. We're still experiencing listings with pre-inspections and multiple offers.
There may be several reasons for this. Some condo buildings have restricted or limited showings, thus condo sellers may be at a disadvantage with listing their property compared to owners of a single family dwelling.
Buyers who are adhering to social distancing maybe reluctant to enter the more confined spaces of a condo unit and building elevators. And, the condo buyer pool may be constrained further from employment uncertainties and/or reduced income.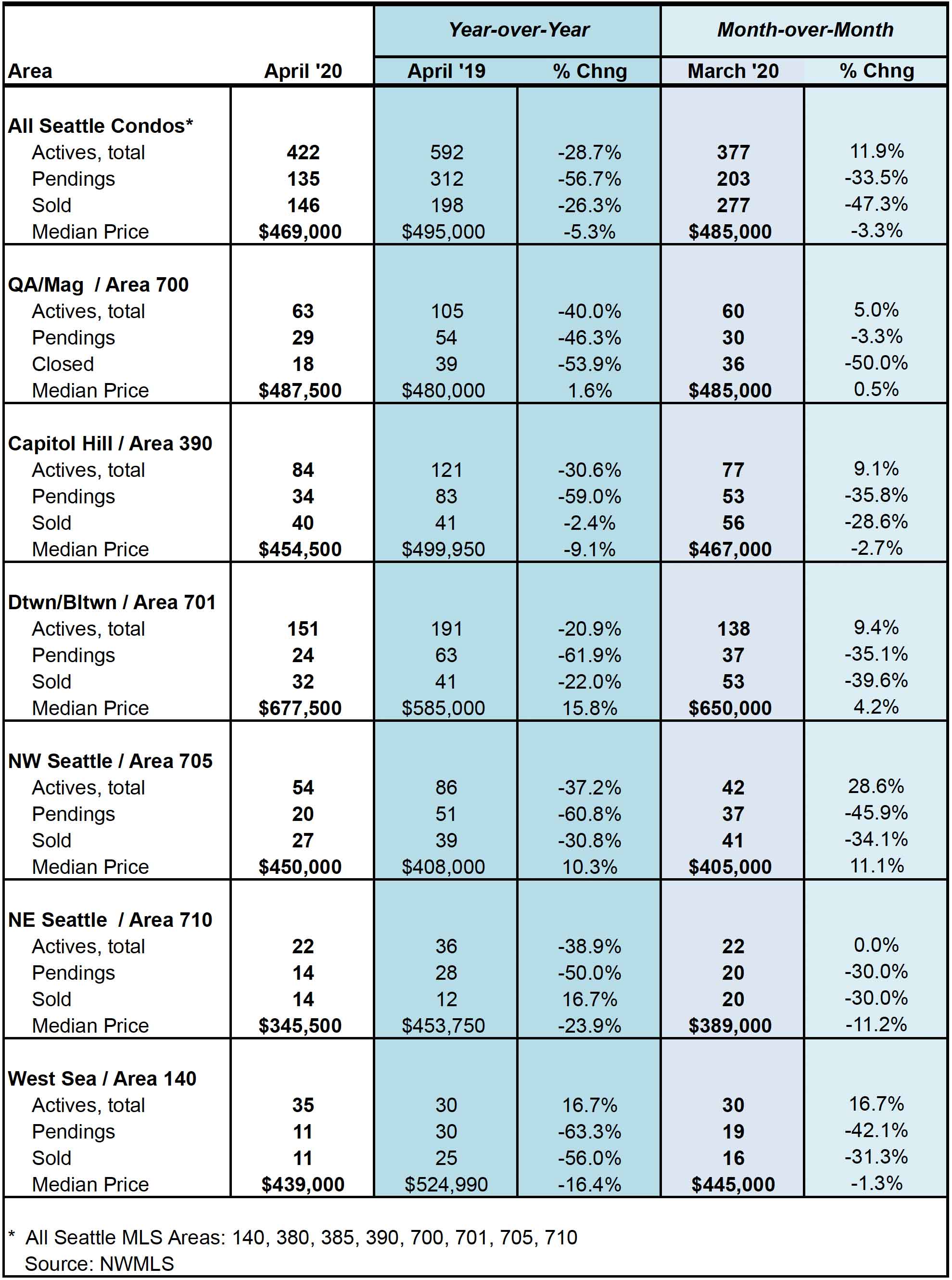 Source: Northwest Multiple Listing Service. Some figures were independently compiled by SeattleCondosAndLofts.com and were not published by the NWMLS.
© SeattleCondosAndLofts.com