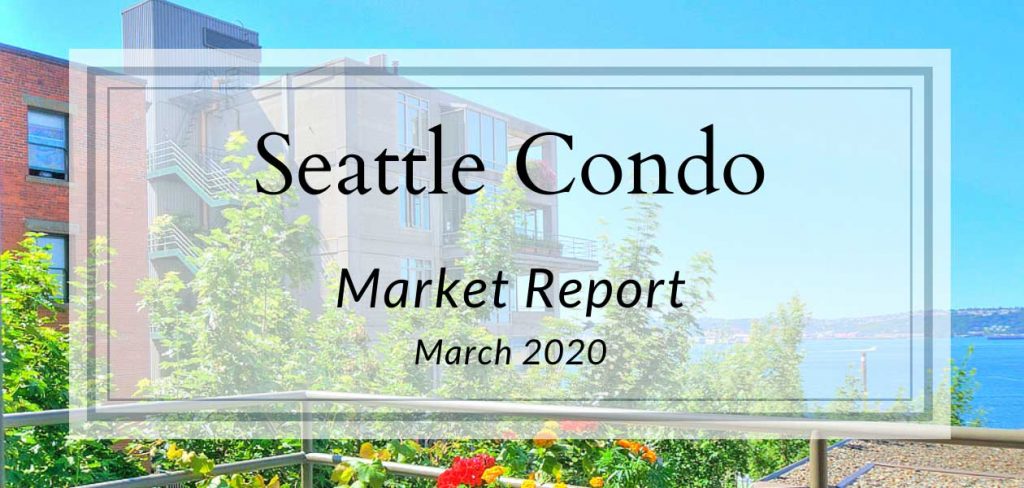 For those of us on the front line of real estate, it doesn't appear as though the coronavirus has had a notable effect on Seattle's housing market. For example, new listings continue to come on the market, buyers are still buying and in a few cases with multiple offers.
However, the stats for the condo market in March showed that the Seattle market is slowing as a result of the stay-at-home order and social distancing measures, not to mention the uncertainly of the economy.
March reversed the year-over-year increase we experienced with the citywide condominium median sales price in February, dipping 1.52% to $485,000. On the other hand, it was 0.8% higher than the prior month.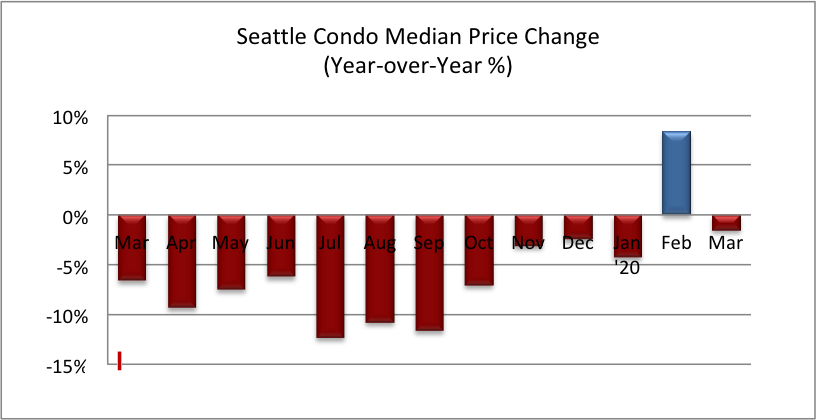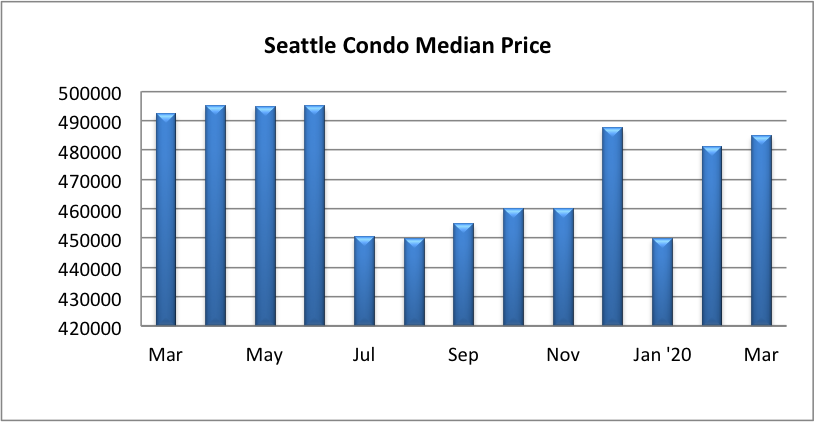 Sellers are still listing. There were 377 Seattle condos for sale in March, an increase of 21.6% over February, although 29.3% fewer than we had a year ago. However, the year-over-year inventory figure has been trending lower for sometime now and not completely related to the pandemic.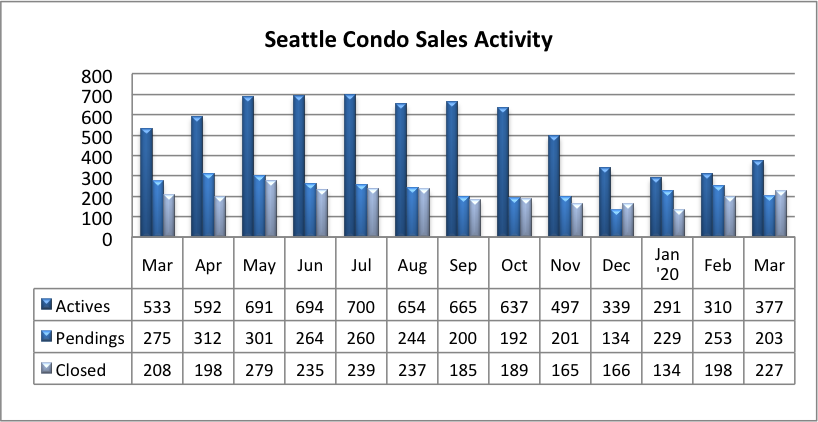 The higher number of condo listings in March resulted in an increase of the inventory supply rate to 1.9-months of supply. While the rate is higher, it still keeps Seattle solidly in a seller's market…for now.
The inventory supply rate classifies the state of the real estate market. A rate of less than 3 months is indicative of a seller's market, a rate between 3-6 months is considered a balanced or normal market, and a rate higher than 6 months would be a buyer's market.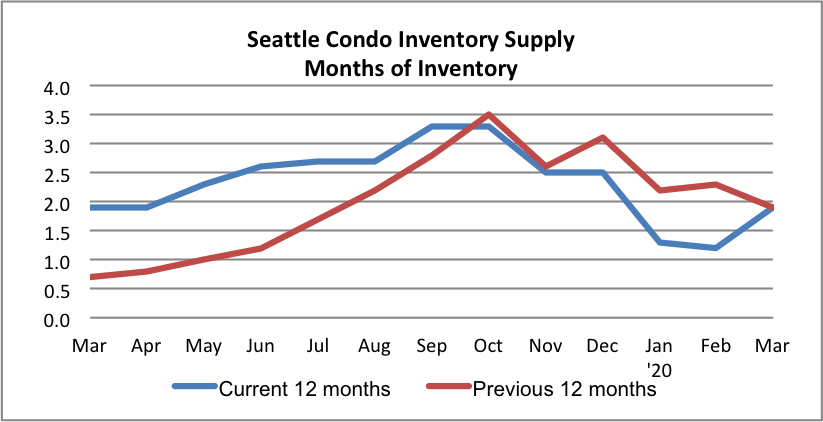 Buyers aren't buying, at least not with the gusto we would anticipate during the peak of Seattle's home buying season.
During a typical March, we would expect a rising trend in condo sales. Yet, with just 203 units going under contract (pending transactions), that's not the case.
The 203 pending condo sales transactions reflected a decrease of 26.2% year-over-year and 19.8% from the prior month. Part of that could be reluctance from buyers given the pandemic, loss of income, unease of the future, and in some cases, tougher mortgage guidelines.
It was also compounded by the state's stay-at-home order which did have a direct effect as real estate activity was initially deemed non-essential. That classification was loosened but there are still restrictions in place that can hamper real estate sales.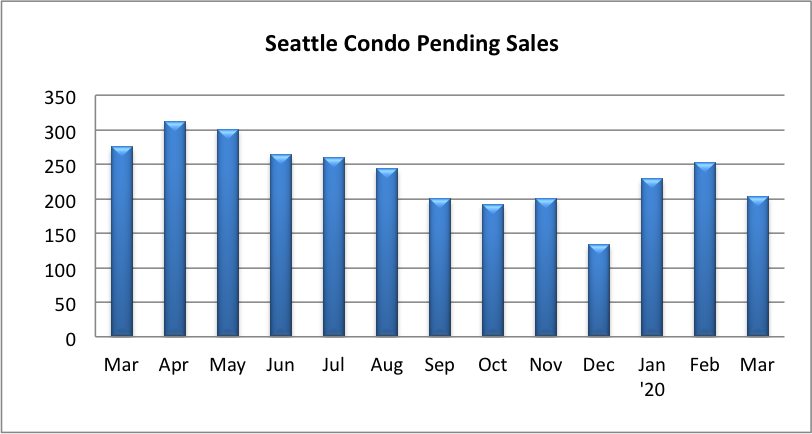 A bright spot, if any, March's closed sales activity improved over the prior month and YOY by 39.9% and 9.1%, respectively, to 277 units.
The flip side of that is it will reduce significantly in April as a result of the drop in pending transactions for March (there is typically a 30-40 day lag between pendings and closings).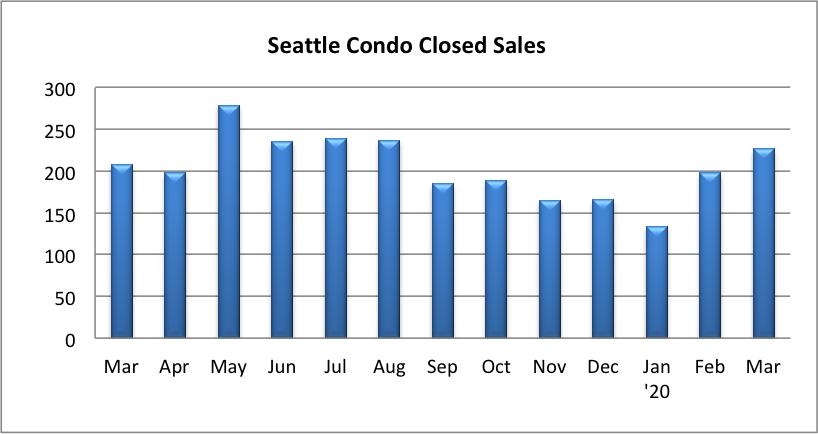 For now, in my opinion, it is too early to tell the overall impact the pandemic and the state's stay-at-home order will have. In the short term, we are experiencing a slow down in sales and some price reductions.
Yet, the condo market remains relatively active. Here is a market snapshot of the past 7 days (as of April 9th). Not as many transactions as we would normally have this time of year, but people are buying and selling.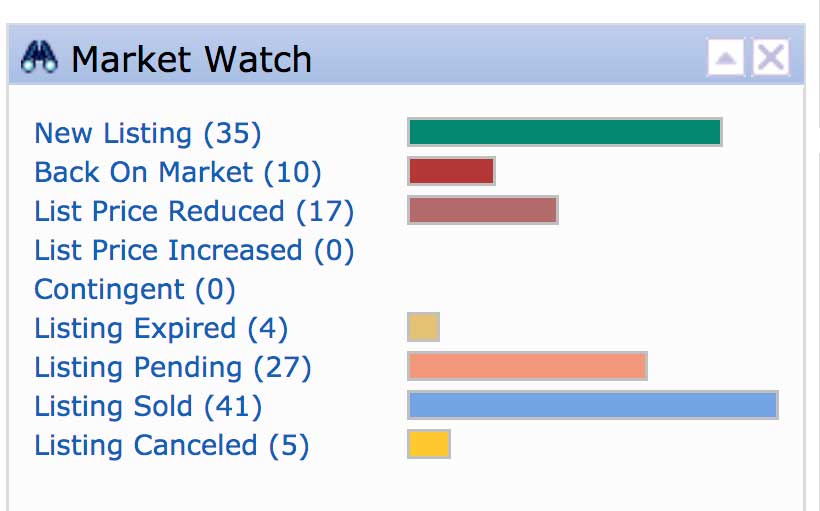 If we return to some level of normalcy in a short time period, I don't believe it will have a lasting affect. There are a number of sellers and buyers on the sidelines waiting things out. And, it's possible we'll be back to a competitive and active market place.
Longer term, it may have a more significant effect, especially if the stay-at-home order is protracted, many businesses remain closed, and the economic fallout worsens.
Nevertheless, there are people who need to sell and those who would rather purchase than rent. Fortunately, our experienced team of associates can help during this challenging time.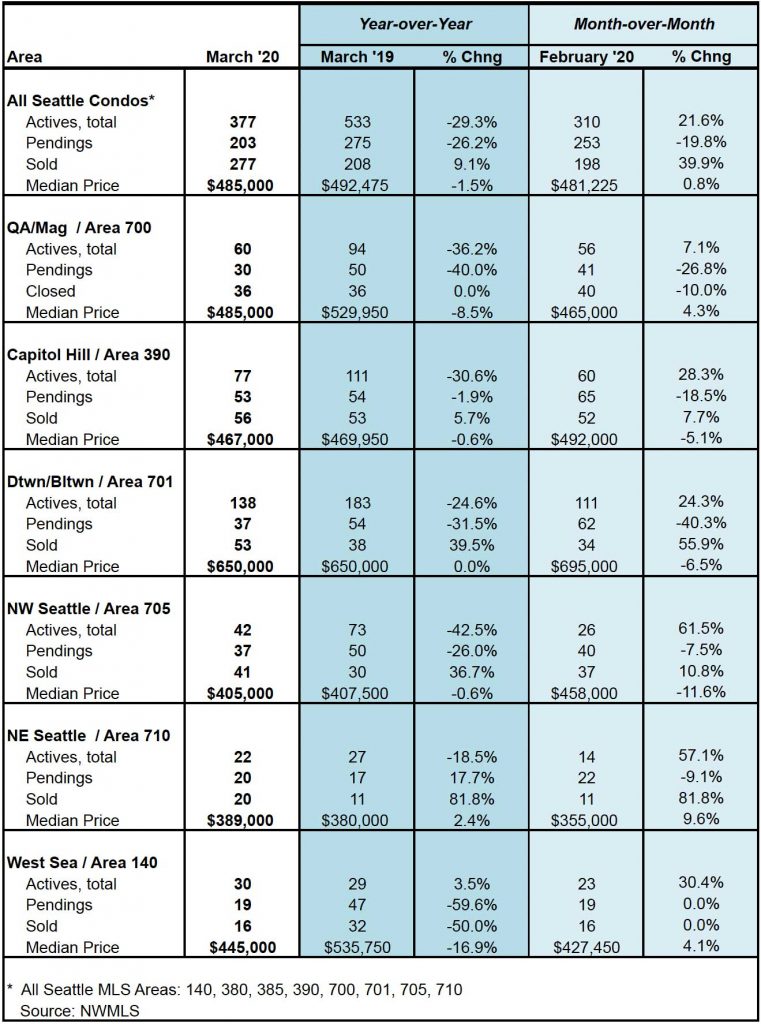 Source: NWMLS. Some figures were independently compiled by SeattleCondosAndLofts.com and were not published by the Northwest Multiple Listing Service.
© SeattleCondosAndLofts.com