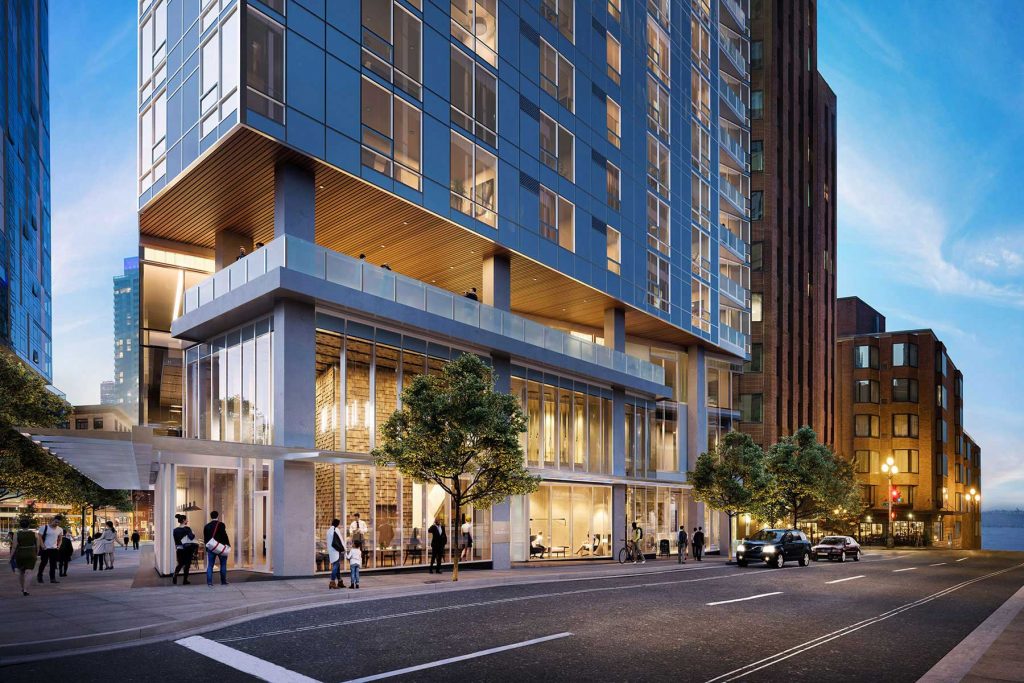 Perched at the precipice overlooking Seattle's famed Pike Place Market in downtown, the Emerald Condominium offers a beacon of luxury in-city living.
Emerald is developed by a joint venture between local Seattle developer, Daniels Real Estate, and World Creative Real Estate of China. The 39-floor high-rise features 262 condominium homes with a mix of studios, one-bedroom, two-bedroom, three-bedroom and four-bedroom premier penthouses.
Amazingly, Emerald, which is expected to be completed in late 2020, is the first new condominium tower in the Market district in downtown Seattle in 12 years…the last one completed was Fifteen Twenty-One.
Residential Homes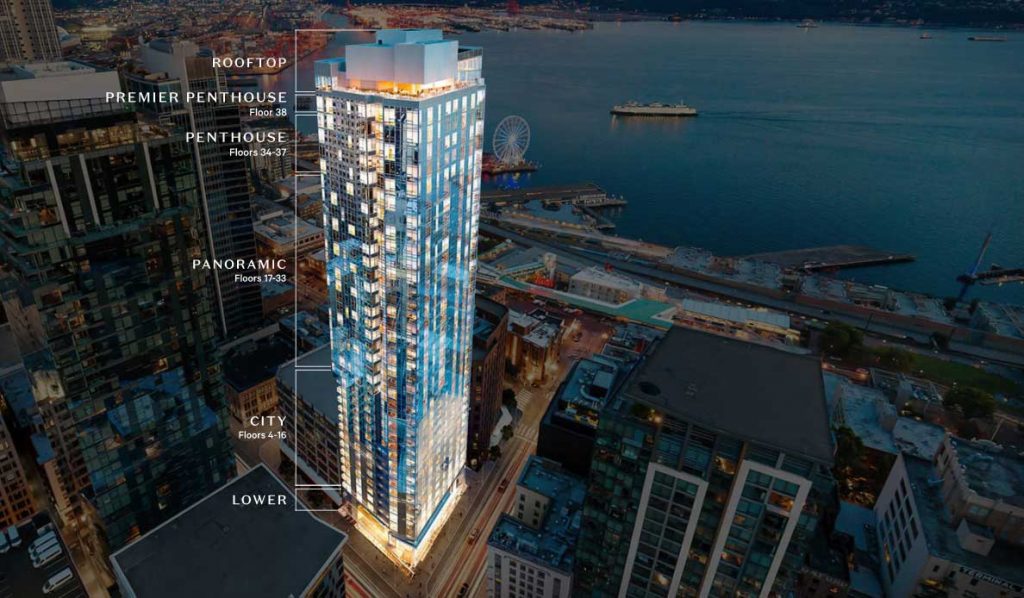 Homes are categorized by floor levels – City, Panoramic, Penthouse and Premier Penthouse.
City Homes are located on floors 4 through 16. These encompass 8 units per floor of smaller floor plans and are the most affordable with studios starting at $435,000, one-bedrooms from $575,000 and two-bedrooms from $809,000.
Studios: 1 per floor on the west side, 570 square feet
One-bedrooms: 5 per floor, primarily on the north side, 579 to 791 square feet
Two-bedrooms: 2 per floor on the south side, 918 to 1,024 square feet
Panoramic Homes are located on floors 17 through 33. These encompass 8 as well, but larger. One-bedrooms start from $799,000 and two-bedrooms from $1,189,000.
One-bedrooms: 6 per floor, located through the floor except for the Northwest and Northeast corners, 779 to 957 square feet
Two-bedrooms: 2 per floors located on the NW and NE corners, 1,068 to 1,189 square feet
Penthouse Homes are located on floors 34 through 37, which is an odd nomenclature as these are usually not considered penthouses by U.S. standards. These are, however, considerably more spacious than what we typically have in Seattle.
Two-bedrooms: 3 per floor, located on the NW, NE and SE corners, 1,139 to 1,601 square feet
Three-bedrooms: 2 per floor, located in the SW corner and east side, 1,445 to 1,779 square feet
Premier Penthouse Homes are located on the 38 floor. There are only two (2) four-bedroom units available:
The "Trillion" on the north half of the tower featuring 3,587 square feet
The "Marquise" on the south half of the tower featuring 3,948 square feet
Interior Finishes
The quality of the interior finishes epitomize the luxury condo standard, and the Emerald delivers. Here's what you can expect for most homes:
Kitchen
Custom wood cabinetry with integrated lighting
Quartz countertops
Bosch kitchen appliances
Bath
Custom wood cabinetry and medicine cabinet
Quartz countertop and backsplash
Polished chrome fixtures
MAAX alcove bathtub
TOTO toilet with soft-close seat
Living Area
Floor-to-ceiling windows
Wide plank European White Oak hardwood flooring
Operable, double pane windows
Whirlpool washer and dryer
Amenities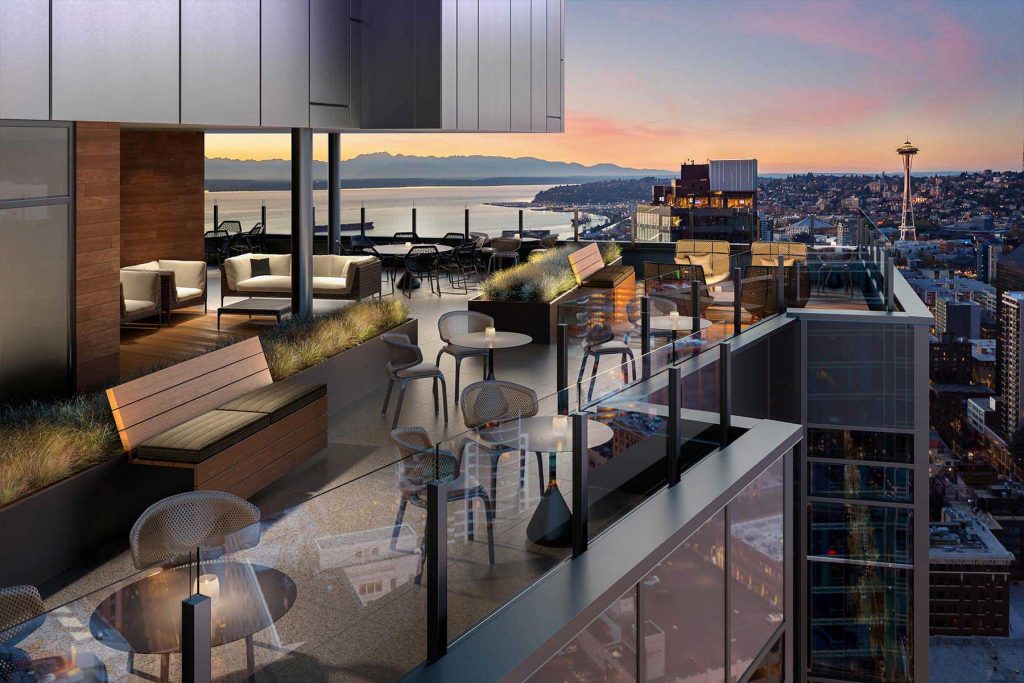 As you would expect of a luxury condominium tower, Emerald offers world class amenities for residents, which are located on the 3rd and the 39th roof top floor.
Floor 3 Amenities include:
Fitness center with yoga studio
Outdoor pet run with pet spa
An open air terrace
Guest suite
Floor 39 Amenities include:
Two interior lounge spaces with the Olympic Room offering soaring ceilings for unparalleled Elliott Bay and Olympic Mountain views.
Two outdoor terraces for entertaining with dining and lounge areas, BBQ grills and fireplace.
Other residential amenities and features include:
Secured lobby with 24-hour concierge service
Two Tesla vehicles exclusively for residents use
Electric vehicle charging stations
Keyless entry system
Presale Purchase Information
Select homes are currently available for presale purchase. Emerald requires a 5% deposit at time of offer with an additional 5% due within 30 days of offer acceptance.
Emerald is working with four approved lenders – Bank of America, Wells Fargo, Caliber and Chase. For new construction purchases, only approved lenders will be able to provide a loan due to lending guidelines, so buyers will need to work with one of the listed lenders.
Emerald's sales gallery is located at 1901 4th Avenue and is by appointment only.
For purchase information and assistance, or to arrange a tour of the model home, please contact Seattle Condos and Lofts condo specialists.
Seattle Condos and Lofts provides exclusive presale buyer services and representation and is not affiliated with Emerald Condominium.
---
Virtual Tour of the model home:
Gallery