Another month goes by, another solid month for Seattle's condo market. Values continued to rise amid low inventory and fewer sales compared to last March.
The Seattle citywide condo median sales price improved 14.21%, year-over-year, to $434,000, though it dipped 8.6% from the prior month. While there was a one-month slide, it does not mean that condo values had fallen between February and March, but rather the midpoint (median) shifted downward.
In February, there were 80 units that sold below $450,000 with 90 units above. In March, there were 120 units that sold under $450,000 and 100 units above. The greater number of units selling in the lower end of the price range in March moved the midpoint downward resulting in a lower overall median sales price for the month.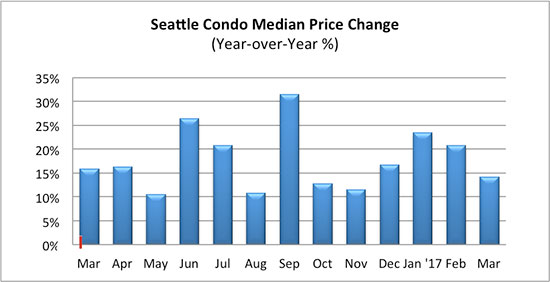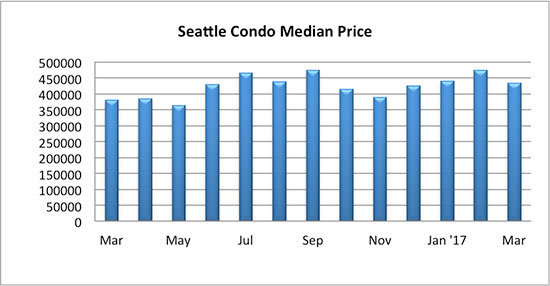 Seattle's condo inventory grew in March to 166 units that were available for sale in the MLS, an improvement of 31.7% over February but still 28.8% fewer units than we had last March. There were a few pre-sale listings added to the MLS, but they accounted for only a small fraction of the units for sale.
As far as new construction, there are approximately 188 units available – Nexus has 90 units remaining, Gridiron 76 and Hendon 22 units – most of which are not included in the MLS figures. That's just 188 new condo units remaining (that will be delivered) through 2019.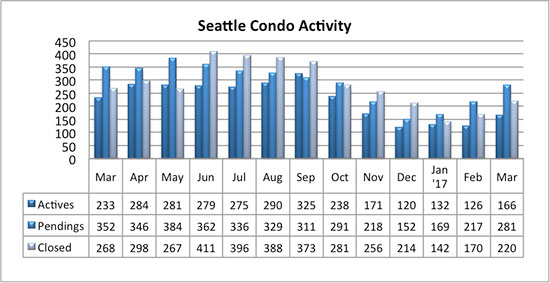 The Seattle condo inventory supply rate remained unchanged at 0.6-months of supply. The supply rate is a metric used to determine market condition. A supply rate of less than 3-months exhibits a seller's market and Seattle has been in a seller's market for more than five years now. Unless something drastic happens to the economy, Seattle's condo market will remain a seller's market for sometime to come.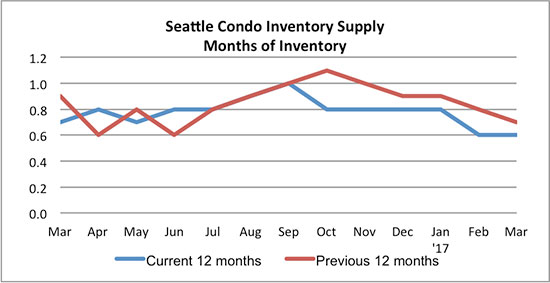 The number of pending sales transactions (listings with accepted offers) rose 29.5% over the prior month to 281 units with new construction pre-sales accounting for 8% of the pending transactions, based on NWMLS data. Yet, that's 20% fewer sales than we had compared to last March.
(Technically, there should be considerably more pendings given Nexus' pre-sales, though, those have yet to be added to the NWMLS database.)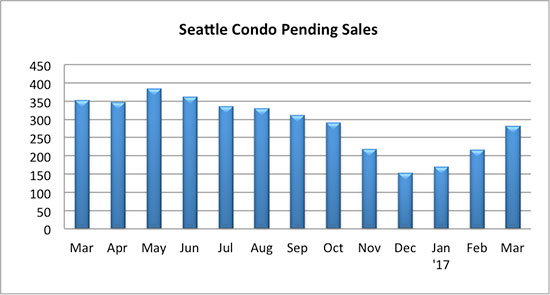 Closed transactions saw similar results with a one-month improvement of 29.4% and a year-over-year decline of 17.9%. Both pending and closings are trending upwards as expected as we progress through spring.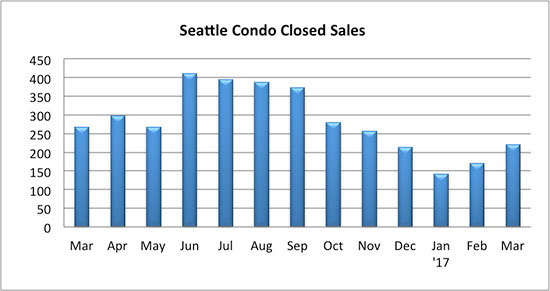 If you're a owner contemplating selling, the current market condition and buyer demand presents a terrific opportunity to sell your Seattle condo. Want to know what your condo is worth?
If you're a buyer, let us help you navigate through Seattle's crazy housing market and beat out the competition to purchase your new home.
As noted above, the median sale price decreases for Capitol Hill and the downtown/Belltown areas were the result of a shifting of the midpoint/median downwards (resulting from fewer higher value condo sales compared to last March) rather than a drop in value.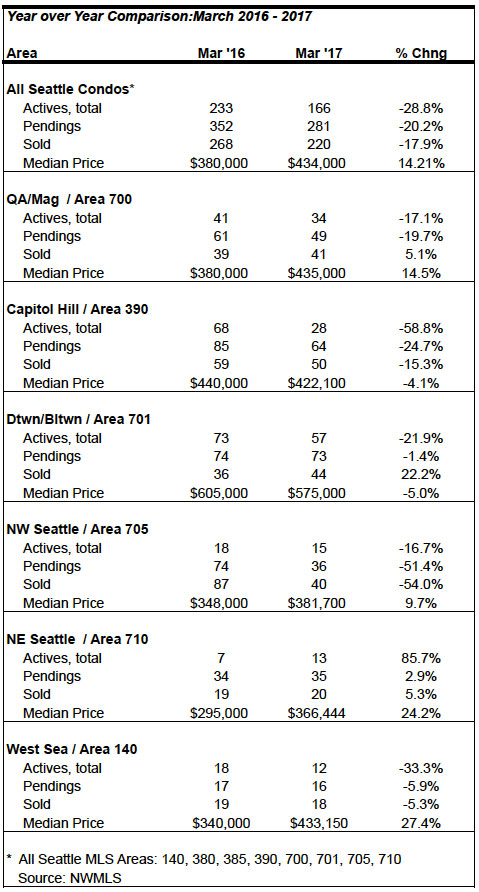 Source: NWMLS. Some figures were independently compiled by SeattleCondosAndLofts.com and were not published by the Northwest Multiple Listing Service.
________________________
© SeattleCondosAndLofts.com