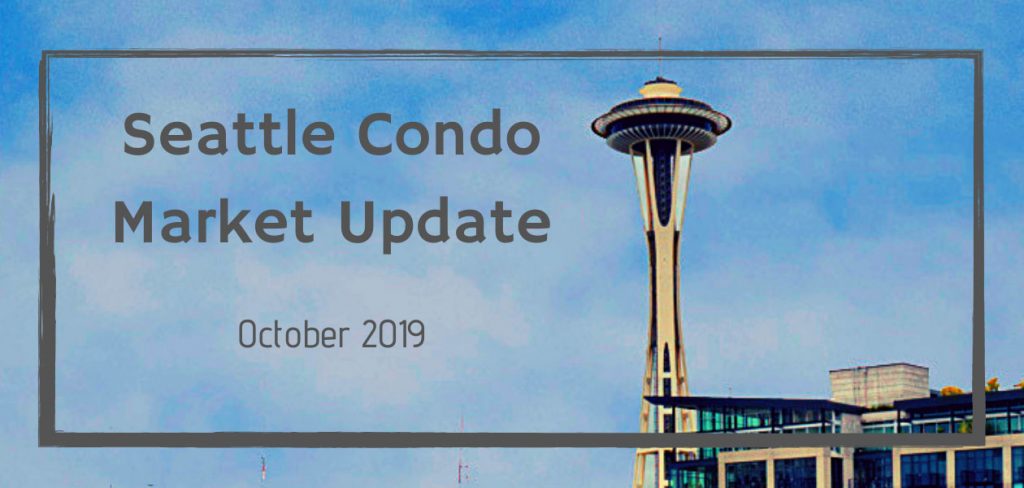 Seattle's condominium buyers and sellers received both treats and tricks in October (cheesy, I know).
For instance, prices kept to its downward trend overall, comparing year-over-year (YOY) numbers, however, the month-to-month trend is moving upwards. Additionally, a few neighborhoods experienced higher YOY sale prices, others fell, and inventory started to decline.
The $460,000 Seattle citywide condo median sales price for October reflected a 7.07% YOY drop, though it improved slightly by 1.01% over the prior month.
Three neighborhoods saw modest, but higher YOY median sales prices last month – Queen Anne, Downtown/Belltown and Northeast Seattle (see table at bottom of post).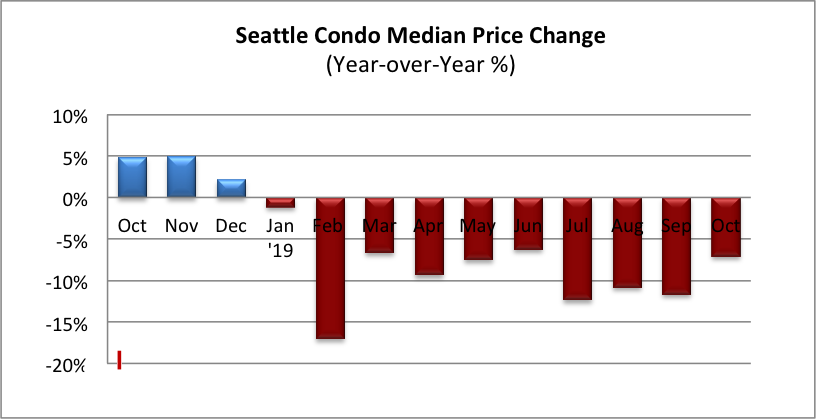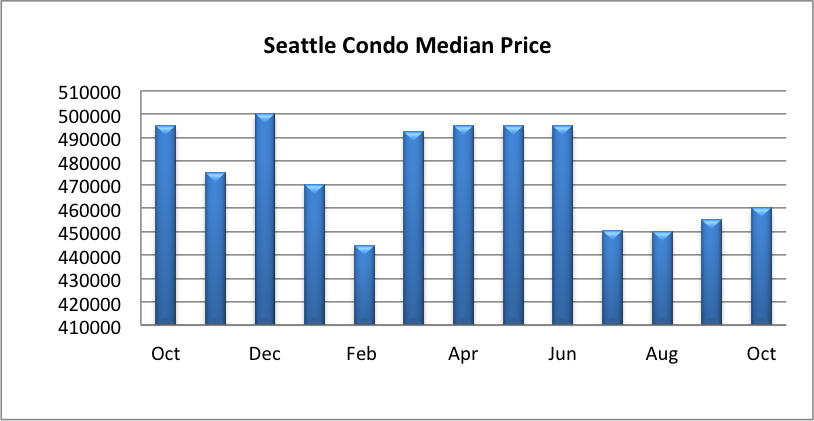 The number of Seattle condos for sales dipped in October, which isn't too surprising as our market seasonally slows down during the fourth quarter.
However, we had 5.9% fewer listings than we had a year ago, down to 637 units, which is surprising for YOY. Perhaps, though, sellers are holding out for the more active spring season in hopes the market will begin to improve.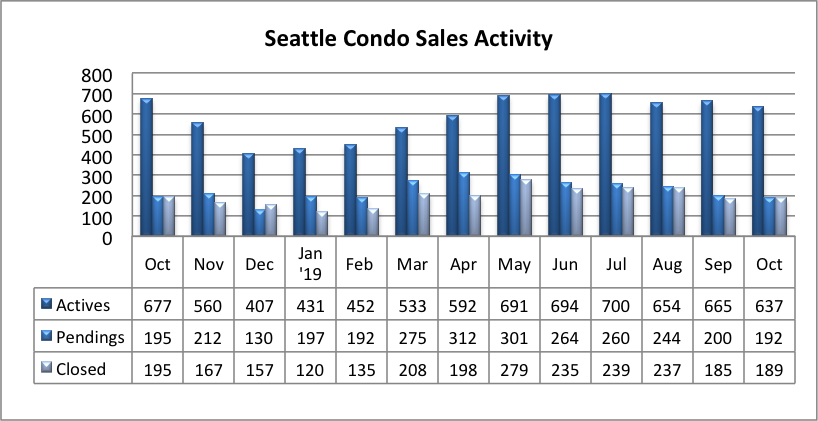 The lower number of active listings resulted in a plateaued inventory supply rate for October, at 3.3-months of supply, slightly lower than we were a year ago. It was the first time in 22 months that we had seen a YOY drop in the inventory supply rate.
At the current rate of supply, Seattle remains at the cusp between a seller's market and a balanced market.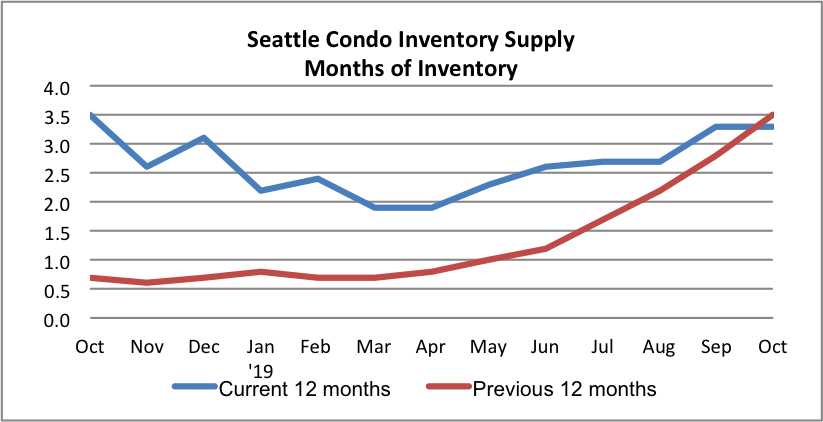 The number of pending sales transactions (listings in escrow) reduced to 192 units last month, reflecting a YOY and one-month dip of 1.5% and 4%, respectively. This is fairly normal and to be expected with Seattle's cyclical real estate market.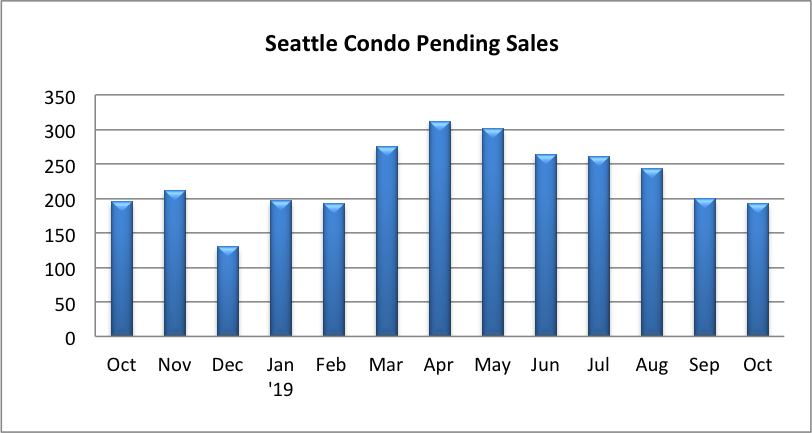 As with pendings, the number of closed sales also dipped YOY by 3.1%, to 192 units, though that was a 2.2% improvement over the prior month.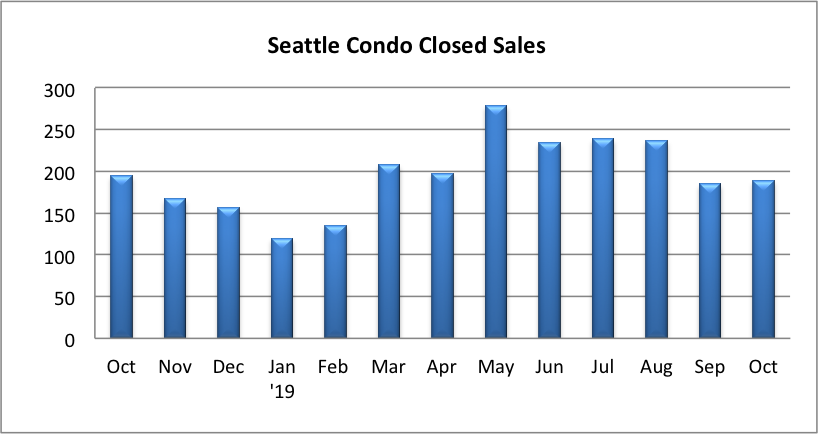 October had a little bit of everything – a lower YOY citywide median sales price but one that is trending upwards, while several neighborhoods realized increases in sale prices; decreased listings but with a stabilizing supply rate, and slower sales velocity.
Closing out the year, I think we'll see fewer listings for sale and slower sales activity with prices fluctuating, but remaining in the high $400,000s.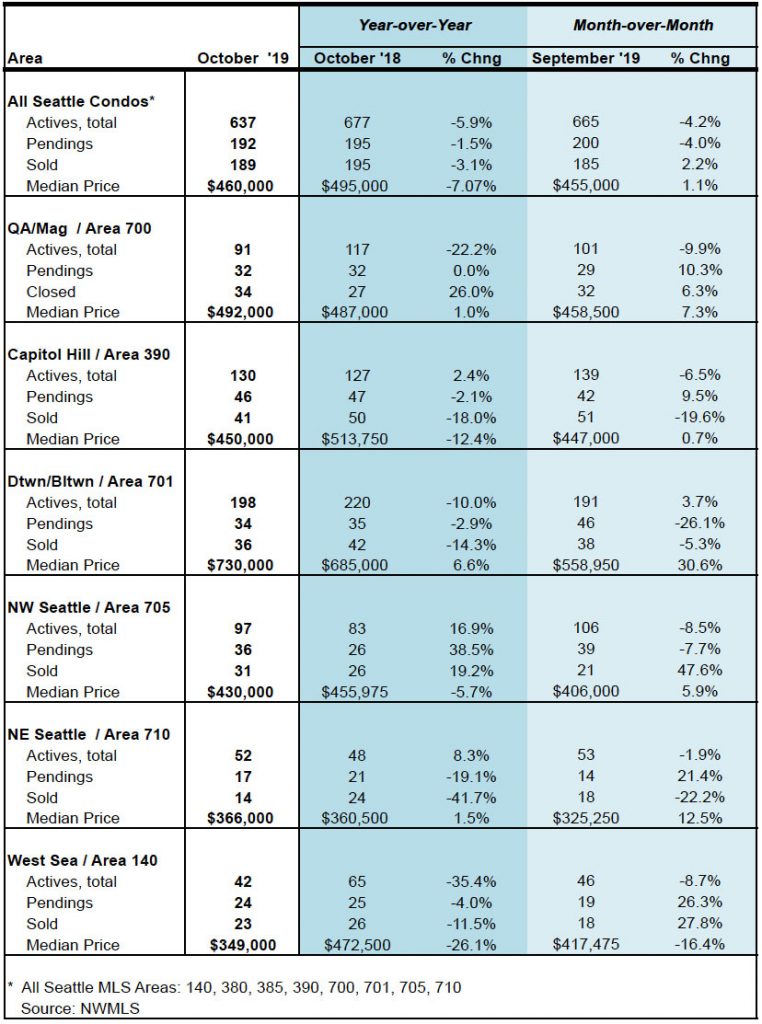 Source: NWMLS. Some figures were independently compiled by SeattleCondosAndLofts.com and were not published by the Northwest Multiple Listing Service.
© SeattleCondosAndLofts.com