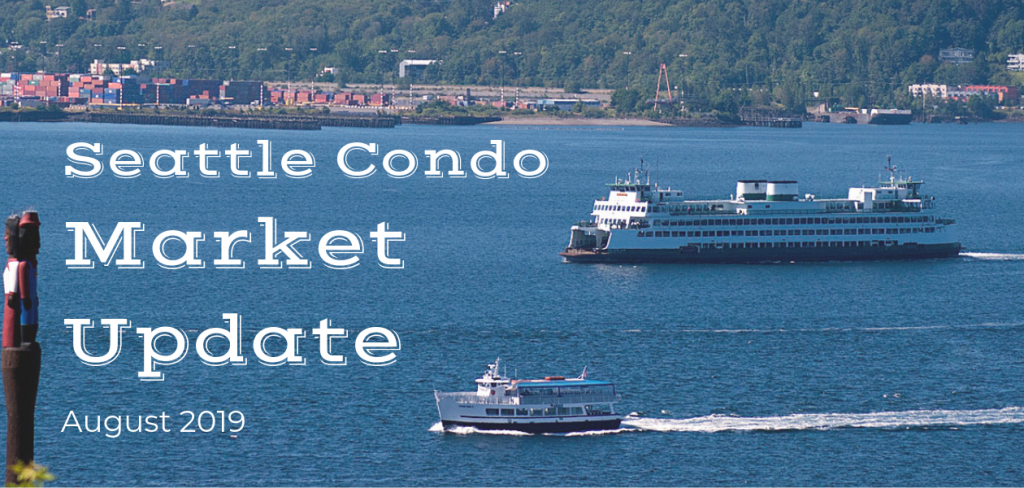 The August numbers are in and exceeded expectations, which was a nice surprise as Seattle's condo market outperformed last year's sales activity.
Year-over-year, Seattle experienced more sales, closings and listings compared to August 2018 with one exception. The citywide condo median sales price dipped YOY by 10.8% to $450,000. Though, that remained essentially unchanged from the prior month.
For detailed information by NWMLS neighborhood areas, please see table at bottom of post.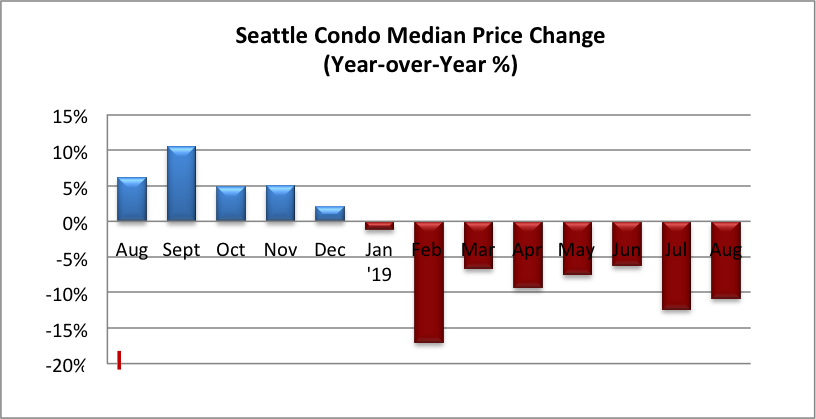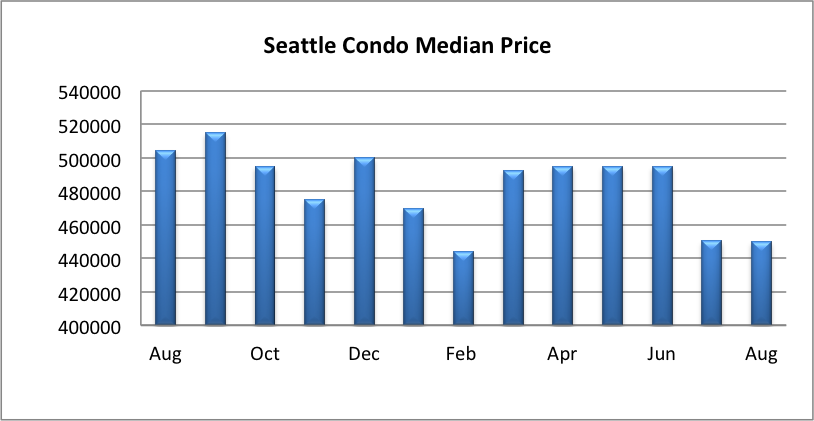 Although year-over-year results were solid, the month-to-month trend performed as we would anticipate for the second half of the year. The Seattle housing market follows a historic seasonal cycle that begins to slow down after the summer.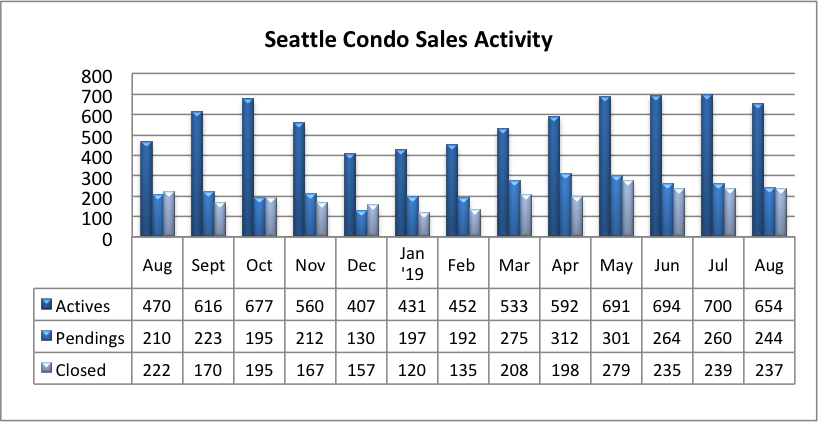 In respects to inventory, the number of active Seattle condo listings for sale remained in the high-600's. Yet, we're seeing the inventory supply rate stabilize around 2.7-months of supply, keeping us in a borderline normal market. The plateau is the result of robust sales activity over the past several months.
The supply rate is derived by taking the number of listings divided by the number of sales (we use pending sales transactions for our statistics) and is a metric to identify market conditions.
A supply rate of less than 3-months is categorized as a seller's market, between 4 to 6-months is a balanced or normal market, and over 6-months is classified as a buyer's market.
For reference, the last time Seattle's condo market experienced a normal market environment was in 2011, so we're a bit overdue.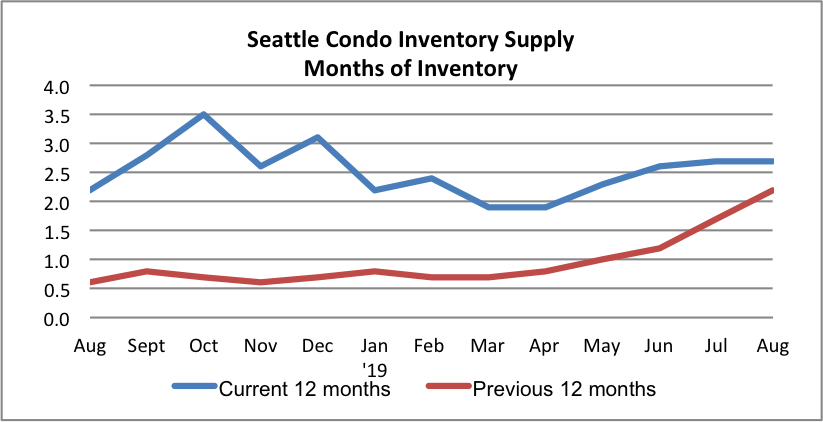 Note, we utilize the official monthly data published by the NWMLS. However, not all condo listings available for purchase are listed in the NWMLS such as to-be-completed new construction units. Therefore, the true number of listings is slightly greater than indicated.
The number of pending sales for August reflected a healthy 16.2% improvement over the same period last year to 244 units, though it did decline by 6.2% from the prior month.
We will continue to see the overall number of pendings sales decrease through the autumn months, but we may yet see stronger year-over-year results given how dismal 2018 was in comparison.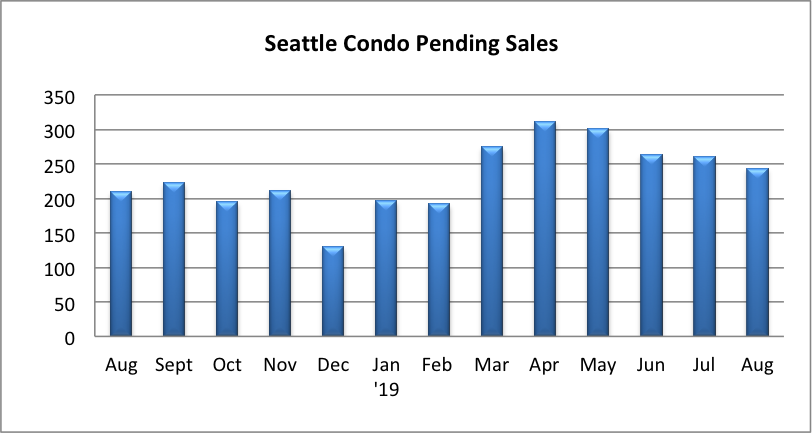 Closed Seattle condo sales pretty much stayed the same over the past few months with 237 units closing in August, which exhibited a 6.7% increase over last year.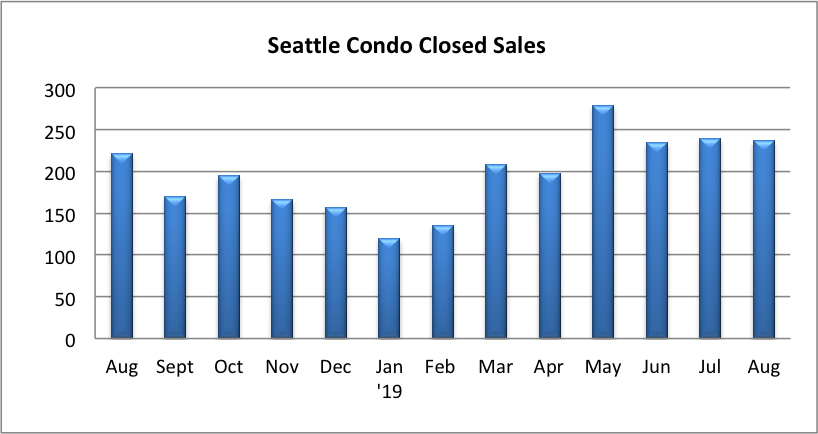 By MLS neighborhood areas, all areas noted more listings and most saw improved sales activity, many by double-digits compared to August of last year.
Though, all areas with the exception of Northeast Seattle experienced lower median sale prices for the month.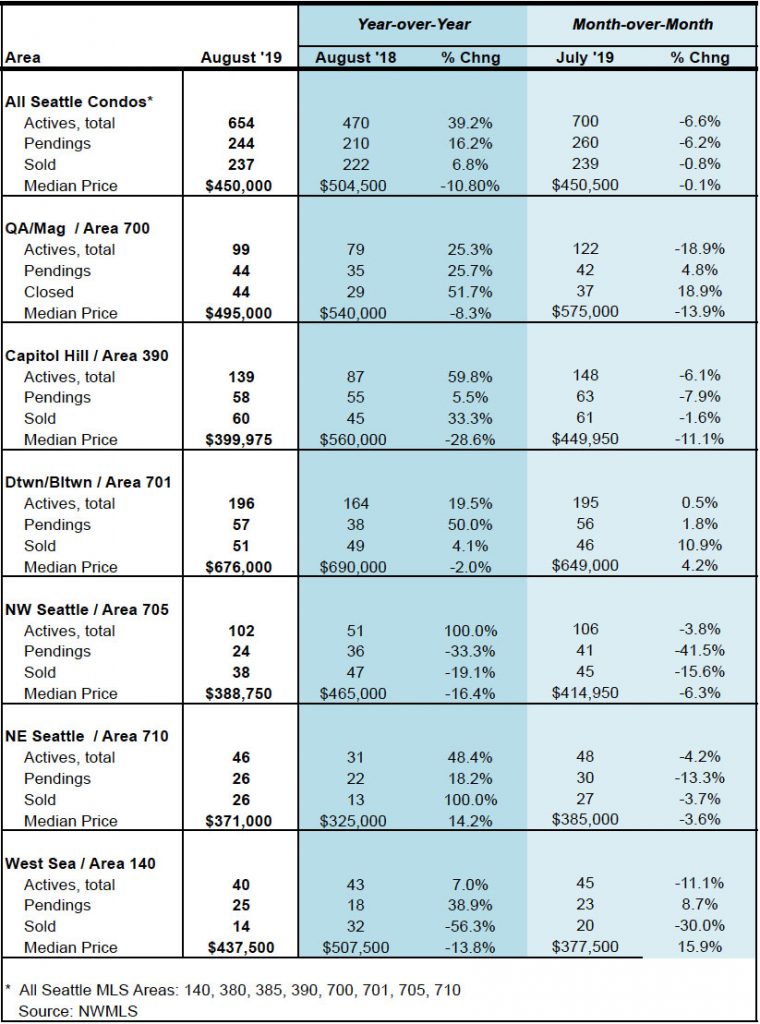 If you've been contemplating buying a condo, let our Seattle & Bellevue condo specialists help you succeed with our effective buyer strategy.
For condo owners, if you had been thinking about selling your Seattle condo, you can rely on our dedicated condo sales brokers more than ever to realize the highest returns. We can help you navigate through Seattle's shifting housing market.
________________________
Source: NWMLS. Some figures were independently compiled by SeattleCondosAndLofts.com and were not published by the Northwest Multiple Listing Service.
© SeattleCondosAndLofts.com