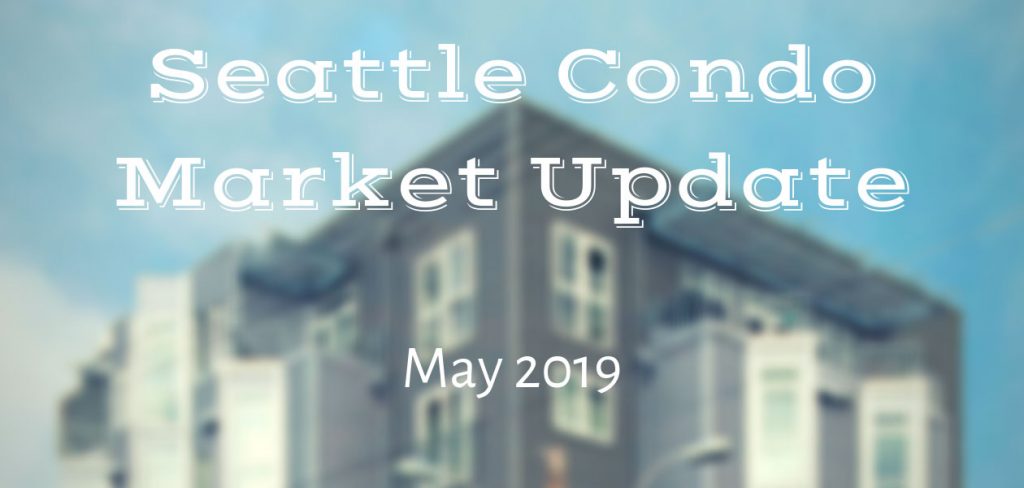 The Seattle Condo market is a buyer's paradise. Well, not quite yet, but we are headed that way if May was any indication; inventory was up as sales and prices softened for the month.
The citywide Seattle median sales price for condos was $494,500, virtually on par with last month but 7.5% below the same period a year ago. With the exception of Northwest Seattle, the rest of the city reflected year-over-year decreases in their respective median sales prices (see table at bottom of post).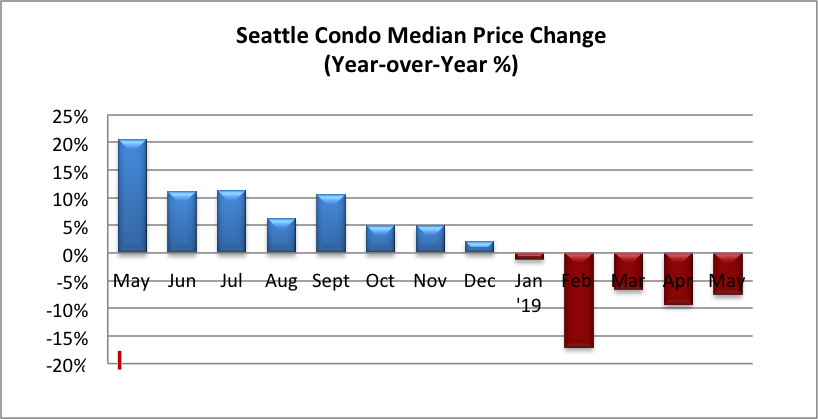 With that said, looking at the chart below, the overall citywide median sales price has stabilized over the past few months. In that regard, prices aren't dropping, they're just not at the level as they were in 2018.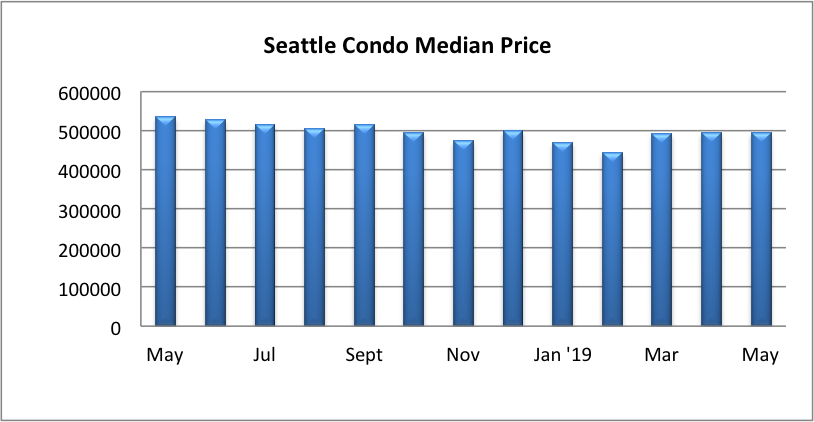 Inventory shot up in May with 691 NWMLS listed Seattle condos for sale, an increase of 124.4% over last May and 16.8% more than a month ago.
The upward trend is seasonal and expected, though the number of listings is noteworthy. It is the highest number of listed units for sale since January 2012.
Additionally, this number does not include the unlisted new construction condo units for sale…both move-in ready and under construction.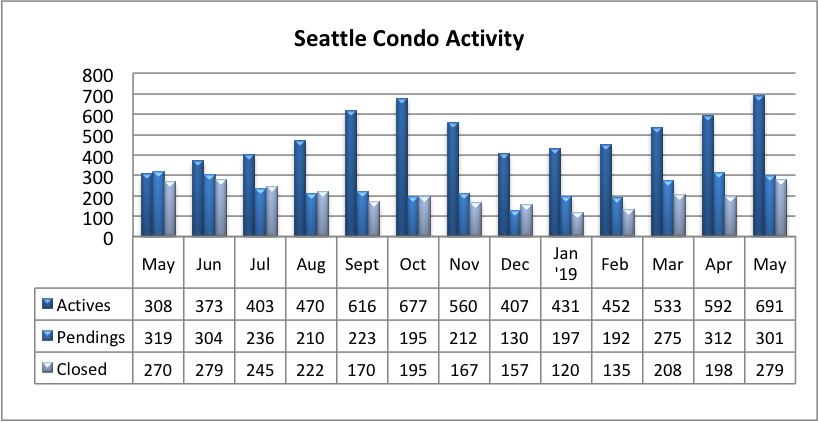 The number of listings combined with the slightly lower rate of sales resulted in a bump of the inventory supply rate to 2.3-months of supply, inching us closer towards a balanced/neutral housing market.
Nevertheless, the supply metric still leaves Seattle firmly in a seller's market environment for the time being.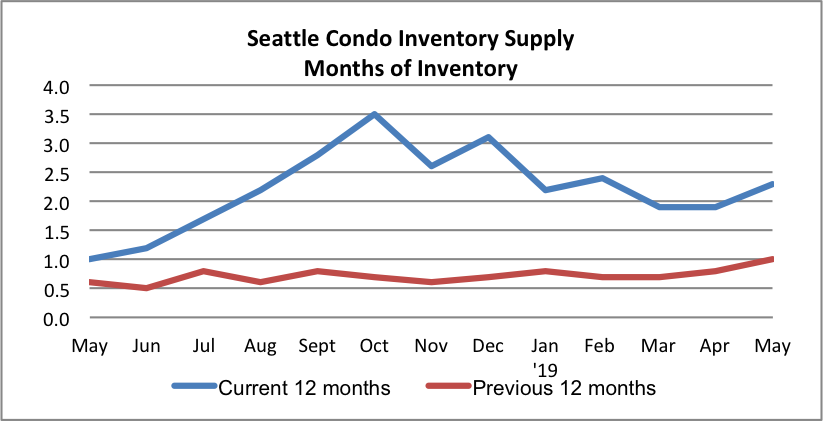 Seattle's condo sales activity mellowed a bit in May with 301 units going under contract (pending sales status), that's 3.5% and 5.6% fewer than the prior month and from a year ago, respectively.
As with listings, one thing to keep in mind is that not all of the new construction presale units are not reflected in this figure as they have not been added to the NWMLS database.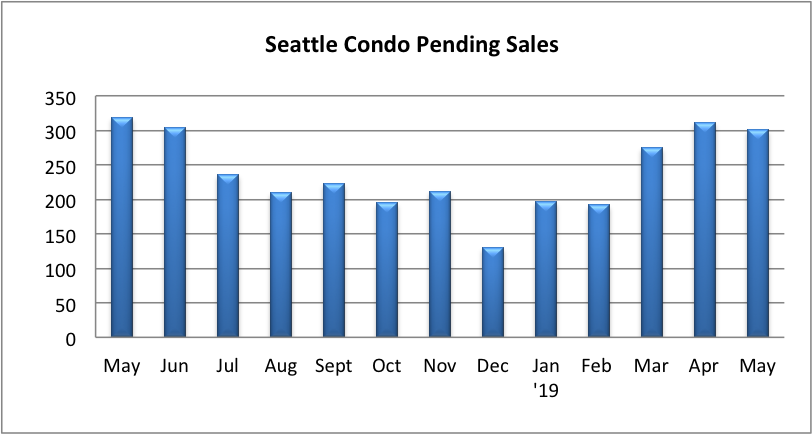 The 279 closed Seattle condo sales did reflect an improvement of 40.9% over last month and 3.3% more than the same period last year.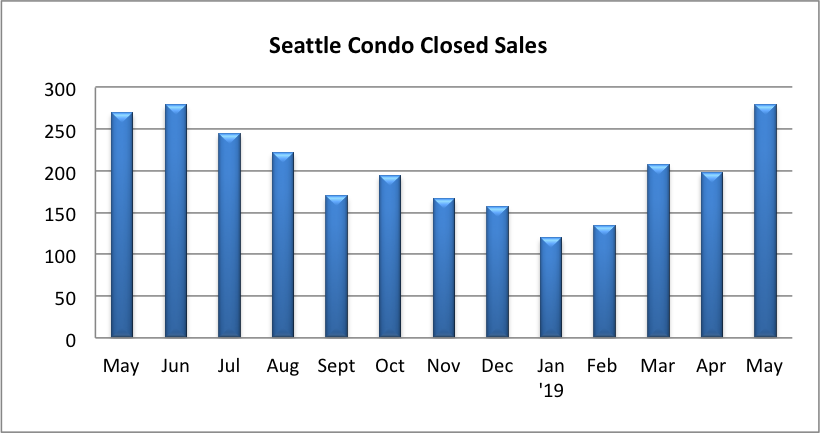 Cyclically, market activity peaks and then plateaus during the summer months so we anticipate the market may slow a bit more as the weather continues to warm and summer activities take precedence over home buying.
If you've been contemplating buying a condo, let our Seattle condo specialists help you succeed with our effective buyer strategies.
If you plan to sell your Seattle condo, you'll need to rely on dedicated condo sales brokers more than ever to realize the highest returns. We can help you navigate through Seattle's shifting housing market.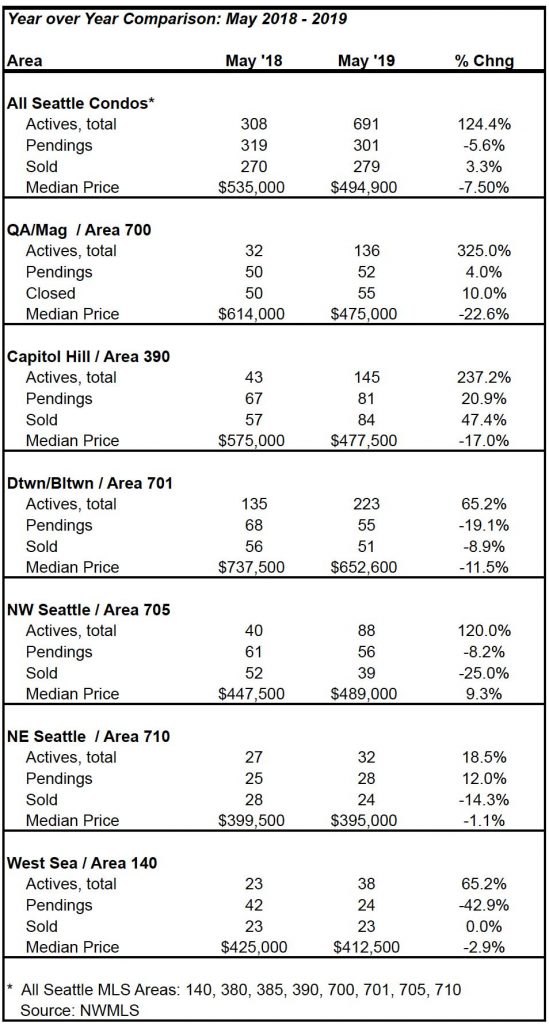 ________________________
Source: NWMLS. Some figures were independently compiled by SeattleCondosAndLofts.com and were not published by the Northwest Multiple Listing Service.
© SeattleCondosAndLofts.com