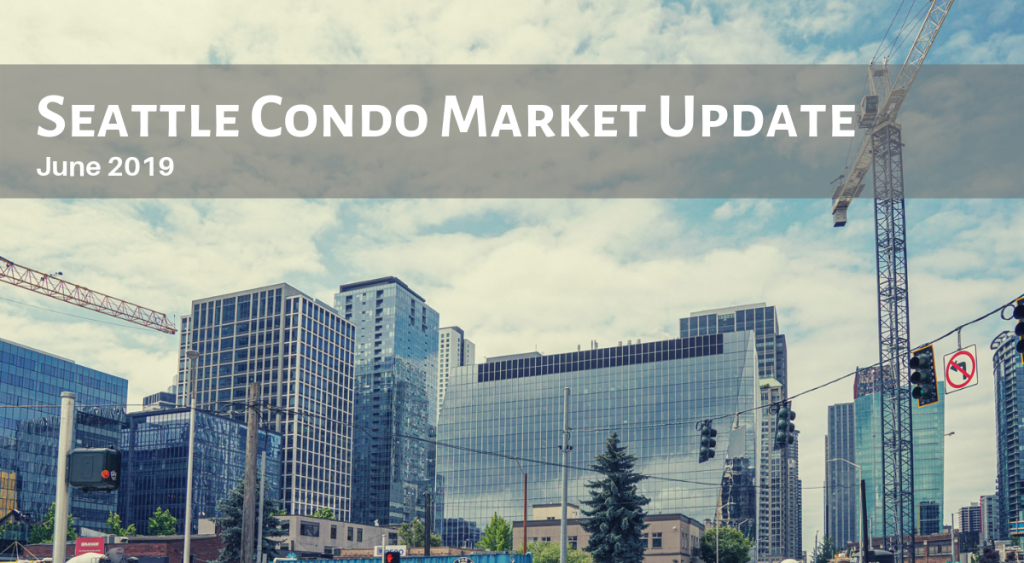 The newly released Northwest MLS statistics showed Seattle's condo marketing trudging along in June with more of the same we've been experiencing – more inventory, a slower sales pace and stagnant values.
Compared to a year ago the median sales price for condos in Seattle dipped 6.24% to $494,990. It was the 6th consecutive month that the citywide median sales price underperformed 2018 levels.
But, that doesn't mean the market is in a death spiral. In fact, Seattle condo values have stabilized over the past several months around the $490,000 price point, even with an influx of inventory and slower sales activity.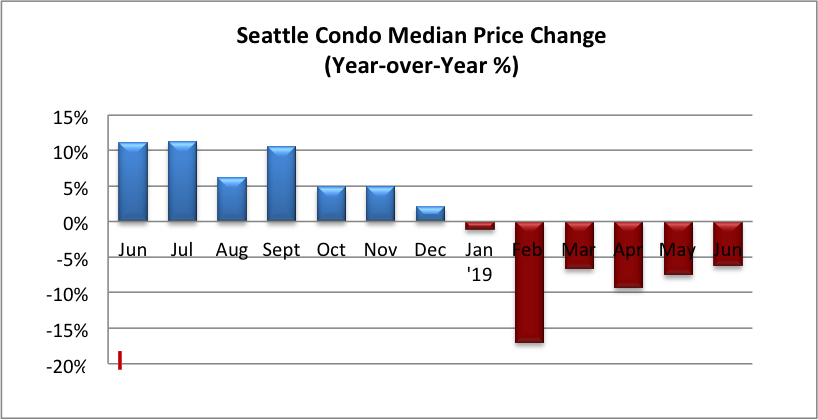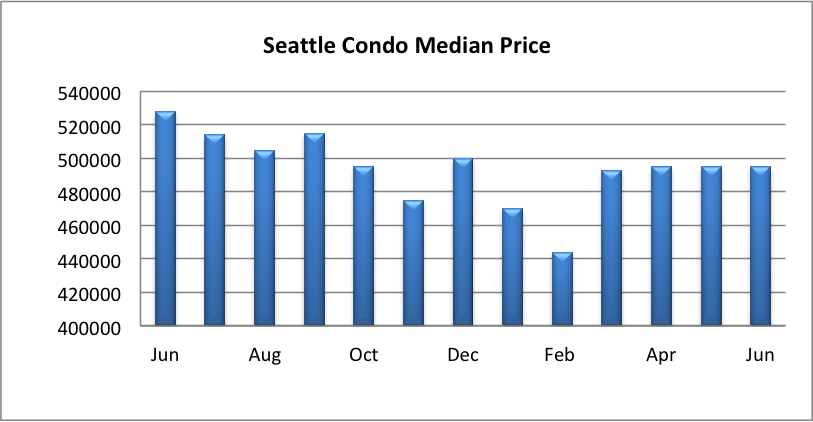 The number of listings stayed about the same as last month at 694 Seattle condo units for sale, though that reflected an 86% increase in inventory over last June.
With a slightly more units for sale and reduced sales for the month, the inventory supply rate creeped up to 2.6-months of supply. That is likely to continue trending upwards as we move through the summer months.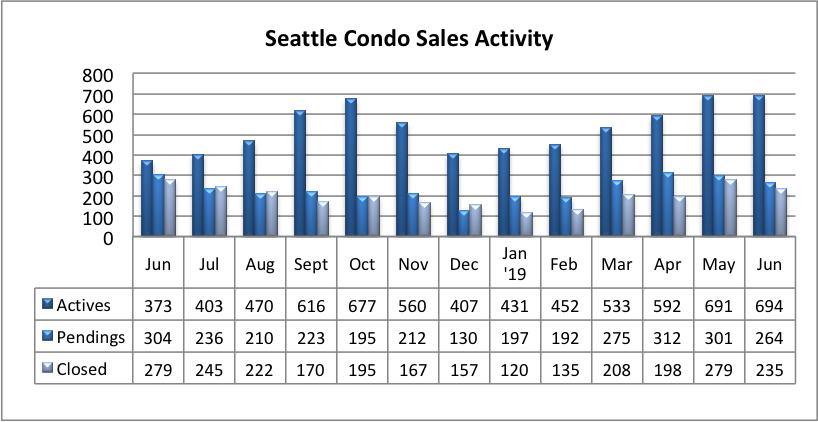 A supply rate of less than 3-months is indicative of a seller's market, even though it doesn't feel like one.
That may be due to the number of available pre-sale units at condo developments under construction, which are not represented in the Northwest MLS listings database. In reality, the supply rate is higher and more characteristic of a balance market environment (between 3 – 6 months of supply).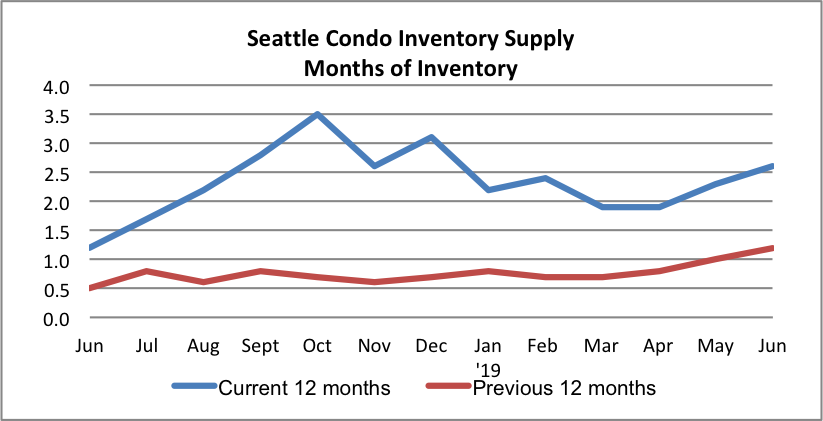 Pending sales transactions, or condos units with accepted offers in escrow, fell in June to 264 properties reflecting a decline of 13.2% year-over-year and 13.3% month-over-month, respectively.
We typically see a plateauing of sales activity during the high summer months leading into autumn, thus, we can expect more of the same as noted in the chart below.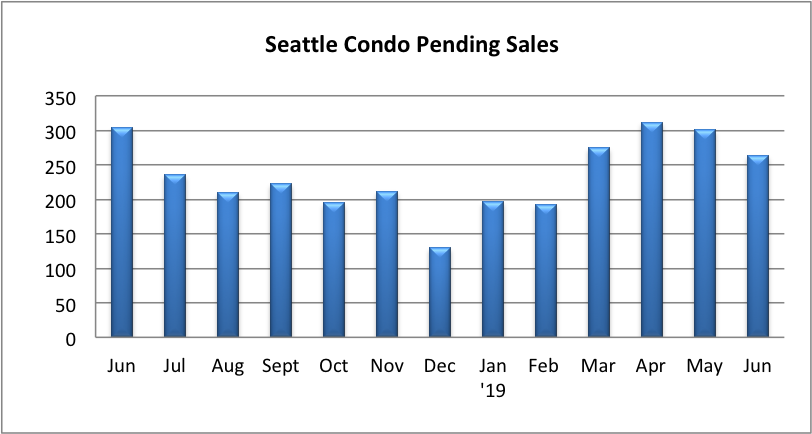 The number of closed condo sales also reduced in June. The 235 closed condo units represented a drop of 15.8% over last June and last month.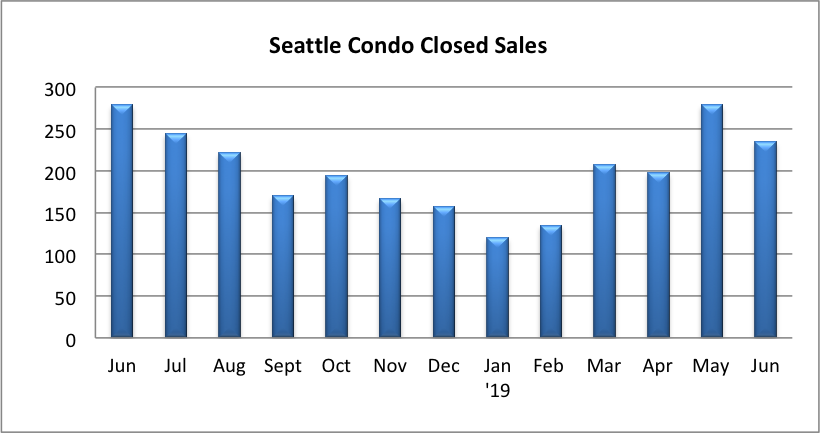 Mid-year reflects the apex of Seattle's housing and condominium market. Historically, from this point onward we'll see a steady rise in inventory, decreasing sales velocity and diminishing prices.
And, that bodes well for condo buyers. If you've been contemplating buying a condo, let our Seattle & Bellevue condo specialists help you succeed with our effective buyer strategy.
For condo owners, if you had been thinking about selling your Seattle condo, you can rely on our dedicated condo sales brokers more than ever to realize the highest returns. We can help you navigate through Seattle's shifting housing market.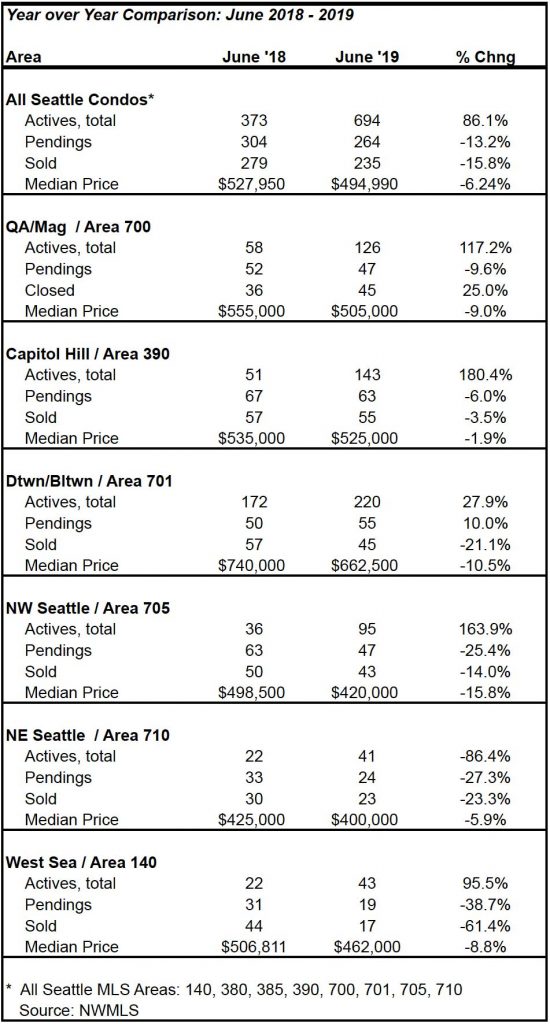 ________________________
Source: NWMLS. Some figures were independently compiled by
SeattleCondosAndLofts.com
and were not published by the Northwest Multiple Listing Service.
©
SeattleCondosAndLofts.com