Is it the seasonal summer slowdown or is the market starting to soften? Or a combination of both?
After 28 consecutive months of year-over-year (YOY) increases of the citywide median sales price, with all but two months by double-digits, Seattle experienced a dip in the YOY median.
The July 2017 citywide Seattle condo median sales price reduced by -0.65% YOY and -2.7% from the prior month to $462,000.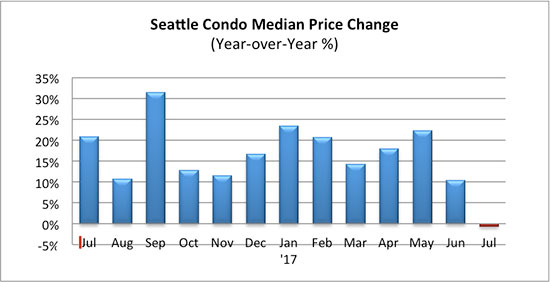 But it's not that simple, at least for the YOY figure. Insignia's North Tower completed last year with approximately 115 closings in July. Excluding new construction sales the downtown/Belltown median sales price would have been $490,000 in July 2016.
Comparing resale July 2016 with resale July 2017 (an apples-to-apples comparison as there were no new construction closings last month), the downtown/Belltown YOY change in median sales price would have been +40.9% instead of -0.8%.
As a result, excluding new construction, Seattle's condo median sales price would have been $387,000 last July. Therefore, resale-to-resale, we experienced a 19.4% increase of the YOY median sales price, which is a truer reflection of the market.
Overall, the citywide median has been relatively stable compared to prior years, which have exhibited greater fluctuation in values.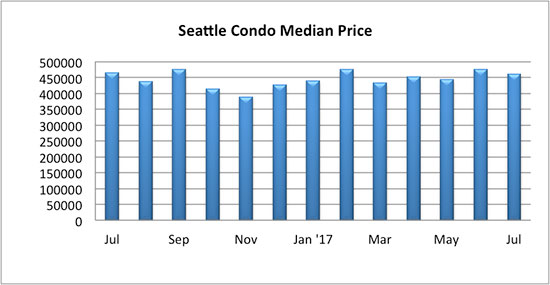 There was an uptick in active Seattle condo listings by 23.9% compared to June, though the 197 units for sale reflected 28.4% fewer listings than we had a year ago.
However, the inventory supply rate was on par with last July at 0.8-months of supply. That means, if no new listings come on the market, at the current rate of sales, it would take less than a month to sell out Seattle's condo inventory.
This rate is a metric used to determine market conditions. An inventory supply rate of less than 3-months is considered a seller's market. So, Seattle continues to remain a tight market for condo buyers.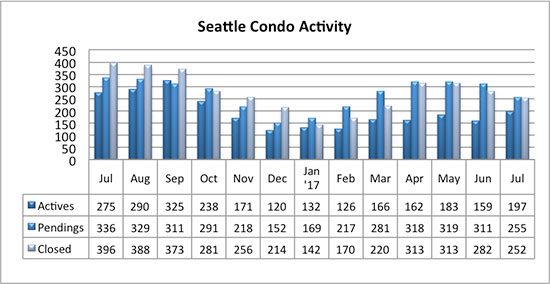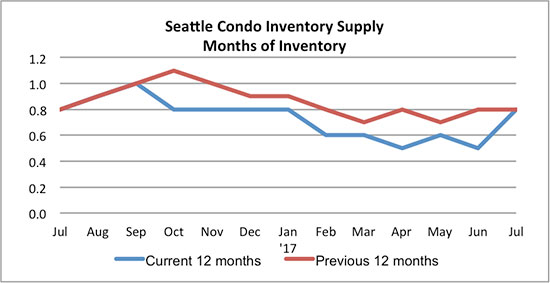 The number of pending sales transactions (listings with accepted offers) reduced to 255 units, reflecting a YOY and one-month decrease of 24.1% and 18%, respectively. Though, seasonally, we expect sales activity to slow down from summer and onwards.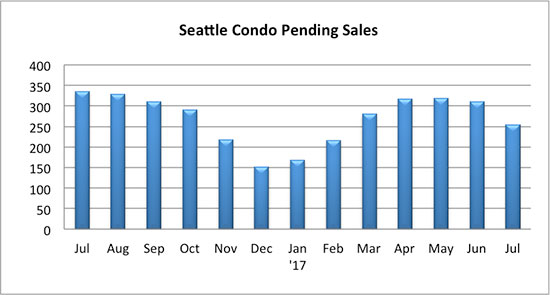 The number of closed Seattle condo sales also decreased to 252 units, 36.4% less than a year ago and 10.6% fewer compared to last month.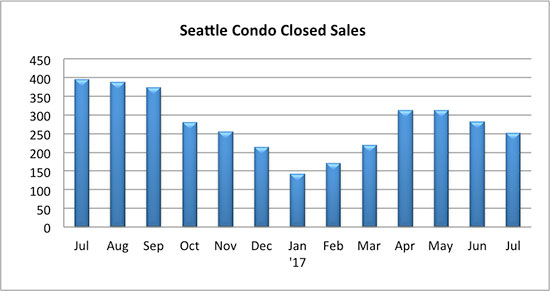 All neighborhood areas except the downtown/Belltown district realized YOY increases in median sales price with Queen Anne, Capitol Hill and NE Seattle all improving by double-digits. Though, as mentioned above, excluding new construction, downtown would have experienced an increase of 40.9%.
If you're a owner contemplating selling, the current market condition and buyer demand presents a terrific opportunity to sell your Seattle condo. Want to know what your condo is worth?
If you're a buyer, let us help you navigate through Seattle's crazy housing market with effective strategies to beat out the competition to purchase your condo.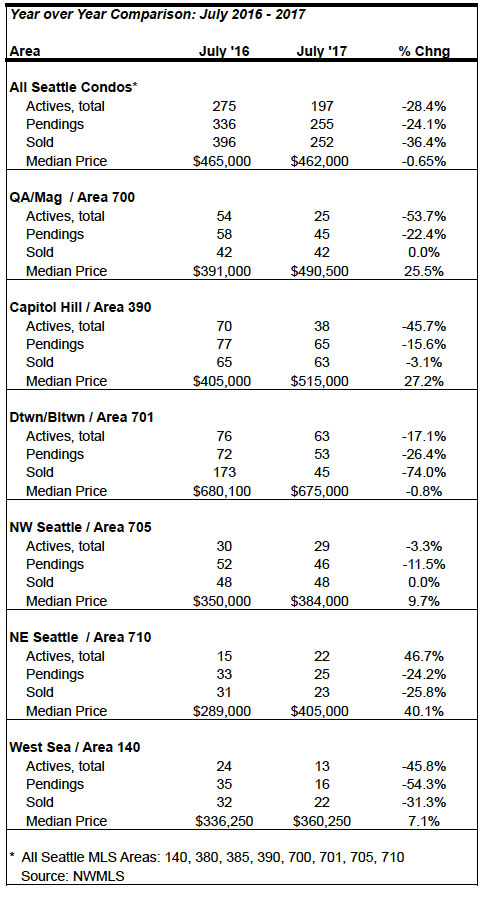 Source: NWMLS. Some figures were independently compiled by SeattleCondosAndLofts.com and were not published by the Northwest Multiple Listing Service.
________________________
© SeattleCondosAndLofts.com