The NWMLS market summary stated the regional market "paused" in October as year-over-year pending sales declined with deteriorating consumer confidence, though Seattle condo buyers apparently thought differently. Even with the upheaval caused by the shutdown and the start of the seasonal slowdown, Seattle's condo market was active last month with across the board improvements to sales velocity and selling prices.
The citywide Seattle median condo price rose 8.91% over last October and 11.6% over September to $299,900. Capitol Hill, NW Seattle and West Seattle reflected year-over-year increases in median sale prices while the remainder of the city saw decreases.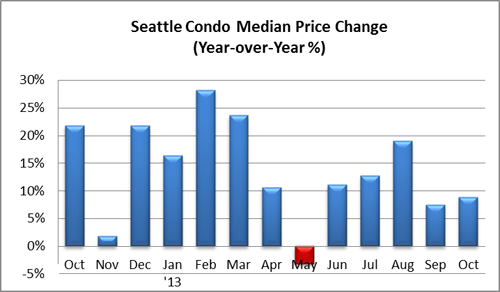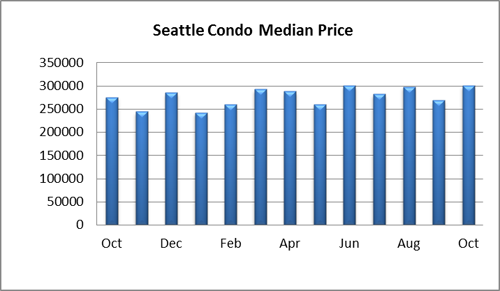 Pending sales transactions jumped 17.2% to 279 units compared to last October and 3.3% from the prior month. While we do typically see a slightly bump in market activity during October, the 45 pending sales at Insignia contributed greatly to the overall improvement in pending sales (properties with accepted contracts). If it weren't for those pre-sale units, pendings would have reflected a 1.7% YOY and 13.3% one-month drop in volume in October.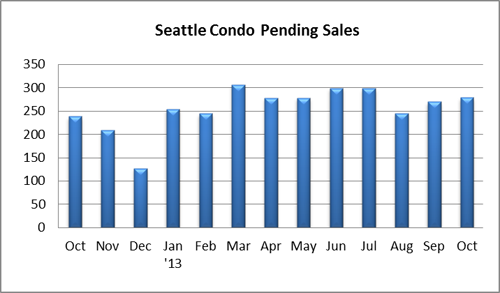 As anticipated based on the number of pending transactions in September, the number of closed condo sales rose last month to 217 units, a one-year increase of 14.7% and one-month bump of 6%. The number of closings for the remainder of the year will decrease but should still outpace 2012 levels.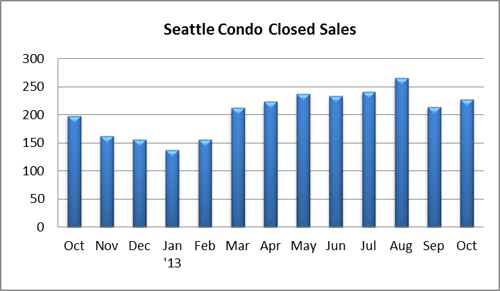 The number of available condos for sale in the MLS (excluding pre-sales at Insignia), dipped to 492 units in October, a one-month and YOY drop of 7.5% and 1.2%, respectively. Readily available condo units (move-in ready) will remain low for the foreseeable future.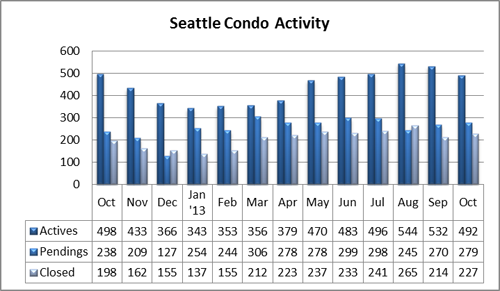 Seattle's condo inventory supply dropped slightly to a 1.8-month supply rate based on pending sales volume. Still a tight, seller's market.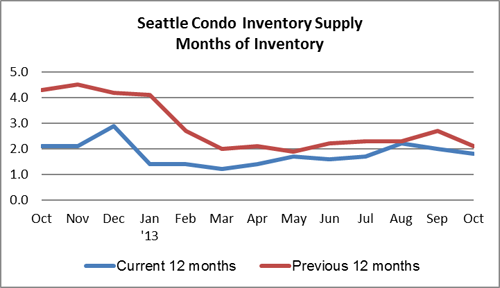 Through the end of October (January 1 to October 31), there were 2,141 condo sales in Seattle with a median sale price of $280,000, compared to the same period last year with 1,846 sales (2013 +16%) and a median sale price of $250,000 ( 2013 +21.8%).
Going forward…as we close out the year, the market will slow and we'll see a decrease in sales volume and selling prices. Though, I expect even with the seasonal slowdown we should continue to outperform 2012 levels.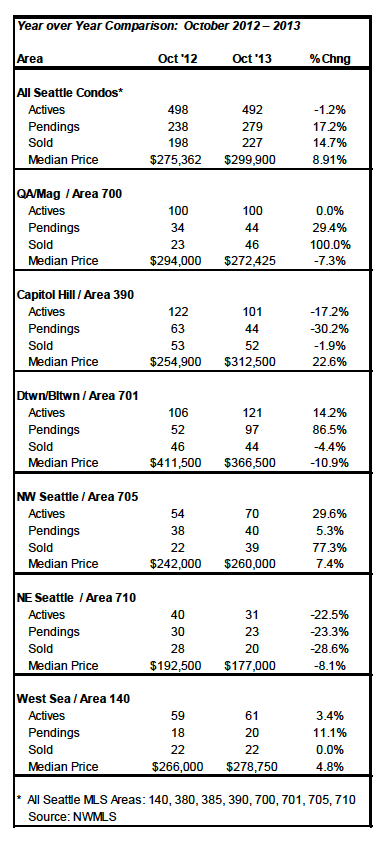 Source: NWMLS. Some figures were independently compiled by SeattleCondosAndLofts.com and were not published by the Northwest Multiple Listing Service.
________________________
© SeattleCondosAndLofts.com