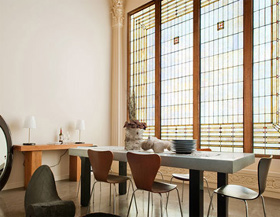 Update 1/22/12: The preview weekend open house was a huge success for the Sanctuary. I was there on late Saturday afternoon and the place was hopping…at that time they estimated over 200 people had come by, which guessing by the amount of people that where there when I was, that's probably accurate. By the time I left at 5 pm, they had received 9 reservations (some were back-ups) and I'm sure that number increased on Sunday.
View Sanctuary homes listed for sale
Construction is now complete and the 12 town homes are scheduled to be listed for sale next week at up to 45% below original list prices. A preview open house will be hosted this weekend from 11am – 5pm to showcase new model homes and the common areas.
The following is from a news release about The Sanctuary development on Capitol Hill.
(January 19, 2012) SEATTLE — Construction on The Sanctuary—a 12-unit, residential conversion located within the former 1906 First Church of Christ, Scientist in Seattle's Capitol Hill neighborhood—is now complete.
Originally built between 1906 and 1911 and designated an historic landmark by the City of Seattle in 1977, the completed project—now consisting of fee simple, concrete and steel town homes—offers a rare mix of intricate historic features, artisan craftsmanship and innovative modern design elements. The construction team was spearheaded by Belfor Property Restoration, Runberg and Associates, Robin Chell Design and The Justen Company.
A compelling example of adaptive reuse and historic preservation, redevelopment on the project initially began in 2007 but was stalled in 2010. An affiliate of San Diego-based Pathfinder Partners, LLC, acquired the construction note on July 7, 2011, and funded an additional $2 million to bring the project to its full potential. In readying the homes for sale, Resource Transition Consultants, LLC (RTC), the seller, responded to feedback from local real estate brokers, prospective homebuyers and other market experts.
"We made many improvements and are thrilled with how the individual homes and common areas turned out," says Rob Nall, a principal of RTC. "The additional construction and restoration was worthwhile—we've optimized the final product and the pricing for positive market acceptance."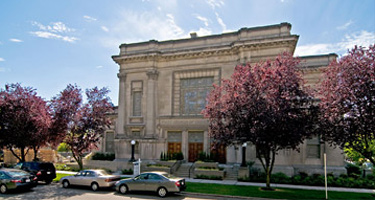 In addition to changing the building use to residential with the City of Seattle, RTC worked through the Landmark Preservation Board to protect key architectural features while improving livability. For example, the century-old stained-glass windows now slide to the side, revealing new vision glass, which adds natural light, territorial views and fresh air to the unique residences.
"Our job is to complete construction, realign values and sell the homes at prevailing market rates," adds Nall. "This is a unique scenario in which an inspiring product designed at the peak of the housing market may well sell at bottom-of-the-market prices."
Despite its Classical Revival-style architecture, the former church now boasts modern interiors and technology, as well as high-rise construction quality within. Each home features soaring 30-foot-high ceilings, metalwork and cabinetry crafted by Seattle area artisans, polished concrete floors, re-purposed marble from the original building and top-of-the-line appliances and fixtures that include brands such as Wolf, Bertazzoni, Liebherr, Asko, and Kohler to name a few.
Ranging from four to six levels (including roof top terraces); the town homes are sized from 1,600 to more than 3,000-square-feet and will list from the low $500,000s to $1.1 million – about 45% below original asking prices, according to the listing brokers.
"Waiting paid off for patient homebuyers trying to time the market at The Sanctuary," said Dean Jones, principal of Realogics Sotheby's International Realty. "We're offering a greatly enhanced yet highly affordable product by virtue of dramatically lowered purchase prices and historically low interest rates. And the landmark designation means significantly reduced property taxes for the next ten years."
Two model homes will be opened this weekend for public previews from 11 a.m. to 5 p.m. The official sales debut is scheduled for January 28, 2012 when the sales office opens. More information can be found on the recently launched website at www.LiveatSanctuary.com.